TOSTITOS FIESTA BOWL
Glendale, AZ - Jan. 2, 2008
FOX, 8 p.m. ET
Moving Mountains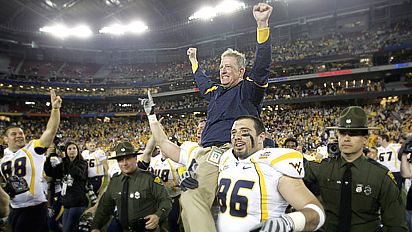 AP Photo/Matt York
Bill Stewart got the job after WVU's 48-28 Fiesta Bowl rout of OU.
About that West Virginia head coaching vacancy. It didn't last long. Interim coach Bill Stewart nailed the on-the-job interview, outcoaching OU's Bob Stoops in WVU's Fiesta win and getting the job. Having the best player on the field, Pat White, helped WVU too.
Pat Forde
•
White, WVU speed past OU
...

|
Analysis

|
Cup Challenge
Bowl Overview
It was over when...
West Virginia receiver Darius Reynaud took a reverse 30 yards for a touchdown, putting the Mountaineers up 34-15 late in the third quarter.
Gameball goes to...
Pat White
. The West Virginia quarterback did it all, running for 150 yards on 20 carries and passing for 176 yards and two touchdowns.
Stat of the game...
349
. West Virginia ran for 349 yards against a Sooners' defense that had given up just 91.9 rushing yards per game. The 349 yards was by far the most given up by a Bob Stoops-coached OU team.
WEST VIRGINIA VS. OKLAHOMA
ESPN'S TAKE
Shockingly, West Virginia was faster, quicker and more aggressive than Oklahoma from the start of the game, but also got a lot of help from Oklahoma's poor game-management decisions in the third quarter. The Mountaineers' defense dominated the first half by using superior speed and quickness to get by Oklahoma's bigger, but slower offensive line. In the first half, West Virginia had two sacks (It would get four for the game after OU had given up only 11 all year), forced QB Sam Bradford to fumble (he recovered it) and tipped two passes. In particular, West Virginia exploited the left side of the Oklahoma line where massive LT Philip Loadholt (6-foot-8, 352) was stationed. DE Johnny Dingle and LB Eric Wicks repeatedly ran around Loadholt to harass Bradford.
In the second half, Pat White took over the game with his legs and arm, all without Steve Slaton, who was injured in the first quarter. White had a hand or foot in just about every big play West Virginia had in the second half. He led a three-play touchdown drive in the third quarter by picking up a key 3rd down with a his feet, broke off a 42 yard run on the next play, and then had a brilliant fake in tossing the ball to Darius Reynaud on a 30-yard reverse for a momentum shifting TD that put WVU up 34-15 after OU had cut the lead to 20-15. White helped West Virginia rip apart the 7th ranked Sooner rush defense. The Mountaineers rushed for nearly 350 yards.
Despite all the great things West Virginia did, Oklahoma was in position to take control of the game in the third quarter but blew it with a couple of poor decisions. Oklahoma's defense forced two straight three-and-out possessions and then scored a touchdown to cut the deficit to 20-15. Instead of kicking the PAT to cut the lead to 4, Oklahoma inexplicably went for the two-point conversion and failed. To make matters worse, Oklahoma followed that with an onside kick that West Virginia recovered in Oklahoma's territory. That gave West Virginia a short field and put the OU defense in a tough bind. WVU responded with a six-play drive, capped by a 17-yard TD run by Noel Devine.
OU's decisions were particularly bad because the Sooners were taking control of the game and had lots of time remaining in the third quarter. However, Bob Stoops and his staff became impatient and took an unnecessary gamble that blew up in their collective faces. Those decisions will certainly be regretted by Stoops and his staff.
-- Rod Gilmore
Team Stat Comparison
1st Downs
17
25

3rd down efficiency

4-12
4-16

4th down efficiency

0-0
2-4
Total Yards
0
0
Passing
176
245

Comp-Att

10-19
22-34

Yards per pass

9.3
7.2
Rushing
349
176

Rushing Attempts

39
43

Yards per rush

8.9
4.1
Penalties
8-110
13-115
Turnovers
0
1

Fumbles lost

0
0

Interceptions thrown

0
1
Possession
25:43
33:41
Fantasy
Here's your chance to be the expert and pick the Bowl winners. Create your FREE entry and compete for a chance to win a home theater system.
College Bowl Mania

West Virginia Passing
C/ATT
YDS
TD
INT
P. White
10/19
176
2
0