FEDEX BCS CHAMPIONSHIP GAME
Miami - Jan. 8, 2009
FOX, 8 p.m. ET
Dazzling Display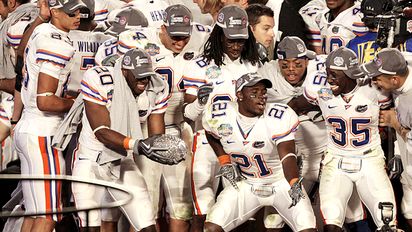 AP Photo/John Raoux
Florida captured its second national championship in three years.
Florida's talent and ability can mesmerize and dominate opponents. But it's the Gators' heart that made them champs.
Ivan Maisel
•
Florida tops OU, 24-14 in BCS title game
Highlights

Miami blog
•
Forde: Tebow's unmatched will
|
Schlabach: OU's missed chances
•
Watch

:
Meyer reacts
Tebow too
Analysis
|
Woj: Who's No. 1?
Bowl Overview
It was over when...
Tim Tebow threw a jump pass to David Nelson for a 4-yard TD pass with 3:07 left to give Florida the 24-14 lead.
Gameball goes to...
Percy Harvin
. The junior returned from an ankle injury and registered 171 total yards and 1 TD.
Stat of the game...
5
. The SEC has five BCS championships, and Oklahoma has lost five straight BCS games.
FLORIDA VS. OKLAHOMA
ESPN'S TAKE

Gators' bite
MIAMI -- That chomping sound you heard late Thursday night in Dolphin Stadium was Florida sinking its teeth into another BCS national championship.

Tim Tebow and Percy Harvin played like the stars they are, but they had plenty of help in leading the Gators to a 24-14 victory over Oklahoma for their second national title in the last three years. Tebow shook off two first-half interceptions and passed for 232 yards and two touchdowns, capped off by his trademark jump pass to David Nelson for a 4-yard touchdown to pretty much seal the Sooners' fate with 3:07 to play. He also rushed for 109 yards on 22 carries. the most he's carried the ball all season. This one meant even more to Tebow than the 2006 national title. He was just a part-time player on that team, more of a specialty player. But this was his team. Harvin, playing on a sprained ankle, was equally spectacular. He rushed for 122 yards and also added 49 yards receiving. The Gators had plenty of stars on this team, and they played that way on Thursday.

-- Chris Low | Read more in the BCS blog
---

Sooners' pain
MIAMI -- Oklahoma's Bowl Championship Series problems continued again Thursday night, largely due to their self-inflicted mistakes.

The Sooners lost their fifth straight BCS bowl game and third straight BCS championship game as Florida claimed a gritty 24-14 victory over the Sooners in the FedEx BCS National Championship Game. 2007 Heisman Trophy winner Tim Tebow outplayed 2008 winner Sam Bradford, nailing down the victory by scoring on three of four drives midway through the second half to claim the Gators' second national championship in three seasons. The Gators (12-1) came up with a masterful defensive performance, limiting the nation's most explosive offense to season lows in points and yards (363). Oklahoma's inability to make short-yardage plays was the difference as the Sooners (11-2) were stuffed three times inside the Florida 35-yard line without points, including the Florida 1 and 6 in the first half. Bradford had his own struggles despite a 250-yard passing effort with two TD passes. But Florida produced two interceptions to match Bradford's season high. The Sooners' defense, disparaged as a joke coming into the game by Florida linebacker Brandon Spikes, played well most of the night. But Tebow converted three third-down plays on the clinching touchdown drive before hooking up with David Nelson from 4 yards out with a jump pass with 3:07 left to ice the victory.

-- Tim Griffin | Read more in the BCS blog
Team Stat Comparison
1st Downs
24
25
Total Yards
480
363
Passing
231
256
Rushing
249
107
Penalties
8-81
4-31
3rd Down Conversions
12-17
6-13
4th Down Conversions
0-0
0-2
Turnovers
2
2
Possession
34:57
25:03
Fantasy
Think you know who will win all 34 bowl games this season? Put your prognosticating skills to the test in College Bowl Mania, featuring both confidence-style and straight-up selections.
College Bowl Mania

Official Web site
For more information on the FedEx BCS National Championship Game, please visit the official bowl Web site.

Florida Passing
C/ATT
YDS
TD
INT
T. Tebow
18/30
231
2
2
Oklahoma Rushing
CAR
YDS
TD
LG
C. Brown
22
110
0
17