ROSE BOWL PRESENTED BY CITI
Pasadena, CA - Jan. 1, 2009
ABC, 4:30 p.m. ET
Pasadena Power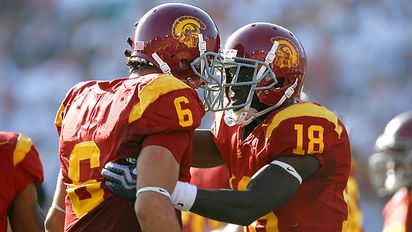 Harry How/Getty Images
Mark Sanchez and Damian Williams powered USC's win over Penn St.
In the end, Penn State made it respectable, but the Rose Bowl was won in the second quarter, when USC flexed its muscles.
Ivan Maisel
Bowl Overview
It was over when...
C.J. Gable caught a 20-yard TD pass to give the Trojans a 31-7 lead ... in the first half.
Gameball goes to...
Mark Sanchez
, who threw for 413 yards and four touchdowns.
Stat of the game...
31
. With the win, USC tied Alabama for the most bowl wins in FBS history.
USC VS. PENN STATE
ESPN'S TAKE

Sanchez steals the day
PASADENA, Calif. -- Give Penn State credit for fighting until the end. USC yawned its way through the fourth quarter, the Trojans defense in particular playing with uncharacteristic indifference.

That team in the fourth quarter was the one that lost to Oregon State. But entering the final frame with a 31-7 lead may not inspire the same intensity as a nailbiter for the national championship. The game belonged to quarterback Mark Sanchez, who became just the third Rose Bowl quarterback to pass for more than 400 yards. To read the rest of this post, click here.

-- Ted Miller | Read more in the Rose Bowl blog
---

Big Ten blues
Penn State entered the Cardinal and Gold inferno known as Rose Bowl Stadium in search of national respect for its football program and, secondly, its beleaguered conference.

The Nittany Lions ended up getting burned, and so did the Big Ten. Penn State players had grown tired of hearing how great No. 5 USC was this season. The eighth-ranked Lions don't have to hear it any more. They experienced it in the Rose Bowl Game presented by Citi. In a game that would define Penn State and the Big Ten more than any other this postseason, USC beat the Nittany Lions 38-24. The result wasn't a total surprise, but the way it happened was shocking. To read the rest of this post, click here.

-- Adam Rittenberg | Read more in the Rose Bowl blog
Team Stat Comparison
1st Downs
19
27
Total Yards
410
474
Passing
273
413
Rushing
137
61
Penalties
9-72
6-60
3rd Down Conversions
5-12
7-14
4th Down Conversions
0-2
1-2
Turnovers
3
1
Possession
28:01
31:59
Fantasy
Think you know who will win all 34 bowl games this season? Put your prognosticating skills to the test in College Bowl Mania, featuring both confidence-style and straight-up selections.
College Bowl Mania

Official Web site
For more information on The Rose Bowl Game presented by Citi, please visit the official bowl Web site.

Penn State Passing
C/ATT
YDS
TD
INT
D. Clark
21/36
273
2
2
Penn State Rushing
CAR
YDS
TD
LG
S. Green
10
57
0
26
Penn State Receiving
REC
YDS
TD
LG
S. Green
5
67
0
30