Washington Huskies

Don James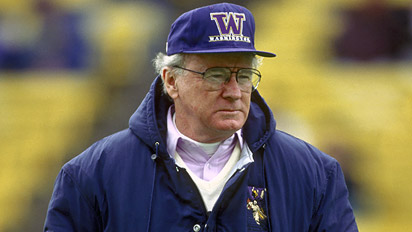 US Presswire
Huskies fans call him the "Dawgfather." James rebuilt Washington into a national power, winning a national title in 1991 and leading the Huskies to six Rose Bowls. He was virtually unknown when he was hired away from Kent State in 1974, but he suffered only one losing season -- his second in Seattle -- over 18 seasons and compiled a 153-57-2 record, including a 10-5 mark in bowl games. Known for his meticulous preparation and stern discipline, he was twice named national coach of the year (1984 and 1991) and his Huskies won 22 straight games from 1990 to 1992. Sports Illustrated once named the nation's three best coaches like this: 1. Don James; 2. Don James; 3. Don James. -- Ted Miller
ESPN.com's Signature Moment

James and the Huskies concluded an 11-0 season with a dominating 34-14 victory over Michigan in the Rose Bowl to earn a share of the 1991 national title with Miami. The Huskies outgain the Wolverines 404-205.


We've made our pick; now it's up to you, SportsNation, to make yours. You've given the suggestions. Help decide the Face of the Program.
The 1991 Lombardi and Outland Award winner was one of the most dominating defensive linemen in Pac-10 history.
It has got to be Don James "THE DAWGFATHER". He took a Top 25 National Program and firmly put them on the National stage.