Texas Tech Red Raiders

Masked Rider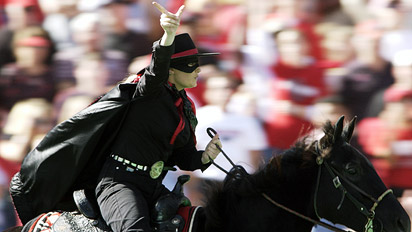 Sean Meyers/Icon SMI
One of the most dramatic entrances in all of college football can be seen when Texas Tech's Masked Rider leads the team onto the field. After appearing in a few games in 1935, the Masked Rider became the school's primary mascot in 1954 at the Gator Bowl and has led the team onto to field at almost every game since then. The Masked Rider cuts a striking image with a black gaucho hat, a black mask and a scarlet rider's cape. The horse is most often black. It has been involved in several accidents, striking an opposing cheerleader in 1982 and a referee in 1992. The horse Double T was killed after an accident as it entered the stadium. -- Tim Griffin
ESPN.com's Signature Fact

The Masked Rider was the first school mascot featuring a live horse to be used at a college football game.


We've made our pick; now it's up to you, SportsNation, to make yours. You've given the suggestions. Help decide the Face of the Program.
"The Golden Palomino" was a three-time All-SWC running back and earned All-American honors twice.
Mike Leach is the face of Texas Tech's program. His Air Raid offense made their football team relevant nationally.