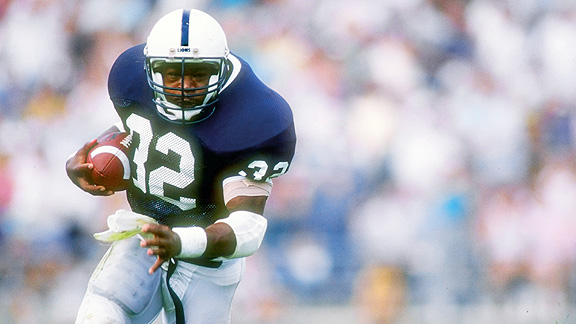 Getty Images
40. Blair Thomas
Running back | Penn State
When his career ended, Thomas was the second-leading rusher in Penn State history, with 3,301 yards and 21 touchdowns.
He was the only Nittany Lion to run for more than 1,300 yards in two different seasons. Even after major knee surgery, he produced an All-American senior campaign, putting up 1,341 yards and finishing 10th in the Heisman Trophy voting.
Thomas was the No. 2 overall pick in the 1990 NFL draft by the New York Jets, but his pro career was considered a major disappointment. Nagged by injuries early on, he lasted six seasons in the NFL, playing for five teams and running for a total of 2,236 yards.
-- Brian Bennett