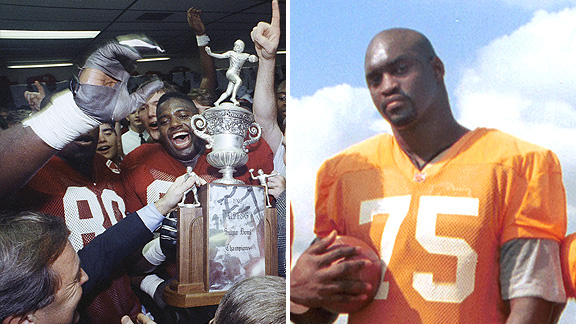 AP Photo/Icon SMI
32. Eric Curry
Defensive end | Alabama
One of Alabama's famed "bookends" during its 1992 national championship season, Curry and teammate John Copeland terrorized opposing quarterbacks in the SEC.
As a senior, Curry had 10.5 sacks, helping the Crimson Tide finish No. 1 in total defense. He was a unanimous All-American and finished ninth in Heisman Trophy voting.
The Tampa Bay Buccaneers took Curry with the sixth pick in the 1993 NFL draft. In five seasons with the Bucs, Curry had 12 sacks, only 1.5 more than he had during his final college season. He retired from the NFL in 2002 after playing two more seasons with the Jacksonville Jaguars.
-- Mark Schlabach