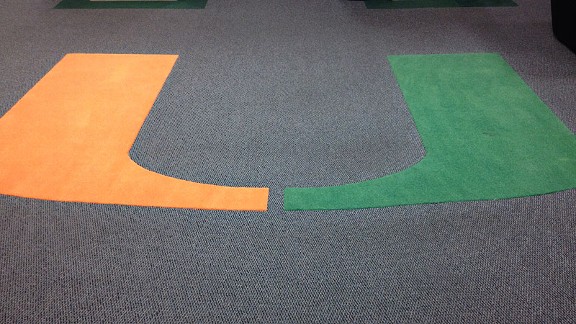 Miami Athletics
All About 'Da U'
You can throw up "da U" all you want in Miami's locker room, but whatever you do, by no means whatsoever do you dare even think about stepping on da U.
The smoke coming out of the tunnel isn't the only tradition in Coral Gables. The Canes are a wee bit superstitious, too. If you're looking for a sign that Miami hasn't gone anywhere despite its recent struggles, look down: A giant U logo decorates the carpet in the Canes' locker room, and woe be to the player (most likely a freshman or recruit) who forgets where he is and steps on it.
Don't step on it. Don't touch it.
"It's a respect thing," said running back Mike James, who compared it to a museum piece. "It means hard work." -- Heather Dinich