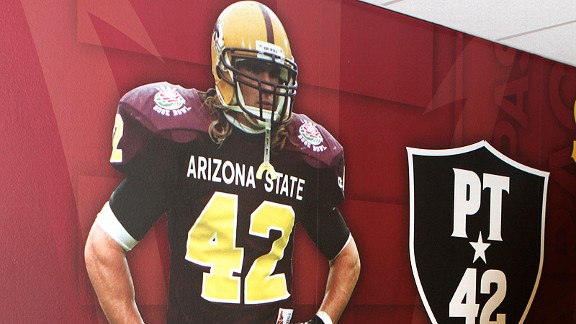 Courtesy of Arizona State Athletics
A True Hero
Pat Tillman is more than an Arizona State legend, he's a true American hero who gave up the riches of the NFL to fight for his country.
So it should be no surprise the Sun Devils embrace Tillman's legacy. Tillman led Arizona State to the Rose Bowl after an undefeated 1996 season.
Eight months after the Sept. 11 attacks, he turned down a $3.6 million contract offer from the Arizona Cardinals to enlist in the U.S. Army. He became a Ranger, but was killed in a friendly fire incident in Afghanistan in 2004.
He has been memorialized all over the athletic facilities -- his name and his number "PT 42" -- including a mural just outside the "Tillman Tunnel," which leads onto the Sun Devil Stadium field.
-- Ted Miller