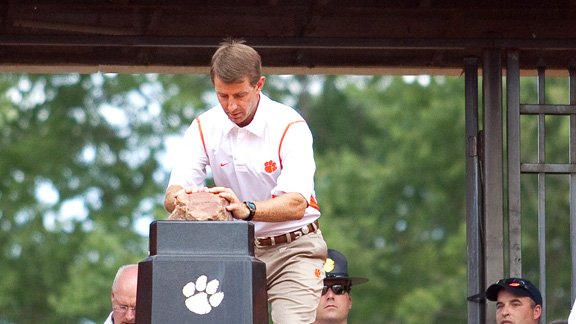 Jeremy Brevard/Icon SMI
Howard's Rock
This isn't just any Hill. Note the capital H.
Clemson's entrance was once described as "the most exciting 25 seconds in college football," and the tradition of rubbing Howard's Rock before running down the Hill has become one of the most recognizable pregame rituals in the country.
In either 1964 or '65, a Clemson alum who was on a trip to California brought a white flint rock back to coach Frank Howard, symbolizing the trip from Death Valley, Calif., to Clemson's Death Valley.
On Sept. 23, 1967, before Clemson lined up against Wake Forest, Howard told his team, "If you're going to give me 110 percent, you can rub that rock. If you're not, keep your filthy hands off of it." -- Heather Dinich