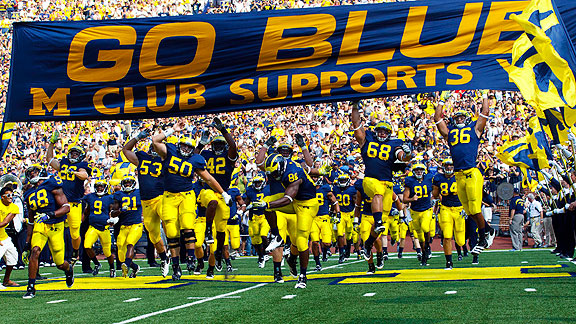 Rick Osentoski/US Presswire
The Banner
It's an iconic entrance at an iconic stadium to the tune of an iconic fight song. If you haven't seen Michigan touch the banner at Michigan Stadium, you haven't been paying attention.
Before every game, Wolverines players charge out of the tunnel and leap to touch the "Go Blue: M Club Supports You" banner as the band plays "The Victors."
The tradition began in 1962 as coach Bump Elliott, looking for a way to inspire his 1-5 team, had boosters hold a banner in the tunnel for players to touch on their way to the field. The banner moved to midfield the next year.
Players cherish the banner tradition and abide by two rules: Don't miss and don't trip. -- Adam Rittenberg