Notre Dame focuses on rebounding
>
Notre Dame's 42-14 loss to Alabama in the Discover BCS National Championship provided a certain segment of the country the chance to rejoice in the familiar "S-E-C!" chants that reign every January. An entirely other segment, one that rejoices in the failing of all things Notre Dame -- and thus inadvertently fuels the surge that makes this program so darn popular in the first place -- bellowed that the Fighting Irish's 2012 regular season was the product of a weak schedule, bad officiating and, well, the luck of the Irish.
Brian Kelly's brief flirtation with the Philadelphia Eagles in the aftermath did not help matters. But once Kelly put the kibosh on the NFL and as the rest of the nation continued to mock the loss -- along with recycling every fake dead girlfriend joke imaginable in light of the Manti Te'o saga -- players and coaches inside the Guglielmino Athletics Complex put their heads down and went to work.
By the commencing of spring practice, Kelly was singing an entirely different tune.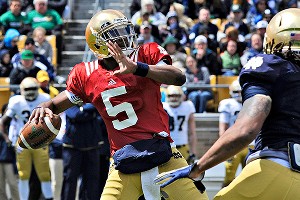 AP Photo/Joe RaymondEverett Golson returns under center for Notre Dame, looking to rebound after his first career loss in the BCS title game.
"My comments after the game and my comments after I got a chance to watch the film were a little bit different," the fourth-year Irish coach said of the loss to the Crimson Tide. "I thought watching the game there were some things there that we weren't in a position yet to even come close to. But we're a lot closer than I thought."
That starts up front, where the Irish return two guys who will hear their names called on April 24, 2014 if they choose to enter the NFL. Louis Nix and Stephon Tuitt are two of eight starters back on a defense that finished second nationally in scoring, and though it loses the Heisman Trophy runner-up in Te'o, it is every bit as talented, and even deeper, than last season's outfit.
Offensively, position battles waged at running back, center and right guard, with Everett Golson building off his first season in the driver's seat by bulking up, taking on more of a leadership role and understanding what did and didn't work during a campaign that ended with a national title game performance that wasn't exactly one to forget for the 20-year-old.
"For him, knowing Everett, it's just another day for him," offensive coordinator Chuck Martin said this spring of Golson's first and only loss. "He wasn't in awe of the moment, which is awesome. He played very well under a lot of duress for a lot of different reasons. The first guy you'd think would fold at 21-0 is your freshman quarterback in that moment. And he didn't, he kept competing, he kept fighting, he's getting better and better."
Just how much better Notre Dame can get after its best season in 24 years remains the question. The offense is still in search of playmakers in the backfield and at tight end. The defense loses the leadership of Te'o and Kapron Lewis-Moore. The schedule is roughly the same as 2012.
The Irish's most valuable lesson this calendar year came on Jan. 7, fueling a response in the months since of a program not content with being second-best.
"I think it's a very confident group of guys," Kelly said after the spring game. "They have got a lot of confidence in themselves. They believe that they are going to be successful. So I would say that the identity of this group right now is that they are a confident group. Now, we are going to have some tough times and we'll see how we bounce back from those.
"That's really the measure, right? Everybody is good when they are 0-0."
ESPN Staff Writer
Notre Dame/ACC reporter
Joined ESPN.com in 2011
Graduate of Penn State University
What we learned this spring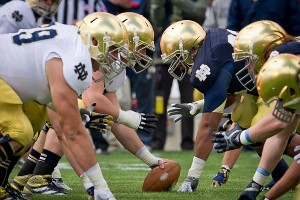 Matt Cashore/USA TODAY SportsNotre Dame is using last season's loss to Alabama as motivation this season.
1. New season. Notre Dame has been adamant this spring that it is not resting on its laurels from its renaissance 2012 campaign, which saw Alabama ruin national title hopes in the final game of the season. The lessons learned from that defeat have stuck with the Irish, who think they are a lot closer to the top than that game indicated. But they know everyone starts with a clean slate in 2013, and that the always big target on their back will only grow bigger after an unceremonious finish to last season.
2. New play-caller. Chuck Martin will take on an even bigger role this season offensively. The former Brian Kelly successor at Grand Valley State-turned-Irish safeties coach-turned offensive coordinator is adding new duties to his plate in 2013: play-calling. Kelly hopes the delegation will allow himself to be more hands-on with the entire team on game day and not get lost in the emotions of play-to-play. Martin and quarterback Everett Golson's relationship has grown after the signal caller's first year as a starter, as the two occasionally play basketball together and communicate much better.
3. Tyler Eifert's not walking through that door. Tight End U might be without its usual flair early this season, as a trio of players fight for extended playing time after being limited physically (Alex Welch) or as simply blockers (Ben Koyack, Troy Niklas) in the past year while Eifert had another strong season. Welch appeared to have the inside track for the No. 2 job last summer before an ACL tear ruined those hopes. The converted linebacker Niklas seemingly has the most upside, and Koyack has the most experience. The three players have combined for 10 career catches and won't be expected to exactly fill the shoes of Eifert (and Kyle Rudolph before him, and John Carlson before him, and Anthony Fasano before him) from Day 1, but watching who emerges from that group this season will be telling for the Irish's future at that position.
ESPN Staff Writer
Notre Dame/ACC reporter
Joined ESPN.com in 2011
Graduate of Penn State University
Non-AQ team reports

Boise State: The Broncos left spring practice with the unexpected loss of sophomore defensive end Sam Ukwuachu, who was dismissed from the team by coach Chris Petersen on Tuesday. Ukwuachu was a freshman All-American last season, finishing with 35 tackles, seven tackles for loss and 4 1/2 sacks in 13 starts. The Broncos bring back starting defensive end Demarcus Lawrence, who had 9 1/2 sacks last season, but now senior Kharyee Marshall, junior Beau Martin and redshirt freshmen Darien Barrett and Sam McCaskill will battle for Ukwuachu's vacated starting spot.

BYU: The Cougars enter the offseason with their top two quarterbacks recovering from knee injuries. Sophomore Taysom Hill, who is the anticipated starter this coming season, missed most of spring practice while recovering from a knee injury he suffered in October. Then sophomore Ammon Olsen suffered a partially torn knee ligament during the Cougars' spring game. Olsen transferred to BYU from Southern Utah, where he played as a freshman in 2009. Olsen hasn't played in a game since then because he served an LDS mission in Mexico City. Both quarterbacks are expected to be ready by the start of preseason camp.

Fresno State: The Bulldogs dismissed receiver Victor Dean and defensive back Davon Dunn on Tuesday for an unspecified violation of athletics department policy. The juniors, who were teammates at San Diego's Lincoln High, were previously suspended for last season's opener against FCS foe Weber State. They are eligible to transfer to another school. Dean caught 30 passes for 389 yards with two touchdowns before breaking his leg against Hawaii last season. Dunn had 15 tackles as a reserve cornerback and also played on special teams.

Navy: Navy coach Ken Niumatalolo found a silver lining in the Midshipmen's banged-up offensive line this spring. Four of Navy's projected five starters -- left tackle Graham Vickers (shoulder), center Tanner Fleming (ankle), right tackle Bradyn Heap (leg) and right guard Jake Zuzek (shoulder) -- missed the spring while recovering from injuries they suffered last season. Also, left guard E.K. Binns (shoulder) missed part of the spring. Niumatalolo estimated Navy's younger linemen received 1,000 snaps this spring, which should give the Midshipmen more depth this coming season.

Western Kentucky: Hilltoppers quarterback Brandon Doughty is trying to resurrect his college career, kind of like WKU's new coach, Bobby Petrino. Doughty emerged as WKU's top contender to start under center this coming season, after completing 23 of 35 passes for 314 yards with five touchdowns in the spring game. But Petrino isn't quite ready to name him the starter. Doughty, a junior from Davie, Fla., started one game at WKU in 2011 before injuring his knee. He fell to third-team quarterback last season and attempted only three passes.
Recruiting Updates
By
RecruitingNation
| ESPN.com

They aren't in BCS conferences, but they are still players on the recruiting trail. Our scouts break down how Notre Dame and top non-AQ programs are trending right now. Story

More from RecruitingNation:
• Rankings: ESPN 150 | Class rankings
• Hot Board

| On The Trail

| Home