Can an 'anti-Alabama' dethrone the Tide?
Last week, Nick Saban called out Alabama students for leaving Crimson Tide games early, saying they needed to stick around for all 60 minutes or give away their tickets.
The students responded on Saturday by keeping their section of Bryant-Denny Stadium full until the end of a 45-10 win over Tennessee -- a game the Tide led 35-0 at halftime.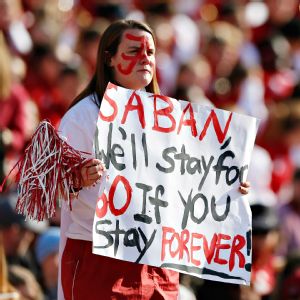 Kevin C. Cox/Getty ImagesAn Alabama fan promises not to leave a game early if Nick Saban promises not to leave the Crimson Tide.
We don't really know if Alabama students are growing bored of their team's constant domination. But if so, they would merely be joining the rest of America.
Saban's "process" reaps undeniably admirable results, as his program has won three of the past four national titles and is in position to claim a third straight crystal football this January.
Admiration and enjoyment, however, do not always go together. An Alabama fatigue factor exists across the country, both because of the Crimson Tide's sustained success and the clinical, almost bloodless, manner in which they've achieved it.
The biggest suspense in the last two BCS title games -- in which Alabama beat Notre Dame and LSU by a combined score of 63-14 -- was whether Saban would crack half a smirk during the celebration.
We respect Alabama's precision. But we also long for some panache. In an age when everyone has a high-definition television and a smartphone to relay all the scores, we demand entertainment as well as execution from our college football teams.
Luckily, we also have an abundance of alternative, anti-Alabama programming this season. In fact, it seems that we're blessed with an unprecedented amount of spectacles and showmen on display from coast to coast, and that is true at the top of this season's BCS standings.
If you could afford just one ticket -- or if you had a really terrible cable package that gave you access to just one game -- how would you choose between some of these top viewing options?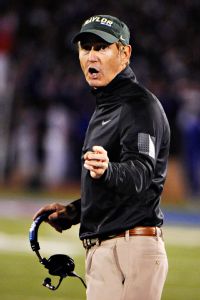 John Rieger/USA TODAY SportsArt Briles has Baylor's offense producing at a historic rate and the Bears haven't shown signs of slowing down.
Baylor: Art Briles and the Bears are challenging our notions about the limits of a college football offense by putting up wacky numbers in Waco. Baylor is averaging 718 yards and 63.9 points per game, both of which are well above the all-time FBS records. Briles' offense utilizes space better than the movie "Gravity" and does so at the speed of light, with 44 touchdown drives of two minutes or fewer this season.
Oregon: There's not a lot new about the Ducks' fast-paced offense and weekly uniform fashion show. Except that they have somehow become even more proficient in life after Chip Kelly. Their quarterback, Marcus Mariota, never throws an interception and averages 9 yards per carry, leading an attack that scores 55.6 points a game. A Baylor-Oregon game would basically just be a green-tinted strobe light.
Jameis Winston: Florida State's precocious quarterback already has the nickname -- Famous Jameis -- and magnetic personality of a superstar. He also backs it up, with a ridiculous 23-to-4 touchdown-to-interception ratio that has the Seminoles in the national title hunt and has him at the forefront of the Heisman Trophy picture. He's the best redshirt freshman quarterback we've seen since…
Johnny Manziel: The fact that Johnny Football is fourth on this list says a lot about the sport's attractions this season. He probably won't win a second straight Heisman, but he might be having an even better season when you consider that Texas A&M needs him and the offense to score at least 40 points every week to have any chance to win. Manziel is completing 73 percent of his passes and is on pace to account for 45 touchdowns.
Everywhere you look this year, there are must-see coaches, teams and players. Even in the stodgy old Big Ten, where 10-7 scores used to be the norm, Urban Meyer and Ohio State are forcing the rest of the league's teams to change their ways. The Buckeyes have won 20 straight games and are averaging 47.3 points per game this year. Scoring, in fact, is up throughout the Big Ten.
RecruitingNation
When it comes to attracting recruits, perception can be reality. What draws prospects to certain programs? Story »
The same is true in the formerly defensive-minded SEC, which has given itself over to spread offenses and gifted quarterbacks, to the benefit of viewers. The most thrilling game of the year, actually, might well have been Alabama's 49-42 win over Texas A&M and Manziel.
See? There's hope for the Crimson Tide yet. All they need is a fun opponent that can bring out the best in them without getting smashed under Saban's boot in another dreadfully boring title game.
Here we are now. Entertain us.
ESPN Staff Writer
ESPN.com Big Ten reporter.
Joined ESPN.com in 2008.
Graduate of the University of Kentucky.
Behind Each Conference's 'Wow' Factor
Vote: Most entertaining league?
Fresh faces bring fun back to ACC

The ACC has it all this year: three teams in the top 10 of the BCS standings, a Heisman trophy contender who's as entertaining off the field as he is on it, a national title contender -- and even some football that's so bad you can't help but look.
(Admit it: You couldn't turn away from Virginia Tech's collapse against Duke last week.)
On Saturday, the ACC will be playing its second game in three weeks featuring two top-10, undefeated teams when No. 3 Florida State hosts No. 7 Miami. At 19 years old, Florida State quarterback Jameis Winston has already been compared to Charlie Ward, and he's become the face of the conference this fall.
The ACC's premier programs have finally reached an elite level again, and their success, combined with the sheer comedic ineptitude of much of the rest of the league, makes every weekend can't-miss in the ACC.
No clear-cut favorite in the Big 12

We all know Alabama is going to win the SEC. Same with Ohio State in the Big Ten. Oregon in the Pac-12. And Florida State in the ACC.
Where's the drama? It's in the Big 12.
Baylor has been the league's most dominant team. But to win the Big 12, the Bears will have to go through the conference's four best other teams, all of which have conference title aspirations of their own.
As a result, November is shaping up to be one exciting month in the Big 12, with so many meaningful games on the docket. And while Baylor is the league's only chance to get to the national championship game, Oklahoma, Texas Tech, Oklahoma State and Texas will have a say about who gets the league's automatic BCS bowl bid.
The conference races around the country seem to be foregone conclusions. Except in the Big 12 -- where the conference race is just heating up.
Ohio State's pursuit of perfection

Forget Tressel Ball.
Woody Hayes' "three yards and a cloud of dust" is ancient history.
Urban Meyer has transformed Ohio State in his own image, which translates into a fast-paced offense and a relentless pursuit of perfection. The Buckeyes average 47.2 points per game, led by the speed-power combo of quarterback Braxton Miller and running back Carlos Hyde, plus one of the nation's best offensive lines.
Meyer is 20-0 since arriving in Columbus, so every week brings the tension of continuing the streak and staying in the national title hunt. Sometimes that means a high-wire act, as when the Buckeyes needed second-half comebacks against Northwestern and Iowa, or when they held off Wisconsin by a touchdown at home. Other times, like last week's 63-14 win over Penn State, everything clicks in breathtaking fashion.
Either way, Ohio State is always interesting, and unlike his predecessor, Meyer does not keep things close to the vest.
Variety is the spice of life in Pac-12

You know what they call the spice of life, right? Welcome to the Pac-12, a conference well-seasoned with variety. With its pro-style and spread offenses, up-tempo and grinding paces, the Pac-12 isn't limited to one or two offensive philosophies tweaked to accommodate specific coaching staffs. It's a cornucopia of complexities on both sides of the ball.
The Arizona spread is wildly different than the Oregon spread. Cal coach Sonny Dykes is Air Raid trained, but Bear Raid approved. Arizona State will spread it out and then crunch it down with double tight-end formations. Pistol? That would be Colorado. Stanford and Oregon State run two-back pro-styles, and the Beavers boast the top passer in the country, Sean Mannion.
And there is just as much variation on defense. Odd fronts, even fronts, 52s, 3-3-5s and a wealth of NFL experience on the coaching staffs to back it up.
Whatever it is you're looking for in college football, chances are the Pac-12 has it.
The beat rolls on at Alabama

Fatigue for all things Alabama is at an all-time high. Its stodgy sense of tradition, its stoic head coach, its machine-like efficiency; everything about the program is stuffy and tired.
The rest of the country hates Alabama and wants to see its dynasty come to an end. And that's what's so great about it. Teams such as Kentucky, Arkansas and Tennessee build their entire seasons around the chance to knock off the defending champs. They usually fail, of course, but the buildup is a blast.
Fans and prognosticators get a chance to rally around Alabama's one or two perceived weaknesses -- usually the secondary or the offensive line -- and forget the Tide's numerous strengths. Someone picks the upset and momentum builds. Suddenly a team such as Ole Miss enters as David to Alabama's Goliath, and who doesn't want to see that timeless battle?
The odds of an upset are always slim, but we tune in just in case. Fans may not like Alabama, but they love the chance to see the Tide fall.