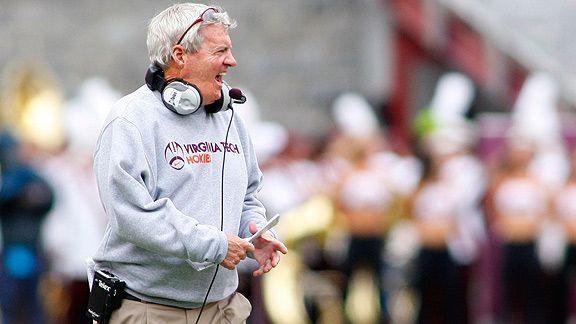 Geoff Burke/US PresswireVirginia Tech was voted as the media's choice to win the ACC in 2010.
Hokies Set Their Sights On Ultimate Prize
By Heather Dinich
ESPN.com
GREENSBORO, N.C. -- Unprompted, Duke coach David Cutcliffe mentioned Virginia Tech as a team that has a chance to win this year's national championship.
"I certainly will tell you that Virginia Tech is at a point they can win a national championship," Cutcliffe said. "They can win one this year. They've got the ingredients to do it. They've got the program, they've got a coach that's a proven winner. It's just things bouncing right."
[+] Enlarge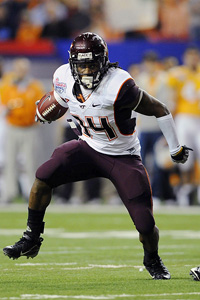 Paul Abell/US PresswireRyan Williams is part of the reason expectations are high for Virginia Tech this season.
Without former Florida State coach Bobby Bowden in the league, Beamer is the ACC's most-tenured coach. He's also one of the winningest coaches without a national title to show for it. Beamer is tied for second among active FBS coaches in victories with 229 in 29 seasons. The Hokies were picked by the media on Monday to win their fourth conference title in seven seasons, but Beamer said the program is always aiming higher.
"If you're in the hunt enough times, one of these days it's going to work out," Beamer said of a national title. "That's our plan. There's no denying that's our goal at Virginia Tech."
The Hokies have accomplished everything else under Beamer. Seventeen straight bowl appearances. Three ACC titles. Three Coastal Division crowns. Three Big East titles. Two BCS bowl wins and an appearance in the national championship game. Beamer has won 10 or more games for six straight seasons -- a feat matched only by Texas.
Can Virginia Tech creep up the BCS standings with a defense that must replace six starters?
"The pieces have got to fit," Beamer said. "How quickly our defensive pieces fit is a big question mark. How our kickers answer the bell -- I don't want to say it's a question mark -- but until a guy kicks in a big ballgame, you really don't know how he's going to respond.
"I think we've got a chance to be a really good football team," he said. "There's some things we've got to fix. We've got to get better. We're working our way there."
UNC Waiting For NCAA Process To Play Out
By Heather Dinich
ESPN.com
GREENSBORO, N.C. -- North Carolina coach Butch Davis was willing to talk on Monday about just about anything other than the ongoing NCAA investigation into whether two players received improper benefits from agents.
[+] Enlarge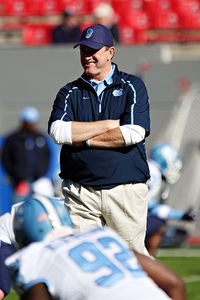 Brian Utesch/US PresswireButch Davis wouldn't comment on the NCAA investigation into whether two of his players received improper benefits from agents.
"The most prudent thing I can probably say is that I know there are a lot of people who would like to ask an awful lot of questions about the NCAA review," he said. "As I have redundantly said throughout the course of today, there's just no way I can comment right now."
That didn't stop reporters from asking Davis his thoughts on agents, and the importance of educating his players about improper contact with them. Davis said he doesn't think there's "any one single group" that can solve the problem of policing athletes' contact with agents. He said programs need help from the agents, the NFL, and the NFL Players Association.
"I don't think this is something that just manifested itself in the last 60 days," Davis said. "It's probably a by-product of things that potentially may have been going on for the better part of at least 2003 as in the one case that's already been adjudicated."
Davis said his staff has tried to be proactive "multiple times throughout the course of the season" and educate the players about compliance issues. He said they're looking at ways they can do it better.
"I think our institution has done absolutely everything we can from a compliance standpoint," Davis said. "We've cooperated with the NCAA. The feedback we got from them was the more cooperative, the more help you can provide, the faster these things move along.
"The only instruction we gave the players was 'tell the truth,'" Davis said.
He wouldn't answer the question, though, about whether or not he was confident that they did.
Receivers No Passing Fancy In GT's Offense
By Mark Schlabach
ESPN.com
GREENSBORO, N.C. -- Georgia Tech coach Paul Johnson believes the Yellow Jackets have dispelled at least one myth about his triple-option, spread offense.
In the past, rival coaches liked to tell prospects that Johnson's system wasn't wide receiver-friendly.
But then Demaryius Thomas was the first receiver selected in April's NFL draft. Thomas, who led the Yellow Jackets with 46 catches for 1,154 yards and eight touchdowns in 2009, was the No. 22 pick in the first round by the Denver Broncos.
"All these recruiting stories that say you can't get to the NFL playing wide receiver in that offense are a myth," Johnson said. "One of the things the NFL scouts told us was that they really liked the way [Thomas] blocked."
With opposing defenses focused so much on stopping Georgia Tech's potent running game, Johnson believes wide receivers can flourish in his offense.
"If you're really good, you're going to put up huge numbers like [Thomas]," Johnson said. "You're not going to get doubled. Nobody's going to cut under you. You might not catch 100 balls, but on the 40 or 50 balls you catch, you're going to have more yards than anyone else."
Maryland's Friedgen Knows The Heat Is On
By Heather Dinich
ESPN.com
GREENSBORO, N.C. -- After a disastrous 2-10 season, Maryland coach Ralph Friedgen knows his job is on the line this fall, but he said he's not worried about the current uncertainty within the administration, which needs to hire both a new president and an athletic director.
[+] Enlarge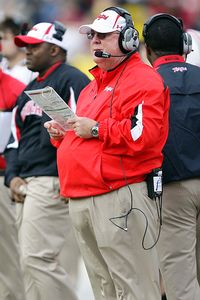 Josh D. Weiss/US PresswireRalph Friedgen is feeling the heat at Maryland after a 2-10 season.
"It doesn't really concern me," Friedgen said. "If I do well in the next two years, I think I'll be at Maryland, and if I don't, I probably won't, so it really won't matter about the administration. I think we have an opportunity at Maryland right now to really get the right people to reach our potential. That's what I'm hoping we do because I still think we have a lot of potential."
Friedgen said he was relieved he wasn't named a part of the search committee to find a replacement for former athletic director Debbie Yow because he has to focus on winning games. He said that until the university hires a president, the athletic director search won't gain much traction.
Before Yow left for NC State, she said her expectation for Friedgen this year was to win at least seven games.
"I'm going to do the best I can do, and whatever happens, happens," he said. "I don't know if that's still what the new AD is going to expect. I plan on winning seven games or more because that's what I want to do. I'd like to go back and start winning 10 or 11 again. Right now I'm more worried about winning the first one."
Georgia Tech: Paul Johnson
One Good Thing

Boston College: Eagles coach Frank Spaziani said senior linebacker Mark Herzlich will be at his own pace when preseason camp begins. Herzlich is returning to the field after battling back from Ewing's sarcoma, a rare form of bone cancer, which caused him to miss the 2009 season. "He's on his own schedule within the framework of the team," Spaziani said. "We're not going to throw him into anything. We'll probably have to throw him out."

Clemson: It might not be as explosive, but coach Dabo Swinney said it's possible for Clemson's running game to be even more productive without C.J. Spiller this fall. Andre Ellington and Jamie Harper both averaged more yards per carry than Spiller did last season. Swinney said the duo is "primed and ready" but the key will be the offensive line.

Duke: Duke coach David Cutcliffe said winning five games last year has helped his staff's recruiting efforts and he's noticed more recruits are interested in the program, and the quality of players has improved. The first quality Duke's looking for is speed. "Our recruiting is so far ahead," Cutcliffe said. "When we started we were scrambling. Now we're executing a game plan."

Florida State: Florida State coach Jimbo Fisher said cornerbacks Greg Reid and Lamarcus Joyner could play some offense this fall. "Those guys are going to touch the ball on offense. There's a couple of 'em. They can flip the field, they can be dynamic and we're going to see in two-a-days where they go. We have to let them get set on defense, but there's going to be a way some of those guys are going to touch the football, I'll bank on it."

Georgia Tech: Senior defensive end Robert Hall, who was suspended indefinitely in June after he was charged with battery following an argument with his girlfriend, will rejoin the team for preseason camp. Johnson said Hall will be suspended from playing in the Sept. 4 opener against FCS foe South Carolina State. Hall started three games in 2009 before a knee injury sidelined him for the rest of the season.

Maryland: Coach Ralph Friedgen said he hired a yoga instructor this summer to help the Terrapins improve their flexibility. Friedgen said his players are spending one fewer day in the weight room to concentrate on yoga. "We had a young lady, but hired a young man so they'd be focused on the yoga rather than her," Friedgen said. "He has tried to get me into it."

Miami: Coach Randy Shannon said he constantly warns his players about attending agents' parties and other events at popular Miami nightspots. Shannon said he also talks to the school's former players about what they can and can't do with current Hurricanes players. "We educate the players and then we educate the ex-players," Shannon said. "The ex-players know they cannot have agents around."

North Carolina: UNC coach Butch Davis is giving quarterback T.J. Yates "the benefit of the doubt," but said backup Bryn Renner could see playing time as early as the opening kickoff against LSU. "A lot of it is how comfortable is the kid and what level of confidence does he have and how much do the other 10 guys in the huddle believe and trust that he's going to do the right thing." Davis said he doesn't need to see Renner in a game situation to make him the starter.

NC State: NC State coach Tom O'Brien did not and will not reveal any possible disciplinary action taken against four players who were cited for misdemeanor charges in April after police found marijuana in their apartment. "If it does happen you may never know," O'Brien said. He did say defensive tackle J.R. Sweezy is back from a previous suspension and suspended punter Chris Ward is transferring.

Virginia: New Cavaliers coach Mike London doesn't seem concerned about the Cavaliers' low expectations in his first season. The Cavs were picked to finish sixth in the ACC's Coastal Division by media on Tuesday. "Is that last?" London asked. "You've got them exactly where I want them. It is what it is. We are what people think we are. All I'm worried about is what we do on the field."

Virginia Tech: Hokies coach Frank Beamer said sophomore tailback Darren Evans, who missed all of the 2009 season with a knee injury, is running much better than he did during spring practice. Evans ran for 1,265 yards and 11 touchdowns as a freshman in '08. Ryan Williams ran for 1,655 yards and 21 touchdowns during his absence. Beamer said the Hokies will try to get both runners on the field together early and often.

Wake Forest: Regardless of who wins the starting quarterback job at Wake Forest this summer, coach Jim Grobe said that for the first time in four years, he'll ask the quarterback to run more. Skylar Jones has a strong arm and topped the depth chart this spring, but Grobe said the players have been giving him the "thumbs up" in the office about freshman Tanner Price.
Davis stays mum on investigation