More Questions Than Answers Under Center
PINEHURST, N.C. -- Only three members of the 12-team Atlantic Coast Conference brought their quarterbacks to ACC Media Days here.
The inherent message: There is a deficit of glamour players at the glamour position.
[+] Enlarge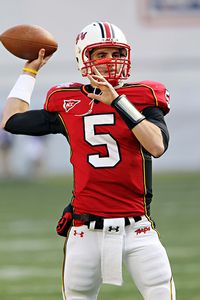 Mitch Stringer/US PresswireDanny O'Brien is one of the few veteran quarterbacks in the ACC this season, but will be adjusting to a new coach.
Of the three that did come -- Duke's Sean Renfree, Maryland's Danny O'Brien and Florida State's EJ Manuel -- only O'Brien had more touchdown passes (22) than interceptions (eight) last year. In fact, almost every projected 2011 starter in the league was upside down or even in that key quarterback statistic in 2010. Only Clemson's Tajh Boyd (four touchdowns, three interceptions) joins O'Brien on the plus side.
One-third of the league appears poised to start a quarterback who did not throw a touchdown last year, and/or has never thrown one in college: Georgia Tech, NC State, Virginia Tech and North Carolina.
The marquee QB was supposed to be Russell Wilson at NC State, but he bailed on his fifth year with the Wolfpack for Wisconsin. Miami's Jacory Harris has had a couple of Flavor of the Month turns at Miami, but his penchant for interceptions leaves him entering fall camp in a battle with Stephen Morris to start.
That leaves a lot of questions. And that lack of proven ability is a good reason the annual skepticism of the ACC continues.
The one team that has most prognosticators excited is Florida State, and that's in no small part because Manuel is expected to take a quantum leap forward in terms of production. His late-season performances against Clemson (281 yards total offense), Virginia Tech (288 passing yards) and in the Chick-fil-A Bowl against South Carolina (led the Seminoles to an upset victory) have bred optimism.
The former blue-chip recruit is now a fourth-year junior, having entered college with hype similar to classmates Blaine Gabbert, Andrew Luck, Dayne Crist and Landry Jones. They've all established themselves, while Manuel had to bide his time backing up Christian Ponder.
"I was behind the 12th pick in the NFL draft," Manuel said. "That made me feel a lot better about myself.
[+] Enlarge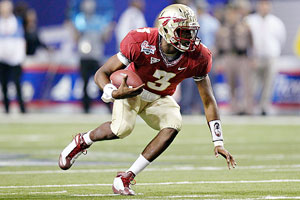 Kevin C. Cox/Getty ImagesE.J. Manuel gave Florida State fans reasons for optimism at the end of the 2010 season.
"I'm comfortable. I feel like I know what I'm doing. I learned from Christian and it's not going to be a shock-and-awe kind of thing. I feel ready."
O'Brien, the guy with the best stats, is starting from scratch with new Terrapins coach Randy Edsall -- and Edsall is hardly a chuck-it-around kind of guy. His 2010 Connecticut team never attempted 40 passes in a game, whereas O'Brien threw it more than 40 times in three games under Ralph Friedgen.
At the other 10 ACC schools, there is an element of wait-and-see at QB.
At Virginia Tech, dynamic run-pass threat Tyrod Taylor is replaced by the hulking Logan Thomas (6-foot-6, 245 pounds). That will almost certainly change the playbook, but not the intangibles, according to receiver Danny Coale.
"Their approach toward the game is the same, their study is the same," Coale said. "That helps to have a guy as passionate about the game as Tyrod was."
At Miami, the belief is that the Hurricanes can win with either Harris or Morris calling signals.
"As long as the offensive line is doing its job, our quarterback is going to make plays," center Tyler Horn said.
Of course, professing faith in your teammates is what media days are all about. September is when we find out whether that faith will be rewarded with quality quarterback play, or whether the league will suffer because of a dearth of it.
No Doubting Dabo
By Heather Dinich
ESPN.com
[+] Enlarge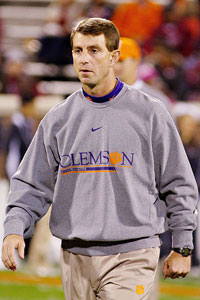 Joshua S. Kelly/US PresswireDabo Swinney and Clemson went 6-7 last season.
PINEHURST, N.C. -- If there is any doubt surrounding Clemson coach Dabo Swinney's job security following last year's 6-7 season, it's not coming from within Death Valley.
About three weeks ago, Clemson athletic director Terry Don Phillips told a local radio station that Swinney wasn't going anywhere. It was a message the players took seriously and appreciated -- but also said they didn't need to hear.
"There was never any question in our mind," center Dalton Freeman said. "We believe everything is being handled the right way. Fans, they just expect everything to change overnight and we know that's not real life. That's not the real world. For Coach Swinney to continue to bring in the nation's top recruits and the nation's top coaches, it's just unbelievable. We have all the confidence in the world in him. We really believe once he gets all of his people in his system, set up the way he wants it -- not from another coach, not players from another recruiting style -- once we get his guys, we're going to be pretty special."
Defensive tackle Brandon Thompson said there was no need for any reassurance.
"No one in the locker room feels that way," he said. "We love Coach Swinney, Coach Swinney loves us, and we'll stick with him through the end."
Williams Makes Immediate Impact
PINEHURST, N. C. -- Despite the ongoing presence of an NCAA mushroom cloud over the North Carolina program, coach Butch Davis was still able to sign another quality recruiting class last winter.
The star of that class looks like junior-college defensive tackle Sylvester Williams, according to a couple of his teammates. The 6-foot-3, 320-pound Williams almost never made it this far, working a job making radiator parts for large trucks out of high school before giving football another try at Coffeyville (Kan.) Community College.
After starring at Coffeyville, Williams enrolled at North Carolina in time for spring practice and made an immediate impression.
"I think he'll make a huge impact," offensive lineman Jonathan Cooper said. "He has moves after moves."
Fellow defensive lineman Tydreke Powell said Williams impressed him with more than just his on-field talent. He also likes his off-field dedication.
One February Saturday morning, Powell got a call from Williams at 8 a.m. Powell suspected trouble. Turns out, Williams wanted a workout partner.
"He said, 'Let's go work. We can't be the best D-tackles in the country if we're not working,'" Powell recalled.
The two are now roommates, and along with ends Quinton Coples (10 sacks last year) and Donte Paige-Moss (seven sacks) comprise one of the best defensive lines in the country. And unlike last year, when the Tar Heels played without a slew of suspended players who violated NCAA rules, they shouldn't be shorthanded.
Georgia Tech Moves Past Sanctions
By Heather Dinich
ESPN.com
[+] Enlarge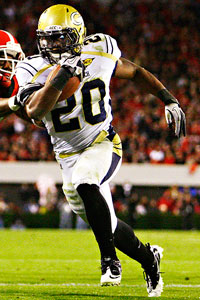 Josh D. Weiss/US PresswireRoddy Jones and the Yellow Jackets are focused on winning another ACC title.
PINEHURST, N.C. -- Georgia Tech A-back Roddy Jones said he was one of the few players who, in 2009, realized the NCAA was looking around.
"You hear," he said. "You hear things. When the NCAA's around, people tend to notice."
The rest of the world didn't seem to notice the 20-month-long investigation until recently, when it was announced that the Jackets would have to vacate their 2009 title, face four years' probation and pay a $100,000 fine. Those within the program, though, say the sanctions haven't affected them.
"It doesn't," said Jones, "it doesn't affect me a bit. I get to keep my ring and I get to tell people we won the ACC championship in 2009, and I get to go out and play this year, so it has no bearing on what goes on this year. We're very focused on getting back to an ACC championship game this year because that would really alleviate a lot of the stuff that's been going on around us."
Defensive tackle Logan Walls said $312 worth of clothing "wasn't worth an ACC championship."
"It bothered me," he said, "but then I talked to my mom about it, and she said, 'They can't take away your memories, you have your ring.' We have all of the stuff from the game, I'd just like to show my kids our ACC championship trophy. I guess that's the biggest thing."
One Good Thing

Boston College: Linebacker Luke Kuechly led the nation last year with 110 solo tackles -- so many that his dad often gave him grief last year about how many were legitimate. "He's always like, 'You just walk by the ball and they give you tackles,'" Kuechly said with a laugh. "I'm like, 'Dad, man, I'm working for those.' He said, 'No, you're not, they're just tallying them up for you.'"

Clemson: The pace of Clemson's offense has sped up under first-year coordinator Chad Morris, and it starts at the heart of the line. Instead of looking to the sideline and getting the play, Clemson center Dalton Freeman said he's running straight to the ball. "When you're looking at the sideline for a couple of years, waiting to hear the signal, to going straight to the ball and getting into your stance, it's a big transition but it's been a smooth one."

Duke: Quarterback Sean Renfree said his improved decision-making was the biggest difference down the stretch last season. "Towards the end of the season I was thinking you don't have to score every series," he said. "Do the little things to give yourself a chance in the fourth quarter." Renfree, who's visibly bigger, faster and stronger, said he's much more confident entering his second season as starter.

Florida State: The Seminoles are already preparing for their Sept. 17 home game against Oklahoma. "I watch film on them every day," defensive end Brandon Jenkins said. "That's a key factor." Jenkins said last year's 47-17 loss stuck with them for a long time, but they're "going to try to change that this year." He said the Noles have grown most in leadership and maturity since that loss.

Georgia Tech: While Georgia Tech might not find its next 1,000-yard rusher this fall, A-back Roddy Jones said the Jackets will get their yards by committee this year. "I think there will definitely be at least two," he said of the B-backs. "We have four who are capable of doing the job. I don't think any of them will be as explosive as [Jon] Dwyer was, but every single one is capable of being as effective as Anthony [Allen] was."

Maryland: Linebacker Kenny Tate said his move from safety to linebacker isn't as significant as some might think. "It's really not a huge change," he said. "… I still have the freedom to move around, I'm just closer to the line." Tate said he has heard that the move could be a boost to his NFL stock because he can showcase his ability to blitz and also play safety.

Miami: The Hurricanes will be hunkered down in a hotel to stay focused during the first few weeks of summer camp, according to center Tyler Horn -- who said the team could use it. "Obviously what we did last year was not good enough," Horn said. "The focus has been an emphasis and being mentally tough … Nothing but good can come out of it."

North Carolina: Quarterback Bryn Renner lost a video game to offensive lineman Jonathan Cooper, and Cooper immediately got the silent treatment. Cooper said Renner is "very competitive. He hates to lose." One of the adjustments Renner will have to make, Cooper said, is accepting the ups and downs of his position. "You're not always going to be the glory guy, you're going to have to take some of the falls with it as well."

NC State: Tight end George Bryan said he kept his personal feelings out of former quarterback Russell Wilson's decision to transfer. He didn't know until he found out about it on TV. "I trust whatever decision was made," he said. Bryan said he hopes Wilson does well at Wisconsin. "If it's on TV, I'll definitely watch it and be cheering for him."

Virginia: Cornerback Chase Minnifield said he "doesn't have many expectations" for himself: Just to be an All-American, All-ACC and the best corner in the country. "I don't really care what my interceptions are," he said. "I think a good corner is a guy who doesn't give up too many passes and doesn't give up any touchdowns. If I can get that done, I'll be all right."

Virginia Tech: Safety Eddie Whitley said he has seen quarterback Logan Thomas making "big strides, even from spring to now." Whitley said Thomas is ahead of the curve but expects opponents to disrespect Thomas' IQ and arm strength. During voluntary workouts this summer, Thomas would run a play, and ask Whitley what coverage the defense was in and why, and how he can throw the ball better against it.

Wake Forest: One priority for the defense is creating turnovers, as the Demon Deacons ranked tied for No. 94 in the country last year with 17. Linebacker Kyle Wilber said the players were young, "cocky and arrogant" and thought they were going to easily strip the ball last year. "If we don't help out our offense and put them in the best position they can be in, how do we expect to win?"
Tracking ACC Media Days
Want the latest from ACC Media Days? Heather Dinich is on the scene and tracking it all in the ACC blog. Follow along. ACC blog.