QBs Look To Take Ownership Of Horns
By Mark Schlabach
ESPN.com
DALLAS -- When Texas coach Mack Brown went searching for a new quarterback after losing Heisman Trophy runner-up Vince Young following the Longhorns' 2005 national championship, he let his players decide who would be the starter.
[+] Enlarge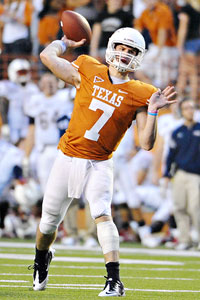 Brendan Maloney/US PresswireGarrett Gilbert will battle three other players for the starting quarterback job at Texas.
Brown let Colt McCoy and Jevan Snead battle for the job during the summer when they were leading the team's offseason workouts.
"We didn't know who would be the quarterback when we left spring practice," Brown said. "What we felt was fair was to let both compete over the summer and see which one came back and had the attention of the team. Who took over? Who handled the team chemistry? Who had leadership? Who did the players believe in?"
It didn't take Brown long to find out which quarterback had won his teammates over. At a dinner with several of Texas' veteran players before preseason camp opened in 2006, Brown learned McCoy had won the job.
McCoy went on to win 45 games and break more than a dozen Texas and NCAA passing records. Snead left UT and transferred to Ole Miss.
"Each one of them said: 'Coach, the quarterback has been decided. Colt McCoy is your quarterback,'" Brown recalled. "We said: 'Really? Why?' They said: 'You'll see.' And [now] his name is in the stadium with a retired jersey."
As Texas tries to regroup from last season's nightmarish 5-7 finish, Brown is taking a similar approach with his quarterbacks. Four players -- incumbent Garrett Gilbert, sophomore Case McCoy (Colt's younger brother) and freshmen Connor Wood and David Ash -- are still battling to win the job.
"The No. 1 thing we want is leadership," Brown said. "We want somebody [who] can get the swagger back and make sure that the rest of the kids know that this person's going to lead them to victory."
[+] Enlarge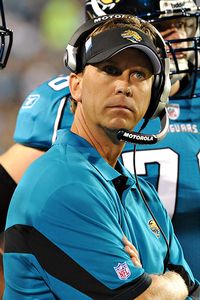 Al Messerschmidt/Getty ImagesTodd Monken, who worked as the Jacksonville Jaguars' receivers coach the past four seasons, takes over as offensive coordinator at Oklahoma State.
Gilbert, a junior from Austin, Texas, failed to do that in his first season as a starter in 2010. Playing behind a shaky offensive line and without a consistent running game, he completed 59 percent of his passes for 2,744 yards with 10 touchdowns and 17 interceptions.
Brown and co-offensive coordinators Major Applewhite and Bryan Harsin, who was lured away from Boise State to replace Greg Davis, preached ball security to Gilbert during the spring.
Now, Gilbert is battling three younger players to earn the starting job. McCoy threw for more than 10,000 yards with 111 touchdowns at Graham (Texas) High School. Wood threw for more than 8,400 yards with 73 touchdowns and ran for nearly 1,500 yards with 37 scores at Second Baptist School in Houston. Ash threw for nearly 8,000 yards with 80 touchdowns at Belton (Texas) High.
More than anything else, Brown wanted one of his quarterbacks to take ownership of his team this summer. Brown is eager to see the results when the Longhorns open preseason camp early next month.
"We're hoping by not naming a starter, by sending all four guys to the summer, that it put a tremendous amount of pressure on all four of them to become the leader, to make the players believe in them, to make the team step up," Brown said. "I think we'll see the effect of who comes out of that competitive fight for two months at a very difficult time, who worked the hardest, who led the best, and I think we'll see that during preseason camp."
Monken Back With Cowboys
By Mark Schlabach
ESPN.com
DALLAS -- When Oklahoma State hired former NFL assistant Todd Monken to replace offensive coordinator Dana Holgorsen, Cowboys receiver Justin Blackmon had to become a teacher.
After the Pokes led the Big 12 in scoring (44.2 points per game), total offense (520.2 yards) and passing (345.8 yards) in 2010, OSU coach Mike Gundy didn't want to change his team's hurry-up attack. Holgorsen left to become West Virginia's coach-in-waiting and was then named Bill Stewart's replacement earlier this month.
"We really had to break everything down and teach it to him," Blackmon said. "We really haven't changed much of anything. There might be a couple of routes we've flipped, but overall everything is pretty much going to be the same."
Monken, who worked as the Jacksonville Jaguars' receivers coach the past four seasons, had to check his ego at the door when he returned to OSU for the second time. Monken previously coached the Pokes from 2002-04, working as passing game coordinator and receivers coach.
"We wanted a coordinator that would come in and be willing to run our offense," Gundy said. "And it's not easy to find a coach that's willing to do that."
Quarterback Brandon Weeden, who led the Big 12 in pass efficiency with a 154.1 rating, said the transition has been pretty seamless.
"It's the exact same," Weeden said. "From an X's and O's standpoint, we changed a couple of route combinations to get the ball in Justin's hands a little more. When [Monken] came in, he liked what he saw."
Aggies Hope Defense Doesn't Rest
DALLAS -- Texas A&M lost its top talent and top tackler from its 2010 team, linebackers Von Miller and Michael Hodges.
Hodges, who had 115 tackles last season, won't return to College Station, and Miller is busy preparing for his first NFL season after being drafted second overall by the Denver Broncos.
Aggies coach Mike Sherman, however, says his defense will be even better in 2011 than the unit that ushered in the return of the Wrecking Crew in 2010.
"I do believe that the second year in this defense will make the biggest jump," Sherman said of coordinator Tim DeRuyter's 3-4 scheme, implemented before the 2010 season. "Our guys will have a lot more familiarity and knowledge of the defense and be able to fit in a little bit better."
Sherman isn't looking to replace a talent like Miller, though Damontre Moore will likely fill his role at the Joker position. Hodges' spot is still up for grabs, even more so after Kyle Mangan's struggles in the Cotton Bowl after Hodges left for good in the first quarter with a knee injury.
Last year's team had 15 spring practices and a month of fall camp to learn the new system, but the Wrecking Crew gave up just less than 22 points a game in 2010, down from a Big 12-worst 33.5 in 2009.
"From a scheme standpoint, they'll understand it better," Sherman said. "We have some guys I'm anxious to see out there that will come into their own."
One of those is linebacker Sean Porter, but if Texas A&M is going to return to the prior greatness that's been absent over the past decade, replacing players like Miller and Hodges will have to become commonplace.
"If you're a good program, you have to be able to handle the loss of a player like that," Sherman said. "Oklahoma and Texas have done that over the years. Hopefully, we can do that."
Big 12 Focused on Texas
One thing expansion hasn't changed: All eyes are still on Texas. The Horns' new network was among the hot topics Monday. Story
One Good Thing

Baylor: Quarterback Robert Griffin III is never one to keep his confidence quiet, but coach Art Briles says that's fine with him. Talking trash, he says, "is in the ear of the beholder." Briles wasn't concerned about that, but was concerned with Griffin's confidence perhaps coming into play with college football's new celebration rule, and compared Griffin to famed Olympic sprinter Edwin Moses. "He's not low-stepping when he's crossing that finish line," Briles said. "What I would hate to do is have some line judge interpret that as taunting, which I don't consider it. Robert talking-trash, to me, is just being a confident athlete that has reality to back up what he's saying."

Missouri: Missouri lost two Gabberts this offseason, paving the way for James Franklin to take over for the Tigers. Blaine Gabbert left early for the NFL, and his younger brother, Tyler Gabbert, transferred after spring camp, essentially conceding what could have been a tight competition in fall camp. "Personality-wise, James and [former Missouri quarterback] Brad Smith are a lot alike," Tigers coach Gary Pinkel said of his 6-foot-3, 225-pound passer. "The greatest leadership you can do as a player is to play well." Franklin played sparingly last year as a run specialist, throwing just 14 passes, but has taken over the new role of starter during summer workouts. "The team's embraced him," Pinkel said, later adding: "The team around him understands he's going to be the starter."

Oklahoma State: Oklahoma State's offense (on the field, anyway; coaching booth aside) hasn't faced many questions, as it returns some of the Big 12's top talents in quarterback Brandon Weeden and receiver Justin Blackmon. But the defense brings back just five starters, the fewest in the Big 12, and coach Mike Gundy knows his team has to grow up fast. That's especially true in the front seven, where he pegged linebackers Caleb Lavey and Joe Mitchell, as well as defensive tackles Christian Littlehead and Nigel Nicholas as four players whose growth will have to happen quickly. "I'm comfortable with our ends because we have returning starters that have played in big games," he said. "But those players are going to need to grow up fast in order for us to have success."

Texas: Lowered expectations? Thanks, says Mack Brown. Texas has never been picked to finish lower than third in the Big 12. This year? Fifth. "You all make our players mad daily, and you motivate them first," Brown said. He said a player informed him on Sunday night of the media's poll, which was the first he'd heard of it. Brown admits he'd prefer the higher expectation, but he'll take what he gets in 2011, following a 5-7 season in 2010. "There is a certain motivation when you tell kids they're not any good, and they're not going to do anything and they're not in the top 10, the things they came to Texas for and that they've had, they lost this year."

Texas A&M: Texas A&M isn't worried about a controversy at running back, but rather enjoying the luxury of having two of the Big 12's best, Cyrus Gray and Christine Michael at the position for 2011. "I don't anticipate it being a major issue, because they're both going to play," coach Mike Sherman said. Michael was the Aggies' featured back until breaking his leg midway through the season, and Gray finished the year with seven consecutive 100-yard games. Sherman admitted that he thought about it a lot, but Michael shed his tentativeness midway through spring camp.
Tracking Big 12 media days
Want the latest from Big 12 media days? David Ubben is on the scene and tracking it all in the Big 12 blog. Follow along. Big 12 blog.
More From ESPNDallas.com
ESPNDallas.com is providing live coverage of Big 12 media days. Check out the Colleges Report blog for updates. Story