Big East confident about future
NEWPORT, R.I. -- The Big East Conference that you think you know is not the Big East that presented itself at its media day on Tuesday.
The Big East that struggled to keep a team in the Top 25 last season; the Big East that has evolved into a rung on the way up the coaching ladder; the Big East that is, let's face it, a basketball conference, did not make an appearance at the grande dame Hotel Viking. "The Big East Conference is stronger and has more vitality today than it ever has in its 32-year history," commissioner John Marinatto said.
Self-promotion is one thing. Self-promotion is expected. Leagues invite media members every summer for just that purpose. But the ebullience that Marinatto exuded seemed divorced from the reality on the field. A year ago, Big East champion UConn got humiliated in the Fiesta Bowl. No team won more than nine games.
The Big East is a league built on the foundation of basketball. The essence of the league is on display for one week every March at Madison Square Garden, where the Big East men's basketball tournament rivets the attention of sports fans in the nation's biggest city.
And on Tuesday, the commissioner of this conference said, "Football drives the train. There's no question about it. Football is the engine that makes it go."
Can we get this back in touch with reality?
[+] Enlarge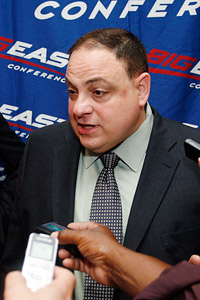 AP Photo/Stew MilneBig East commissioner John Marinatto was promoting his league as one that's driven by football at media day.
Marinatto has statistics at his disposal about how the Big East champion finished in the top 12 in five of the past six years, about its nonconference winning percentage and its bowl record. But those facts aren't the basis for his argument. In a television market that needs to be tested for steroids, the Big East is the last AQ conference available. "It doesn't take a high-priced TV consultant to know that we as a league are very well-positioned for the future," Marinatto said.
The Big East offers a significant inventory of live sports, which Marinatto referred to as "DVR-proof programming." And the Big East isn't offering just any live sport. College football only gets more popular every year.
The Pac-12 announced deals with ESPN and Fox earlier this year that will provide about $21 million annually to each school. The Pac-12 made that announcement the day before the Big East had to give ESPN an answer on a contract extension that, beginning in September 2012, would have paid each league member a little more than half of the Pac-12's take.
"The Pac-12 deal, which has just shocked all of us, has changed the way we look at our future," Marinatto said. "… The Pac-10 did, God bless 'em, a phenomenal job. We're going to take advantage of the landscape they helped create."
The Big East has a school in seven of the nation's top 14 media markets. TCU will arrive next year, bringing the No. 5 media market with it. The reason Marinatto is brimming with confidence has nothing to do with the league's football. It has everything to do with the eyeballs that it claims it will deliver to the networks.
Marinatto likes the hand he is playing. The league may try to bring in a 10th football member. It may not. It may try to bring in enough teams for a league championship game it would hold in, naturally, New York. "When we took TCU last year, people kept saying to me, 'How can that be?'" Marinatto said. "And I kept saying, 'It's a new world.'"
The Big East is betting its future on that premise. And it's very confident about it.
Mountaineers tabbed as Big East favorite
By Andrea Adelson
ESPN.com
NEWPORT, R.I. -- Not surprisingly, West Virginia was picked as the preseason favorite to win the Big East. Excitement has been high around Morgantown since Dana Holgorsen was brought on to the staff as offensive coordinator, and escalated once he was promoted to head coach.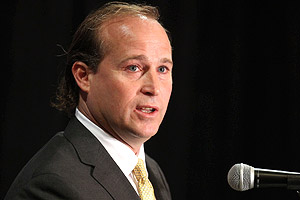 AP Photo/Stew MilneDana Holgorsen's Mountaineers are the Big East's preseason favorites in 2011.
Holgorsen said he will handle the expectations the same way he did when Oklahoma State was picked to finish last in the Big 12 last season. "It doesn't matter. You've got to plan on what you're trying to do. You put in that plan, you follow what your installation stuff is, you do your best to keep everybody healthy. You try to get yourselves peaked through camp so you can win your first game."
West Virginia, of course, is no stranger to being on top of the Big East. The Mountaineers have won or shared the Big East title five times in the past eight years. "That's why we came to West Virginia to win championships," cornerback Keith Tandy said. "We've got a tradition here of winning the Big East, and we want to continue that. Being picked to finish first, it's a real good feeling. There's more pressure because you've got a target on your back, but that's why we play the game."
USF's Holtz relishes continuity
NEWPORT, R.I. -- South Florida coach Skip Holtz publicly congratulated and thanked Rutgers coach Greg Schiano for starting his 11th season with the Scarlet Knights. In a league in which only one of the other seven coaches (third-year coach Doug Marrone of Syracuse), has been in his job more than one season, Holtz prizes continuity. He sees the benefit of it with his own team.
[+] Enlarge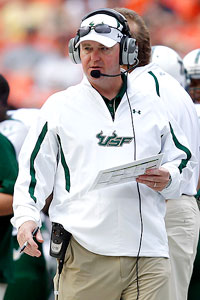 Joel Auerbach/Getty ImagesUSF coach Skip Holtz and the rest of the Big East are surely hoping that a new TV deal will help bring stability to the league.
"You go out there and run all your plays and people know what to do," Holtz said. "We're not teaching assignments. A year ago, everything was, 'What do I do on this play?' 'You go over there and you block the end.'
"Now, it's about how to interpret that defense and how to block that end. It's much more how-to-do-it than what-to-do. … The offensive line, you see guys making calls on their own. 'Thank you! Not only did you call it, you understood it!' This was a beautiful thing."
One of the most difficult realities a first-year coach must deal with, Holtz said, is patience. "Do you dummy it down?" Holtz said. "Do you really put in very little offense and defense and get them to run it really well? Where is that line between doing too much and not doing enough?"
When Holtz thinks about whether he struck the right balance last season, he thinks of quarterback B.J. Daniels. The junior struggled to grasp Holtz's offense even as he led the Bulls to an 8-5 season, including a 31-26 win in the Meineke Car Care Bowl over Clemson. "In hindsight, if I went back, I would probably have simplified some things a little bit more for B.J., with everything that he had been through early. But towards the end of the year, if we can get the type of play we got out of him against Clemson [20-of-27, 189 yards, two touchdowns, one interception], we have a chance to be a pretty good offensive football team."
Syracuse: Mikhail Marinovich
Tracking Big East Media Day
Cincinnati: Zach Collaros
One Good Thing

Cincinnati: Coach Butch Jones said because of all the youth on his team, he has decided to run two separate practices for his players on Days 2 and 3 of fall camp. The benefit is that he will get his players plenty of reps running one A group and one B group, and he especially needs those reps at backup quarterback. Then he will re-evaluate to see how taxing the practices are on the coaches, who are going to have to be on the field for four hours at a time.

Connecticut: The strength for UConn should be the defense, which returns standout players like Kendall Reyes, Jesse Joseph, Sio Moore and Blidi Wreh-Wilson. But with a new defensive coordinator, there are going to be some changes. Coach Paul Pasqualoni said the Huskies will alternate between running a 3-4 and a 4-3. Defensive coordinator Don Brown has one background and Pasqualoni has another, so "we are merging those backgrounds together and are going to be multiple."

Louisville: Coach Charlie Strong confirmed that quarterback Tyler Gabbert is not with the team. Last month, Strong tweeted that Gabbert was transferring in from Missouri. But when asked about it Tuesday, Strong said that Gabbert and his father were going in another direction, and the quarterback would not be playing for the Cardinals. Strong also said that Gerald Holliman is the only incoming freshman who didn't qualify academically and would be headed the prep school route.

Pittsburgh: New coach Todd Graham has stressed having a "fifth quarter" to his team -- essentially making sure the Panthers are in such good condition that they wear the opposition out in the fourth quarter and win.That has been a huge emphasis during strength and conditioning work this summer. "We want to be fast and efficient," Graham said. What has particularly surprised him has been how quickly his team has adapted. In one offseason, Pitt is at the conditioning level his final team at Tulsa was at after several more years in his system.

Rutgers: Coach Greg Schiano was asked once again about his idea to eliminate kickoffs because of the dangers they present to players. Schiano saw Rutgers player Eric LeGrand get paralyzed because of a hit on a kickoff and has been in the minority in campaigning for the rule change. But his point is that the game has to change as it evolves. "The NFL with its competition committee has it figured out," Schiano said. "There's one Division I coach on the college rules committee. We have to be able to adjust more quickly than looking at rules over a two-year cycle."

Syracuse: The Orange had a rough weekend with off-the-field news. Running back Prince-Tyson Gulley was stabbed during a fight at an on-campus party, and receiver Marcus Sales was arrested and charged with drug possession. Coach Doug Marrone said he wanted to wait until he got back to Syracuse to determine what he would do in both cases, and did little more than stick to the statement he already issued through the school.

West Virginia: The Backyard Brawl between West Virginia and Pitt is already one of the biggest rivalries in college football, but it could take on even bigger proportions this season given the familiarity between West Virginia coach Dana Holgorsen and Pitt coach Todd Graham. Familiarity might be a nice way of putting it. The two had a few verbal skirmishes when they were both in Conference USA. Holgorsen had the understatement of the day when he said their relationship would make the game "a little more interesting."

USF: The Bulls might have to replace three starters on the offensive line, but starting guard Jeremiah Warren is confident in his teammates and the offense. "We're working hard and getting ready. We've come together this summer and things are going great," Warren said. As for the way the Bulls ended last season, Warren said, "It was a snowball effect. We're more confident as a team. Now we know the system. We know everything better, and you can just play with more confidence."