No NFL? No Problem
We interrupt Brady v. NFL to bring you McGloin v. Bolden, the battle to win the Penn State quarterback job. We interrupt the jaw-dropping legalistic mind twist that is union decertification to bring you battles for depth-chart primacy being waged across the country. We interrupt the spectacle of billionaires battling millionaires to bring you spring football.
[+] Enlarge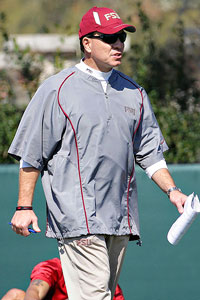 AP Photo/Phil CoaleCoach Jimbo Fisher will walk Florida State through its spring game on April 16.
Someone is playing football in these here United States, and it ain't the National. Football. -- Wait for it. -- League.
Yeah, wait for it.
We will stipulate that the land of the Football Bowl Subdivision has its share of problems. Some of the most storied programs in the game are either appealing lengthy sentences (USC) or hoping they don't get them (Tennessee, Ohio State). The postseason that has made the game more popular than it's ever been induces half the fans into a state of spittle-flying apoplexy.
But college football is not using agents as conduits between position coach and player, relaying verboten practice information like a scene from an Alan Furst novel. In college football, coaches are, even as we speak, directly delivering that information in the time-honored method -- at the top of their lungs.
Coaches love spring football. It reminds them of why they got into the game. They didn't decide to miss their kids growing up so they could watch video all night. They coach football to touch young lives, to make the light bulb glow for a young man the way someone once clicked it on for them.
Spring football is nothing but teaching. It is practice without games, hard work without the payday on Saturday. That's why coaches love it and players endure it.
Work stoppage? They haven't stopped working at USC, where the Trojans ran onto Howard Jones Field at 7:25 this morning, before their meetings and their classes and their weightlifting and their study hall.
They haven't stopped at TCU, which went 13-0 and finished No. 2 just three months ago. The Horned Frogs are in the final week of spring practice, looking for a way to replace the 26 seniors who won 44 games the past four seasons.
They are delighted to work at Michigan State, if only because the arrival of spring practice this week means that the Spartans survived all 14 sessions of winter conditioning, the inoffensive name for the hell that is mat drills.
They start practice Tuesday at Cal, where the renovation of Memorial Stadium will send the Golden Bears to four area high schools this spring in search of room to work.
The NFL is in labor-relation limbo. Not only are Tom Brady and Peyton Manning suing the NFL; so are retired stars such as Carl Eller and Priest Holmes, who claim to represent the incoming rookies, too. The NFL draft, just four weeks away, will be conducted in the echoes emanating from federal courtrooms.
Pro football these days is everything America loathes about professional sport. College football, warts and all, is the same as it ever was. April will feature spring games all over the country, such as the one at Darrell K Royal-Texas Memorial Stadium on Sunday. The Longhorns are digging out of a 5-7 hole. But they're on the field instead of on the docket. These days, that shouldn't be taken for granted.
Spring Game Viewer's Guide
Blog Network: Spring Forward
Our bloggers are tracking all the news from spring practice. Follow along to get the latest updates from your favorite conferences.

Get the latest ACC spring practice news and all the updates from around the conference.
ACC blog

Get the latest Big 12 spring practice news and all the updates from around the conference.
Big 12 blog

Get the latest Big East spring practice news and all the updates from around the conference.
Big East blog

Get the latest Big Ten spring practice news and all the updates from around the conference.
Big Ten blog

Get the latest Pac-10 spring practice news and all the updates from around the conference.
Pac-10 blog

Get the latest SEC spring practice news and all the updates from around the conference.
SEC blog

Get the latest spring practice news from Notre Dame, the non-AQs and the rest of the conferences.
Nation blog