Davis Addresses Alleged Violations
PINEHURST, N. C. -- The media started gathering around Butch Davis' table at least 15 minutes before he arrived Monday. By the time the North Carolina coach sat down, he was engulfed by what easily was the biggest contingent of reporters at ACC media days.
Nobody was there to talk football.
[+] Enlarge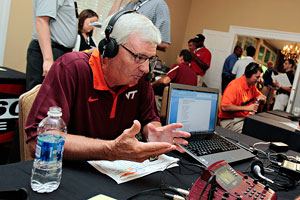 AP Photo/Gerry BroomeFrank Beamer plans on telling his team a few cautionary tales.
What followed were Davis' most extensive comments to date on the nine alleged major violations his Tar Heels program is facing. Befitting a man who will go before the NCAA's Committee on Infractions on Oct. 28 and could see his program facing potential sanctions, Davis was properly penitent.
"This is the most important situation that has faced the University of North Carolina in many, many years, and maybe in many decades," Davis said. "Anything we can do to make sure this doesn't happen again, that's part of my responsibility. I regret greatly that these things have transpired and these things have happened. I don't take them lightly. This is a very, very serious issue. It's caused a tremendous amount of embarrassment and a tremendous amount of hard times for Carolina alums and fans. But we're going to get through this."
The fact that Davis has survived a year-long NCAA scandal is surprising. It is testament to the "overwhelming" support the fifth-year Carolina head coach has from fans and from the administration, and to the fact that the NCAA has not targeted Davis himself with alleged violations.
For those and other reasons, Davis said he has never considered quitting his job. But even if his job is safe for the time being, Davis' close ties to those accused of violations has at the very least brought his reputation under siege.
His associate head coach, recruiting coordinator and longtime friend, John Blake, is alleged to have been paid $31,000 by agent Gary Wichard in exchange for steering him players as clients. Davis said he has not spoken to Blake since he resigned last fall, and has not attempted to reach him. Former UNC tutor Jennifer Wiley, who was hired privately by Davis, also is accused of major violations.
Having hired two people prominently mentioned in the NCAA report hasn't come back to haunt Davis yet. He asserted that there were "no apparent red flags" surrounding Blake when Davis hired him off the staff at Nebraska in 2008, but in football circles the former Oklahoma head coach had a murky reputation for many years.
Blake's departure, coupled with the fact that the school withheld so many players from competition last year, were also likely factors in Carolina avoiding a "lack of institutional control" finding. But for the public, the fact-finding is ongoing.
Davis said he will release his personal cell phone records to the public "very soon," but did not specify when. Davis said the school has had the records in its possession for months, which he indicated is a sign that there are no significant concerns with them.
The school received its notice of allegations on June 21 and has 90 days to file its formal response to those allegations. Davis said he has no idea what the school's response will say, adding that it's in the hands of the administration.
"People have been hurt by this," Davis said. "We've been hurt. I've been hurt, our players and coaches. But I think UNC is a great institution that can overcome this."
Virginia Tech Not Looking Past Week 1
By Heather Dinich
ESPN.com
[+] Enlarge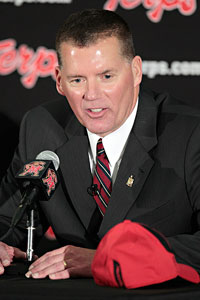 AP Photo/Rob CarrRandy Edsall will get a warm welcome to the ACC with an opener against Miami.
PINEHURST, N.C. -- Virginia Tech coach Frank Beamer said he will show his players film of Appalachian State's monumental upset of Michigan in 2007. He will remind them of their loss to James Madison last year. And he will hope that those examples prevent the Hokies from another flop in what should be one of the most manageable nonconference schedules they've had in years -- and will have in years to come.
"Regardless of who you start out with, whether it's Appalachian State or Boise State, you get your starting point and go from there," he said. "A lot of things can happen in that opening ballgame."
Virginia Tech has faced Boise State, Alabama, Nebraska and LSU in recent years, and not since 2006 have the Hokies escaped playing one of the nation's elite teams. This year the lineup includes Appalachian State, East Carolina, Arkansas State and Marshall, which combined for a 25-25 record last year and one bowl appearance.
While the soft nonconference schedule could hurt the Hokies' strength of schedule, it could also make for a friendlier debut for first-year starting quarterback Logan Thomas. The best thing for Thomas, Beamer said, is the talent that surrounds him this year. With a veteran offensive line, deep and talented group of receivers and rising star in tailback David Wilson, Beamer said Thomas won't have to carry the load.
"I think Logan is going to be fine," he said. "I think the best indication for Logan was when he came in the Miami game last year, third-and-14, and he throws a bullet down the middle of the field. Comes in cold. That says, 'Hey, this guy answers the bell.' He looks forward to that."
No Easy Start For New Coaches
PINEHURST, N.C. -- Football coaches crave entering the season in the shallow end. Give them a home game against an overmatched FCS school and they're happy.
Especially a coach just starting at a new school.
For Al Golden and Randy Edsall, introduction to Atlantic Coast Conference football is an immersion in the deep end. On Labor Day night, Golden's Miami Hurricanes must travel to face Edsall's Maryland Terrapins. They have the national stage to themselves, but with potential high reward comes undeniably high risk.
The winner feels great. The loser is a game back in the conference standings and facing 12 days of second-guessing before playing another game.
"I don't prefer it, but didn't have much say in the matter," Edsall said. "We had Towson scheduled, then a week off and then West Virginia. … But it's a great opportunity for us, great exposure, on our home field. Once it's set, you move on and go forward with it."
Joked Golden: "Maybe because we were new, we drew the shortest straw."
Among the added dynamics to the game is the fact that Edsall was considered a finalist for the Miami job that went to Golden. Then Edsall wound up leaving Connecticut for Maryland when the Terrapins fired Ralph Friedgen.
The two new coaches are transplants from the northeast: Golden, a former Penn State player, arrives from Temple; Edsall comes to College Park after 12 years at Connecticut. Both have work to do changing the culture.
Edsall encountered academic deficiencies at Maryland that have led the Terrapins being penalized for a low APR score. The Terps have lost three scholarships and had their 20-hour practice week trimmed back as well.
"There were some things we really needed to clean up from an academic standpoint," Edsall said.
For Golden, the job is to eliminate a popular word from the Miami football lexicon.
"I'm so tired of talking about swagger," he said. "Swagger was the byproduct, it wasn't the product. It came from demonstrated performance and having a chip on your shoulder and being the hardest-working team out there.
"I think [fans] want to see us play with passion, I'll concede that. Last year, they did not. We're working on that. But I think fans want to see results. … I'm just tired of everyone thinking [lack of swagger] is the only problem we have."
Golden's Week 1 opponent, Edsall, certainly is not lacking for swagger.
"I have a tremendous amount of confidence in my abilities, I'll tell you that," he said. "Everywhere I've been, I've won."
Florida State Is The Preseason Pick
By Heather Dinich
ESPN.com
PINEHURST, N.C. -- Florida State wasn't a unanimous choice to win this year's ACC title, but there was enough overwhelming support for the Seminoles that even Virginia Tech coach Frank Beamer conceded FSU as the early favorite.
"I'd vote for them, too," he said.
In only Jimbo Fisher's second season, Florida State received 65 of 71 first-place votes from the media in attendance here. The Seminoles won the Atlantic Division last year but lost to the Hokies in the ACC title game. This year, 45 of the 71 voters predicted Florida State would beat Virginia Tech in this year's championship. The Hokies, who were picked to win the Coastal Division, received 18 first-place votes followed by Clemson (two) and Boston College (one).
Florida State hasn't been projected by the media to win the ACC title since 2005. Fisher said his team is "very capable" of winning the conference title this year.
"We want to have a winning season, we want to be the state champion, we want to be the division champion, we want to be the ACC champion and a BCS bowl and hopefully a national championship," Fisher said. "I think we're very capable and I'm anxious to see how our team takes that challenge."
Boston College running back Montel Harris was voted the ACC's preseason Player of the Year.
Florida State: Jimbo Fisher
One Good Thing

Boston College: The inconsistency of the quarterback position has been at the heart of the Eagles' recent struggles, but with the maturation of Chase Rettig and hire of Kevin Rogers, coach Frank Spaziani said they're in a much better position than when he was hired. "We're moving forward there. Certainly, we're light years ahead of where we were two years ago when I was sitting here. … Chase has separated himself a little, if you will."

Clemson: There are several positions freshmen will have a legitimate chance to earn playing time at this summer, starting with wide receiver. "We need some help there," Dabo Swinney said. He also said the team needs immediate help at linebacker, and running back Mike Bellamy will "really spice things up for us." The defensive line is another area of opportunity and possibly one in the secondary. Clemson redshirted 15 players last year and will use 12 to 13 freshmen this fall.

Duke: David Cutcliffe's three-year record with the Blue Devils is 12-24. That's not great -- but it's a heck of an upgrade from the three previous years, when the program went 2-33. "I'm not writing home to my mother about 12 wins in three years," Cutcliffe said. "But we've won six times as many games [as from 2005-07]. There's a lot to be excited about for the future. … I'm glad people talk about [Duke not playing in a bowl since 1994]. They should question it. I tell our players, 'Quit talking about it and go do it. Win more than you lose.' "

Florida State: The Seminoles are among the programs that officials of the Chik-Fil-A Kickoff Game would like to bring to Atlanta for a season opener in the future. (The game is currently booked through 2014.) When someone casually suggested to coach Jimbo Fisher that Florida-Florida State would make a nice season starter instead of the traditional season ender, Fisher was not overly opposed. He pointed out the difficulty of playing an emotional rivalry game, then -- if either team is good enough -- turning around a week later and playing with peak intensity in the league title game. Fisher also opined that the Florida State-Miami game should be anchored in a permanent spot on the season schedule, instead of being moved around. He favors the midseason slot the rivalry enjoyed in its heyday during the 1980s and '90s.

Georgia Tech: Even after 32 years of marriage, Paul Johnson still doesn't wear his wedding ring. So the absence of his 2009 ACC title game ring is hardly a surprise, even after the NCAA forced him to vacate the title. Johnson said the school hasn't decided yet if it will appeal the sanctions, but because there was no loss of scholarships he said it won't affect his program moving forward.

Maryland: The NCAA has cut 2.5 hours of practice time per week from first-year coach Randy Edsall, so he has adjusted by cutting down film time on Sundays and shortened his practice plan in anticipation of the sanctions. "It's not going to affect us," he said. "We're not going to make any excuses. We're just going to go play. I have a schedule put together for what we need to get done and what we need to comply with, we'll comply with it."

Miami: Coach Al Golden said offensive lineman Seantrel Henderson has a back injury that has been bothering him since mid-March, and defensive tackle Marcus Forston had surgery. "I don't know what the timetable on them is, but I do know they're probably not going to be full-go as we kick off camp." Golden said Henderson was 388 pounds in January, but is 341 now and has responded well to the adversity and developed maturity.

North Carolina: Coach Butch Davis said a leadership committee was formed by the players to help those within the program make good decisions. They meet every Wednesday, and Tony Dungy has been a guest speaker for them. Davis said they were going to start it a year ago, but it was tabled until this spring because of the NCAA investigation. The coaches chose the initial leaders.

NC State: Coach Tom O'Brien said the decision to release former quarterback Russell Wilson from his scholarship was probably the most scrutinized decision he's ever made as a head coach. Still, he said "we're happy with the decision. … We're confident with the team we have coming in with the decision we made, and certainly we wish Russell the best. I hope he wins a Big Ten championship. I think that would be great for him."

Virginia: Defensive end Cam Johnson has a sickle cell anemia trait, coach Mike London said, and it could be affecting his cardiovascular performance. "You can go, go hard for two or three plays and then on that fifth or sixth play be gassed," London said. The staff will closely manage how many snaps Johnson gets and rotate him after fewer plays. It's something Johnson has been aware about for a few years, London said.

Virginia Tech: Virginia Tech coach Frank Beamer said he's still not sure who his punter is going to be, but he's got one advantage in the uncertainty of the position: "The only thing we know is people will not return punts against us because [if] we don't know where it's going, they don't know where it's going," he said. "There's not a chance in the world for guys to be returning punts on us. That's the only good thing I see out of it."

Wake Forest: Coach Jim Grobe said he is still looking for a go-to receiver, and based on this past spring, Michael Campanaro could be the guy. Chris Givens is one of the fastest players on the team, but has been inconsistent and needs a better work ethic. The Deacons could use as many as four receivers this fall, but Grobe said if they don't earn the playing time, "we're going to have a fullback and a tight end on the field all the time."
Tracking ACC Media Days
Want the latest from ACCmedia days? Heather Dinich is on the scene and tracking it all in the ACC blog. Follow along. ACC blog.