Oregon, Stanford Enter As Different Favorites
LOS ANGELES -- Oregon and Stanford. Stanford and Oregon. They were the two Pac-10 powers in 2010, and they are expected to be so again in 2011 in the new Pac-12. Both finished in the top-10 last winter and are nearly certain to start there this fall. But they had a decidedly different feel at the inaugural Pac-12 media day.
[+] Enlarge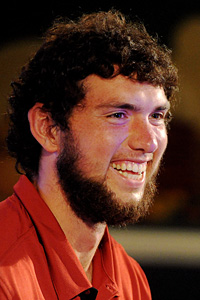 Kirby Lee/US PRESSWIREAndrew Luck and his new beard made their way to Pac-12 media day. "We'll see if it lasts. When I get annoyed with it, I'll shave it," he said.
After a tumultuous offseason, the big news for Oregon was no news, which inspired some grumpiness among scribes gathered to hear at least some updates on various off-field issues, including the NCAA inquiry into scout/street agent Willie Lyles.
Stanford was a different story. The Cardinal, picked to finish behind the Ducks in the North Division, showed up with a pair of national celebrities: quarterback Andrew Luck and his new beard.
"I'm hesitant to call it a beard," Luck said mysteriously. "I don't think it's quite there yet. I'd never done it before, so why not try. We'll see if it lasts. When I get annoyed with it, I'll shave it.
A minor surprise: Ducks coach Chip Kelly didn't appear annoyed at any point during his first session with reporters since spring practices, though he was repeatedly -- and once pointedly -- quizzed about the the Lyles-NCAA imbroglio. Kelly, who is known to be just a bit standoffish at times, was beyond pleasant while he refused to comment.
"As head coach of this football program, we're held accountable for everything we do," Kelly said. "So we look forward to when we can [comment]. I'd love to talk about it. There are a lot of answers I'd love to make sure we can get out there."
Kelly, who never showed up for his one-on-one sessions with print reporters afterward, did offer one minor insight: "There are a lot of misconceptions," he said.
Toward the end of his session, Oregonian columnist John Canzano asked a pointed question -- "You paid $25,000, presumably, for garbage information that we've all seen. I've seen the phone records …" and event moderated Dave Hirsch tried to cut him off.
But Kelly calmly answered, "I can't speak to what any other school has done with [Lyles]. I know he deals with 80-some odd schools and what other services he's been involved with. But I know how we dealt with them. But again, I've got to defer to … I'd love to talk about it."
[+] Enlarge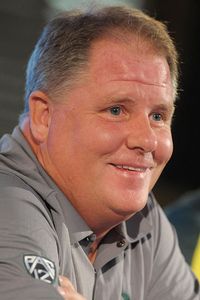 Kirby Lee/Image of Sport/US PresswireChip Kelly was vague but polite in addressing the NCAA investigation.
Oh, you could see for a moment that Kelly did have something he wanted to say. Only he was bound by a statement the school released before the news conference that it "continues to fully cooperate with the NCAA's ongoing review" and the requisite cone of silence that includes.
Kelly also was completely affable -- and opaque -- when he refused to provide an update on the status of All-American cornerback Cliff Harris, who was suspended for at least the marquee opener with LSU due to being cited for driving 118 mph on a suspended license in a rental car in June. Kelly was also chipper while opting to not enlighten reporters on the status of likely starting middle linebacker Kiko Alonso, who is on indefinite suspension for a criminal mischief arrest in May.
"They have academic and behavioral things that they have to get accomplished and we'll deal with as it comes," Kelly said. "I really can't tell you at this point in time what their status is except they're working out with our team and doing things right now. We'll figure out where that fits as we move forward during the season."
Stanford is not without issues, of course. The Cardinal just didn't invite an inquisition. The biggest is new coach David Shaw replacing the fiery Jim Harbaugh, who is off to the San Francisco 49ers. Shaw is not unaware that some wonder if his easy-going manner won't match the motivational intensity of Harbaugh, who seemed to connect with his players with his often eccentric ways.
"We have different personalities, but at the same time you can ask the guys when somebody crosses the line, I'll be nose-to-nose with them," Shaw said. "I might not be yelling, but I'll be dead serious."
Dead serious news? How about this from Luck, the 2010 Heisman Trophy runner-up who opted to return for his redshirt junior season instead of entering the NFL draft, when he likely would have been the top overall selection: "I'm doing this as my last college football season and approaching it like such."
So no fifth year of Luck. Sorry.
And so were the Pac-12's two top dogs as the calender begins its charge toward the regular season. One with high expectations and lots of questions. One with high expectations and Grizzly Adams at QB.
Barkley's Got Bite
By Pedro Moura
ESPNLosAngeles.com
[+] Enlarge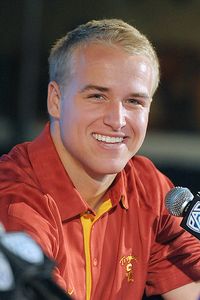 Kirby Lee/Image of Sport/US PresswireMatt Barkley proved he's at-ease on and off the field in his second media day appearance.
LOS ANGELES -- The two come hand in hand: USC starting quarterback, constant media presence.
And, as he starts his third year on the job for the Trojans, 20-year-old Matt Barkley has reached a whole new level of comfort with the media, as evidenced by his quips on the podium at Pac-12 media day Tuesday.
When second-year USC coach Lane Kiffin was asked to debunk a myth about himself, he deflected the leading question to his left, to an at-the-ready Barkley, who immediately handled it with some good-natured panache.
"Well, he's in the same place for two years in a row now, which is good," Barkley said.
Sure he is. And so is Barkley. Tuesday was the signal-caller's second straight media day appearance and he made good use of it both on the podium and off it, making the rounds to the variety of local, regional and national outlets in attendance.
"In a sense, I've kind of been around the block now," Barkley said. "I know what I'm doing, in terms of handling media and everything."
It's not that he didn't know what he was doing before. Even as an 18-year-old early-enrollee in the spring of 2009, Barkley was smooth in his media dealings, in the same vein as USC starters of the past, Mark Sanchez and Matt Leinart. But there's a clear difference now.
"Even at Mater Dei, we had a lot of coverage, just being a high-profile school with a great history and a storied program," Barkley said Tuesday. "I got media coverage there so that prepared me, in a sense.
"It took a little time, though. My first semester [at USC], even that first fall, was a little tough, just knowing how to handle myself, knowing what to say. It definitely took practice and rehearsing different things, but I feel comfortable with where I'm at."
Talk about feeling comfortable. At one point Tuesday, Barkley was so comfortable he took on a fake Irish accent, imitating Stanford quarterback Andrew Luck and the lumberjack-style beard he sported at media day.
Run, Arizona, Run
By Shotgun Spratling
Special to ESPN.com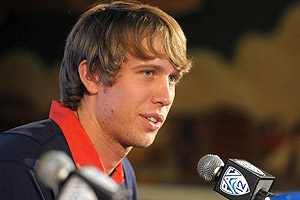 Kirby Lee/Image of Sport/US PresswireArizona QB Nick Foles will garner a lot of attention from opposing defenses.
LOS ANGELES -- Arizona returns quarterback Nick Foles and its top four pass catchers. All-Pac-10 receiver Juron Criner is back after leaving the team briefly during the summer to spend time with his mother. The Wildcats also add transfer receiver Dan Buckner, who caught 44 passes for 445 yards and four touchdowns his sophomore season at Texas.
So with a redshirt senior, who will likely set a number of Arizona's passing records with a solid season, and a pair of 6-foot-4 beasts on the outside in Criner and Buckner, what did coach Mike Stoops talk about?
Naturally, the running game.
"Our inability to run the ball effectively … contributed to [last season's] losses and that's something we have to address," Stoops said. "[The receivers] are going to demand a lot of attention."
"That's going to be the strength of our team and give us the ability to run the ball better than we have in the past," he said. "There's a game that's played within the game, and certainly Nick is well-schooled in understanding if they're going to take something away, we've got to go somewhere else and take advantage of a weakness."
It sounds simple.
However, Arizona has a completely rebuilt offensive line that returns only one total career start and primary big back Greg Nwoko will be out at least until midseason after tearing his ACL early in the spring.
Franklin Ready To Stand Out
By Blair Angulo
ESPNLosAngeles.com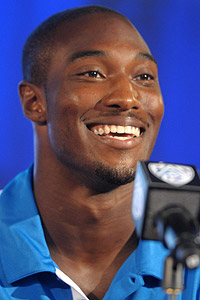 Kirby Lee/Image of Sport/US PresswireJonathan Franklin is looking to forget his fumbles.
LOS ANGELES -- UCLA running back Johnathan Franklin doesn't want to talk fumbles. He doesn't want to discuss adjustments to his carrying technique. Or talk about a stronger grip. The chatter brings back terrible memories. So when Franklin hears the word "fumble," he smiles, realizing that even with his speed, he can't run away from what has proven to be his biggest flaw.
Franklin rushed for 1,127 yards and eight touchdowns last season, becoming the first Bruin to surpass the 1,000-yard mark since Chris Markey in 2006. He had a breakout of sorts, registering the 10th-best single-season rushing total in school history and the highest since 1997. The redshirt junior established himself as the team's premier back -- an aspiration he's had since arriving on campus as part of fourth-year coach Rick Neuheisel's first recruiting class.
Yet, UCLA fans might be quicker to recall one of Franklin's miscues -- a disastrous fumble against USC at the Rose Bowl last season that gave the Trojans the lead and, ultimately, the win.
"I don't even want to think about it anymore," said Franklin, who coughed up the football six times last season. "I do my work and that's that. God will handle the rest."
Franklin figures to continue to blossom. He's the only offensive player on the cover of UCLA's 2011 media guide and has been named to the Doak Walker Award and Maxwell Award preseason watch lists. Franklin knows he'll be called upon as UCLA's passing game works out the kinks under new offensive coordinator Mike Johnson.
"I want 20 carries a game," Franklin said. "I want to be the guy. I want to be the man. I'm ready to take over. UCLA needs a running back, it needs a player to take it to where it needs to be. We need a Mark Ingram, we need a LaMichael James. We need a guy, and I plan on being that this year."
Sun Devils Walk The Line
By Shotgun Spratling
ESPN.com
LOS ANGELES -- Dennis Erickson said Arizona State's defensive line will "without a doubt" be able to get better pressure this season with the return of defensive tackle William Sutton. Sutton, who missed all last season, will be charged with filling the void left by Lawrence Guy, after Guy skipped his senior season to enter the NFL draft.
"We've got to find ways to bring five or six guys and get pressure on the quarterback," Erickson said. "But we'll be a better pass rushing team than we were a year ago."
All-American junior Vontaze Burfict and seniors Shelly Lyons and Brandon Magee could be used a lot more on blitzes. The trio is one of the most formidable linebacking corps in the nation, but there are depth questions both in front and behind them.
Arizona State was supposed to return nine defensive starters. But that was before All-Pac-10 cornerback Omar Bolden tore his ACL in the spring and defensive end James Brooks, a two-year starter, left the team earlier this month for personal reasons.
Erickson opened by saying the Sun Devils are two-deep at every position on defense, but later said they aren't deep enough.
"We don't have a lot of depth at corner," Erickson explained. "Our secondary, we've got to have some guys step up. Defensive front, you never have a lot of depth in the defensive front. That's a concern. You've got to be concerned about what happens if you get people hurt."
One Good Thing

Arizona: There has been a lot of speculation about receiver Juron Criner's absence this summer and the potential of him even playing this season. Coach Mike Stoops said the all-conference player was back participating with the team after having "some personal and family issues with his mother that he had to attend to."

Arizona State: If Arizona State were to finish second behind USC in the South Division, they would still advance to the championship game because of the NCAA sanctions levied upon USC. If that were to happen, coach Dennis Erickson and quarterback Brock Osweiler agreed that they wouldn't care. "If you get in the game and you win it, you're going to the Rose Bowl," Osweiler said. "So whatever it takes to get there."
California: Oregon isn't the only Pac-12 team tied to scout/street agent Willie Lyles. California also did business with Lyles. "I have no concern whatsoever about it," coach Jeff Tedford said. "We have the videos, we have the prospect list, and so I have absolutely no concern about it." What Tedford is concerned about is his first losing season, and he said he understood that Bears fans are unhappy with the recent trajectory of the program. "We have created a standard and expectation at Cal over the last nine years," he said. "Last season we fell short of that, and we're not hiding from that."

Colorado: The Buffaloes have not won on the road since 2007, a span of 18 games. That second number was provided by new coach Jon Embree when asked about the first. He said it's a "sticking point" with him and one that he's noted -- probably more than once -- to the team. "I believe there is no one on our team that's played in a road win," he said. "Good teams win on the road. Obviously we haven't been a good team or I wouldn't be here. The thing I'm excited about is our first game's on the road [at Hawaii] because we need to address that issue immediately. I'll leave it at that. We need to address that issue immediately. It does not sit well with me." Sounds like Hawaii is circled in red ink on the schedule.

Oregon: Ducks coach Chip Kelly had high praise for quarterback Darron Thomas. "I don't know if there's a ceiling with Darron," he said. "To come in as a first-time starter and go undefeated in the regular season, and undefeated in this conference and lead his team to a berth in the national championship game. And threw for the second most yards ever in a national championship game, I think the one thing that I remarked and I said it a lot last year is that it almost seemed like every week he just got better and better." Oh, and Kelly also said Thomas was "the toughest quarterback I've been around."

Oregon State: Beavers coach Mike Riley provided a cautiously optimistic update on receiver James Rodgers, who blew out his knee last season at Arizona. "The one thing that you can never do with James is count him out," Riley said. "He had two major knee surgeries. He is running. He has always been deemed ahead of schedule. But I'm going to really play this conservatively. I'm going to see where he is. He's got a major doctor's appointment, kind of a last check up before camp coming up. We'll see what they say when he comes home from that. Then we'll go into fall camp and see where he is." Riley also said that he expects tight end Joe Halahuni (shoulder) to "be practicing the last couple of weeks of fall camp, then we'll see about game ready after that."

Stanford: The Cardinal has plenty of questions at receiver, but a healthy return of Chris Owusu would answer many of those questions, including giving Stanford one of the conference's best deep threats. Said coach David Shaw, "Since Chris' last surgery I haven't said anything to him besides play every game. That's all I said to Chris. I said nothing else. I said, 'Chris, … we'll practice accordingly.' We will make sure we take the pounding off him in training camp. We need Chris to play in every single game." As for young receivers stepping up, Shaw didn't provide any names, though he did say if none did, he'd just throw more to the Cardinal's deep collection of tight ends.

UCLA: Coach Rick Neuheisel hopes to take to the air this year, no matter who he has under center. Juniors Kevin Prince and Richard Brehaut will compete for the starting gig during fall camp, with each looking to bolster an anemic passing attack that ranked 116th out of 120 teams nationally last season. "Somewhere along the line, we lost our ability to throw the ball," Neuheisel said. "I don't think you can point to one factor."

USC: If USC's new-look offensive line ends up being any good this season, a lot of the credit will go to Khaled Holmes, a converted guard who moved to center this offseason because of his cerebral nature. "This is an important move for us," coach Lane Kiffin said. "We do a lot of stuff on our offensive system. Khaled's a very smart football player, so he'll help us up front, because he's going to have two new guards next to him."

Utah: Utes coach Kyle Whittingham didn't mince words when talking about the importance of QB Jordan Wynn, who is coming back from shoulder surgery. "Job 1, in fact, is keeping Jordan Wynn healthy throughout the course of the season," Whittingham said. Whittingham said Wynn's shoulder is "100 percent from a medical standpoint," but that doesn't mean the coaches won't be cautious with him. "[Offensive coordinator Norm] Chow has a plan in place to limit his throws early in camp and progress from there," Whittingham said. "What that number is, we're looking at is it 100 throws a day? Is it 80 throws a day? But we'll have a plan in place to make sure we don't wear him out early on in camp."

Washington: The Pac-12 blog recently rated Washington in "great shape" at defensive tackle. That probably is no longer accurate, particularly with some injury issues at the position. Sione Potoa'e and Semisi Tokolahi will be limited early in camp, coach Steve Sarkisian said. Potoa'e has a sprained knee that needs to be watched, while Sarkisian previously said Tokolahi (ankle) likely won't be back before conference play begins on Sept. 24 against California. Toss in the retirement of Chris Robinson due to knee issues, and the Huskies have some issue at the position, at least beyond 330-pound Alameda Ta'amu. The depth, at least, figures to be young, with redshirt freshman Lawrence Lagafuaina and incoming freshman Danny Shelton.

Washington State: While the return of QB Jeff Tuel and a top-flight receiving corps is good, the Cougars struggled on the offensive line in 2010, both pass blocking and run blocking. But coach Paul Wulff believes that might change this fall due to continuity, with four starters back as well as some other experienced backups. "I think a lot of things are solved," Wulff said. "Our running game, we're a lot more physical on the offensive line. We're athletic. We have experience. Our running backs are better. Our quarterbacks and then the continuity with some of our young receivers and Jeff are better. So all of those ingredients are going to equate to higher productivity."
Tracking Pac-12 media days
Want the latest from Pac-12 media days? Ted Miller is on the scene and tracking it all in the Pac-12 blog. Follow along. Pac-12 blog.
More From ESPNLosAngeles.com
Arizona State: Brock Osweiler