The Sound And The Fury
By Mark Schlabach
ESPN.com
HOOVER, Ala. -- If the first day of SEC media days is any indication, the Texas A&M Aggies might tiptoe into their new conference, with a tip of their cowboy hats and with their boots fully shined.
[+] Enlarge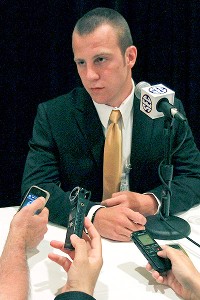 AP Photo/Butch DillMissouri's T.J. Moe was a breath of fresh air at SEC media days.
Missouri's entrance into the SEC, on the other hand, might not be as quiet.
As both teams prepare to play their first season in the SEC, which has produced college football's last six national champions, they seem to be taking different approaches. The Aggies followed first-year coach Kevin Sumlin's lead, praising the SEC for its speed, past success and rabid fan bases. But the Tigers, who won 47 games in their last five seasons in the Big 12, were more outspoken about how they think they'll do in the SEC, including coach Gary Pinkel.
"I've got a place down in Florida and go down there sometimes," Pinkel said. "People act like we've been playing a bunch of high school teams. We've played in a pretty good league."
Pinkel wasn't ready to make a prediction on how the Tigers will do in their first season in their new league, but insists SEC opponents won't intimidate his players. Missouri plays its first SEC game against Georgia at Memorial Stadium on Sept. 8.
"I'd be disappointed if we were intimidated," Pinkel said. "We played in a pretty good league ourselves. We understand the great league we're coming into. We all know how it works. It's in the process. How is Missouri and Texas A&M going to do in the SEC? That's going to be an analysis every single week. You have to go out and play and compete, and that's the way it should be. It's going to be decided on the football field."
Tigers receiver T.J. Moe, who caught 54 passes for 649 yards with four touchdowns last season, isn't worried about facing SEC defenses, either. Moe said he expects to be just as productive against SEC teams, many of which have been ranked among the country's best defenses during the SEC's six-year national title run.
"People talk about how good SEC defenses are, but they don't take into account how good Big 12 offenses are," said Moe, who received a standing ovation from media members for being so candid while answering their questions.
Meanwhile, the Aggies were very complimentary of their new league. Texas A&M receiver Ryan Swope said the Aggies, who went 7-6 under former coach Mike Sherman last season, will have to adjust to SEC teams' speed, especially on defense.
"The SEC is very fast football," Swope said. "I feel like it's the best conference in the country. After watching film of the national championship game, those guys are fast. The speed is just incomparable."
Added Aggies offensive tackle Luke Joeckel: "The speed of every single position is the difference. Every single guy on the defensive line is a pass-rushing threat. In the Big 12, there are some run stoppers. In the SEC, the defensive tackles can rush the passers and every defensive end can do it, too. The SEC has more of a mixture of speed and size."
The Aggies won't have long to adjust. They play their first SEC game against Florida at Kyle Field on Sept. 8.
"What's my assessment?" Sumlin said, when a reporter asked him to assess the SEC West. "It's a pretty damn hard league. How is that? That's my assessment. It's a damn hard league because of talent, but also because of coaching. You can argue all you want, but there are some of the best coaches in the country in the SEC. Combine that with big, fast guys, some of the best players in the country, it doesn't get any better than that."
Everything Old Is New Again
HOOVER, Ala. -- Now that Texas A&M has, in chronological order, a new conference, new coach and new athletic director, the university is considering the construction of a new Kyle Field.
[+] Enlarge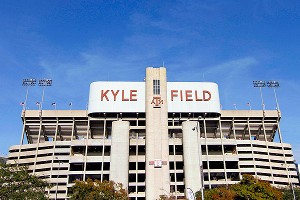 Brett Davis/US PresswireWhat should Texas A&M do with an aging Kyle Field?
Among the suggestions for remaking the 85-year-old stadium is tearing it down and starting over, university vice-president Jason Cook said Tuesday at SEC media days. The issue, as with all new stadiums, is creating levels of seating, such as suites and premium seating, that will create more revenue.
"Our waiting list for suites is 75 people," Cook said. "We could use loge seating."
If the university chose to start over, it would mean dislodging the Aggies for a season, most likely to Houston. That is a big reason why the College Station community would prefer to renovate Kyle Field rather than replace it. The university sold $21.2 million in football tickets last year, and nearly three-quarters of those proceeds came from people who don't live in College Station and came in for the games.
"Some businesses say they would go under without Aggie football home games," said Alan Cannon, Texas A&M associate athletic director for media relations.
The community would prefer to renovate Kyle Field, which seats 83,002. Cook said that the university has to educate the community to make clear that renovation may be as much as $70 million more expensive than reconstruction.
Texas A&M hired Populous, a sports architectural design firm, this spring. Cook said the project will not begin until after the 2013 season.
Mr. Anonymous
HOOVER, Ala. -- It's a trivia question that would have stumped fans and reporters alike Tuesday at the SEC media days.
Who's the SEC's leading returning rusher?
[+] Enlarge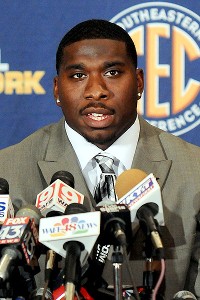 Kelly Lambert/US PresswireVanderbilt RB Zac Stacy is the SEC's leading returning rusher.
The answer: Vanderbilt's Zac Stacy.
The Commodores' senior tailback was strolling around the Wynfrey Hotel in a spiffy three-piece suit, as humble as ever, but also well aware that he's played much of his career in the shadows.
In Stacy's own words, he's been underrated and overlooked his entire life.
"It's no big deal. I'm used to it," said Stacy, who rushed for 1,193 yards last season (a Vanderbilt school record) and averaged 5.9 yards per carry. "It's definitely motivation. But at the same time, you can't control that. The only thing you can control is getting better as a player."
Stacy was brilliant down the stretch last season. As he caught fire, so did the Commodores' offense. He averaged 125.8 rushing yards in Vanderbilt's last six regular-season games and torched Wake Forest for 184 yards in a 41-7 rout that made Vanderbilt bowl eligible.
The ultimate team player, Stacy insists the credit should go to the Commodores' offensive line and how much they improved as well as quarterback Jordan Rodgers and his knack for making the big play.
"It was like a domino effect," Stacy said. "When one position gets better, the next position also gets better."
The Commodores return four starters in their offensive line and finally have the kind of depth up front they've lacked in recent years.
Not only that, but they're adding redshirt freshman receiver Josh Grady, redshirt freshman H-back Kris Kentera and true freshman running back Brian Kimbrow to the mix of offensive playmakers that already includes receivers Jordan Matthews and Chris Boyd, who combined for 13 touchdown catches last season.
"I know defenses will be targeting me, but we have a lot of guys who can make things happen," Stacy said. "One of the things coach (James) Franklin and his staff do a great job of is putting us in the right situation to be successful on Saturdays."
SEC Media Days On Twitter
Follow all the action from SEC media days live on Twitter (
@ESPN_SEC
) as our writers cover every angle from Hoover, Ala.
Head Ball Coach Strikes Again
South Carolina's Top Card
By Edward Aschoff, ESPN.com

HOOVER, Ala. -- Ace Sanders didn't always want to be the guy.
As a kid, he wanted to take things away from the guy. He wanted to be the one who ruined things for the offensive guy and stop the best players.
That was until tackling became harder and more painful as he got older and everyone around him got bigger. Then, he was all about making plays and having the glory as a highlight reel-making wide receiver.
Now, he has as big a chance as ever, as he steps into the go-to role at South Carolina.
To read the rest of Aschoff's story on Ace Sanders, click here.
SEC Media Days Blog
Miss something from Day 1 at the SEC media days? Look back at our blog that covered the action throughout the day.
SEC Day 1 blog »
RecruitingNation
Alabama: TideNation


Follow everything Alabama at TideNation: Alabama Crimson Tide football, basketball, news, recruiting and more.
• TideNation | Blog | Recruiting news
T.J. Moe: Quick With A Quote
RecruitingNation
Florida: GatorNation


Follow everything Florida at GatorNation: Florida Gators football, basketball, news, recruiting and more.
• GatorNation | Blog | Recruiting news
RecruitingNation
Georgia: DawgNation


Follow everything Georgia at DawgNation: Georgia Bulldogs football, basketball, news, recruiting and more.
• DawgNation | Blog | Recruiting news
SEC's Leading Rusher Ready
RecruitingNation
LSU: GeauxTigerNation


Follow everything LSU at GeauxTigerNation: LSU football, basketball, news, recruiting and more.
• GeauxTigerNation | Blog | Recruiting news