Can't Curb Vols' Enthusiasm
By Mark Schlabach
ESPN.com
HOOVER, Ala. -- SEC opponents liked to kick around Tennessee during the past two seasons, but Volunteers coach Derek Dooley thinks those days are finally about to come to an end.
"It's been a tough four years in Tennessee," Dooley said Thursday at SEC media days. "I know, of course, the SEC has enjoyed taking advantage of our tough times. But there's a nice mood on the team right now that you're not going to have Tennessee to kick around anymore."
[+] Enlarge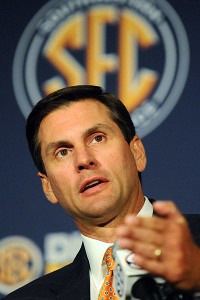 Kelly Lambert/US PresswireDerek Dooley is hopeful health and experience -- in such limited supply his first two seasons -- will improve Tennessee's fortunes in 2012.
If the Volunteers aren't any better in 2012, it might be Dooley who gets kicked to the curb. In two seasons at UT, Dooley has an 11-14 record, 4-12 in the SEC. The Volunteers went 5-7 in 2011, including a 10-7 loss at Kentucky, which ended their 26-game winning streak over the Wildcats.
Last season, the Volunteers were undone by their inexperience and myriad injuries. Senior linebacker Herman Lathers missed the entire season after breaking his ankle in June 2011. Star receiver Justin Hunter played in only three games before tearing the ACL in his left knee, and quarterback Tyler Bray missed five games at midseason with a fractured right thumb.
"I think [Bray's injury] had a bad impact on us," Dooley said. "Our spirit was broken. You know what? As the head coach, that was my responsibility. I probably didn't do as good a job as I needed to do keeping that together."
It didn't help that Bray's supporting cast was so inexperienced. When Dooley inherited the program from Lane Kiffin, who left to become USC's coach, the Volunteers endured a lot of roster attrition.
When Dooley coached his first season at UT in 2010, the Volunteers' starting offensive linemen had three combined starts. This year, their projected starting offensive linemen have started 106 games collectively.
Bray hadn't started an SEC game when he was thrust under center as a freshman in 2010. This year, UT's returning quarterbacks have started 20 career games.
With Bray coming back, the Volunteers might have one of the SEC's best passing games. Along with Hunter, All-SEC preseason pick Da'Rick Rogers and juco transfer Cordarrelle Patterson give Bray three top targets.
Bray is so confident the Volunteers will improve this season that he told ESPNU on Thursday that they'll win the SEC championship.
Dooley isn't ready to go quite that far.
"I'm excited about the season, and I feel like our team can go toe to toe for four quarters with all the teams in our league," Dooley said. "It certainly doesn't mean we've arrived; it certainly doesn't mean we're where we want to be at every position. We have to go out and prove it, and that's what we intend to do this year."
If the Volunteers do, Dooley will return for a fourth season in 2013.
"We went through a rough four-year stretch," Dooley said. "Think about it this way: I'm the dean of Tennessee athletics right now. I've been here longer than the athletics director, the head women's basketball coach, men's basketball coach and baseball coach. I've been here the longest, and I feel like I just got there."
Tide Retool On Offense
By Alex Scarborough
TideNation
HOOVER, Ala. -- When Doug Nussmeier was hired as offensive coordinator at the University of Alabama, expectations of a more high-powered, potent offense invariably arose.
The spring was spent downplaying the forecast of an aerial attack in Tuscaloosa, but as Alabama players made the rounds for SEC media days, the thought of a more powerful offense was embraced if for no other reason than the tools at the Crimson Tide's disposal. As Barrett Jones noted, Nussmeier didn't inherit an offense that was "in shambles."
[+] Enlarge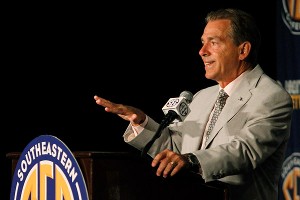 AP Photo/Butch DillAlabama returns its QB and has a veteran offensive line but Nick Saban has several pieces that need replacing on offense.
Quarterback AJ McCarron is a year older and wiser. The offensive line is poised to be one of the league's best, as Jones slides inside to play center. And the receiving corps got a needed infusion of youth and athleticism with a strong 2012 signing class.
In front of the assembled media in Hoover, Ala., coach Nick Saban boasted about the depth at receiver.
"Those guys made some outstanding plays in the championship game," Saban said. Fans will remember Kevin Norwood's leaping grab over Tyrann Mathieu in the title game. "Amari Cooper is a young guy who is a freshman who came in at midsemester who showed some ability and talent."
But Saban's optimism comes with a caveat.
"These are the things I'm talking about: how are these players going to embrace their responsibility and make this their season," Saban added.
It's a long way removed from a year ago, when Alabama came to media days wondering whether McCarron or Phillip Sims would win the job. Sims lost the job and will play for the Virginia Cavaliers this fall.
"Any time you have an experienced quarterback, there's a comfort level there, because there's so many intangibles," Saban said. "… The experience you have at that position makes you feel a little bit better.
"AJ had a really good spring. Hopefully he's poised to continue to improve."
Added tight end Michael Williams: "[Last year] he was a new quarterback. Now he's in a leadership role and getting the right plays called for the right situations.
"His accuracy is better, his arm strength has always been there and he's just worked this offseason on developing that leadership."
Jones will be part of handling the offense in his first year at center. While he wouldn't go into specifics, Jones said Alabama fans should expect something different in 2012.
"The transition was about as seamless as it could be," Jones said of adjusting to Nussmeier. "There will be new wrinkles, new formations."
Georgia Downplays Hype
The gathered media picked his team as nearly a 2-to-1 favorite to defend its SEC East title this fall, but Georgia coach Mark Richt realizes that doesn't mean much -- particularly in light of the SEC media's history of making incorrect predictions.
"I was looking at the record of picking eventual champions. It wasn't real good," Richt joked, a reference to the media having selected the SEC champion correctly only four times since 1992. "Maybe you guys are a lot better at picking divisional champs, anyway, but it would be nice to get back to Atlanta."
[+] Enlarge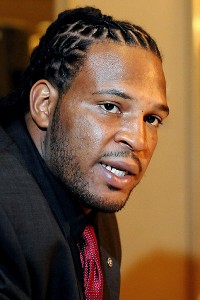 Kelly Lambert/US PresswireThe return of players such as LB Jarvis Jones is one reason many are picking Georgia to defend its SEC East title.
Georgia received 132 media members' votes to win the SEC East, well ahead of second-place South Carolina's 72 and third-place Florida's 12. The Bulldogs also got 14 votes to finish as the conference's overall champion -- a total that left them in third place behind last season's BCS Championship Game combatants, LSU (129 votes) and Alabama (65).
The reasoning behind Georgia's status as Eastern Division favorite is obvious thanks to a manageable schedule, nine starters returning from one of the nation's top defenses and several draft-eligible players -- including All-American linebacker Jarvis Jones -- opting to stay in college rather than leap for the NFL.
Richt knows, however, that roster attrition has left Georgia's total of available scholarship players in the low 70s. That will force his coaching staff to adjust how it attacks preseason camp, juggling a desire to build a physical team with the knowledge that too many preseason injuries could destroy the Bulldogs' championship hopes before the season even begins.
"We've come into some seasons where we've had in the teens of guys that have got some kind of issue health-wise, so the fact that we're a healthy team right now is good," Richt said. "But we've got to be wise when we go through camp to have the right combination of what it takes to be prepared to play and not to the point where we're losing more depth as we go through."
The Bulldogs were ranked first in the nation before the 2008 season, but a rash of injuries in camp and in the first few games destroyed their title aspirations. With that in mind, Georgia's coach is understandably hesitant to buy into preseason projections just yet -- with more than a month remaining until the Sept. 1 opener against Buffalo.
"I hope the media's right this time," Richt said, "but we haven't done anything yet. We haven't played a game. We haven't won a game."
Freeze Begins Putting Pieces Together
By Edward Aschoff
ESPN.com
HOOVER, Ala. -- When Hugh Freeze steps in front of his team for the first fall practice, he hopes to be standing in front of 70-plus scholarship athletes.
There's an emphasis on "hopes."
With academic issues circulating throughout Ole Miss' football team and Freeze's first recruiting class, he is anxiously waiting to see just how much he'll be working with in his first season.
But Freeze mostly knew what he was getting into when he left Arkansas State for Ole Miss. While he didn't know the extent of the academic trouble, he was well aware of the holes created by vast attrition during Houston Nutt's tenure.
Some around him also knew and tried to convince him to look at the other job offers he had, where he'd probably win easier and move up faster.
But Freeze was tired of moving and tired of jerking his family around and pulling his three daughters off their volleyball teams each year. Freeze was looking for consistency, not a stepping stone.
"That's not what I'm ready to do," Freeze said. "Ole Miss is in my blood; it's in my family's blood. It's where I want to be."
But Freeze, who's incredibly impatient, says he needs time with the Rebels, and expects it to take two more recruiting classes before his scholarship numbers are up to 85 and for the talent level to be on "somewhat equal footing" with the rest of the league.
While he expects his team to immediately compete at a higher level, he's realistic in thinking that it's going to take time for this team to be any sort of an SEC contender.
But Freeze is at peace with the thought of building at a place he's happy staying at.
"It's easier for me to accept because I'm not worried about getting stuck somewhere," he said. "I don't feel that way because this is really where I like to live. My family feels the same. That helps with knowing that it may take awhile to get this thing right."
SEC Media Days On Twitter
Follow all the action from SEC media days live on Twitter (
@ESPN_SEC
) as our writers cover every angle from Hoover, Ala.
Saban: Defense Doesn't Rest
Dooley, Vols Have Point To Prove
Vols Focus On The Finish
By Chris Low, ESPN.com

If this is indeed going to be the year Tennessee turns its Big Orange ship around, the Vols have to be much better finishers.
They were beyond abysmal in the second half of SEC games last season, so bad that even Derek Dooley was making light Thursday of their second-half struggles.
"Some fan came up to me and said, 'Coach, you might be the worst halftime speaker in college football. Can I have your autograph?'" Dooley cracked to reporters.
It was no laughing matter last season, as Tennessee was outscored 135-32 in the second half of SEC games. The Vols managed just six third-quarter points in SEC play.
"If you don't play all four quarters, that's what happens to you in this league," Tennessee junior offensive tackle Ja'Wuan James said.
The Vols wore down in the second half of games last season. They weren't deep enough or mentally tough enough to get it done when it counted.
As Dooley enters Season No. 3, he thinks the Vols are a deeper team, a more mature team and a team much more equipped to finish games.
Dooley also believes the Vols will be a better running team after finishing 116th nationally in 2011 with an average of 90.1 rushing yards per game.
"We've worked on it, and it's been a priority," Dooley said.
Marlin Lane and Rajion Neal both have explosive speed, and Neal might be one of the most improved players on the team. Dooley also believes 172-pound sophomore Devrin Young will be a factor this season.
The Vols' offensive line took a lot of heat last season for not packing more of a punch in the running game.
"The numbers don't lie," James said. "We can't say anything about it now. I'm more interested in showing everybody what we can do this season."
Richt, Dawgs See Past Distractions
SEC Media Days Blog
Miss something from Day 3 at SEC media days? Look back at our blog that covered the action throughout the day.
SEC Day 3 blog »
RecruitingNation
Alabama: TideNation


Follow everything Alabama at TideNation: Alabama Crimson Tide football, basketball, news, recruiting and more.
• TideNation | Blog | Recruiting news
Freeze Focuses On Small Steps
RecruitingNation
Florida: GatorNation


Follow everything Florida at GatorNation: Florida Gators football, basketball, news, recruiting and more.
• GatorNation | Blog | Recruiting news
Bray Embraces Leadership Role
RecruitingNation
Georgia: DawgNation


Follow everything Georgia at DawgNation: Georgia Bulldogs football, basketball, news, recruiting and more.
• DawgNation | Blog | Recruiting news
TideNation On Bama's Title Defense
RecruitingNation
LSU: GeauxTigerNation


Follow everything LSU at GeauxTigerNation: LSU football, basketball, news, recruiting and more.
• GeauxTigerNation | Blog | Recruiting news