More Questions For Miami
By Heather Dinich
ESPN.com
GREENSBORO, N.C. -- For the second straight summer, Miami coach Al Golden has had to deal with a visit from the NCAA. The difference this year is that the second-year head coach has become a focal point in the ongoing story.
[+] Enlarge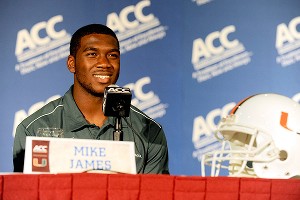 Sam Sharpe/US PresswireMike James and the Hurricanes are used to answering offseason questions.
On Friday, Yahoo! Sports reported that former Miami football employee Sean Allen assisted members of Golden's coaching staff with recruiting -- what would be a major NCAA violation. Golden will likely address questions from the media about this Monday, but his players said they haven't wavered in their confidence in him.
The Hurricanes available to the media Sunday at the ACC football kickoff at the Grandover Resort here said they've never doubted the integrity of their head coach, and that they will do their best to make sure it doesn't become a distraction to the team this fall.
"I believe in Coach Golden wholeheartedly," cornerback Brandon McGee said. "His word is his bond. He stands by his word and I stand by him. There is never a moment where I have questioned whether Coach Golden had any wrongdoing. He makes ethical decisions based on his ethics and I believe in him."
"Our concern during the season is books and balls," he said. "We're not worried about anything outside of that except the games on our schedule, football and school. That's our main focus, honestly."
Miami self-imposed a bowl ban last season despite reaching the six-win mark, and eight players missed at least one game, but the Canes have yet to get closure on a year-long case that alleged widespread violation of improper benefits. Yahoo! Sports reported Friday that Allen tried to aid assistant Micheal Barrow and former assistant Aubrey Hill in recruiting. There's no telling how long it will take for the NCAA to conclude its investigation, especially considering the severity of the most recent allegations.
Once again, the players will enter the fall with more questions than answers, but running back Mike James said their attitude hasn't changed -- they're going to try to ignore it.
Easier said than done?
"It's easier done than said," James said with a laugh. "I get tired of saying it."
"I haven't been paying much attention to it," he said. "It's not going to help us win games, so I don't need to look into it any more than anybody else. I'm just trying to get this team ready, doing everything I can to make sure they understand television, no distractions. We're just worried about what we've got to do -- two acres and a football."
State Of The ACC's Union
By Andrea Adelson
ESPN.com
GREENSBORO, N.C. -- Commissioner John Swofford touched on a variety of topics during his state of the conference address at ACC media days on Sunday. Chief among them: further expansion and NCAA cases at Miami and North Carolina.
[+] Enlarge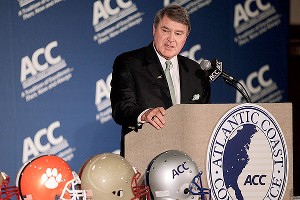 AP Photo/Chuck BurtonJohn Swofford said the conference is focused squarely on the future.
And, of course, Notre Dame.
The last time Swofford addressed a media contingent at an ACC event was back in May, at the conclusion of the spring meetings. At the time, all manner of rumor and speculation about Clemson, Florida State and the Big 12 swirled around the ACC, creating an aura of instability.
But all of that has been put to rest now, as the ACC has seemingly put itself in a position of strength for the future. Swofford, at the request of school president James Barker, recently addressed the Clemson Board of Trustees in person to assure the group that the ACC was the best home for the program.
It was the first time in 15 years he has been asked to visit with a full board.
When asked how confident he was that everybody was on board with the ACC, he said, "In a word, totally. I had a great visit with Clemson. They're terrific people. I gave you my answer in one word."
Swofford later added the focus of the league was on 14 teams, and "making that work in the best possible way." Last week, Pitt and Syracuse negotiated their exit from the Big East and will join the ACC on July 1, 2013.
As for Miami, Swofford was asked for his thoughts on the most recent allegations surrounding the program.
"I can't really speak to an ongoing investigation and I'm sure you understand why on that. In terms of the image aspect of it, those are situations you never want in any conference," he said. "The sooner we can get the several problems totally behind us that we've had in this league, the better. This league has a tremendous history and tradition of integrity.
"If you go back five years, 10 years, 15 years, 20 years, you will find that the ACC has fewer major NCAA violation issues than any other major conference in the country. That's still the case, but we've had a few here that have clustered recently that you do not like to see, do not want to see, you want them cleared up, you want them behind you, and you do not want to see them again."
Finally, a note on Notre Dame: Swofford was asked repeatedly about whether the Irish would be the ACC's future bowl opponent in the Orange Bowl when the new playoff format arrives. While there is nothing yet set with the Irish, Swofford said there are possibilities that could include other conferences.
"We're in the process of talking about several different scenarios," he said. "It could be a larger group, it's a little premature to go there yet, but we hope to have a very attractive slot on the other side.
"We've had some discussions that could bring in a very broad group as a possibility."
When asked whether Notre Dame would eventually join the ACC, Swofford joked, "I couldn't hear the question."
Nick Of Time
[+] Enlarge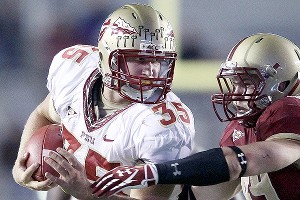 Elsa/Getty ImagesNick O'Leary is giving Florida State fans reason to smile this offseason.
With a particularly deep corps of receivers this season,
EJ Manuel
should have plenty of targets down the field.
But while Rashad Greene, Rodney Smith & Co. figure to have big seasons, Manuel said he's been amazed at how good tight end Nick O'Leary has looked during summer workouts.
"In 7-on-7, we linked up thousands of times," Manuel said. "Every time he's been matched up against linebackers and safeties, he's giving them the business. The guy gets open every single time."
O'Leary caught 12 passes as a freshman last season, but that number will climb this season if Manuel gets his way.
"Nick is a viable option every time he's on the field," Manuel said. "He's definitely a guy I want to get the ball to."
One Good Thing

Boston College: BC offensive tackle Emmett Cleary said the Eagles will open it up a little bit more under first-year coordinator Doug Martin, and use fewer two-tight end sets, but it's not a dramatic transition. After all, he's used to change. "It's been a learning experience learning four offenses in five years," he said dryly. "In all honestly some of that is overblown. The transition is not as tough as people think."

Clemson: Center Dalton Freeman said he gave "definite consideration" to entering the NFL draft last year, but after talking to running back Andre Ellington, who also decided to stay, and being projected as high as the fourth round, Freeman said it would be in his best interest to come back. "I believe we can have a special year," he said.

Duke: Receiver Blair Holliday remains hospitalized after suffering traumatic head injuries in a jet ski accident on July 4. While there has been no recent update on his condition, defensive end Kenny Anunike said, "They're really keeping the visiting down to a minimum because it's a crucial period, but they give us reports and say he's doing really well. We're trying to stay with his family and be there for him. We have to rally around him and keep him in high spirits."

Florida State: FSU quarterback EJ Manuel said he is extremely confident in his offensive line, and added that assistant Rick Trickett has gotten the linemen bigger, faster and stronger yet kept them agile. "It's not like they're lumbering around out there," Manuel said, "they're moving." The linemen have voluntarily attended all of the 7-on-7 drills this summer.

Georgia Tech: The offensive line has gone from a question mark to a strength in one short year. Last season, Georgia Tech had one starter returning. This year: four. That makes a huge difference to quarterback Tevin Washington and this type of offense. "They saw a lot of defenses last year, a lot of stunts from D-linemen and linebackers, and you know they can handle it," Washington said. "The proof is in the pudding, the experience from last year to this year is going to give us another edge."

Maryland: Maryland receiver Kevin Dorsey said he's not concerned about the lack of depth at the quarterback position following the transfer of Danny O'Brien. Dorsey said he's confident in C.J. Brown. "I think he'll be fine. He's so elusive," he said. "I watch plays where guys have a full grasp of him and he escapes the tackle somehow and makes a play downfield."

Miami: True freshman running back Randy "Duke" Johnson hasn't taken a snap yet for Miami, but he's gotten just as much ink if not more than senor Mike James. The veteran hasn't shied away, though, from the upcoming competition to replace Lamar Miller. "Hey, he had to do something to get talked about, right? I don't knock it," he said.

North Carolina: One of the offshoots of playing a more up-tempo offense? Having to run more. That means having to tailor the offseason strength and conditioning program to get the players ready to play between 75-80 snaps on offense. "I think everybody went to our strength coach after spring ball and said, 'Hey we need to run more,'" quarterback Bryn Renner said. "That was the biggest culture shock, the tempo we had to play at. We've done a great job this summer of trying to get into shape."

NC State: Quarterback Mike Glennon really emerged as one of the top quarterbacks in the ACC last year, in his first year as a starter. That, in turn, has led to his teammates looking at him as more of a leader. "As a leader you can only do so much until you start playing," he said. "People can respect you and all that but a lot of it has to do with how you play on the field. Now that I've done that, guys probably look at me a little different."

Virginia: Virginia running back Perry Jones and Alabama transfer quarterback Phillip Sims were high school teammates on the 2008 state championship team, but Jones said he's not letting their friendship get in the way of a good quarterback competition with Michael Rocco. "I'm not pulling for anybody," he said. "I just want the person on the field who gives us the best chance to win because that's what it's all about."

Virginia Tech: Quarterback Logan Thomas already has been featured on Mel Kiper's quarterback rankings for the 2013 draft, so it should come as no surprise that he was asked about his NFL future. Thomas said he has not thought that far down the line, but added it would be hard to turn down the opportunity if he is projected as one of the top five players in the draft. "Either way, it will be tough," he said.

Wake Forest: Nose guard Nikita Whitlock had a breakout season last year, earning second team All-ACC honors after ranking fifth in the league with 14 tackles for loss. His main focus this offseason has been on becoming a better pass-rusher. "The biggest thing for me is to help my team by getting more sacks and creating more hurries," he said. "I did a lot last year with hurries, but I don't feel I was productive enough in the pass rush. That's one aspect of my game I'm looking to improve next year."
Tracking ACC Media Days
Want the latest from ACC Media Days? Heather Dinich and Andrea Adelson are on the scene and tracking it all in the ACC blog. Follow along. ACC blog.
RecruitingNation
Florida State: NoleNation

Follow everything Florida State at NoleNation: Florida State Seminoles football, basketball, news, recruiting and more.
• NoleNation | Blog

| Recruiting news