FSU's Back ... With More Confidence
By Andrea Adelson
ESPN.com
GREENSBORO, N.C. -- It hardly came as a shock to see Florida State chosen as the preseason favorite to win the ACC.
But what remains in question is whether the Noles have what it takes to live up to increasing expectations. Remember last year, Florida State also was the preseason media choice to win the ACC. But instead, Clemson ended up winning the Atlantic Division and the ACC championship game over Virginia Tech.
Coach Jimbo Fisher said Monday at ACC media day that he has confidence in this year's group, moreso than the team he fielded last season.
Why? This year's team has 18 starters returning and more veteran leadership, starting with senior quarterback EJ Manuel, who has talked about the increasing urgency his teammates feel about winning an ACC championship.
For all the Noles have accomplished, it has been seven long, hard years since they have won an ACC title.
[+] Enlarge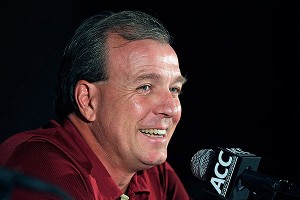 AP Photo/Chuck BurtonJimbo Fisher thinks this season's FSU squad will be better prepared for great expectations.
"Urgency's what you want," Fisher said. "It's like that old adage: be quick but don't hurry. When you're older, you understand that process.
"That's what excites me about this team."
Fisher is headed into his third year with the Seminoles, who should be ranked somewhere in the preseason top 10 given all the talented players this team returns. Expectations on this team have grown in every year of his tenure, but Fisher says that has not meant the pressure has grown.
"I always feel pressure on myself. It's how I'm wired," he said. "I always feel that way. That's part of it. I've always dealt with it. That's always the way I look at things."
What he needs is for Manuel to be able to stay healthy. Manuel has yet to complete a season injury-free, and the Noles have struggled with him on the sideline. There are those who believe Manuel is ready to live up to the expectations set for him. He did finish third in media voting for ACC player of the year, behind Clemson receiver Sammy Watkins and Virginia Tech quarterback Logan Thomas.
Defensively, the Seminoles should be among the top groups in the nation, particularly up front, with all four starters returning. That includes Brandon Jenkins, who made four preseason watch lists for various defensive awards.
"No matter how good people think you are, it's always going to be hard," Fisher said. "You can have 22 draft picks, and it's still going to be hard."
Particularly in a division with Clemson. The Tigers return Watkins, quarterback Tajh Boyd and running back Andre Ellington, and were picked to finish second behind Florida State. Then there's NC State, a team that got five votes to win the Atlantic in the preseason media poll.
The Wolfpack return Mike Glennon at quarterback, and have one of the best cornerbacks in the nation in David Amerson.
Virginia Tech was the overwhelming choice to win the Coastal, ahead of Georgia Tech and North Carolina. The Hokies also have had to deal with high expectations year after year. But for 2012, all eyes are squarely on Florida State.
Is this the year the Noles deliver?
Penn State's Far-Reaching Reverberations
By Heather Dinich
ESPN.com
GREENSBORO, N.C. -- Virginia coach Mike London has no idea what to expect when his team lines up against Penn State on Sept. 8. He doesn't know which players will still be on Penn State's roster.
Neither does Penn State.
In the wake of the unprecedented NCAA sanctions that were levied upon Penn State on Monday, the Nittany Lions were a repeated topic of conversation with coaches here at the ACC Football Kickoff. The coaches had mixed reactions as to whether they'd try to recruit the players at Penn State, who have been given the freedom to transfer without having to sit out a year. Clemson coach Dabo Swinney said he was unfamiliar with the Nittany Lions' roster, and didn't seem to have too much interest in the idea. Nor did Duke coach David Cutcliffe. NC State coach Tom O'Brien, though, said he would look into it, as did Virginia Tech coach Frank Beamer and Virginia's London.
London, though, actually has to play the Nits this fall.
[+] Enlarge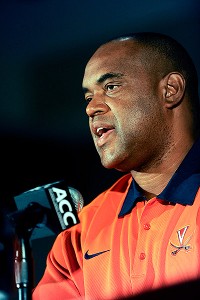 Sam Sharpe/US PresswireMike London's Virginia team plays Penn State the second game of the season.
"Obviously what a tremendous tragedy that was, particularly for the victims, and now the fallout from the decision that has been made is trickling down to so many avenues we can't even think of right now," London said. "Football-wise, I'm getting bits and pieces about players being able to transfer without any penalties, without sitting out. It makes you wonder what the team will look like when we play them in the second game, whether the fallout of players transferring … it's hard to tell how that team will look between now and our game against them."
London said he hadn't given much thought yet to pursuing any of his opponent's players.
"Like everybody else, when you have an opportunity to look at someone who can play right away and perhaps maybe fill a need at a position, you look at that," he said, "but at the same time for me, I like to get to know players and who's coming, not just take a player for the sake of taking him."
O'Brien didn't hesitate when asked about the opportunity.
"If you have available scholarships and you have a need and they have someone that will fit that need, you'd be crazy not to," O'Brien said, adding that he will. "If we can find agreement both ways … I mean, we just won't take somebody who can't help us."
Beamer said he recruited some of the players currently on Penn State's roster, and that he needs to get together with his staff to talk to them about it.
"I think things are going to happen quick here," he said. "We probably need to do it quick, but we'll see."
Miami coach Al Golden and Boston College coach Frank Spaziani were both former players at Penn State. Both seemed reluctant to go into detail about how the news affected them personally.
"The last 72 hours has been hard on me, my wife, my mom and dad, my brothers -- anybody that shares the Golden name," said Golden, whose name was linked to recruiting violations in a Yahoo! Sports report on Friday. "Since 5 o'clock on Friday night it's been tough. And then to throw this on top of that, there's been the full gamut of emotions. I'm just sad for the tragedy that has transpired up there, and for the victims, certainly."
FSU's Social Security
GREENSBORO, N.C. -- At some point, Jimbo Fisher will allow his team to begin using Twitter again, but the Florida State head coach said that day isn't likely to come any time soon.
"During the season, I think it's something we're not going to touch," Fisher said Tuesday.
The ban on tweets originated after a rash of ill-advised posts -- nearly all by underclassmen -- caught national attention on various blogs, but Fisher said the ongoing restrictions will actually serve as a means of focusing his team on the task at hand.
"He's got 20,000 followers at 18 years old, he feels that every day he owes it to somebody to tweet something or do something," Fisher said. "And they don't need that distraction."
Several players, including safety Tyler Hunter and running back James Wilder Jr., tweeted numerous messages that drew criticism from fans this offseason, including several tweets aimed at the Tallahassee police department.
Fisher said he doesn't believe the players intended to create problems, but he said too many of the younger members of the team have failed to grasp the impact of social media.
"You know what the first thing in the NFL they'll do? Pull up your Facebook, go pull up your Twitter, and that will develop an image of you real quick," Fisher said. "You've got to understand how important that is."
To read the rest of this David Hale's story and the entire NoleNation's notebook, click here.
One Good Thing

Boston College: After a steady decline in wins since he was hired, Boston College coach Frank Spaziani said his outlook on his job security hasn't changed: "Listen, no one was more disappointed in last year than I was," he said. "We're trying to be as good as we possibly can be. I don't think we're going backward, I think we're going forward."

Clemson: Coach Dabo Swinney has yet to announce a punishment for receiver Sammy Watkins, who was arrested in the spring on drug charges. Swinney said he would probably make an announcement right after the Tigers get going in camp. "Once I have a chance to get everybody back together and sit down and visit with him and visit with the team, then let you guys know and we'll move forward and get ready to play some football," he said. Watkins was the media's preseason choice for ACC Player of the Year after his record-breaking freshman season, in which he had 82 catches for 1,219 yards and 12 touchdowns.

Duke: There are two tasks the Blue Devils need to accomplish if they are going to get to a bowl game, coach David Cutcliffe said. "No. 1 is being physically good enough," he said. "You've got to have good football players to win. … And then you've got to get over the mental hump of believing you can win. Quit trying to pick out games you think are winnable games and realize every game you play is truly winnable."

Florida State: Coach Jimbo Fisher said the talent and leadership on his team is not just "superficial on paper." He said he is more confident in his team than he was a year ago, when it faced similar expectations, and that can be attributed in large part to the depth the team has built.

Georgia Tech: The Yellow Jackets have a huge test to open the season, playing at Virginia Tech on Labor Day night. But they also have a huge task the following Saturday. Coach Paul Johnson said he has never had to play another game on such a short week's rest. Georgia Tech won't return home from Blacksburg until early Tuesday morning, and Johnson acknowledged the possibility of not being able to practice in pads before the next game against Presbyterian. Before you go laughing, remember Virginia Tech lost to James Madison on a short week after losing to Boise State in 2010.

Maryland: Highly touted Maryland freshman Stephon Diggs will start his career as a wide receiver, but coach Randy Edsall also said Diggs will be given an opportunity to help the Terps on special teams and in the return game. "We'll see how he learns everything, picks things up and see where he goes," Edsall said.

Miami: Coach Al Golden said he has no timetable for when the program might get some closure on the NCAA investigation that continues to loom over his program. He stood behind his original statement that he has not acted unethically. "There will be a day when I can refute that [article] or discuss that and I look forward to that day," he said. "Now is not the time to do that."

North Carolina: One of the biggest rules coach Larry Fedora has imposed on his team are no hats and no earrings. "It's old school," Fedora said. "Maybe it's stupid, I don't know, but that's who I am. I was raised that way, no hat and no earrings. I would have had to move out of the house." When asked why he specifically imposed those two restrictions, Fedora said the team is a direct reflection of him, and he wants his players to act accordingly.

NC State: Running back Mustafa Greene sat out last season with a foot injury, and was also held out of spring practice, leading to much speculation about his future with the team. But coach Tom O'Brien said Greene is working out and "should be fighting for a job" when fall camp opens up. As a freshman in 2010, Greene led the Wolfpack in rushing with 597 yards and four touchdowns before taking a medical redshirt in 2011. He is currently listed behind James Washington, Tony Creecy and Brandon Barnes on the depth chart. O'Brien promises there will be competition at the position.

Virginia: Coach Mike London was asked whether he had lost sleep over the team's kicking situation this offseason. The Cavaliers have to replace their starting kicker, punter and kickoff man this season. London quipped in response, "Ambien helps a lot with that." Kicker Robert Randolph, punter Jimmy Powell and kickoff specialist Chris Hinkebein are all gone, leaving behind zero players with collegiate experience. "I'm bringing in a full complement of kickers, and finding out early how good they are," London said.

Virginia Tech: The Hokies will be looking for about three tailbacks they can depend upon to compensate for the loss of David Wilson, coach Frank Beamer said. He singled out Michael Holmes, but also added several players who might separate themselves this fall. "To me, we've got to get in there and narrow it down how many we're going to work with. The way I feel about the position, we've got a lot of talent, it just hasn't played very much."

Wake Forest: Last season, Wake Forest lost several close games late in the fourth quarter to teams like Syracuse, Clemson and Notre Dame. Wake Forest coach Jim Grobe was asked whether there was a common thread in those losses. "We played good teams," he said. "The year we won the championship in '06, I think we had five games go to the last possession." The difference between winning and losing, is making those plays in the fourth quarter with the game on the line.
Tracking ACC Media Days
Want the latest from ACC Media Days? Heather Dinich and Andrea Adelson are on the scene and tracking it all in the ACC blog. Follow along. ACC blog.
RecruitingNation
Florida State: NoleNation

Follow everything Florida State at NoleNation: Florida State Seminoles football, basketball, news, recruiting and more.
• NoleNation | Blog

| Recruiting news