Changes Everywhere You Look
By David Ubben
ESPN.com
DALLAS -- There's a brand-new world in the Big 12, but West Virginia is not the only team that finds itself in uncharted territory. Change is inevitable, and the Big 12 will see plenty of it in 2012.
The Big 12's reigning champions left their biggest newsmaker at home. Wes Lunt beat out his competition and next fall will become the first true freshman quarterback to start a game at Oklahoma State since 1993. You'll have to look a lot longer to find another true freshman who started a season opener.
[+] Enlarge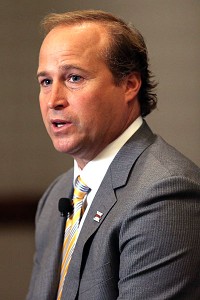 Kevin Jairaj/US PresswireThe Big 12 is familiar ground for West Virginia's Dana Holgorsen.
"He's doing great," running back Joseph Randle said. "He's doing everything we're asking him to do and getting ready for the season just like everybody else. I think we're going to have a better year than everybody's thinking."
Cowboys coach Mike Gundy says he hasn't seen much of Lunt in the past six weeks -- NCAA rules severely limit how much time coaches can spend with players in the summer -- but that'll change fast in just a couple weeks when fall camp begins.
He'll see another familiar face in Stillwater soon in Dana Holgorsen, who parlayed a record-setting season as Oklahoma State's offensive coordinator in 2010 into a head coaching job at West Virginia in 2011. In Year 2, he's back in his old territory, where he has spent nine of the past 12 seasons.
"It sounds like everybody in the room thinks that we're pretty good," Holgorsen said, referencing the Mountaineers' second-place finish in the preseason media poll.
As for the familiarity with his old boss' staff? Holgorsen raided it to grab defensive coordinator Joe DeForest, running backs coach Robert Gillespie and former cornerback turned graduate assistant Andrew McGee.
"They'll probably know as much about us as we will of them," Holgorsen said. "It will probably be similar to the way it was back in 2000 when Coach [Mike] Leach left Oklahoma and went to Texas Tech. You had two teams playing the same offense that knew a lot about each other. So I don't know if that will help you or if it will hurt you."
[+] Enlarge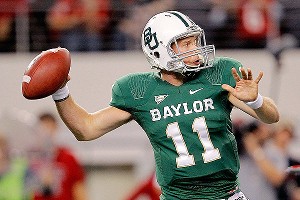 Sarah Glenn/Getty ImagesBaylor QB Nick Florence is already a success story, according to his coach.
There's only one big, scary change -- the loss of Heisman winner Robert Griffin III -- to offset exciting changes at Baylor, including a brand-new stadium that it plans to open in 2014. Still, senior Nick Florence is prepared for the first season at Baylor since 2007 that won't feature RG3 in a prominent role for the Bears.
"The thing I love about him is that he was salutatorian out of 516 in his high school and already married and already graduated. The guy is already a success story. Regardless what happens on the football field this year, he's going to be successful," coach Art Briles said. "I have a tremendous amount of confidence in the passion, the energy, the drive, the fearlessness that he's going to bring to the table for us, because I know him from inside out and I know how he feels. I know how he thinks, and I think I know how he performs."
No change is bigger than Kansas', which dumped Turner Gill after five wins in two seasons and replaced him with Charlie Weis, his polar opposite in nearly every way. The goal for the Jayhawks is producing polar opposite results, too.
"I think that the first thing you better do is get your team to be more competitive on a weekly basis," Weis said of his team, which lost six games last season by at least 30 points. "Because once you get your team more competitive on a weekly basis, more wins will naturally follow."
Hicks' Turn To Lead
By Carter Strickland
HornsNation
DALLAS -- In hindsight, Jordan Hicks knows he probably should have stopped.
A cold night in Ames, Iowa, and a tight turn on the turf had conspired to stretch his hamstring beyond its limits. He could no longer cut, didn't have the burst he once had and was closer to 50 percent than 100.
"I could've taken a few games off probably," the Texas linebacker said Tuesday at Big 12 media days. "But it was my decision. I felt I could play through it."
[+] Enlarge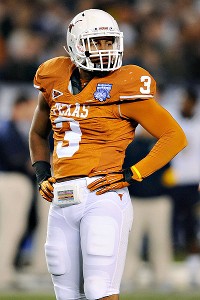 Christopher Hanewinckel/US PresswireTexas' defense needs Jordan Hicks to play at another level this season.
Hicks played in all 13 games and finished with 65 tackles. But, despite the durability and the stats, Hicks, even by his own admission, didn't play well. It was clear Hicks, the top linebacker recruit in the nation in 2010, had lost a step.
Now, a year later, he is being asked to step up.
"He can be a real leader," Texas coach Mack Brown said.
Hicks will have to be. Texas, which is deep at every other position on the field, lacks depth and substantial experience at linebacker.
Demarco Cobbs has played some. Steve Edmonds is a sophomore. Hicks, just a junior, is it. And he knows it. Maybe more importantly, though, Hicks embraces it.
"It comes natural," he said. "It is not something that is forced on me. It comes natural and I'm 100 percent OK with that. I love that role."
"He's ready," added cornerback Carrington Byndom. "You can see it."
What no one will be able to see is just how ready Hicks and the rest of the Texas defense are, not at least until the Longhorns travel to Oklahoma State in the fourth week of the season. The prior games are essentially gimmes. But the Cowboys, despite having a freshman quarterback, could present problems to any defense, particularly one that is not sound at linebacker.
That responsibility will fall on to Hicks' shoulders. Brown is confident those shoulders are wide enough to handle the load.
"He is smart," Brown said. "He gets it. He is confident. He is stronger. You can tell that by looking at him. And they all can see him make athletic play after athletic play."
Those plays are what Texas has been waiting for since Hicks was thrust onto the field against Nebraska in 2010. Thrown into the fire against Taylor Martinez and the Huskers, Hicks flourished with 11 tackles.
"All the hype going into that game, it was pretty incredible," Hicks said. "I was running around like a chicken with my head cut off but making plays doing it."
Hicks never had more than two tackles in a game the rest of the season. In 2011, he also started strong with 11 tackles against BYU, but the hamstring injury came two games later on the first third down of the second half.
"It was something I probably needed to go through," Hicks said. "I'm able to look back on that year and say I wasn't able to do everything but I was able to learn."
Now the time has come for Hicks to show everyone just what he learned.
Baylor WR Terrance Williams
One Good Thing

Baylor: Baylor's Art Briles has room to walk with a little swagger these days, and did exactly that on Tuesday, looking comfortable and cracking jokes while holding serve with the media in the interview room.
"Our national brand is probably as good as it's ever been on a national level," Briles said.
A Heisman winner, 10-win season and No. 2 draft pick will do that. A new stadium (and a national title in women's basketball) help, too. Baylor's set to break ground on a brand-new stadium that will further change the way Baylor's seen in Texas and around the nation.
"It's a big time deal now. I'm not kidding you. It's going to change the whole image of Baylor to people that never really considered Baylor from now on, the next 50 years," Briles said. "It's going to be unmatched in beauty. And what it's going to do for us from an image standpoint, recruiting standpoint, both academically and athletically for people that want to get into Baylor University, I'm not smart enough to articulate how much difference it's going to make for our university."

Kansas: Charlie Weis' blueprint is clear, even if one of his models is heading to the SEC. Kansas won just five games the past two seasons, and Weis is charged with bringing the program back to prominence, just five seasons removed from an Orange Bowl win. How will he do it?
"You look at your two closest competitors, proximity-wise, your two closest competitors. So you look at Kansas State and you look at Missouri," Weis said. "I'm saying, 'OK, the two schools that are in the closest proximity are both doing fairly well.' So then my job was, once I took the job, is let's figure out why they're doing fairly well and see if we can't close the gap on them quicker than they would like us to."
Weis brought in transfers such as QB Dayne Crist and LB Anthony McDonald, along with tight end Mike Ragone to boost the Jayhawks' immediate fortunes. Now, the chase begins.

Oklahoma State: Oklahoma State needs a new Justin Blackmon, but it's not looking for a sole replacement. The Cowboys are looking for a few good men to fill the quadruple-digit receiving yards, triple-digit catches and double-digit touchdowns of their two-time Biletnikoff Award winner.
"The comparison I would make is years ago we talked about losing Kendall Hunter, and I felt like that Jeremy Smith and Joseph Randle, as a pair, needed to combine and give us what Kendall did. And those guys have been able to do that," Gundy said. "I want -- we want three or four of our receivers this year to give us what a Justin Blackmon gave us this last year."
Receiver Tracy Moore and Josh Stewart may provide that, but fresh faces in juco transfer Blake Jackson and spring breakout Charlie Moore may add another punch for true freshman quarterback Wes Lunt.
"That will be our goal is for Wes to be able to develop and delegate the ball to the guys that can make the plays," Gundy said. "But it is very difficult to replace a Justin Blackmon."

Texas: Mack Brown brought his own cheerleaders into Big 12 media days.
Yes, it has gotten that bad for the conference's longest tenured coach.
"I asked the ladies to come in; if I had any hard questions, I would let them support me," Brown said pointing to the phalanx of conference cheerleaders he led into the room. "So we'll just ask them to step up and answer any questions that we need here."
With the quarterback question, Brown is already skirting the issue.
The issue is whether Texas will go with sophomore David Ash, the only quarterback who took snaps in the Holiday Bowl, or junior Case McCoy. Brown said there is no clear cut leader when it comes to the starter in 2012.
"They left spring practice even," he said.
And Brown doesn't know when they might not be even. He would like to see the quarterbacks separate themselves through their play. But barring that he is not adverse to playing both quarterbacks this season.

West Virginia: Sure, West Virginia is entering a brand-new world, but Mountaineers coach Dana Holgorsen knows the Big 12 well. He also knows that what West Virginia and its fans will find in their new league won't be as unfamiliar as some think.
"What we're getting into is the same thing we got at home. And that didn't necessarily exist in the conference that we were in last year," Holgorsen said.
Fan support is there, and West Virginia will find a football-crazy culture in Texas and Oklahoma that wants nothing more than to win. Basketball schools are tough to find in the Big 12, which isn't the case in the Big East.
"We're going to fill up our stadium. Our team is used to winning, and that exists at the other nine universities in the Big 12 as well," Holgorsen said. "So the best way I can describe it to the people of West Virginia and the best way I can describe it to the Big 12, everybody else, is is what exists in the Big 12 exists in Morgantown, West Virginia, as well."
Tracking Big 12 Media Days

Want the latest from Big 12 Media Days? David Ubben is on the scene and tracking it all in the Big 12 blog. Follow along. Big 12 blog.
RecruitingNation
Oklahoma: SoonerNation


Follow everything Oklahoma at SoonerNation: Oklahoma Sooners football, basketball, news, recruiting and more.
• SoonerNation | Blog

| Recruiting news
RecruitingNation
Texas: HornsNation


Follow everything Texas at HornsNation: Texas Longhorns football, basketball, news, recruiting and more.
• SoonerNation | Blog

| Recruiting news