More injuries for Baylor, tough loss for Iowa State and looking ahead
Stanford's on the run, Virginia Tech's defense and UTSA's progress
1. This may speak to the fact that Stanford quarterback Kevin Hogan is 18-3 as a starter and 10-1 against top-25 teams. Or it may be that, as playcallers go, Stanford head coach David Shaw is as conservative as they come. On fourth down, you know he's going to run it, and he knows you know he's going to run it, and the Cardinal, with six or more offensive linemen on the field, move the chains anyway. But Hogan has never completed a fourth-down pass. He's 0-for-3 in his career. With the No. 13 Cardinal playing No. 14 USC on Saturday, that number may change.
2. Did you read how Virginia Tech defensive coordinator Bud Foster is buttering up Ohio State freshman quarterback J.T. Barrett this week? The Buckeyes have more physical talent than the Hokies, and they're going to need it. Foster has been running Frank Beamer's defense for 20 years and his favorite tailgating snack is young quarterbacks. ESPN Stats & Info says the Hokies have been second in third-down conversions allowed over the last two seasons at 28 percent. And that included quarterbacks who have read many more defenses than Barrett. His youth gives Virginia Tech a chance for the upset.
3. Comparative scores are a simple method of measuring progress, but check out what UTSA is doing in only its fourth season of football. Last year, the Roadrunners lost at home to Houston, 59-28. This season, they opened on the road with a 27-7 rout of the Cougars. Last season, Arizona cruised to a 38-13 victory over UTSA. Last night, the Wildcats had to hang on in the fourth quarter to beat the Roadrunners, 26-23, at the Alamodome. Larry Coker, who methodically coached Miami from national championship to mediocrity, has taken UTSA from scratch to respectability in a hurry.
Michigan State-Oregon
Michigan State seeks its 1st true road win over an AP-Top 5 opponent since 1998 against No. 1 Ohio State.

— ESPN Stats & Info (@ESPNStatsInfo) September 4, 2014
And Now, The Weather
It's supposed to be 97 degrees in Eugene Sat. for Oregon-MSU. Don't remember ever thinking heat might be an issue at Oregon.

— Ted Miller (@TedMillerRK) September 4, 2014
Games Of The Week
By
ESPN Stats & Information
No. 14 USC at No. 13 Stanford
• Pregame Matchup Quality: 92.3
• Win percentage: USC, 52 percent
Michigan at No. 16 Notre Dame
• Pregame Matchup Quality: 88.9
• Win percentage: Notre Dame, 56 percent
No. 7 Michigan State at No. 3 Oregon
• Pregame Matchup Quality: 88.0
• Win percentage: Oregon, 84 percent
BYU at Texas
• Pregame Matchup Quality: 84.3
• Win percentage: Texas, 58 percent
No. 8 Ohio State at Virginia Tech
• Pregame Matchup Quality: 82.1
• Win percentage: Ohio State, 80 percent
Early Offer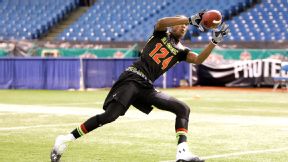 Miller Safrit/ESPN

George Campbell is one of the most highly sought after players in the country, and the five-star athlete will announce his decision Friday on ESPN.com. That and more is in today's Early Offer. Jeremy Crabtree