Questions Remain About Big East QBs
By Andrea Adelson
ESPN.com
Four Big East teams went into the spring with open quarterback competitions.
Four Big East teams leave the spring with open quarterback competitions.
So much for spring practice resolving some major question marks.
Cincinnati, UConn, Pitt and Rutgers have not declared starters at the most high-profile position. While it appears front-runners have emerged at Cincinnati (Munchie Legaux), UConn (Chandler Whitmer) and Pitt (Tino Sunseri), none of the head coaches at those schools has made a definitive announcement.
[+] Enlarge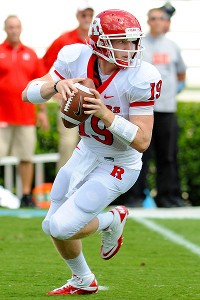 Dannie Walls/Icon SMIRutgers' Chas Dodd has game experience coming into this season, but he's still in a battle for the quarterback job.
At Rutgers, there appears to be no true front-runner after spring practice, as neither Chas Dodd nor Gary Nova was consistent enough to win the job. Dodd has more game experience, but Nova has all the physical tools you want your quarterback to have. Both started games last season, as former coach Greg Schiano continued what had been a trend of his -- playing musical quarterbacks.
But new coach Kyle Flood says he is going to make a decision about his starter at least a week before the season opener, and stick with that guy. He does not want to switch his starters in and out the way Schiano did the past several years.
UConn has had quarterback instability over the past several seasons, as well. Last spring, the Huskies essentially went through the same routine, with four quarterbacks competing for the starting job. Nobody won it after the spring and the competition lasted until the season opener.
Johnny McEntee ended up becoming the starter, but he was largely ineffective and in over his head last season. UConn ended up playing three quarterbacks and posted its first losing record since 2006.
Those three QBs -- McEntee, Michael Nebrich and Scott McCummings -- were back this spring competing for the starting job.
Added into the mix were two early enrollees -- freshman Casey Cochran and Whitmer, a junior college transfer. It was Whitmer who had the best performance in the spring game, throwing two touchdown passes.
But coach Paul Pasqualoni was not ready to declare the competition over.
Immediately after the spring game last month, Pasqualoni said, "We'll come back in four weeks to start their summer program. Then we get to start this process all over again. Once we get into preseason camp and it's clear, then we'll make a decision. We won't make a decision right now."
The quarterback group as a whole in the Big East is not particularly strong this year, though Louisville freshman Teddy Bridgewater is on the rise. But the league goes into the year without a marquee name at the position for the first time in a long time. The Big East is the only league among the six automatic qualifying conferences without a returning 3,000-yard passer.
Look at recent history -- most everybody expected Geno Smith at West Virginia to have a breakout season last year. Folks knew about Zach Collaros at Cincinnati. Before that, the Big East had nationally recognizable big names like Tony Pike, Pat White and Brian Brohm going back to 2005. That was the first year of the reconfigured Big East.
Marquee quarterback names generally translate into more national attention, whether that involves debates, comparisons or even Heisman talk. The Big East is sorely lacking in that department. Even if the open quarterback competitions were resolved this spring, this is a position in need of a breakout star.
And fast.
What We Learned This Spring
By Andrea Adelson
ESPN.com
With the season coming into view, let's take a look at what we learned in the Big East this spring.
1. Running backs have to prove themselves. Isaiah Pead is gone. Antwon Bailey is gone. Ray Graham is coming off a serious knee injury. There are some major question marks at virtually every Big East school at this position headed into the fall. Chief among them -- how will Graham do a year removed from ACL surgery? How will Cincinnati, Syracuse and Louisville spread the ball to their various running backs? How will Temple replace the production of Bernard Pierce? Will Savon Huggins improve on his injury-shortened freshman season at Rutgers? How will Lindsey Lamar be used in the backfield at USF? Can Lyle McCombs repeat as a 1,000-yard rusher for UConn?
[+] Enlarge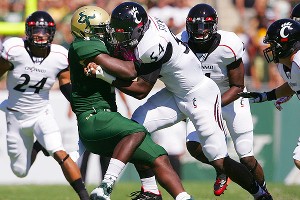 Cliff Welch/Icon SMICincinnati defensive end Walter Stewart might be the next Big East player to be among the country's leaders in sacks.
2. Next sack leader? The Big East generally has some of the top leaders in sacks in the country. Last year, it was Trevardo Williams and Aaron Donald who emerged to finish in the top 10. The year before, it was first-year Big East player Bruce Irvin. So who is the next Big East player to lead the charge? USF defensive end Ryne Giddins, Cincinnati defensive end Walter Stewart and UConn tackle Ryan Wirth all had terrific springs, so keep those names in mind as the season begins.
3. Earth to offense. We had an inkling that the Big East defenses would be way ahead of the offenses this spring, and that all came to fruition once the spring games were played. Defenses essentially dominated at nearly every school. Syracuse did not score a point on offense; UConn had two total offensive touchdowns; USF quarterback B.J. Daniels went 9-of-26 for 88 yards in the Bulls' spring game; QB Chris Coyer and his receivers struggled in the Temple spring game; and the Pitt passing game was just so-so in its final scrimmage. While it is true that defenses are usually ahead of the offenses in the early going of practices, it is obvious that almost every offensive unit needs to get much better this offseason.
4. Bridgewater: Rising star. It was apparent last season that Louisville had a special player in Teddy Bridgewater. But worries about a potential "sophomore slump" have been temporarily put to rest after the spring he had. Bridgewater was stellar in the spring game, going 19-of-21 for 257 yards and three touchdowns. Afterward, offensive coordinator Shawn Watson said that Bridgewater completed about 70 percent of his passes in the spring. "I know he's been lights-out," Watson said. "He's really played very well. I challenged him with the things he needed to get better with and use all the tools he has available to him. As a young player, he didn't quite get it. Now he's getting it. You're seeing a lot more completions now. He's worked hard. He's doing a lot of good things with his eyes and playing well."
5. Athletes (almost) everywhere. One trend to watch is the conversion of quarterbacks to running backs/receivers. Cincinnati moved Jordan Luallen to receiver, and he is expected to see time as a Wildcat quarterback, as well. Ashton Broyld has been moved to running back, though he also played receiver in the spring game. Louisville converted quarterback Dominique Brown to running back last fall, and he is in contention to win the starting job. Temple running back Jalen Fitzpatrick was recruited as a quarterback out of high school. Each of those four players has the potential to be a huge asset to his team. There were a few other notable position switches -- Lindsey Lamar is now at running back for USF, and Jeremy Deering is now a receiver at Rutgers.
Best Of Spring
By Andrea Adelson
ESPN.com
Let's take a look at the best of the best in the Big East this spring.
Best spring game performance: Louisville quarterback Teddy Bridgewater. As noted in the "What We Learned" section (above), Bridgewater was on point in his spring game, going 19-of-21 for 257 yards and three touchdowns. Now, I understand that his team was going against the second-team defense. But coach Charlie Strong gave the second team a 21-point lead to start the game, just to see if Bridgewater could lead his team back. He did, and had the best spring game of any quarterback in the Big East.
Best overall spring: Pitt running back Isaac Bennett. This might be a slight exaggeration, but it felt as if every time I checked a Pitt practice report, Bennett was ripping off another 50-yard run. In 15 practices, he had four runs of 50 yards or more, including a 51-yarder in the spring game. Bennett had 121 yards on 23 carries in that final spring performance and proved he should be relied upon along with Ray Graham this upcoming season.
Best spring comeback: This also has to go to a Pitt player -- linebacker Dan Mason. If you love comeback stories, you have to love what Mason did this spring. His career appeared to be over after he suffered a devastating knee injury in September 2010. He not only tore ligaments but also suffered nerve damage. Yet Mason was back on the field this spring, running with the first team until he missed the final few practices for undisclosed reasons. If he makes it back on the field in September, his comeback story will be an incredible tale to tell.
Best performance by a transfer: USF cornerback Fidel Montgomery. There are several transfers who have a chance at seeing significant playing time this season -- UConn quarterback Chandler Whitmer, UConn receiver Shakim Phillips and Pitt safety Ray Vinopal among them. But Montgomery stood above the rest this spring with the way he immediately made plays. It seemed pretty clear from the outset that he would win the starting job and, sure enough, he sits atop the depth chart at the end of spring practice.
Best quote: "I don't want a guy that's got to come out of the game. I don't want a guy that's saying I'm tired, take me out. I don't want a Jaguar. Do you know what a Jaguar is? The Jaguar is always in the shop, always breaking down, so I don't want a Jaguar. I want a durable guy, and if we put him in the game, he stays in the game. We're trying to develop the depth we have, but I'm all for one guy staying out there. Now, we're going to use the talents and ability we have, but I want them all to be able to do it, if you know what I mean." -- UConn coach Paul Pasqualoni, on his running backs philosophy.
Team-by-team spring reports

Cincinnati: Even when Cincinnati names a starting QB, he'll still be looking for answers at receiver. For more on the Bearcats, click here.

Connecticut: For the second straight offseason there is uncertainty at quarterback for UConn. For more on the Huskies, click here.

Louisville: Louisville should have one of the better secondaries in the Big East. For more on the Cardinals, click here.

Pittsburgh: Pitt has some major talent at safety, with four players capable of starting. For more on the Panthers, click here.

Rutgers: It appears new coach Kyle Flood has adjusted nicely to managing a team that's in position for a Big East title. For more on the Scarlet Knights, click here.

South Florida: We all saw glimpses of how good Andre Davis could be last season. He got even better this spring. For more on the Bulls, click here.

Syracuse: One of the more intriguing competitions in the spring was at nose tackle. For more on the Orange, click here.

Temple: Temple loses four of five starters on the offensive line, but the Owls left the spring feeling good about the starting lineup. For more on the Owls, click here.
Schedule breakdowns

Cincinnati: Cincinnati has a pretty mild nonconference slate -- two FCS teams, two MAC teams and Virginia Tech. For more on the Bearcats, click here.

Connecticut: The Huskies have a manageable nonconference schedule, though we said the same thing last season. For more on the Huskies, click here.

Louisville: While there are some tricky games, Louisville has an outside chance to run the table. For more on the Cardinals, click here.

Pittsburgh: Virginia Tech and Notre Dame are the good. Two FCS teams are the bad. For more on the Panthers, click here.

Rutgers: Rutgers could make a splash right out of the gate with a win over Arkansas. For more on the Scarlet Knights, click here.

South Florida: South Florida will face two in-state foes early in the season (Florida State and Miami). For more on the Bulls, click here.

Syracuse: Syracuse has one of the nation's toughest nonconference schedules, starting with a game vs. USC. For more on the Orange, click here.

Temple: Temple transitions to the Big East with a tough nonconference slate. For more on the Owls, click here.
Recruiting update
From Louisville becoming a recruiting force to Cincinnati's slow start to Pitt's good start, ESPN RecruitingNation's Dave Hooker looks at five recruiting storylines to watch in the Big East this spring.
Story

For full recruiting coverage, including the latest ESPN 150 rankings and commitment news, check out RecruitingNation.
Spring 411: Second-year coaches