Can Big Ten Teams Reach Past Rose Bowl?
Michigan will likely enter the 2012 season as the highest-ranked team in the Big Ten and will measure itself right away by playing defending champion Alabama in the opener.
The Wolverines' stated goals this spring had little to do with national aspirations, however. All the talk around Ann Arbor centered on winning a Big Ten title.
"If we don't go anywhere else, as long as we go to that Big Ten [championship] game and win that, I think that will be a good season," Michigan running back Fitz Toussaint said.
[+] Enlarge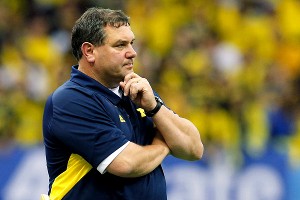 Kevin C. Cox/Getty ImagesBrady Hoke and the Michigan Wolverines are focused on winning the Big Ten title.
Are the Wolverines being too modest or simply facing reality? Four straight seasons have passed without the Big Ten placing a team in the BCS championship game, and this spring seemed to confirm that the drought will reach five years.
That's not to suggest that there aren't really good teams in the league, because the conference is probably as deep as it's ever been. But each contender has at least one major weakness that could hold it back from greatness.
For Michigan, it's a defensive line that looked this spring to be nowhere near as dominant as last year's bunch. Michigan State is blessed with a deep, outstanding defense but struggled to throw the ball this spring with a rookie quarterback and extremely green receivers. Wisconsin has Montee Ball but maybe not enough ballers on defense, and its likely starting quarterback (Maryland transfer Danny O'Brien) hasn't even arrived yet.
Nebraska was one of the lone Big Ten teams embracing national title talk this spring, but the Huskers haven't even captured a conference crown since the 1999 Big 12 championship. They're trying to catch up to the Big Ten's toughness in Year 2. Penn State has a new head coach for the first time since 1966, but Bill O'Brien dealt with the same quarterback issues this spring that seem to have plagued the program for nearly that long.
And no matter how quickly Urban Meyer resurrects Ohio State, the Buckeyes are ineligible for the postseason because of NCAA sanctions.
The good news is that the Big Ten race might provide more thrills than any other power league. For years and years, the championship came down to two or occasionally three teams in the final stretch of the season. Last year, in the first season of division play, six teams had reasonable hopes of reaching Indianapolis with two weeks left to play.
Even with Ohio State not eligible -- but playing the role of serious spoiler once Meyer gets his system running -- we could have a similarly wild dash to the finish in 2012. Navigating the schedule unscathed will prove daunting for any team.
Last year's division bottom-feeders, Minnesota and Indiana, both saw important defensive improvement this spring and will be tougher outs in the second year under head coaches Jerry Kill and Kevin Wilson, respectively. Iowa will be young but dangerous, especially in the passing game with quarterback James Vandenberg.
Northwestern still needs to fix some defensive issues but should field another dynamic offense, led by multi-threat Kain Colter. Illinois spent the spring trying to implement new coach Tim Beckman's spread offense, knowing its excellent defense will be there in the fall. And Purdue, with 18 starters back and finally enjoying some health at quarterback, might be the sleeper of the entire league.
So even a serious title contender like Michigan State, which must go to Wisconsin and Michigan and hosts Nebraska and Ohio State, can't feel too comfortable.
"I do feel like we're coming," Spartans coach Mark Dantonio said. "But this conference is so competitive, how do you rise up?"
Some team will rise up and make the Rose Bowl this season. The question for the Big Ten is whether anyone could or should aim higher.
What We Learned This Spring
By Adam Rittenberg
ESPN.com
Three new head coaches. Fourteen new coordinators. Quarterback competitions. New faces everywhere.
The Big Ten had it all during spring football.
Here are five lessons we learned about the league this spring:
1. Big Ten offenses are speeding up: Tempo was a huge theme for offensive coordinators we spoke with around the league this spring. Defenses are catching up to the spread in college football, so offenses are speeding up to stay a step ahead. Ohio State coach Urban Meyer talked about mimicking Oregon with a no-huddle spread attack, and even conventional offenses like Iowa's and Penn State's will have no-huddle elements and an emphasis on maximizing snaps. It's a myth that the spread offense is new to the league -- teams like Purdue and Northwestern have run it for more than a decade -- but most Big Ten teams have spread elements and want to keep the pedal down as much as possible.
[+] Enlarge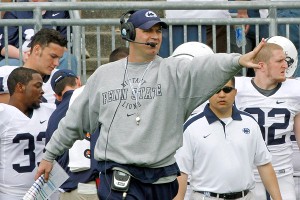 AP Photo/Keith SrakocicCoach Bill O'Brien has worked tirelessly to build a strong relationship with the Penn State fan base.
2. Bill O'Brien is building momentum but still needs a quarterback: O'Brien has taken the necessary steps to win over Penn State's fan base. Now he needs to do what he does best: identify a quarterback and develop the signal caller for the 2012 season. The spring didn't provide much separation as Matthew McGloin, Rob Bolden and Paul Jones adjusted to O'Brien's complex, NFL-style offense. Bolden's struggles in the Blue-White Game might have closed the window on his chances, although no decisions have been announced. O'Brien told ESPN.com he wanted to reduce the candidate pool from three to two before fall camp. Penn State needs a significant upgrade at quarterback after the past two seasons, and the O'Brien effect must pay off for the Lions this fall.
3. Fresh faces bring greater accessibility: The Big Ten has a reputation of being a buttoned-up, closed-doors league when it comes to accessibility. And in some respects, the label holds true to this day. But new faces and new approaches have created a more open feel around the conference. Penn State opened up some spring practices to media for the first time in recent memory. Ohio State hosted thousands of students at a practice, creating very cool scenes like this. Open practices at Iowa seem like a pipe dream, but one of the nation's least accessible programs had more interaction with the media this spring than in recent memory. Hawkeyes coaches are taking to the Twitterverse, and there's even talk that Kirk Ferentz might start tweeting soon. While I'm sure mentioning this will jinx us, the increased accessibility is a welcome change.
4. Nebraska isn't lacking confidence: The Huskers didn't steamroll through the Big Ten in their first go-round, as some expected, but a somewhat bumpy ride didn't damage their confidence, either. Led by junior quarterback Taylor Martinez, Nebraska players are openly discussing the national championship as a goal for 2012. The Huskers last played for the title after the 2001 season, which marks their most recent BCS bowl appearance. Coach Bo Pelini is comfortable with the title talk, and Nebraska points to an offense that returns mostly intact, a defense with potentially more depth and arguably the Big Ten's best special teams units as reasons to believe. As wide receiver Kenny Bell told me, "It's a big jump to go from a 9-4 to a 13-1 or a 14-0 season. But if you don't believe wholeheartedly in a goal, there's no point in trying to chase it."
5. Spartans look loaded on the lines: Most football games are won at the line of scrimmage, and Michigan State is positioned to win plenty of them this fall. The Spartans' defense could be the Big Ten's best unit in 2012, and it starts up front with freakish end William Gholston, veterans Tyler Hoover and Anthony Rashad White, newcomer James Kittredge and others. Perhaps more important, Michigan State's offensive line is taking shape after a choppy 2011 season that brought injuries and personnel shuffling. This could be the deepest offensive line in coach Mark Dantonio's tenure, and the Spartans will try to re-establish themselves as a power running team with top ball-carrier Le'Veon Bell back in the fold.
Best Of Spring
Spring (practice) has sprung in the Big Ten. So let's look back and review the highlights:
Best debut by a player: Ohio State true freshman Michael Thomas introduced himself to Buckeyes fans with 12 catches for 131 yards in the spring game. No Buckeyes player had more than 14 catches all season in 2011. Don't expect Thomas to replicate that performance every week in the fall, and Ohio State was throwing the ball all over the place in its spring game. Still, for an offense that was desperately seeking playmakers to surround Braxton Miller, Thomas's performance was very encouraging.
Best debut by a coach: (Tie) Urban Meyer and Bill O'Brien. The new coaches at Ohio State and Penn State didn't take long to endear themselves to their constituents. Already wildly popular among Buckeyes fans, Meyer brought the team and the student body a little closer by inviting students to watch a practice, even allowing them on the field during a kicking drill. O'Brien made Penn State's practices more open to public scrutiny, and then went around the state and area to meet and greet fans on a caravan tour. No wonder that the Buckeyes and Nittany Lions ranked first and third nationally in spring game attendance.
Best debut by a mascot: Mark Dantonio livened up Michigan State's spring game by putting Sparty -- the school mascot -- in for a running play. Sparty hardly looked like a warrior, getting stuffed immediately on the play and then fumbling, but Dantonio bailed him out by ruling that the defense was offside. There was no more entertaining sequence in any spring game in the country than that one.
Best fill-in for a Heisman finalist: Wisconsin, like a lot of teams, saw no reason to put its star players at risk in the spring game. So 2011 Heisman Trophy finalist Montee Ball watched from the sidelines as redshirt freshman Melvin Gordon ran 30 times for 159 yards and a touchdown. Gordon is stuck behind Ball and James White, but head coach Bret Bielema told ESPN.com that Gordon "might have the most talent of any kid ever I've signed at that position."
Best overhyped position move: A massive fan base and closed spring practices combined to have Michigan fans rampantly speculating about backup quarterback Devin Gardner moving to receiver. A Facebook update supposedly confirmed the move -- until it was later revealed as a fake. Bottom line: Gardner spent some time working at wideout, but is a long way from being an impact player there. And he's still the backup quarterback.
Best spring break: It's hard to question Nebraska quarterback Taylor Martinez's desire to get better. When the Huskers let their players loose for spring break in the middle of their practice session, Martinez went to California, but eschewed the beach or the ski slopes. Instead, he worked on his footwork with quarterback instructor Steve Calhoun. The word around Lincoln this spring was that Martinez's fundamentals and passing were much improved. If that's the case this fall, Nebraska's offense should be awfully dangerous.
Best big score: Thanks to a modified scoring system, Northwestern defensive tackle Chance Carter earned 17 points for his team when he returned an interception 19 yards for a touchdown. "It should be a pick-17 every time -- especially for a defensive tackle," Carter later joked. The play by the defense and the front four in particular (four sacks, plus that pick) provided some optimism for a team that struggled to stop anybody last season.
Best Food Network Challenge: New Illinois coach Tim Beckman knows the way to his players' hearts is through their stomachs. Illini team members who missed team meetings were forced to eat porridge for breakfast this offseason, while those who met their requirements received steak and eggs. The same was true at the spring game, with the losing Orange squad getting a postgame meal of beans and weenies instead of the steaks for the victorious Blue squad. We'll see if this motivational technique makes Illinois hungry enough to contend for a Big Ten title this fall.
Best hair: Spring is a time for experimenting, and that includes hairdos. Purdue defensive end Ryan Russell dyed his hair bright red and cut it into a mohawk. He also tested out some other colors during the Boilermakers' spring practice. "It's just a spring thing," he said. "I might change it up and do something different for the season."
Best quote: Dantonio didn't mince words when ESPN.com asked him about the challenges Michigan might present in the future with the Wolverines' strong recruiting efforts. "We're laying in the weeds," he said. "We've beat Michigan the last four years. So where's the threat?" Michigan State fans loved the quote, while Michigan fans despised it. But the Spartans have earned bragging rights. They'll try to keep them when they visit the Big House on Oct. 20.
Team-by-team spring reports

Illinois: Illinois struggled on offense last season and that's still a concern minus A.J. Jenkins. For more on the Fighting Illini, click here.

Indiana: The defense should be improved but the Hoosiers need to stay healthy and get some breaks. For more on the Hoosiers, click here.

Iowa: Iowa is going through a historic number of changes, including the first new coordinators in Kirk Ferentz's tenure as head coach. For more on the Hawkeyes, click here.

Michigan: Denard Robinson played one series in the public spring scrimmage, but coaches raved about his improved leadership, decision-making and accuracy throughout the spring. For more on the Wolverines, click here.

Michigan State: Tailback Le'Veon Bell could be a star and the defense could be even better than last year. For more on the Spartans, click here.

Minnesota: There are high hopes for quarterback MarQueis Gray, whose mechanics have improved. For more on the Golden Gophers, click here.

Nebraska: Secondary depth has improved and the offense should be more balanced. For more on the Cornhuskers, click here.

Northwestern: There's progress on the defensive line and at wide receiver. For more on the Wildcats, click here.

Ohio State: The Buckeyes' no-huddle, spread offense suits quarterback Braxton Miller. For more on the Buckeyes, click here.

Penn State: The offense remains a work in progress and coach Bill O'Brien hasn't settled on a QB. For more on the Nittany Lions, click here.

Purdue: Health at quarterback and talent up front defensively are reasons for optimism. For more on the Boilermakers, click here.

Wisconsin: Could last year's Heisman finalist and record-breaking running back Montee Ball really be faster? For more on the Badgers, click here.
Spring game recaps

Illinois: Redshirt freshman running back Josh Ferguson rushed for 130 yards. For more on the Illini, click here.

Indiana: Running back Isaiah Roundtree ran for two touchdowns, including a 63-yarder. For more on the Hoosiers, click here.

Iowa: The new offense had its ups and downs as James Vandenburg did not establish much rhythm. For more on the Hawkeyes, click here.

Michigan: The offense technically won but the defense still claimed victory. For more on the Wolverines, click here.

Michigan State: Defensive ends Marcus Rush and William Gholston starred as the defense dominated. For more on the Spartans, click here.

Minnesota: The defense played well, at least against its own quarterbacks. For more on the Golden Gophers, click here.

Northwestern: Good day for the defense, which has struggled recently. For more on the Wildcats, click here.

Ohio State: The offense showed off its new look and coach Urban Meyer promised a balanced attack. For more on the Buckeyes, click here.

Penn State: With all the changes, the defense seemed ahead of the offense. For more on the Nittany Lions, click here.

Purdue: Bad weather forced the game indoors. Cornerback Normondo Harris had a pair of interceptions. For more on the Boilermakers, click here.

Wisconsin: Redshirt freshman running back Melvin Gordon carried 30 times for 159 yards and a touchdown. For more on the Badgers, click here.
Note: Nebraska's game was canceled because of weather.
CFL countdown: No. 12 MSU
CFL countdown: No. 16 Wisconsin
Recruiting update
The battle for ESPN 150 WR Laquon Treadwell is the latest chapter in the Michigan-Ohio State rivalry and Penn State doing just fine on the trail. ESPN RecruitingNation's Dave Hooker looks at five recruiting storylines to watch in the Big Ten this spring.
Story

For full recruiting coverage, including the latest ESPN 150 rankings and commitment news, check out RecruitingNation.
CFL countdown: No. 17 Nebraska