Let's make it a November to remember
In recent weeks, we've borrowed from masters such as Steinbeck, Matisse and Lloyd Christmas to draw parallels with the upcoming Saturday in college football.
No need this week; November is here. Time to put away the masks and disguises. Time for champions to reveal themselves.
As several coaches I've spoken with this week have repeated, "They remember what you do in November."
This was supposed to be the week that we started the playoff two years early with a pair of de facto national semifinals: Alabama at LSU and Oregon at USC.
Each team was in the top five in the preseason and three of them are still in that elite realm.
[+] Enlarge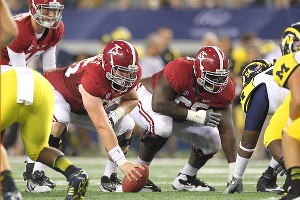 Matthew Emmons/US PresswireBarrett Jones, No. 75, and Chance Warmack are two of Alabama's seniors aiming to win a third national title.
The Trojans have been bounced from the BCS title picture and are left to play spoiler once again
The Tigers are still in the frame, but even if they help themselves by beating the Crimson Tide on Saturday night, they'll still be in need of assistance elsewhere to return to the national championship game.
All four of these teams have duos who can dish out devastating one-two punches.
Alabama's tandem prefers to deliver body blows.
Center Barrett Jones and left guard Chance Warmack anchor the Tide's stalwart offensive line.
When Nick Saban was asked if running the ball up the middle of the field was boring, he replied, "You sound like my wife."
Nick knows better than that. His wife, Terry, is an astute football observer and if she were installed as the Tide's offensive coordinator, she'd run the ball up the middle because that's where Jones and Warmack are.
Jones is the most versatile lineman in college football. He has moved from right guard to left tackle to center and won two national championships and the Outland Trophy along the way.
The son of a former Alabama basketball player, Jones is athletic, strong and a good technician. He's working on his master's degree in accounting, which will come in handy as he tries to keep track of the on-the-fly adjustments in blocking schemes he's responsible for.
The Crimson Tide see plenty of overloaded boxes and stunts from defenses trying to gain an edge to offset the power of their O-line. Should Jones encounter a rare miscalculation, Warmack is just to his left to balance the ledger.
Warmack is regarded as the top guard prospect in the country by our Todd McShay. When the Tide running game is at its best, Warmack is not only taking care of business at the point of attack, but also getting to the second level and working on linebackers.
On designed running plays, Alabama averages 4.4 yards before before the ball carrier gets hit. If Warmack, Jones and company can have that type of success against LSU, it would open up the Tide's play-action passing game, which has been lethal.
Alabama is allowing more than two sacks per game. That ranks only 77th in the nation. It has been rare that opposing teams pressure up the middle against Jones and Warmack. Instead, the rush has been coming from the edge.
[+] Enlarge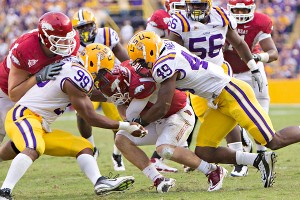 Wesley Hitt/Getty ImagesBarkevious Mingo and Sam Montgomery have a habit of getting to opposing quarterbacks.
The edge is where LSU's dynamic duo lives. When Sam Montgomery and Barkevious "Keke" Mingo get into the sprinter's pose to start the pass rush, that clock in the opposing quarterback's head starts ticking a little faster.
Combined, the two speedy athletes have seven sacks and a dozen quarterback hurries. Those numbers don't blow you away, but their presence changes game plans. Not properly accounting for them, perhaps with an assist from a chipping back or a tight end, can put your quarterback in peril.
Their length alters throws. Montgomery was a star basketball player in high school before he transitioned to dunking quarterbacks full time, which he did to AJ McCarron twice last year in the regular-season matchup between these two.
Mingo is freakiest of freaky athletes chasing quarterbacks. He's explosive with his first step and just gets faster after that. Just ask Oregon's LaMichael James. Last season, James was headed to the sideline away from Mingo's side. Mingo ran him down and tackled him for a loss.
LSU's duo will be hungry to atone after being neutralized in the national championship game last season. Whether they can disrupt McCarron's rhythm probably will play a large role in the Bayou Bengals' hope to roll back the Tide.
Oregon is built on speed. There is no more dangerous quick-strike pairing than Kenjon Barner and De'Anthony Thomas.
Because of sick runs, such as his punt return against Colorado last week, the spotlight is pulled like a magnet to the man tabbed as "the Black Mamba" by Snoop Dogg. Snoop Lion? Soon to be Snoop Duck?
Maybe Barner's nickname could be Warrior One. The yoga student is majoring in moving the chains for the Ducks.
He's 10th in the nation in rushing and fifth in 10-yard carries while gaining more than 71 percent of his yards inside the tackles. Picking up first downs with chunks of yardage on his rushes lets Oregon kick the offensive tempo into an even higher gear and increases the opposing defense's vulnerability to the big play.
[+] Enlarge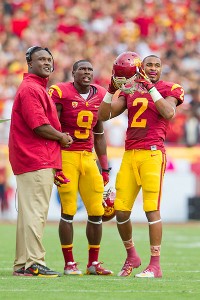 Icon SMIUSC will need big plays from Marqise Lee and Robert Woods if the Trojans are to keep pace with Oregon.
That's where Thomas becomes such a great sidekick. This season, he has scored a touchdown once every nine times he touches the ball. Thomas was even better than that against USC last year. He touched the ball nine times and scored twice; Barner scored twice too.
The Trojans' defense allowed Arizona to run 94 plays last week. Give Barner and Thomas that many chances, USC will have no chance.
USC's best shot is to counter punch with explosive plays of its own. For my money, the best receiving tandem in the country can deliver.
Marqise Lee is coming off a Pac-12 record 345 yards on 16 catches in a bitter loss to Arizona. The sophomore leads all players from BCS conferences with 642 yards after the catch. He's second in the nation in receiving yards per game.
Lee's running mate, Robert Woods, hasn't been Matt Barkley's top target as he was last year. But it's not as if he has been ignored. While Woods' numbers are down roughly 30 yards per game from 2011, he's still scored nine touchdowns and is in the top 25 in the nation in catches per game.
Aside from penalties, the Trojans' biggest lament from the Arizona loss was a missed connection between Barkley and Woods that should've been an easy 87-yard touchdown. The Trojans simply can't blow chances against the Ducks. USC's spectacular receiving duo gives them more than a puncher's chance against anyone. They'll need to land a couple of haymakers to knock off the Ducks.
---
Keep an eye on the Little Apple Saturday night too. Oklahoma State has played much better defense of late. We already know the Cowboys can score. Kansas State can't afford to be flat.
Then again, flat is what the Wildcats' duo of Collin Klein and Bill Snyder do best. I mean that as a compliment. Consistent. And consistently ruthless in their efficiency. They'll need more of that against an upwardly trending group of Pokes.
GameDay Twitter Kickoff
Editor's note: Rece Davis and ESPN.com's Mark Schlabach traded thoughts about Week 10 over Twitter on Wednesday. The following is their exchange:
Alabama-LSU: In the trenches
Blog Network: What to watch
Each week, our bloggers will take a closer look at the storylines you should watch. What's on tap for Week 10?

Thursday night's clash between Virginia Tech and Miami could decide the Coastal Division. Elsewhere, Duke gets another crack at a Top 25 opponent when it hosts Clemson. Will the Blue Devils have better luck against the red-hot Tigers?
ACC

West Virginia had some soul-searching to do during its bye week. What have the Mountaineers discovered about themselves? As for Oklahoma, well, pity the poor team who has to face the Sooners when they're angry -- in this case, Iowa State.
Big 12

Louisville has survived some sluggish starts in recent games. Can the Cardinals start strong against Temple? Also, keep an eye on Pitt's running game, which might be able to cause Notre Dame some trouble.
Big East

Something has to give in East Lansing when the Big Ten's best offense (Nebraska) comes up against its best defense (Michigan State). William Gholston, meet Taylor Martinez.
Big Ten

Will Oregon-USC live up to the hype? It will be difficult, but if any teams can deliver, it's the Ducks and Trojans. Meanwhile, the Pac-12 South race will gain some clarity after Arizona and UCLA meet.
Pac-12

It's mostly, but not all, about Round 3 in Baton Rouge. Georgia needs to avoid a letdown against Ole Miss, while Mississippi State needs a pick-me-up against Texas A&M.
SEC

Everett Golson was sensational against Oklahoma, but consistency has been hard to come by for the sophomore QB. It's time for him to maintain that standard week after week.
Notre Dame
Schlabach's Upset Special
K-State-Oklahoma State preview
Fantasy college football
By ESPN Fantasy
Make "GameDay" your game day with three ways to play.


• Pick 'Em: How confident are you?
• College Challenge: Build the best team
• College Showdown: Choose wisely