Something for everyone during Rivalry Week
There is no best rivalry.
Oh, we might say there is, sometimes -- I may have been guilty of it, too -- but really, it's impossible to declare a "best" rivalry because rivalries are personal.
That's what makes them great. That's what makes them compelling and vitriolic. That's why a lousy season can be salvaged in 60 minutes of football or a great season can be permanently tarnished.
What we can do is rank the rivalries in terms of importance for this particular season. Feel free to take umbrage with this countdown.
I know you will.
5. Auburn at No. 2 Alabama
Although Auburn's season has long since turned into the Hindenburg, this game carries more significance than bragging rights and a chance for a historic upset.
[+] Enlarge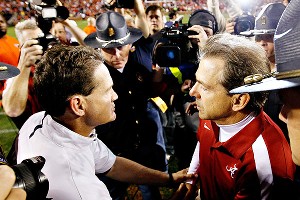 Kevin C. Cox/Getty ImagesThe stakes are always high in the Iron Bowl, even if they're vastly different for Nick Saban and Gene Chizik this time around.
Losses by Kansas State and Oregon allowed Alabama to get back into the BCS national championship picture, so a win over the Tigers would clinch the SEC West, making the SEC championship game against Georgia a de facto national semifinal.
Gene Chizik might need this game to save his job, if it isn't already lost. It's hard to believe that just two years ago, Chizik was on top of the college football world after the Tigers pulled off an epic comeback in Tuscaloosa to turn back the Crimson Tide 28-27.
The Tigers went on to win the national championship, while that loss still galls Alabama.
If Chizik's fate isn't sealed already, spoiling Alabama's season certainly would tilt the scales in his favor. Considering the Tigers' 3-8 record and litany of blowout losses, you'd think there's a better chance of Harvey Updyke being named the national Arbor Day spokesman than of Auburn wrecking the Tide's dreams.
4. Georgia Tech at No. 3 Georgia
Both teams enter after getting a stroke of good fortune. The Bulldogs benefited from the same aforementioned upsets as Alabama, and has a hand in controlling its destiny for a spot in the BCS title game.
The Yellow Jackets slipped into the ACC title tilt as the Coastal Division representative when Miami earlier this week self-imposed a postseason ban.
They call this game "Clean, Old-Fashioned Hate." Tech really hates Georgia because it just can't seem to beat the Dawgs. Mark Richt is 10-1 against the Jackets, and his team seems to be peaking at just the right time.
The Jackets run for nearly 325 yards per game, third-best in the nation. Georgia saw a scheme similar to Georgia Tech's triple-option spead in its 45-14 win last weekend over Georgia Southern. It was like a live scrimmage, though the Dawgs gave up more than 300 yards rushing.
Georgia Tech will have to find a way to neutralize Jarvis Jones, who leads the nation in tackles for loss. He's also second in sacks, but the Jackets don't pass much, so keeping Sacman Jones from wrecking the option tops their agenda.
Simply put, a win sets up Georgia's biggest game since the Herschel Walker era.
3. No. 4 Florida at No. 10 Florida State
This is like the Gators and Seminoles from the old days, except in the old days, Bobby Bowden and Steve Spurrier didn't co-own a beach house, as Jimbo Fisher and Will Muschamp do.
But the stakes are higher than just determining who gets the prime summer weeks at the coastal crib.
The Seminoles are seething (and rightfully so) over their computer standings in the BCS. They are 17th in the computers and unranked by the Massey formula, which messes up their national championship hopes.
What better way to impress the voters and shine a light on computer glitches than by taking down the darling of the computers, archrival Florida?
Despite completely unimpressive wins since its only loss, to Georgia on Oct. 27, Florida remains second in the BCS computer rankings, fourth overall in the standings. That's largely due to the mandate that the BCS formulas can't factor in margin of victory.
To be fair, no one can match the Gators' sparkling list of big wins. Victories over Texas A&M, LSU and South Carolina shouldn't be discounted just because the Gators have been lethargic on offense. Florida can virtually assure itself a spot in a BCS bowl game by beating the Noles, and if things fall just right, the Gators could find themselves in the title game.
Florida State can make a statement. Should all three of this weekend's SEC/ACC rivalry games go the ACC's way, and if the Noles win convincingly, the impact on poll voters would be worth watching.
2. No. 19 Michigan at Ohio State
While this one has no BCS significance, it can tidy up the national championship debate.
[+] Enlarge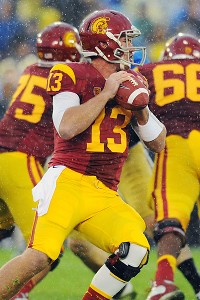 Chris Williams/Icon SMIMax Wittek will look to make history in his first USC start against No. 1 Notre Dame.
I've gotten a steady stream of questions lately about whether the Buckeyes could claim the AP title if they finish as the only undefeated team in the nation. I would seriously doubt it, considering the following:
• Probation
• Several close calls against less-than-stellar opponents
• No signature wins to offset those close calls
• The Buckeyes will be out of sight, out of mind after this weekend
If Ohio State wins, it will always be left to wonder what could have been had they self-imposed a bowl ban last year. That question can't be answered. What will be unquestionable is that Urban Meyer will be the Big Ten boss, the prospect of which makes Michigan's skin crawl. Brady Hoke can't even bring himself to say, "Ohio State," opting for "Ohio," which chaps those in Ohio.
Michigan may have ended a four-game losing streak to Michigan State, but the Wolverines have otherwise flopped in big games. This is their last chance to win a game with national significance.
They flopped against Alabama. They fumbled against Notre Dame. They fizzled against Nebraska in a loss that likely will keep them out of the Big Ten title game. A win over the Buckeyes would make up for of those missteps.
The best note on the rivalry this week came from Tim May, standout writer for the Columbus Dispatch, who tweeted: "In prep for 109th version of The Game, remember, Michigan's coach grew up in Ohio; Ohio State coach's initials are U.M."
The two enemies have more in common than you might imagine.
1. No. 1 Notre Dame at USC
Notre Dame is No. 1 for the first time since Lou Holtz roamed the sideline. Its ascension to the top spot ends the longest drought in Fighting Irish history between No. 1 rankings, a span of nearly 19 years.
Now the Irish will try to finish the season at No. 1 by beating the team that started there. In a complete role reversal, the Trojans have been reduced to that of spoiler.
"Our season comes down to spoiling Notre Dame's season," star USC receiver Marqise Lee said.
The Trojans have derailed perfect Irish seasons four times, including in season finales in 1964 and 1970. Those losses cost Notre Dame the national championship, or at least a shot at it.
Notre Dame has re-established its relevance nationally. Now, it gets a chance to transform that relevance into an appearance in the BCS championship game.
Could it really be any other way? Frank Leahy, Ara Parseghian, Dan Devine and Holtz all won national championships in their third year in South Bend. Knute Rockne finished his second straight undefeated campaign in his third year. Brian Kelly is one rivalry win away from leaving no doubt about who will finish No. 1 in the release of the final BCS standings, and perhaps taking his place among the Irish coaching legends.
Five things to watch this weekend
By Mark Schlabach
ESPN.com
1. Can USC quarterback Max Wittek back up his bold prediction?
I'm sure Trojans coach Lane Kiffin is thrilled that Wittek, a redshirt freshman from Newport Beach, Calif., predicted the Trojans would upset No. 1 Notre Dame at the Coliseum Saturday night, which, of course, would end the Irish's BCS national championship hopes.
USC starting quarterback Matt Barkley is expected to miss the game with a right shoulder injury, so Wittek will make his first college start against Notre Dame's menacing defense. He has completed 8 of 9 passes for 95 yards with one touchdown this season.
"If he wants to air it out, let's air it out," Wittek said of Kiffin. "If he wants to pound it on the ground, let's do that. I'm gonna go out there, I'm gonna play within myself, within the system, and we're gonna win this ballgame."
Even without Barkley, the Trojans have enough firepower on offense to challenge Notre Dame's defense. Wittek was the No. 3 quarterback recruit in the country in the class of 2011, according to ESPN 150.
2. Will Georgia Tech's triple-option spread offense break Georgia's BCS hopes?
The No. 3 Bulldogs have won 10 of the past 11 games in the in-state rivalry known as "Clean, Old-Fashioned Hate," but three of the past four contests in the series were decided by eight points or less.
Georgia can punch its ticket to the Jan. 7 BCS National Championship Game if it beats the Yellow Jackets at Sanford Stadium on Saturday and defeats No. 2 Alabama in the Dec. 1 SEC championship game in Atlanta. The Yellow Jackets have recovered from a 3-5 start with three consecutive victories, scoring 47.7 points per game during the streak.
Georgia's defense will face an option offense for the second straight week after beating FCS foe Georgia Southern 45-14 last week. The Eagles ran for 302 yards in the game, but were outscored 28-7 in the second half.
3. Can No. 12 South Carolina slow down No. 11 Clemson's high-powered offense?
The battle in the Palmetto State has become one of the most heated in-state rivalries in college football. Clemson's Dabo Swinney and South Carolina's Steve Spurrier don't seem to like each other very much, and they've traded verbal jabs all season. The Gamecocks won 34-13 last season, its third straight win in the series for the first time since 1968-70.
The Tigers have won seven games in a row since losing to FSU 49-37 on Sept. 22. Offensive coordinator Chad Morris' high-powered attack ranks No. 4 nationally in scoring offense (44.6 points) and No. 9 in passing (332 yards per game). Quarterback Tajh Boyd has thrown 18 touchdowns in the past four games.
4. Will Michigan's end Ohio State's quest for an undefeated season?
The Buckeyes are 11-0 in coach Urban Meyer's first season, but ineligible to play in the postseason because of NCAA sanctions. The Wolverines would like nothing more than to spoil Ohio State's undefeated season in the "The Game" at the Horseshoe on Saturday.
Wolverines quarterback Devin Gardner has played well in his past three starts, throwing for seven touchdowns and running for six scores in victories over Minnesota, Northwestern and Iowa. Former starter Denard Robinson has recovered from an elbow injury, and offensive coordinator Al Borges probably will find ways to get both quarterbacks on the field at the same time. Robinson ran 13 times for 98 yards in a 42-17 victory over Iowa last week.
The Wolverines ended Ohio State's seven-game winning streak in the series with a 40-34 victory in 2011, coach Brady Hoke's first season.
5. Can No. 5 Oregon bounce back in the Civil War?
The Ducks still have an outside chance at reaching the BCS National Championship Game after losing to Stanford 17-14 in overtime last week. But they'll need Notre Dame to lose and might need UCLA to beat the Cardinal on Saturday.
The Ducks also will have to beat rival Oregon State on the road Saturday. The Cardinal held Oregon's high-powered offense to a season-low 405 yards last week. The Ducks went only 4-for-17 on third down and never found their rhythm on offense. Oregon State's defense ranks No. 2 in the Pac-12 in run defense, allowing only 108.7 yards per game.
Best Rivalry Week matchup
Blog Network: What to watch
Each week, our bloggers will take a closer look at the storylines you should watch. What's on tap for Week 13?

It's all about ACC vs. SEC rivalry games this week, as Florida State, Clemson and Georgia Tech (and even Wake Forest) can give the league some juice, especially in the computer ratings.
ACC

What can we expect from Bedlam? Was last year's win by Oklahoma State a blip on the radar or are the Pokes leveling the playing field with Oklahoma? Also, let's all watch Tavon Austin, whatever he does, however he does it.
Big 12

Syracuse WR Alec Lemon has been unstoppable in recent games. Can he propel the Orange to their third straight win?
Big East

It's a unique set of circumstances surrounding The Game. Meanwhile, can Nebraska continue to make Bo Pelini look like a genius and secure its place in the Big Ten title game?
Big Ten

Will UCLA do Oregon a favor and knock off Stanford? Regardless, the Ducks need to do their part in the Civil War.
Pac-12

Could the unthinkable really happen in the Iron Bowl? Meanwhile, Florida can stake its claim on a BCS bowl with a win over Florida State, while Missouri and Ole Miss need to win to become bowl eligible.
SEC

There's not much more to say, really. The Fighting Irish face a freshman backup QB making his first start and need to win to secure their place in the BCS National Championship Game.
Notre Dame
ESPNU podcast
ESPNU College Football
Ivan Maisel and Todd McShay preview the biggest games including Notre Dame-USC and around the country from Columbus to Tallahassee and Corvallis to Pasadena.
Swinney vs. Spurrier
Which coach has the upper hand in the Clemson/South Carolina rivalry? Dabo Swinney or Steve Spurrier?Hot Button »
Blogger Debate: ACC vs. SEC
Fantasy college football
By ESPN Fantasy
Make "GameDay" your game day with three ways to play.


• Pick 'Em: How confident are you?
• College Challenge: Build the best team
• College Showdown: Choose wisely