Like Old Times ... Mostly
This is where we're supposed to declare that the Florida-Tennessee rivalry is back. Back to the days when Steve Spurrier reminded the Big Orange that you can't spell Citrus without UT or that the reason Peyton Manning returned for his senior year was because he wanted to be a three-time Citrus Bowl MVP. Back to the days when the stakes were high. The winner took championships and digs at the loser. Ahhh, the good old days. But for roughly the last decade this rivalry has had more in common with Honey Boo Boo than must-see TV. It has a devoted following, but it's lagged in mass appeal and significance.
Saturday, "College GameDay" returns to Rocky Top for the first time since 2004. Both teams got early-season W's that those of us who monitor such things said were vitally important. Tennessee beat NC State. Florida spoiled Texas A&M's SEC debut. The buzz started. Maybe the buzz is more cautious optimism than unbridled expectations, but it is a bit like old times. The winner will be deemed a legitimate contender in the SEC East.
[+] Enlarge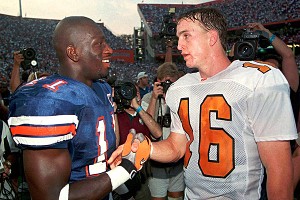 AP Photo/Scott AudetteThe Florida-Tennessee rivalry isn't quite like the old days when Peyton Manning was playing for the Vols.
Though the stakes are raised, the rivalry isn't back. If it were, Florida wouldn't have returned a significant number of unsold tickets. In the 1990s, there was a better chance of the Vols dubbing a Pomeranian as the new Smokey than there was of the visiting team handing in unwanted, unsold golden tickets.
Of course, Florida has beaten Tennessee seven straight times. Gator fans aren't excited about squeezing the Big Orange. They simply expect it. Even if they may harbor doubts about where their own program stands. As for making the trip to Rocky Top? Been there. Won that. Besides, the excursion to Florida coach Will Muschamp's vacation mecca of College Station might've tapped them out.
Truth be told, the Big Orange Nation doesn't carry the blind hatred for the Swamp Monsters that they once did. Maybe that's because the Florida coach makes less fun of them than he does of College Station. Probably it's because they're worn down from too much losing. Tennessee has lost so much to so many rivals lately, the Vols celebrated a win over Vanderbilt last season. But a Saturday night celebration on Rocky Top would feel like old times.
The Vols have some serious firepower. Tyler Bray, Justin Hunter and Cordarrelle Patterson are as lethal as any QB/WR group not coached by Lane Kiffin. I put Bray at No. 5 on my ESPN.com Heisman ballot this week. It's way too early and I shuffle that ballot a lot in September, but Bray can pitch the pill. And those two guys going to get it are most worthy carriers of the legacy established at Wide Receiver U.
The real question will be whether Tennessee can run enough to complement the aerial assault. For years, this series has been won by the better running team. It's no coincidence that in the seven straight games the Vols have lost to Florida, they've averaged less than 48 yards per game rushing. The Gators will be missing a couple of linebackers, but the jury is out on Tennessee's ability to run effectively against a stout defense like Florida's.
What will be missing is entertaining vitriol between the head coaches. Muschamp and Vols boss Derek Dooley have a bond from their deep ties to the University of Georgia and a friendship forged while being discipled at the Saban Institute for Advanced Coaching Studies. So I guess we can forget the coaches mercilessly needling each other.
Otherwise, Saturday night will feel a bit like the Florida-Tennessee glory days. Rocky Top for the winner. Rock bottom for the loser.
---
I was completely unsurprised by Wisconsin's loss to Oregon State.
Wisconsin had to replace six assistant coaches and a transcendent quarterback -- and the offensive line, while still massive, was far less experienced. You'd expect some slippage. But not this much. Plus, there is the Big Ten's woeful record over the past two decades on Pac-12 campuses (5-27-1).
What was shocking was how quickly Bret Bielema booted offensive line coach Mike Markuson. Two games usually isn't enough to get the can as a college assistant, though former Houston OC Mike Nesbitt might disagree. He lasted just one game, but I digress.
Never forget this: The assistant coach's No. 1 job is to make the head coach happy. Last season Montee Ball scored a touchdown in every game and had multiple house calls in 11 of the Badgers' 14 games. This season? One touchdown in two games and not a single run longer than 14 yards. Those numbers made for a mad head coach in Mad-town and added up to a new O-line coach for the Badgers. If you make a rash move like this, it really needs to work. Otherwise, the next fair question is why Markuson was hired in the first place.
---
Jim Mora, Rich Rodriguez and Todd Graham all gained some serious equity with their constituents. Now the task for UCLA, Arizona and Arizona State is to build on the success. Schedule isn't everything, but UCLA's slate suddenly looks particularly promising. Oregon isn't on it and three of the Bruins' four Pac-12 roadies are to Colorado, Cal and Washington State. Manageable. Then again, that's probably what Nebraska thought about its trip to UCLA on Saturday.
GameDay Twitter Kickoff
Editor's note: Rece Davis and ESPNU's Dari Nowkhah traded thoughts about Week 3 over Twitter on Wednesday. The following is their exchange:
More surprising: Pac-12 or Big Ten?
Blog Network: What to watch
Each week, our bloggers will take a closer look at the storylines you should be watching. What's on tap for Week 3?

Wake Forest travels to play Florida State and Virginia travels to Georgia Tech in two critical ACC showdowns.
ACC

Oklahoma State's mistakes, David Ash's QB play and Texas Tech's defense are on the radar this week.
Big 12

Rutgers needs to be better in the passing game. Plus, can the league score some on-field revenge vs. the ACC?
Big East

After the Big Ten's Week 2 disaster, Michigan State is the league's only legitimate hope for a national title run.
Big Ten

A pretty good start to the Pac-12 careers of the four new coaches -- who have a 7-1 record through the first two games. Not so good for newbies Utah and Colorado.
Pac-12

Keep an eye on quarterback health, Arkansas' defense and the running game in Knoxville this weekend.
SEC

Everett Golson is facing his first real road test and was pulled near the end of a tie game last week. Will we see Tommy Rees?
Notre Dame
Notre Dame-Michigan State preview
Fantasy college football
By ESPN Fantasy
Make "GameDay" your game day with three ways to play.


• Pick 'Em: How confident are you?
• College Challenge: Build the best team
• College Showdown: Choose wisely
Rise of Teddy Bridgewater