A throwback made in Manhattan
Shouldn't a guy who is the most popular dude in Manhattan be a bigger star?
Billboards. Talk radio favorite. Internet sensation. Magazine covers.
Shouldn't a guy who became just the fourth 20-10 man (20 rushing touchdowns,10 passing touchdowns in a single season) in the history of the sport, joining such college football luminaries as Tebow, Newton and Crouch, command the attention of college football's cognoscenti?
Yet Kansas State QB Collin Klein wasn't even able to hold on to his own nickname. His teammates say that Klein was the original "Honey Badger." He didn't care that defenses tried to tee off on him as he ran for 27 touchdowns, an FBS record for a quarterback, and threw for 13 more during Kansas State's 10-win season last year.
[+] Enlarge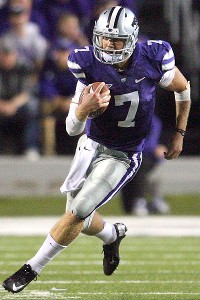 Scott Sewell/US PresswireCollin Klein's rushing touchdowns last season put him in distinguished company among college quarterbacks.
Most every week, when we're discussing helmet stickers honoring each week's top performers, for "College Football Final," somebody says, "Collin Klein put up big numbers." He's won some stickers. He's earned some accolades. But shouldn't he be among the first names that leap to mind when you think of this college football season?
A veil of anonymity surrounds Klein largely because he's the toast of the Little Apple: Manhattan, Kan. Come December, when the Heisman Trophy is awarded, he could be toasted in the Big Apple: Manhattan, N.Y. Not that he really cares right now. He's more concerned with the stage in Norman, Okla., where his Wildcats will face the Sooners on Saturday. The game will shape Kansas State's season and Klein's national perception. Are the Wildcats tough, gritty competitors with a ceiling? Or are they talented, dangerous contenders with the sky as the limit?
"It means a lot," Klein told me this week. "It's our first Big 12 game. There's a lot on the line, but we have to remember it's just another game."
Klein has really improved his completion percentage -- it's in the 70s this year, up from 57 percent last season -- and the Wildcats will have to make plays in the air against the Sooners. Klein threw for a season-low 58 yards against OU last year. He told me this week that he broke down his mechanics during the offseason, and as much as anything else, he continued to improve his recognition of what defenses were doing.
"Your body will only deliver the ball as fast as your mind will let you do it," Klein said. "But you've got to be able to put it where you want it. My feet have come a long way. It all has to fit together."
Bloodied elbows and battered ribs fit with Klein. He is revered less for that in Manhattan than for what's intangible. Klein is humble and gracious, devout and thoughtful. He is every ounce a warrior. I get tired of the term "throwback," but I will say that of all the players in college football today, he's the guy I could most see playing with a leather helmet.
Oklahoma DE R.J. Washington says of playing against Klein: "He's going to give it to you if you don't give it to him."
As for having the nickname more famously attached to Tyrann Mathieu, Klein said: "Call me anything, just don't call me late for dinner."
Klein was called to dinner for his 23rd birthday this week. He thought his wife, Shalin, might have a special meal in mind. Gifts, he said, consisted primarily of cards. What he'd really like is to blow out the candles on Oklahoma on Saturday night.
Speaking of the Sooners, how weird is it to call Landry Jones the "other quarterback" in this game? Last season he was the man. He threw for an OU-record 505 yards in the 58-17 shellacking, and K-State didn't get close enough to him to see whether he'd shaved his mustache.
But early this season, the Sooners' offensive line has sprung a couple of leaks. As big a deal as Klein's play is, whether Kansas State can get any heat on Jones will directly correlate with the Wildcats' chances of winning.
Elsewhere around the country this weekend:
[+] Enlarge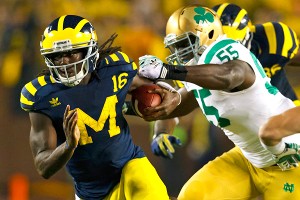 Rick Osentoski/US PRESSWIRENotre Dame hasn't had much luck containing Denard Robinson in past meetings.
• Fresh off burying Michigan State, Notre Dame has huge momentum. But just as thoughts turn toward a dream season, here comes the Irish nightmare known as Denard Robinson. Last season, he rallied Michigan from a 24-7 deficit to a 35-31 win by throwing for more than 300 yards. And on his last visit to Notre Dame Stadium in 2010, Robinson ripped off the longest run in the storied history of that venue, an 87-yard streak that left Irish players in cement cleats. It was part of a 258-yard rushing day and a 28-24 Wolverines win.
Slow your roll on the Irish. BCS dreams aren't outlandish. Let's just see if they can handle the Wolverines first.
• While Michigan carries the tattered Big Ten banner into a nonconference battle for one last shot at a big win, let's give it up for the team that has hoisted the league's flag highest: Northwestern. The Wildcats have beaten teams from the Big East (Syracuse), SEC (Vanderbilt) and ACC (Boston College). Let's skip the fact that those teams have exactly zero wins against FBS teams. Accentuate the positive!
• A measuring stick will be applied to the Arizona-Oregon game. The Wildcats just hope the measuring stick doesn't turn into a whooping stick. Rich Rodriguez got a great win against Oklahoma State but gave up 636 yards to the Pokes. The game turned because Zona picked off freshman QB Wes Lunt three times.
• I wouldn't count on that many turnovers against the Ducks. Oh, wait. … Oregon has a freshman quarterback, too. Plus, the Ducks are minus-2 in turnovers. Nah. I still wouldn't count on that Saturday night in Autzen Stadium. De'Anthony Thomas scores a touchdown about every five times he touches the ball. And he's likely to touch it a lot.
• One team will be all but eliminated from the BCS title chase in Tallahassee on Saturday night. Even the winner of Clemson-Florida State will need help. It's hard to imagine an unbeaten SEC, Pac-12 or Big 12 team being left out in favor of the Noles or Tigers. But there's plenty of time to get help, and odds are, help will come. So the first order of business, as always, is help yourself.
GameDay Twitter Kickoff
Editor's note: Rece Davis and ESPN.com's Mark Schlabach traded thoughts about Week 4 over Twitter on Wednesday. The following is their exchange:
Preview: Kansas State-Oklahoma
Blog Network: What to watch
Each week, our bloggers will take a closer look at the storylines you should watch. What's on tap for Week 4?

It's mostly about Clemson-Florida State, one of the biggest games in league history, but it's also about bouncing back for teams that fell flat in Week 3.
ACC

Pay close attention to the offensive and defensive lines when Kansas State and Oklahoma meet. Also, is it possible for Geno Smith to keep up his video game production?
Big 12

Rutgers can deliver Arkansas a real knockout blow, while Teddy Bridgewater returns home to try to push Louisville to 4-0.
Big East

The Big Ten is looking for anything positive to hang its hat on. Michigan's matchup against Notre Dame is a good start.
Big Ten

Pac-12 play gets fully under way with five league games, including four North versus South matchups, headlined by Arizona-Oregon.
Pac-12

Quarterbacks are taking a pounding and we're only in September. Meanwhile, Arkansas and Auburn could use a strong showing.
SEC

It's all about containing Denard Robinson as Notre Dame looks for its second straight Big Ten win.
Notre Dame
Herbstreit on Clemson-FSU
Picking the winners
Want to know what our experts think will happen this weekend? Our bloggers give their predictions for Week 4.
• ACC | Big 12 | Big East | Big Ten
• Pac-12 | SEC | Notre Dame | Steele's picks

CFB Live: Notre Dame's fast start
Fantasy college football
By ESPN Fantasy
Make "GameDay" your game day with three ways to play.


• Pick 'Em: How confident are you?
• College Challenge: Build the best team
• College Showdown: Choose wisely