September's almost over. Time to wake up
Green Day probably wasn't talking about Saturday's slate of games when it sang, "Wake me up, when September ends," but with a couple of notable exceptions, the final weekend of the season's first month looks a little sleepy.
Top-10 teams have fallen each of the past two weeks and a couple of others received giant scares -- I'm talking about you, LSU -- so it would behoove teams to guard against closing September in a somnambulant stupor. Before we put September to bed, there are a few things that teams had better figure out if they plan to remain relevant for the rest of the season.
Teams that need to chug a Red Bull and wake up
Oklahoma: Next to quarterback, there is no worse position to be beset by injuries than the offensive line. The Sooners have had a ton of them. That can wreak havoc on your offense, which is apparently the case in Norman.
[+] Enlarge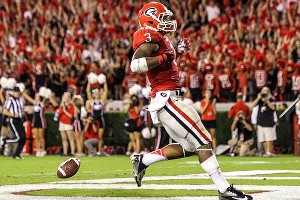 Daniel Shirey/US PresswireFreshman Todd Gurley has been a revelation at running back for Georgia.
Oklahoma is averaging a pedestrian 21.5 points per game against FBS teams. QB Landry Jones needs to be great for the Sooners to be great, but he hasn't played the way a senior Heisman contender should.
There is certainly no shame in losing to a very good Kansas State team, even at home. But the sloppiness that led to the loss is problematic.
Losing the turnover battle 3-0? Can't happen. Especially when a couple of them were unforced errors. The only turnover Oklahoma has forced this year came against Florida A&M. Oklahoma is minus-4 in turnovers on the season, ranking 105th in the nation.
The run defense is a little squishy (it's tempting to use another "S" word, but I won't). At this moment, the stats and the roster look much better than the actual team. There's time. There's talent and there's coaching in Norman, but it's time for the Sooners to wake up.
Michigan: Maybe more than a wake-up call, the Wolverines need to cure their color-blindness.
Nobody has hit more wide-open linebackers and DBs than Michigan passers. They've thrown three more interceptions than anyone else in the country. Denard Robinson has thrown eight of the 10 picks. That's more by himself than any other team.
Mark May, my "College Football Final" colleague, said it Saturday night: Let Denard be Denard. It's not as if he isn't running the ball enough. He is. He has to make better decisions, and the coaching staff can help him by de-emphasizing the pocket passes, because it's simply not his game.
Michigan was overrated to start the season, but the Wolverines can still win the Big Ten. After all, somebody has to. The Big Ten has six wins against teams from BCS automatic-qualifying conferences so far. Four of those wins belong to Northwestern and Minnesota. Two of them came against Syracuse. The Wolverines can still do it, if they wake up.
Virginia Tech: The Hokies' retooled offense was expected to struggle. Their defense wasn't.
Teams that you shouldn't sleep on
Oregon State: The Beavers have a small sample size, having played only two games, but their rushing defense stymied Montee Ball and Johnathan Franklin.
Sean Mannion played very well against UCLA and he's got weapons around him -- Brandin Cooks evokes memories of wide receiver James Rodgers.
Rutgers: This is not just about the win over Arkansas. That was basically just squirting gasoline on a dumpster fire. The Scarlet Knights have a nasty defense. Jawan Jamison is a workhorse at running back. Gary Nova is maturing nicely at quarterback. Does it make them a national title contender? No. But they do have a shot at making a BCS game as Big East champion.
Mississippi State: The schedule sets up nicely for the Bulldogs. It appears only Tennessee stands between them and arriving in Tuscaloosa on Oct. 27 undefeated. What will we know about State before then? Not enough. But with QB Tyler Russell, the Bulldogs have a vastly improved passing game to complement their hard-nosed running style. The defense has playmakers, especially in the secondary.
September's search for new stars
Todd Gurley, Georgia: The freshman running back has been over 100 yards in three of four games. He gives the Dawgs' running attack toughness and explosive capabilities. Add in a dash from his buddy Keith Marshall and Georgia has a one-two running back punch destined for stardom.
Teddy Bridgewater, Louisville: Does anyone throw a prettier ball than the Cardinals' sophomore quarterback? I don't think so.
Brett Hundley, UCLA: The freshman QB has awakened sleepy Westwood and made it believe it can compete in the Pac-12 South.
Marcus Mariota, Oregon: I have to include the freshman Mariota, though we've discussed the pronunciation of his name so much it feels as if he succeeded Dan Fouts as the Ducks' QB.
Things September reinforced to me
The best teams dominate up front: Alabama and LSU are still the best teams. I see you checking my Power Rankings and seeing that I have Oregon ranked second.
I've always advocated moving teams around early in the season. Oregon was rewarded for hammering Arizona. LSU gets a slap on the wrist for not doing the same with Auburn. I still think the Tide and Tigers are built best to win a championship. I still think Oregon is capable of beating either.
But three teams that are modeled very much like those two SEC heavyweights will build on their September performances.
Florida State is a given.
Georgia, with its defense and the running game, is legitimate.
What about Texas? The Longhorns have monsters at defensive end with Jackson Jeffcoat and Alex Okafor.
They have a stable of running backs and a quarterback who is maturing. Do the Longhorns appear to have the pieces to leap into the national title discussion? I think they do, if they have the maturity at quarterback.
We'll find out over the next three weeks when Texas plays Oklahoma State, West Virginia and Oklahoma.
September never delivers the definitive statement on a season. But don't hit the snooze button on these early returns. They often have a lasting impact.
GameDay Twitter Kickoff
Editor's note: Rece Davis and ESPN.com's Mark Schlabach traded thoughts about Week 5 over Twitter on Wednesday. The following is their exchange:
What's wrong with the Big Ten?
Blog Network: What to watch
Each week, our bloggers will take a closer look at the storylines you should watch. What's on tap for Week 5?

Several teams are coming off devastating losses. Others are coming off emotionally-charged wins. How will they respond?
ACC

Anyone else skeptical about Oklahoma State QB Wes Lunt's supernatural healing powers? J.W. Walsh might find himself facing Texas' fearsome defense.
Big 12

The Big East's record against the ACC has been a point of pride so far this season. There's more opportunities to add to the tally.
Big East

Will Miller Time continue in East Lansing? Braxton Miller will faces his biggest challenge yet when the Buckeyes visit Michigan State.
Big Ten

The Pac-12 takes a double-dip in Seattle, beginning with Thursday night's showdown between Washington and Stanford.
Pac-12

A handful of SEC quarterbacks, including Connor Shaw and James Franklin, enter the weekend nursing lingering injuries.
SEC
Fantasy college football
By ESPN Fantasy
Make "GameDay" your game day with three ways to play.


• Pick 'Em: How confident are you?
• College Challenge: Build the best team
• College Showdown: Choose wisely