BCS beauty in the eye of the beholder
When Matisse was working on "A Glimpse of Notre-Dame in the Late Afternoon," his rival, Picasso, happened in to take a look.
"Henri, my friend," Pablo smirked, "your work lacks its usual color and definition."
Matisse looked back at him and said, "It's not finished. I have yet to fill in the hues and contrasts."
And so it is with the BCS standings. Think of them as a sketch. With four games matching teams ranked in the top 14 of the standings, this weekend will deliver some composition to the BCS canvas.
This is probably the first time the BCS formula has ever been compared to art created by the brush strokes of a master.
By the way, the Matisse/Picasso conversation was embellished. Actually, I made it up, but the point is the same.
The portrait is incomplete.
[+] Enlarge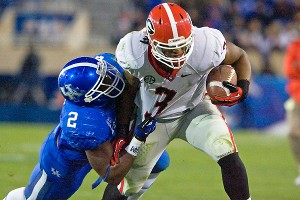 Mark Zerof/US PresswireGeorgia shrugged off Kentucky, avoiding an embarrassing defeat ahead of its game with Florida.
Full chroma will be added to one of these works on Saturday in Norman: "A Glimpse of Notre Dame in the Late Evening." Perhaps it will be enough to send Lou Holtz into his blue period. Or maybe not.
The history of this matchup is a masterpiece for those of us who love the classics. A 7-0 loss to Notre Dame on Nov. 16, 1957, ended Oklahoma coach Bud Wilkinson's legendary 47-game winning streak, which began immediately following a 28-21 loss to Notre Dame on Sept. 26, 1953.
Combined, these programs boast 18 national championships, a dozen Heisman Trophy winners and two of the three best winning percentages of all time.
The modernists comprising both teams' rosters are far more concerned with their Twitter avatars than Oklahoma's 1-8 all-time record against the Irish. A far more pressing concern for No. 5 Notre Dame than its historical dominance is whether it is truly "back" as a national championship contender.
The Irish are riding a smothering defense. Manti Te'o and friends are ornery about letting people in their end zone. Notre Dame is the only team in the country that hasn't allowed a rushing touchdown. The Irish also haven't faced an offense ranked in the top 50 in the nation. Certainly, they haven't seen one as balanced and explosive as No. 8 Oklahoma. The Sooners are scoring nearly 45 points per game while running for 200 yards and throwing for 290 yards. Notre Dame players are eager to quiet any doubters who question whether they can maintain their defensive dominance against an offense the caliber of Oklahoma's.
The same can be said for Oklahoma quarterback Landry Jones. He said this week that this is the type of game you're remembered for at Oklahoma. Even though he is the winningest OU quarterback ever and his passing stats are among the gaudiest in college football history, a prominent chapter in Jones' legacy could be written in this game. A loss erases the Sooners from the BCS title chase. A win enhances Oklahoma's position among one-loss teams.
An Irish win would likely kick off a groundswell of support among poll voters. It will be fascinating to see whether the Irish can splatter the BCS canvas with gold flakes and whitewash OU out of the championship painting Saturday night.
---
Other than that ridiculous Brad Pitt perfume commercial, the most maddening performance I've seen on television is Georgia messing around against Kentucky.
Imagine for a second that you're the Dawgs. You've had to stew for two weeks over getting your rear ends handed to you by South Carolina. But the Gamecocks haven't won since. Before Georgia kicked off, it knew South Carolina had lost to Florida, which means it had another shot at assuming the driver's seat in the SEC East.
The Dawgs had been strapped into an electric chair, but the governor called and ordered the chair unplugged. Rather than racing to freedom, they say, "No, leave the chair plugged in. We'll test fate. We can probably take a little jolt."
No. 10 Georgia managed to avoid being electrocuted at Kentucky. Now the Dawgs can take advantage of their reprieve against No. 2 Florida. The Gators became the first team this century to score more than 40 points while having fewer than 200 yards of offense as they smashed the Head Ball Coach's bunch in a 44-11 win.
It's indicative of what Florida has become: tough, resilient and resourceful. Those are characteristics Georgia has failed to display consistently. This is an attitude game; stats and matchups matter less than each team's mindset.
Does Georgia truly believe it can win?
One thing worth noting: Will Muschamp has never been on the winning side in this rivalry. He was 0-4 as a player at Georgia and he's 0-1 as the Gators' head coach. So at least the Dawgs have that going for them.
---
Magnificent art is defined by the eye of the beholder. Alabama is No. 1 by a substantial margin. The Tide have made their point with bold brush strokes backed by gaudy numbers. Not only is their defense ranked No. 1 in four major statistical categories, they also lead the nation in passing efficiency. Yes, on offense. AJ McCarron is completing nearly 69 percent of his passes with 16 touchdowns and no interceptions.
Yet the primary critique of Alabama's body of work is a lack of competition. A mauling of Michigan in the season opener qualifies as the Tide's best win. That changes starting Saturday night when No. 11 Mississippi State comes calling.
The unbeaten Bulldogs might have a perfect record, but there is a paint-by-numbers quality to Mississippi State's résumé. One number that stands out: zero. That's the number of conference wins owned by the SEC teams the Bulldogs have beaten.
Another number the Bulldogs can point to: 17. That's their edge in turnover margin tops in the nation. Stud corner Johnthan Banks leads the ball-hawking Bullies unit that figures to give McCarron his toughest test yet.
The Dogs can capture legitimacy; the Tide can dispel criticism over the course of their next three games. After Saturday's clash against Mississippi State, the Tide face LSU and Texas A&M.
---
Fresh off humiliating West Virginia, No. 3 Kansas State must now get back up to deal with another high-powered offense in No. 14 Texas Tech. One of the 16 core principles instituted by K-State coach/wizard Bill Snyder is no self-limitations. "However good we have been today, there isn't any reason why you can't be better," Snyder said.
It's hard to imagine the Wildcats, particularly Collin Klein, being better than they were in Morgantown, where Klein accounted for seven touchdowns and vaulted to the top of the Heisman heap.
Meticulous attention to detail can be an artist's most valuable quality. Snyder is an undisputed master at that. But this is a BCS portrait, and there's always someone lurking with a plan to spray graffiti on the artwork. This week, that someone is Tommy Tuberville. He's made a living and built a reputation ruining masterpiece seasons, with a career mark of 6-2 against top-five teams.
The BCS portrait starts to take shape this week, but it's never complete until you're sure everyone is out of paint.
GameDay Twitter Kickoff
Editor's note: Rece Davis and ESPN.com's Mark Schlabach traded thoughts about Week 9 over Twitter on Wednesday. The following is their exchange:
Blog Network: What to watch
Each week, our bloggers will take a closer look at the storylines you should watch. What's on tap for Week 9?

Clemson looks to break its Thursday night jinx against Wake Forest. And Duke-Florida State in a battle of ACC contenders? Believe it.
ACC

It's not all about Notre Dame-Oklahoma. No one has to tell Bill Snyder how dangerous Texas Tech can be to top-five teams with national championship aspirations.
Big 12

Can Munchie put his money where his mouth is? Cincinnati can bounce back in a big way against Louisville on Friday night.
Big East

The Battle of the Banned will be a display in what could have been for Ohio State and Penn State, while the league's two best running backs face off when Michigan State faces Wisconsin.
Big Ten

Arizona is a dangerous opponent for USC a week from its matchup with Oregon. That's not the only intriguing South matchup, as UCLA visits Arizona State..
Pac-12

The driver's seat in the SEC East is up for grabs in Jacksonville, while Mississippi State tests its SEC West credentials with a visit to Tuscaloosa.
SEC

Notre Dame's defense has rarely been breached in the red zone. Oklahoma will provide the Fighting Irish's biggest challenge by far.
Notre Dame
Fantasy college football
By ESPN Fantasy
Make "GameDay" your game day with three ways to play.


• Pick 'Em: How confident are you?
• College Challenge: Build the best team
• College Showdown: Choose wisely