Several Pac-12 QB Jobs Still Undecided
There were a lot of new and few answers this spring in the Pac-12.
The new is four new coaches: Rich Rodriguez at Arizona, Todd Graham at Arizona State, Jim Mora at UCLA and Mike Leach at Washington State. The lack of answers comes mostly at quarterback, though it now seems in vogue for coaches to downplay -- or refuse to provide -- a post-spring depth chart, thereby leaving just about every position allegedly up for grabs.
Or as Oregon coach Chip Kelly cryptically explained when asked if any Ducks questions were answered this spring, "I don't know what that phenomena is, but we don't have answers that are answered after spring, Grasshopper."
He didn't say "Grasshopper," but it seemed to be strongly implied.
[+] Enlarge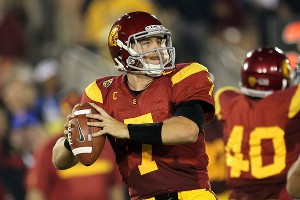 Stephen Dunn/Getty ImagesMatt Barkley returned to USC and provides the Trojans with certainty at quarterback, unlike many other teams in the Pac-12.
USC and Washington entered and exited spring with QB certainty, with Matt Barkley and Keith Price ranking among the nation's best. California, Utah, Arizona and Oregon State appear solid at the position. Washington State is just short of set with Jeff Tuel, as Tuel's lights-out performance in the spring game -- 19-of-21 for 285 yards and two touchdowns -- made his position seem strong with an injured Connor Halliday on the sidelines.
That leaves Arizona State, Colorado, Oregon, Stanford and UCLA. All five entered spring with QB uncertainty, and they exit it that way.
The Ducks QB situation was a national story after Darron Thomas surprisingly -- and unwisely -- opted to enter the NFL draft. Before spring began, Bryan Bennett, who played well in relief of Thomas last year, seemed like a strong frontrunner over Marcus Mariota. But Mariota overwhelmingly outplayed Bennett in the spring game, an ESPN3 broadcast that was the Ducks' only open practice, looking good as a runner and passer.
Still, Kelly only acknowledged what everyone saw and said onward to the summer.
Arizona State and UCLA started spring with three legitimate challengers at QB. While it seemed as though there was daily speculation of an emerging pecking order, both programs placed "ORs" between their troikas on their post-spring depth chart. While it would seem that Mike Bercovici and Michael Eubank are ahead of Taylor Kelly for the Sun Devils, and Brett Hundley and Richard Brehaut are ahead of returning starter Kevin Prince for the Bruins, those competitions are unresolved, according to both head coaches.
Same can be said for Stanford, though the Cardinal only have a two-man race with Brett Nottingham and Josh Nunes. Neither played terribly well in the spring game, so Andrew Luck's very, very large cleats remain unfilled.
Still, know that the coaches have a pretty good idea of the pecking order, even as they opt to be coy. Mora said he'll name his starter by Aug. 16, while Graham intimated his ultimate decision isn't far away.
"We're a lot closer than what it appears probably from the outside," he said.
Colorado's QB competition never really got started. Pre-spring frontrunner Connor Wood, a Texas transfer, was pretty much handed an opportunity to take the job with Nick Hirschman out with a foot injury, but Wood failed to break through. While Wood may well still be the frontrunner, it's also possible incoming freshman Shane Dillon could get into the mix, as could Jordan Webb, a former starter at Kansas who may end up in Boulder via transfer.
Coach Jon Embree isn't eager to prolong the indecision.
"If it's a clear-cut deal, I'm not going to waste time," he said. "I think it's important that the team knows and that quarterback know that they're going to be leading the team."
What this all means is that nearly half the Conference of Quarterbacks is undecided at the position and likely will remain that way until mid-August. Or later.
Of course, feel free to consult the heavens -- or the message boards -- for hints at what might lay ahead.
What We Learned This Spring
How much can we really learn from spring? Funky scrimmages with backwards scoring systems; depleted depth charts; completely new installs for four teams. Actually, more than you'd think. Here are five things we learned about the Pac-12 during spring.
[+] Enlarge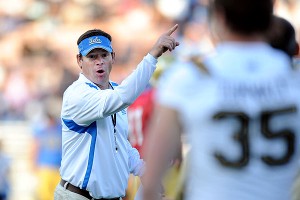 Chris Williams/Icon SMINew UCLA head coach Jim Mora is still searching for his starting QB.
1. Quarterbacks are still in limbo
: Be it Stanford, Arizona State, UCLA, Oregon or Colorado, almost half of the teams still don't know who is going to be under center when the season starts. Stanford funneled its list of five down to two,
Josh Nunes
and
Brett Nottingham
. ASU still has a three-way battle with
Michael Eubank
,
Mike Bercovici
and
Taylor Kelly
-- though coach Todd Graham said they have a better idea than they are probably letting on publicly. The very private competition between
Marcus Mariota
and
Bryan Bennett
at Oregon remains in question -- though Mariota was spectacular in the spring game while Bennett faltered. Still, coach Chip Kelly said that one game isn't going to be his basis for comparison. UCLA coach Jim Mora wanted to name a starter by the end of spring, but no one has "grabbed" it, so we'll have to wait until August before learning whether
Brett Hundley
,
Kevin Prince
or
Richard Brehaut
gets the gig. And at Colorado, the competition was put on hiatus when
Nick Hirschman
broke a bone in his foot and couldn't compete in spring drills. One has to think that was a huge advantage for
Connor Wood
to get almost all of the reps with the first-team offense.
2. Not everyone has quarterback issues: Teams thought to have quarterback question marks heading into spring seemed to have resolved them. In Utah, Jordan Wynn is completely healthy, and both coach Kyle Whittingham and offensive coordinator Brian Johnson have declared Wynn their guy. While Mike Leach hasn't officially declared Jeff Tuel his starter, it's hard to imagine anyone else winning the job in the fall, short of Tuel suffering a significant injury or amnesia. He had a splendid spring, and appears to be a great fit for Leach's offense. And at Arizona, Matt Scott seized the job early and left little room for any competition. Coach Rich Rodriguez has been gushing about how quickly Scott has adjusted to the offense. At Cal, Zach Maynard, once thought to be challenged by freshman Zach Kline, appears to not only have held on to the job, but distanced himself from pursuers.
3. Wide receivers aplenty: And there are plenty of those in the conference. USC has probably the best tandem in the country in Robert Woods and Marqise Lee. Cal's Keenan Allen (though he missed spring drills) should continue to put up big numbers, and Washington State's Marquess Wilson should flourish in the Cougars' new system with Tuel as his quarterback. Markus Wheaton and Brandin Cooks could challenge the USC duo statistically if quarterback Sean Mannion continues to develop. There are stars on the rise at Arizona State (Jamal Miles) and Stanford (Ty Montgomery), and a potential star at Washington (James Johnson). Look out Biletnikoff, the Pac-12 is a comin'…
4. The conference of defense? The Pac-12 might never bunk its reputation as an offensive-centric conference (especially when it keeps churning out offensive talent). But there is a surplus of talented defenses and defensive players who were on display this spring. Washington seems to have plugged its leaks with new defensive coordinator Justin Wilcox. There's a 3-4 trend sweeping the conference, and with notable playmakers like Star Lotulelei (Utah), John Boyett (Oregon), Dion Jordan (Oregon), Chase Thomas (Stanford), Josh Shirley (Washington), T.J. McDonald (USC) and DeAndre Coleman (Cal), it's easy to see why some of the Pac-12 defenses will get the same kind of love as the offenses do in 2012.
5. Confidence is at an all-time high: As it should be in the spring. The four new coaches all feel confident about the systems they have installed. Stanford feels as good as it ever has about its running game. USC and Oregon should get lofty preseason rankings, and this is the time of the year when fans go through the schedules game by game and always seem to come up with a minimum of six wins. Sorry to say, there are teams in the conference that won't make it to a bowl game this season. But when you hear the coaches talk about their teams, you'd think the conference is going to go 12-0 in the postseason. This is a magical time for fans filled with hope and possibility. Enjoy it while it lasts.
Best Of Spring
Spring practice 2012 is over. Here are some superlatives -- good and bad -- we collected along the way.
Best grounds for quarterback hope:
UCLA has struggled at QB since Drew Olson threw 34 TD passes for a 10-2 team in 2005. But all three Bruins QBs played well -- really well, in fact -- in the spring game.
Richard Brehaut
completed 12 of 16 passes for 249 yards and four touchdowns.
Brett Hundley
was 12-of-20 for 185 yards, a score and an interception (he also ran for an 18-yard touchdown) and
Kevin Prince
was 8-of-11 for 101 yards and two scores.
Worst timing:
By closing spring practices completely, Oregon coach Chip Kelly ensured that everyone would make a big deal out of the spring game, and that's just what happened in the QB competition when redshirt freshman
Marcus Mariota
dramatically outplayed
Bryan Bennett
, who was widely viewed as the decided frontrunner to win the job. Mariota completed 18 of 26 (69.2 percent) for 202 yards and one touchdown with an interception. He also scored TDs on runs of 14 and 82 yards. Bennett completed 19 of 32 (59.4 percent) for 209 yards and one touchdown and two interceptions. He rushed for 27 yards on 18 carries and was sacked three times.
Best position move:
Washington State DE
Travis Long
to the "buck" linebacker is going to play huge dividends for Mike Breske. He was on the verge of being an A-list defensive end last season in the 4-3 defense. But with a switch to the 3-4, this hybrid DE/OLB position will allow the full range of his athleticism to come out.
Best position move II:
Utah's
Thretton Palamo
, a former rugby star who moved to defensive end from running back this spring, and had two sacks and four tackles for losses in three spring scrimmages. He'll help the Utes on the edge rushing the passer.
Best spring performance:
Washington State quarterback
Jeff Tuel
lit it up -- opening the game by completing his first 15 passes before finishing the day 19 of 21 for 285 yards and two touchdowns. One of those was an 84-yarder to
Marquess Wilson
, who had four catches for 149 yards and two touchdowns.
Worst news:
Too many arrests this offseason. Too many guys driving fast, driving under the influence, taking swings at bouncers and going back to parties to get into
another
fight. It hurts the credibility of their teams and the conference. Stupid is as stupid does.
Best hint of a good QB future:
California's touted true freshman QB Zach Kline found
Spencer Hagan
on a 40-yard touchdown pass and then connected on a 2-point conversion pass to give the Gold squad its winning margin in the Bears' spring game.
Best/worst moment of a coach getting angry:
We saw some screamers this spring. Heard a couple of naughty words. But it's not often we see Oregon State coach Mike Riley let loose a verbal tirade like he did when he dropped a "J.C." bomb on tight end
Colby Prince
, declaring: "
Jiminy Christmas
, do you need me to spell it out!?" It's about time OSU started posting PG warnings outside the practice field so fans know what they are walking into.
Worst injury:
Colorado losing wide receiver
Paul Richardson
for the season is an absolute back-breaker. There might be other guys who step up -- but Richardson was a proven playmaker on a team desperate for them. He would have made life a lot easier for whoever wins the starting job. Whichever football god shuffles the deck, he keeps dealing out 2-7 to Jon Embree & Co.
Worst injury II:
Tre Madden
was a revelation most of spring for USC after converting from linebacker to running back. The 220-pounder not only looked like a good No. 3 back and a power option, he was pushing to be
Curtis McNeal
's backup. But then he blew out his knee and was lost for the season.
Best new marriage:
Arizona coach Rich Rodriguez tried to be mostly grumpy about his team this spring -- not without justification -- but he clearly knows he's got a potentially great fit for his offense with QB
Matt Scott
. In one scrimmage, Scott, a good runner, completed 22 of 35 passes for 315 yards with four TDs. Said Rodriguez afterwards: "I shouldn't expect too much with the first year in the system, but with Matt Scott I'm going to expect a lot. And I think Matt can deliver."
Best backfield no one is talking about:
When senior
James Morrison
rushed for 83 yards and a touchdown in Arizona State's spring game, it showed how deep the Sun Devils' backfield is, particularly if
Deantre Lewis
comes back 100 percent after missing last season with a gunshot wound. Start with starter
Cameron Marshall
, an NFL prospect. Then, besides Morrison and Lewis, there's
Kyle Middlebrooks
and hybrid WR/RB
Jamal Miles
. Then there are the touted incoming guys: JC transfer Marion Grice and true freshman D.J. Foster. Now will the offensive line be able to open holes for those guys?
Best harrumph of the spring:
Stanford coach David Shaw on his QB competition after the spring game: "I don't care what the numbers say, [the quarterbacks] didn't play well enough for us to win."
Best chance for dramatic improvement:
Washington's 2011 defense, which yielded 67 points in the Alamo Bowl loss to Baylor, might have been the worst unit in school history. Exit Nick Holt and enter new coordinator Justin Wilcox, an expensive pickup from Tennessee. The early returns this spring were promising both in terms of scheme -- more 3-4 looks -- and personnel. In fact, the defense seemed to win more battles versus QB
Keith Price
and the offense than it lost. Said coach Steve Sarkisian, "It's been pretty cool [to watch]. And by no means do I think it was manufactured. The defense is winning these plays."
Team-by-team spring reports

Arizona: How will QB Matt Scott match up with Rich Rodriguez's offense? For more on the Wildcats, click here.

Arizona State: Todd Graham has several key players to replace on offense. For more on the Sun Devils, click here.
Cal: Quarterback Zach Maynard seems more comfortable and in control. For more on the Bears, click here.

Colorado: It was an inaugural season to forget for Colorado. Will Pac-12 life improve? For more on the Buffaloes, click here.

Oregon: There's a most intriguing QB battle brewing in Eugene. Who has the edge? For more on the Ducks, click here.

Oregon State: Coach Mike Riley has been adamant that his team will be better at running the ball in 2012. For more on the Beavers, click here.

Stanford: Life after Andrew Luck goes on for Stanford. What can we expect on the Farm? For more on the Cardinal, click here.

UCLA: Players learned quickly that Jim Mora and Co. don't waste time. How are they picking up on a new system? For more on the Bruins, click here.

USC: The pieces are in place for USC to achieve great things in 2012. For more on the Trojans, click here.

Utah: Can Jordan Wynn stay healthy? If not, does Utah have a Plan B? For more on the Utes, click here.

Washington: The Huskies hope a rebuilt defense will improve their fortunes in 2012. For more on the Huskies, click here.

Washington State: What kind of weapons does Mike Leach have at his disposal? For more on the Cougars, click here.
Most important players

Arizona: RB Ka'Deem Carey will be busy in the team's new offense. For more on the Wildcats, click here.

Arizona State: Linebacker Brandon Magee missed last season because of injury. For more on the Sun Devils, click here.
Cal: Keenan Allen provides talent at wide receiver, a spot where there is no depth. For more on the Bears, click here.

Colorado: Offensive lineman David Bakhtiari may be the team's only player with All-Pac-12 credentials. For more on the Buffaloes, click here.

Oregon: Running back Kenjon Barner's versatility makes him vital. For more on the Ducks, click here.

Oregon State: Jordan Poyer is one of the best cornerbacks in the country. For more on the Beavers, click here.

Stanford: FB Ryan Hewitt does a lot but doesn't receive a lot of notice. For more on the Cardinal, click here.

UCLA: Tight end Joseph Fauria is a commanding presence in the offense. For more on the Bruins, click here.

USC: George Uko has a chance to be a breakout player at defensive tackle. For more on the Trojans, click here.

Utah: Star Lotulelei is an athletic 325-pounder who could be a top NFL draft pick at defensive tackle. For more on the Utes, click here.

Washington: DT Danny Shelton played in all 13 games as a true freshman. For more on the Huskies, click here.

Washington State: No other wide receiver in the Pac-12 averaged more yards per game last season than Marquess Wilson. For more on the Cougars, click here.
CFL countdown: No. 15 Stanford
Recruiting update
USC is wasting no time securing several top committments while Stanford is already showing its staying power on the recruiting trail. Plus, why does Georgia seem to be on the minds of several Pac-12 schools? ESPN RecruitingNation's Erik McKinney looks at five recruiting storylines to watch in the Pac-12 this spring.
Story

For full recruiting coverage, including the latest ESPN 150 rankings and commitment news, check out RecruitingNation.
New coaches: Win or go home?
Flight plan

USC is locked and loaded and several new coaches have arrived on the Pac-12 landscape. But don't sleep on Oregon as a national championship contender. Brock Huard explains why the Ducks have the ingredients to make another BCS run.
Story