The More Things Change ...
By Edward Aschoff
ESPN.com
From billboards to an untimely joy ride, the SEC has seen a lot of change in recent months.
The black Missouri billboards sprinkled around the South, reading "PROUD TO BE SEC: MIZZOU" coupled with those not-so-discrete Texas A&M/SEC TV adds, ushered in the arrival of the SEC's new families. But their arrival wasn't the only big change for the league.
The league said goodbye to a load of defensive talent and lost a couple of head coaches -- and even more assistants. Still, for as much change that has been made, it seems the overall results will be the same.
"You have to give the SEC a lot of credit," Missouri coach Gary Pinkel said. "I tell a lot of people that we played in the Big 12, which is a great conference, but they just have more good teams in [the SEC]. It's remarkably competitive."
[+] Enlarge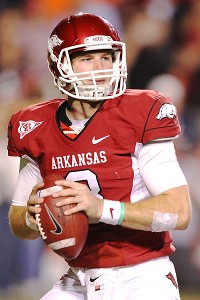 Nelson Chenault-US PRESSWIREArkansas quarterback Tyler Wilson returns as the star of the Hogs' offense.
Four top-10 defenses from a season ago return relatively intact this fall in LSU, Georgia, South Carolina and Florida. Of those four, all but Florida will be involved in national championship discussions to start the season, especially LSU.
On paper, the Tigers might be the most talented team in the country. The defensive line possesses three potential first-rounders, and the Honey Badger (Tyrann Mathieu) is still lurking in a secondary stocked with talent and athleticism.
The offense has to be better with Zach Mettenberger taking over at quarterback. He possesses the skill to throw the ball pretty much whenever he's asked to, so that will be a major upgrade. He'll also have plenty of weapons to use with five able running backs to choose from, including two -- Michael Ford and Spencer Ware -- that ranked in the top 10 in SEC rushing, and a talented, young receiving group to throw to.
The scary thought is that a lot of people around the program think Les Miles might have a better team in 2012.
Georgia returns 15 total starters, including a potential Heisman candidate in quarterback Aaron Murray, and yet again has a more favorable schedule to work with. And South Carolina looks like it's a healthy Marcus Lattimore and a more polished Connor Shaw away from making it back to Atlanta.
While defending national champion Alabama is down a handful of stellar defensive starters from last season's historic season, the Crimson Tide can't be counted out. The defense has more than capable players ready to fill holes. Nico Johnson and C.J. Mosley are ready to take over at linebacker, while Jesse Williams and Damion Square will lead up front. The secondary still has veterans Dee Milliner and Robert Lester and welcomes junior college studs Deion Belue and Travell Dixon.
"We're going to be younger on defense. We don't have as much experience, but we've got some good players," coach Nick Saban said.
"I was pleased with the progress that we made -- not satisfied with where we need to be."
Then, there's Arkansas.
Embarrassed by former coach Bobby Petrino after his infamous motorcycle ride, the Razorbacks look to bounce back with an offense capable of pushing Arkansas to an SEC title and beyond. We still don't know how effective interim coach John L. Smith will be, but he'll have quarterback Tyler Wilson, running back Knile Davis and receiver Cobi Hamilton at his disposal, and that will make things easier.
With an improved offensive line and some talented, young receivers, Arkansas will score points. Now if only the defense can keep up …
There will no doubt be awkward situations ahead in the SEC. Making flights to Kansas City and Houston will seem wrong. Watching an entertaining coach's news conference at Arkansas will feel unnatural. And not knowing what to expect from a Saban defense will confuse you.
But with everything that has changed, one thing that should remain is another championship run.
There's still just too much clicking for the SEC.
What We Learned This Spring
With two new teams added to the mix, let's take a look at what we learned in the SEC this spring:
[+] Enlarge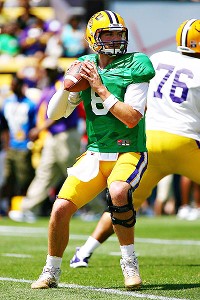 Spruce Derden/US PresswireZach Mettenberger dramatically changes LSU's passing game.
1. Quarterback central: The SEC gets a bad rap for not piling up Xbox-like passing yards, and granted, it wasn't a great year for quarterbacks in the league last season. But did you know that an SEC quarterback has been taken in the first round of the NFL draft in eight of the past 10 years? And that includes four quarterbacks taken No. 1 overall. The 2012 season has a chance to be one of the best in recent memory for SEC quarterbacks, especially if Missouri's James Franklin returns to form after undergoing surgery in the spring to repair a torn labrum. Arkansas' Tyler Wilson and Georgia's Aaron Murray are the two most established quarterbacks. Wilson likely would have gone in the first round had he come out this year. Murray has thrown 59 touchdown passes in his first two seasons, and he also has one of the more talented backups in the league in sophomore Hutson Mason, who shared Offensive MVP honors with Murray in the spring. Some early mock drafts have Tennessee's Tyler Bray going in the first round, and Bray has one of the strongest arms in the league. Alabama's AJ McCarron demonstrated in the BCS National Championship Game what he's capable of and is poised to have a big junior season. South Carolina's Connor Shaw is one of the more improved quarterbacks in the league, and the new guy on the block to watch is LSU's Zach Mettenberger.
2. Lining up at LSU: How many defenses out there could lose a pair of first-rounders and come back the next season and potentially be even better? LSU's defense certainly had that look to it this spring despite the loss of cornerback Morris Claiborne and defensive tackle Michael Brockers, both of whom declared early for the NFL draft and were taken in the first round. It starts up front for the Tigers, who have the best pair of bookend defensive ends in the country in Sam Montgomery and Barkevious Mingo. Both are potential top-10 picks in the 2013 NFL draft. In the middle of that LSU defensive line is tackle Bennie Logan, who also has a chance to be a first-rounder. And from a pure talent standpoint, sophomore tackle Anthony "Freak" Johnson is exactly what his nickname suggests. Kevin Minter was one of the Tigers' most improved players this spring at middle linebacker, and in the secondary, Tyrann Mathieu, Eric Reid and Tharold Simon are all future pros. It's obviously a defense that's oozing with talent, but it's also a defense that still has a chip on its shoulder with the way last season ended.
3. Fighting back: A long list of marquee players in this league missed the spring with injuries and still have to prove they're all the way back in the fall. Franklin's surgically repaired shoulder will be a huge key for Missouri in its first season in the SEC, and a lot of eyes will be on the two best running backs in the league. South Carolina's Marcus Lattimore missed the second half of last season after tearing knee ligaments, while Arkansas' Knile Davis missed the entire season after fracturing his ankle in the preseason. At Ole Miss, they're keeping their fingers crossed that linebacker D.T. Shackelford can return after he underwent a second knee surgery in March. He missed all of last season after tearing his ACL in the spring. Texas A&M running back Christine Michael is also coming back from an ACL tear. Tennessee receiver Justin Hunter went down in the third game last season with a torn ACL, and Florida defensive tackle Dominique Easley is trying to work his way back from a torn ACL suffered in the regular-season finale against Florida State last season.
4. Hogs hanging tough: Sure, the whole Bobby Petrino scandal was embarrassing to the entire state of Arkansas. But the players and coaches on the team didn't lose focus this spring, and the leadership really came to the forefront. Quarterback Tyler Wilson, running back Knile Davis and linebacker Tenarius Wright picked the team up and made sure that nobody was feeling sorry for themselves, and in the process, reminded everyone that all of their goals were still intact. Credit also goes to the Arkansas coaching staff for handling a very difficult matter about as well as it could be handled. There are more tests to come, but now that John L. Smith is in place as the interim head coach, the program has a clear leader for these next eight months. Nothing is more valuable than strong player leadership, though, and the Hogs proved during that turbulent month of April that they're made of the right stuff.
5. Getting physical: It was obvious that Florida coach Will Muschamp never felt good about his team's ability to line up and be physical last season in his first year on the job. There were times when the Gators were downright soft on their way to going 0-6 against FBS teams that finished the season with a winning record. So this spring, just about everything they did was directed at being a more physical football team, a football team committed to running the ball and a football team determined to finish games. Muschamp has repeated several times since the end of spring practice that the Gators are a better team right now than at any point last season, and a lot of that goes back to this team adopting the kind of blue-collar, hit-you-in-the-mouth approach that has defined Muschamp's coaching career. Clearly, he's excited about where the program is headed, and he's equally excited that he'll be better equipped to play the way he wants to during the 2012 season.
Best Of Spring
Does anybody really remember spring awards? They don't hand out any hardware for what goes on in March and April.
Nonetheless, we're still going to honor the highs and the lows of the spring in the SEC:
Best performance: How sharp was Arkansas quarterback Tyler Wilson this spring? Hogs offensive coordinator Paul Petrino said if anybody had a better spring than Wilson, then he was Superman. In four major scrimmages, including Arkansas' spring game, Wilson threw 16 touchdown passes and completed 75.5 percent of his passes. He threw for 467 yards and three touchdowns in the spring game on 31-of-41 passing, and 404 of those yards came in the first half.
Best performance by a true freshman: They're churning out great running backs these days at Alabama. T.J. Yeldon looks like he's going to be the next one. He was sensational in the Crimson Tide's A-Day spring game with 179 rushing/receiving yards, including a 50-yard touchdown after catching a short pass, breaking a tackle and then outrunning everybody to the end zone. He certainly caught Nick Saban's attention this spring. At 6-foot-2 and 216 pounds, Yeldon can run inside and outside. He catches the ball well, and as Saban noted, is one of those guys who can do everything.
Best explanation: Seven assistant coaches left Tennessee's staff following last season, and coach Derek Dooley was still hiring replacements just a couple of weeks prior to the start of spring practice. While conceding that it was rare to lose that many assistant coaches in one year, Dooley wasn't bemoaning the mass exodus. Rather, he said it was a "correction" and equated it to a company starting up and fixing all of the things you don't get right in the beginning. Then again, maybe all those coaches bolting were doing a little fixing of their own. Dooley clearly needs to show progress in Year 3 if he's going to be around for Year 4, and the coaches who left made lateral moves.
Best Evel Knievel impersonation: Even though Petrino's motorcycle didn't land at the bottom of Snake River Canyon, it did end up in a roadside ditch -- busting the lid wide open on Petrino's affair with football staffer Jessica Dorrell. This was a relationship that Petrino wasn't forthcoming about to Arkansas athletic director Jeff Long. Petrino lost a job that paid him $3.56 million a year. Arkansas lost its head coach, and we'll find out this fall what all the Hogs might have lost as they attempt to break through in the Western Division race.
Best comeback: Back surgery curtailed what looked to be a promising season for Auburn defensive end Dee Ford last year. This spring, he was back as good as new and heads into the fall as one of Auburn's starters at end along with Corey Lemonier. The Ford-Lemonier combo coming off the edge won't be a lot of fun for opposing offensive tackles. Speaking of the offensive line, Missouri left tackle Elvis Fisher was granted a sixth year of eligibility and progressed faster than anybody thought he would this spring after tearing the patellar tendon in his left knee prior to last season.
Best spring awakening: LSU went into the spring looking for a middle linebacker, and junior Kevin Minter responded by playing some of the best football he's played since arriving on campus, according to LSU defensive coordinator John Chavis. South Carolina defensive tackle Byron Jerideau also had a stellar spring and is big enough and athletic enough to wreak some serious havoc. The former junior college transfer didn't have the impact the Gamecocks had hoped for his first two seasons, but could be poised for a big senior season. Spurrier quipped, "I told him, 'I hope you're going to be known for something besides hitting me with the Gatorade bucket after a big win.' He's the one who grabs the bucket first, to get his picture in the paper."
Best quarterback battle: Spring came and went without a few starting jobs being settled around the league, but it's a dead heat at Florida between sophomores Jacoby Brissett and Jeff Driskel. Coach Will Muschamp thinks he can win with both players, which is a pretty good indication that both Brissett and Driskel will end up playing in the fall for the Gators. For the time being, Muschamp is content to let it play out this summer and on into preseason practice. Whoever emerges as the best leader over these next three months is going to end up winning the job.
Team-by-team spring reports

Alabama: QB AJ McCarron had a voice in the Alabama locker room in 2011, but this spring he seems to have dialed up the volume. For more on the Crimson Tide, click here.

Arkansas: After throwing for more than 3,600 yards in his first season as a starter a year ago, Tyler Wilson is back for more and looked better than ever in the spring. For more on the Razorbacks, click here.

Auburn: The runaway winner as the most impressive unit this spring was Auburn's defensive line. For more on the Tigers, click here.

Florida: The Gators needed to find a running back capable of running between the tackles and starring in the power run game. Senior Mike Gillislee overwhelmingly won the job. For more on the Gators, click here.

Georgia: Coach Will Friend began determining a pecking order on his rebuilt line this spring, but the competition will likely carry over into the season. For more on the Bulldogs, click here.

Kentucky: Coach Joker Phillips says he has more firepower to work with on offense again. For more on the Wildcats, click here.

LSU:Coach Les Miles loves a power running game featuring several running backs, and LSU had it on display in the spring. For more on the Tigers, click here.

Mississippi: It doesn't matter who's playing quarterback or who's running the ball if the offensive line doesn't jell and play with more consistency than it did a year ago. For more on the Rebels, click here.

Mississippi State: With Darius Slay having a huge spring, Mississippi State should be well stocked at cornerback. For more on the Bulldogs, click here.

Missouri: Both of Missouri's lines are lacking in the size department, but it doesn't look like the coaches are ready to change that anytime soon. For more on the Tigers, click here.

South Carolina: While word out of South Carolina's camp is that Marcus Lattimore was ahead of schedule with his knee rehab, it's still unknown if he will be back to his old self. For more on the Gamecocks, click here.

Tennessee: No one has questioned Tyler Bray's arm, as he can sling it with the best of them. But his heart has been questioned, and he knew it heading into spring. For more on the Vols, click here.

Texas A&M: There's no mistaking the strength of this team. Even though there's not a lot of depth on the offensive line, five players with starting experience return. For more on the Aggies, click here.

Vanderbilt: Vanderbilt coach James Franklin wanted to leave the spring with more leaders than he started with. By his accounts, a few veterans stepped up. For more on the Commodores, click here.
Recruiting Update
There might be new teams and new coaches in the SEC this year, but one thing remains the same: Everyone is trying to keep up with Alabama on the recruiting trail. ESPN RecruitingNation's Jamie Newberg looks at five recruiting storylines to watch in the SEC this spring.
Story

For full recruiting coverage, including the latest ESPN 150 rankings and commitment news, check out RecruitingNation.
TideNation

Alabama might not be able to replace Trent Richardson the player, but the Crimson Tide do have a stable of backs that can replace his production. Story

For full coverage of Alabama, check out TideNation.
GatorNation

Florida's 16th verbal commitment, wide receiver Marqui Hawkins, is a playmaker with a big upside. Hawkins could fill a major need for the Gators. Story »
For full coverage of Florida, check out GatorNation.
DawgNation

The one thing that John Atkins' play screams is the one thing fans might not expect: The lineman, goalkeeper and shot-putter is as athletic as they come. Story

For full coverage of Georgia, check out DawgNation.
GeaxTigerNation

Kevin Minter is a veteran, but there will be plenty of inexperience surrounding him at linebacker when the 2012 season starts. Story »
For full coverage of LSU, check out GeaxTigerNation.
Best of the rest
Best no-show: Duron Carter wins in a landslide. There have been more questions about this guy, and he has yet to take a snap for Alabama. No wonder Nick Saban gets riled up every time he's quizzed about Carter, who was suspended all spring and is obviously not Mr. Accountability in terms of doing everything he needs to do to be a part of Alabama's team.
Best quote: Steve Spurrier is starting to sound more and more like Spurrier, circa 1996. When asked what he thought about the Georgia game moving from Week 2 to Week 6 this season, he cracked, "I don't know. I sort of always liked playing them that second game because you could always count on them having two or three key players suspended."
Best position move: Malcolm Mitchell was Georgia's best deep threat at receiver last season and one of the more impressive true freshmen in the league. But he spent his time at cornerback this spring and looked like a natural. That's where he'll play in the fall, although he'll still get a few snaps on offense. The Bulldogs needed help at cornerback, and defensive coordinator Todd Grantham felt all along that Mitchell could be a difference-maker back there. The truth is that he's a difference-maker anywhere you put him.