All-SEC Affair In New Orleans?
Imagine the two biggest, baddest dudes in the neighborhood beating down anything and anybody that comes their way.
Every time you watch one fight, you're more convinced than ever that the only person who has a chance to beat him is the guy who lives around the corner.
They haven't squared off yet, but everybody knows it will be a classic confrontation: two behemoths slugging it out with all their might.
[+] Enlarge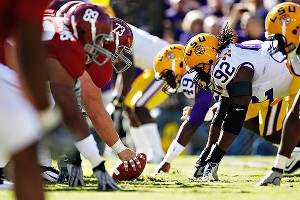 Chris Graythen/Getty ImagesIf LSU-Alabama is as close as everyone thinks it will be, why wouldn't we want to see a sequel in the title game?
But why settle for just one of those scraps?
If they're truly the two baddest dudes in the whole city, let's see them go at it again when the biggest prize is on the line.
Just because they happen to live in the same neighborhood -- one in which only the strong survive -- that shouldn't exclude them from battling on the biggest stage of all.
It's about matching the two best fighters. Never mind that they bloodied each other in a much anticipated split-decision a few weeks earlier.
They're the best, and everybody knows they're the best.
It's the same way with Alabama and LSU this season.
They're the class of college football, and while Nov. 5 can't get here soon enough, how sweet would it be to see these two teams go at it again in New Orleans on Jan. 9 in the Allstate BCS National Championship Game?
In a lot of ways, they're mirror images of each other, and they really haven't been pushed all season.
The closest anyone has come to Alabama is 16 points.
The closest anyone has come to LSU is 13 points.
The Crimson Tide have won their four SEC games by a combined margin of 162-27.
The Tigers have won their past four games, including a trip to No. 15 West Virginia, by a combined margin of 161-46.
Between them, they've faced seven nationally ranked teams, and their combined average margin of victory in those seven games is 21.4 points.
Already, NFL scouts are drooling. The two starting defenses alone could produce as many as 16 or 17 NFL draft picks.
And speaking of defense, there aren't two better, deeper or more talented defensive units in the country.
SEC blog
ESPN.com's Chris Low and Edward Aschoff write about all things SEC football in the conference blog.

Alabama ranks No. 1 nationally in just about all the key defensive categories, and LSU isn't too far behind. The Tigers are No. 4 in total defense, No. 6 in rushing defense and No. 7 in scoring defense.
Nobody talks a whole lot about the two offenses, but Alabama junior running back Trent Richardson is a tackle-breaking machine who turns 5-yard runs into 65-yard touchdown runs.
LSU doesn't have a player quite that explosive. Then again, who does?
But the Tigers are deep and talented on the offensive line (a lot like Alabama) and have a way of imposing their will on teams in the second half.
You don't hear a lot about the teams' quarterbacks, either. That is, other than LSU coach Les Miles bucking conventional wisdom and working Jordan Jefferson back into the rotation even though the Tigers had been sailing right along under Jarrett Lee.
It's not a coincidence, either, that neither of these teams turn the ball over. Alabama's AJ McCarron has thrown just two interceptions to go along with nine touchdown passes. Lee has thrown only one interception to go along with 11 touchdown passes.
Alabama's last turnover came the third week of the season against North Texas. LSU has also gone four straight games without committing a turnover.
So not only are they the two baddest teams in college football, they're two of the most disciplined, too.
This is not a trumped-up plea for a playoff. The BCS isn't going away any time soon.
But if we're truly interesting in seeing the two best teams in college football meet this season for the national title, there's an easy solution.
Make it an all-SEC affair in the Big Easy.
At least then, somebody might finally have a chance to beat the SEC champion when it counts.
But If You Had To Choose …
By Edward Aschoff
ESPN.com
Alabama will play in and win the national championship.
So it has been written. So it will be done.
But, hey, LSU, I still like you. So, meet me at camera three ...
[+] Enlarge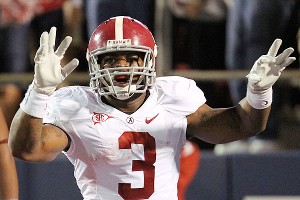 Spruce Derden/US PresswireTrent Richardson gives Alabama an edge when choosing between the Tide and the Tigers.
Any other year I'd have this team heading down to New Orleans for the big one. You have speed across the board, probably the deepest, most athletic defensive line in the country, and when you have the Honey Badger patrolling your defensive backfield, only good things can happen.
You are the girl that I would love to date, but Alabama is the one I'd marry.
For starters, you had some offensive issues early on against a Tennessee team that hung around with you for far too long. I like the whole Jarrett Lee/Jordan Jefferson combo, but the way they switch off worries me when it comes to your offensive rhythm.
And while I love your pass defense, you can get a little aggressive, making you susceptible to the big play.
But we had some good times, right?
Hey, Alabama.
What else can I really say about you? You have arguably the best player in the country, running back Trent Richardson, who ran to Tupelo, Miss., and back against Ole Miss last week and is 89 yards away from breaking 1,000.
Your quarterback has the talent to be All-SEC, but he's been patient, and while he might not have the prettiest numbers, he sure does manage the game like a pro. Your veteran offensive line is the toughest around and just manhandles defenders.
Defensively, I can't think of a better group of linebackers or a more poised defensive backfield. You went from being a group of players who were talented but a little immature to playing grown-men football.
Teams are gaining 3.2 yards per play against you. When teams try to run, you're giving them 38 yards a game. When they pass, they get 146 yards. You've allowed six touchdowns and you're outscoring opponents by 32 points per game.
Plus, you guys are just plain mean. When I look at you, I see that old-school toughness in the running game and on defense. Richardson beats down opponents, but so do Eddie Lacy and Jalston Fowler when he isn't in. When you load the box on defense, offenses play opossum.
I've seen Wisconsin's flashy offense, but even Russell Wilson's fancy running wouldn't do much against Alabama's D.
Stanford? Yeah, right. We saw what LSU did to the Pac-12's fastest team (Oregon). Not even Andrew Luck's arm can make up for the Cardinal's lack of speed.
Of course, I can't forget Oklahoma. I actually like the Sooners. Good speed, tough defense. Oklahoma, you remind me of some of the teams down in SEC country.
The key word is "remind," meaning you aren't quite there. I don't think that Big 12 speed matches Alabama's. Sure, you could hold up for a while. I'll give you three quarters, but if you have to go all four against Alabama's front seven, your offensive line will wear down. If you have to try to slow Richardson down an entire game, your defensive line will wear down.
Pretty much, you'll wear down regardless.
So I thank the rest of the country for showing up, but we have our national champ. Feel free to finish out the season and send someone down to New Orleans in January, but cherish those bowl gifts because that's all you're getting, outside of Tide-induced pain.
Maybe you can get an autograph or two out of it.
State Your Case: Oklahoma
By David Ubben
BCS busts? Who are you talking about? Oklahoma?
Thank the Big East for UConn. That's ancient history now.

Oklahoma belongs at the top.
The Sooners are the Big 12's highest-ranked team in the BCS standings, and if the Sooners walk through the new nine-game Big 12 schedule undefeated, there's no doubt OU belongs back in the national championship game for the fifth time and the first time since 2008.
Those BCS failures? Overstated anyway. The Sooners endured a five-game losing streak on college football's biggest stage after winning in their first two appearances in 2000 and 2001, the first of which earned the program its seventh national title.
For Oklahoma's case, check out the Big 12 blog.
No Respect For The Sooners?
State Your Case: Boise State
By Andrea Adelson
How about a little trivia question: Name the only team in the nation that has started in the top five of the BCS standings the last three years:

A. West Virginia
B. Cincinnati
C. UConn
D. We already know it could not possibly be a Big East team
Yeah, you got me. There is no Big East team that comes even close. So it must be a team from the SEC.
Nope. Big 12?
One more try.
If you guessed Boise State, then give yourself a helmet sticker. My little quiz perfectly illustrates why the Big East is going after the Broncos as a football-only member.
For Boise State's case, check out the Big East blog.
Breaking Down The BCS Top 10
State Your Case: Wisconsin
By Brian Bennett
Hear ye, hear ye. The Court of Public Opinion, whose estimable judgment greatly helps determine who plays for the BCS championship, is now in session. Wisconsin Badgers, please approach the bench for your inquisition:

What gives you the right to play for the national championship, you bunch of cheeseheads?
Well, how about sheer and utter dominance? You can't really ask a team to play better than we have. We're No. 1 in the nation in scoring offense at more than 50 points a game, and we're also No. 3 in defense at 9.7 points allowed. We have the No. 7 rushing offense in the country at 257.5 yards per game on the ground, but we're also averaging 266 yards per game passing the ball even though most of our games are over long before the fourth quarter. We've won every game by at least 31 points. We've got a legitimate Heisman Trophy contender, if not the top candidate, in quarterback Russell Wilson. He's an unflappable four-year starter who can hurt you through the air or by running by you. Our best running back, Montee Ball, has 18 total touchdowns. And our offensive line is the biggest, baddest group on the planet.
For Wisconsin's case, check out the Big Ten blog.
BCS Minute: Edwards' Take
State Your Case: Clemson
By Heather Dinich
It's not often I get to do this.
In fact, I don't think I've ever done it, so excuse me if I start to reach and stretch like I just woke up from a two-hour nap: But it's time to make a case for Clemson to be in the national championship game.

With a new offensive coordinator, a first-year starting quarterback, and an excitable coach who's one chest-bump away from losing his headset, these Tigers have gone from unranked and underrated to one of college football's best teams. At 7-0, Clemson is one of only 10 undefeated teams remaining in the country.
Why shouldn't the Tigers be playing in the national title game?
Don't say defense.
Not buying it. You know why? Clemson's scoring defense is No. 42 in the country at 23.14 points per game. Last year's national champion, Auburn, was No. 53 in the country in scoring defense at 24.07 points per game. Clemson's passing offense and passing defense are both putting up better numbers than Auburn finished with last year. Auburn earned a reputation for finding a way to win. Last I checked, Clemson did that against Maryland last weekend. On the road. The 18-point comeback was the second-largest in school history.
For Clemson's case, check out the ACC blog.
State Your Case: Stanford
By Kevin Gemmell
The case for No. 8 Stanford is a tough one to make right now, but it will get easier as the season progresses -- and if the Cardinal keep winning.

Remember, Stanford started out at No. 12 in the first BCS standings last season before eventually ascending to No. 4.
For Stanford, it begins and ends with a different No. 12 this season -- No. 12 being Andrew Luck. The quarterback is the most polished prospect in a decade and he's better than he was last season, when the Cardinal cleaned up in the Orange Bowl.
But the Cardinal are not one-trick ponies. It starts with Luck, but usually ends with one of his trio of dominating tight ends. The three TEs are tall, fast and physical. There is no defense in the Pac-12 that can shut them down and you'd be hard-pressed to find a unit in the country that can matchup against them. The Cardinal have a balanced running game behind Stepfan Taylor and Luck is one of the best in the country at selling play-action.
For Stanford's case, check out the Stanford blog.
State Your Case

Our bloggers have had their say. We want to know what you think. Which teams should play for the BCS championship on Jan. 9?
Vote for your teams here
and
join the discussion
.