September lessons, October questions
By Mark Schlabach
ESPN.com
The first month of the 2012 college football season is in the rearview mirror.
Forget everything we thought we knew.
About the only certainty is that Alabama is the best in the country. Or is it?
After five weeks, there might be as few as 10 teams battling for a spot in the Jan. 7 Discover BCS National Championship Game in Miami. Surprisingly, Florida, Kansas State, Notre Dame and West Virginia are among them.
Here's a look back at what we learned in September and what we might learn in October:
ACC
Three things we thought we knew in August:
1. Florida State would finally live up to its hype (and talent), win an ACC championship and emerge as a BCS national championship contender.
2. Virginia Tech would reload its offense and win 10 games for the ninth consecutive season, the longest such streak in the country.
3. Georgia Tech, behind an improved defense and coach Paul Johnson's triple-option, spread offense, would emerge as a potential dark horse to win the league.
What we learned in September:
[+] Enlarge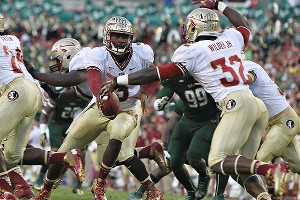 Kim Klement/US PresswireEJ Manuel has plenty of weapons at his disposal, including RB James Wilder Jr., and the Seminoles have overwhelmed opposing defenses through their first five games.
1. The No. 3 Seminoles, who scored 49 points or more in four of their first five games, are good enough on offense and defense to win the ACC. Whether FSU's schedule will be strong enough to finish in the top two of the final BCS standings remains to be seen. Quarterback EJ Manuel is playing at the highest level of his career, and he's getting plenty of help from tailbacks Chris Thompson and James Wilder Jr.
2. This might finally be the season in which Hokies coach Frank Beamer doesn't just pick up the pieces and win 10 games again. The Hokies have already dropped two games against teams they were expected to defeat: 35-17 at Pittsburgh on Sept. 15 and 27-24 against Cincinnati on Saturday. Quarterback Logan Thomas, who was being hailed as a potential NFL first-round pick in the preseason, has completed only 52.7 percent of his passes with eight touchdowns and six interceptions.
3. The Yellow Jackets are currently the biggest mystery in the ACC. They collapsed late in overtime losses to Virginia Tech and Miami and then were inexplicably run over in a 49-28 loss to Middle Tennessee on Saturday. Defensive coordinator Al Groh is under fire, as his unit ranks 65th in run defense (155.2 yards per game), tied for 67th in scoring defense (26.8 points) and 75th in pass defense (241.8 yards).
What we'll learn in October:
1. If FSU is going to contend for a BCS championship, it has no margin for error because of its schedule. The Seminoles have two tricky road games in October: at NC State on Saturday and at Miami, Fla., on Oct. 20. We'll find out whether they're mature enough to take care of business.
2. Is Miami really this good? The Hurricanes, who are exceptionally young and are facing potentially severe sanctions from the NCAA, are 4-1 after defeating Georgia Tech and NC State in the final minutes of the game the last two weeks. The Canes play No. 9 Notre Dame in Chicago on Saturday and play Virginia Tech and FSU later this month.
3. Can Duke make a bowl game? The Blue Devils are off to a 4-1 start, but might be favored in only one of their last seven games -- at home against Virginia on Saturday. Duke hasn't played in a bowl game since losing to Wisconsin 34-20 in the 1995 Hall of Fame Bowl and hasn't won a bowl game since 1961.
Big East
Three things we thought we knew in August:
[+] Enlarge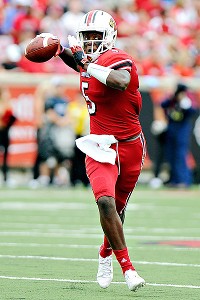 Jamie Rhodes/US PresswireTeddy Bridgewater has seen Louisville to a 5-0 start and has the Cardinals in contention for a Big East title.
1. The Big East was going to fall off the map without TCU and West Virginia, which left for the Big 12. The Horned Frogs never even played a game as Big East members before bolting for a new conference.
2. Louisville, with quarterback Teddy Bridgewater, was an overwhelming preseason favorite in the watered-down league.
3. With B.J. Daniels coming back for his senior season, South Florida would be Louisville's biggest challenger in the Big East.
Three things we learned in September:
1. The Big East isn't on the same level as the Big 12 or the SEC, but it really isn't that bad. No. 22 Rutgers beat Arkansas. No. 19 Louisville defeated Kentucky and North Carolina. Pittsburgh and Cincinnati upset Virginia Tech. Connecticut knocked off Maryland.
2. South Florida isn't Louisville's biggest threat. It might be Rutgers or Cincinnati, which both went unbeaten in September. The Scarlet Knights are still chopping wood without former coach Greg Schiano, and the Bearcats moved to 3-0 when quarterback Munchie Legaux hit Damon Julian with a 39-yard touchdown pass with 13 seconds left in a 27-24 victory over Virginia Tech on Saturday.
3. Pittsburgh isn't as bad as it looked out of the gate. New coach Paul Chryst's tenure couldn't have started worse, after the Panthers were beaten 31-17 by FCS foe Youngstown State on Sept. 1. After losing to Cincinnati 34-10 five days later, it looked like it would be a long season in Pittsburgh. But the Panthers rallied to stun the Hokies 35-17 at home and then blasted FCS opponent Gardner-Webb 55-10 two weeks ago.
Three things we'll learn in October:
1. How important will Rutgers' Nov. 17 game at Cincinnati be in determining the Big East championship? If the Scarlet Knights knock off Connecticut and Syracuse the next two weeks, they might be 9-0 going into their road game against the Bearcats.
2. Is Louisville as good as its ranking? The Cardinals have already survived a couple of close calls against North Carolina, Florida International and Southern Miss, but things figure to get much more difficult in October. The Cardinals play at Pittsburgh on Oct. 13, host South Florida on Oct. 20 and Cincinnati on Oct. 26.
3. Can Syracuse recover from its 1-3 start? The Orange lost to Northwestern 42-41 in the final seconds, and then played then-No. 2 USC surprisingly well in a 42-29 loss the next week. After defeating FCS foe Stony Brook 28-17 on Sept. 15, the Orange lost to Minnesota 17-10 two weeks ago. They play Pittsburgh on Friday and can't afford another loss.
Big Ten
[+] Enlarge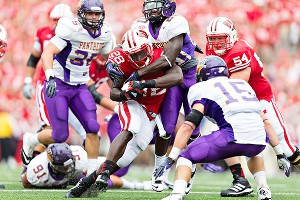 Jeff Hanisch/US PresswireThe Big Ten Leaders Division is still up for grabs, but Montee Ball and Wisconsin would have not have expected to be 3-2 at the end of September.
Three things we thought we knew in August:
1. Michigan, which went 11-2 and won the Sugar Bowl in coach Brady Hoke's first season in 2011, would pick up right where it left off.
2. With Ohio State and Penn State being ineligible for a Big Ten title because of NCAA sanctions, Wisconsin would walk into the Big Ten championship game in Indianapolis and possibly a third consecutive trip to the Rose Bowl.
3. Because of unprecedented NCAA sanctions, the Nittany Lions couldn't possibly be competitive in their first season under new coach Bill O'Brien.
Three things we learned in September:
1. The Wolverines might still win the Big Ten Legends Division, but they're a shell of the team they were a year ago. Quarterback Denard Robinson has regressed as a passer, throwing eight interceptions in the first four games, including four in a 13-6 loss at Notre Dame two weeks ago.
2. Even with 2011 Heisman Trophy finalist Montee Ball coming back, the Badgers lost too much to repeat as Big Ten champions. In addition to losing quarterback Russell Wilson, Badgers coach Bret Bielema lost nearly his entire coaching staff. Wisconsin lost 10-7 at Oregon State on Sept. 8 and fell at Nebraska 30-27 on Saturday night.
3. O'Brien has guided the Nittany Lions through one of the worst episodes in college sports history with dignity and class, and the Nittany Lions have managed to stick together. After losing to Ohio and Virginia in its first two games, Penn State has won three games in a row, including a 35-7 rout at Illinois on Saturday.
Three things we'll learn in October:
1. With Michigan, Michigan State and Wisconsin each suffering two losses in September, Nebraska might be the Big Ten's best hope among bowl-eligible teams. The Cornhuskers play at No. 12 Ohio State on Saturday and at No. 24 Northwestern on Oct. 20.
2. Is Northwestern really this good? The Wildcats are the Big Ten's last bowl-eligible team with an unbeaten record, after defeating Indiana 44-29. Wildcats coach Pat Fitzgerald has found a potent one-two punch in Kain Colter, who does everything on offense, and sophomore quarterback Trevor Siemian. The Wildcats set a school record with 704 yards of offense against the Hoosiers.
3. Is the Big Ten really this bad? Commissioner Jim Delany probably couldn't wait to put the first month of the season in his rearview mirror, but which teams will rise to the top of what looks like a deeply flawed league? Can Purdue win the Leaders Division? The Boilermakers host Wisconsin on Oct. 13 and play at Ohio State on Oct. 20.
Big 12
Three things we thought we knew in August:
1. With quarterback Landry Jones coming back for his senior season, Oklahoma would be the Big 12 favorite and would contend for a BCS national championship.
2. Texas' resurgence would continue behind its defense, as long as quarterback David Ash and its pedestrian offense was better than last season.
3. West Virginia's gimmick offense would score a ton of points in the Big 12, but the Mountaineers wouldn't be a serious contender for a league championship in their first season.
[+] Enlarge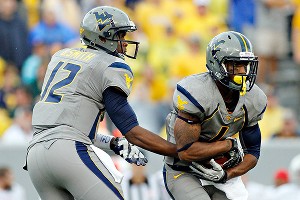 Justin K. Aller/Getty ImagesWest Virginia's offense looks right at home in the Big 12.
Three things we learned in September:
1. The No. 17 Sooners lost too much on the offensive line during preseason camp to contend for a BCS national title. Jones, who was among the Heisman Trophy candidates during the preseason, committed two turnovers in OU's 24-19 loss to Kansas State on Sept. 22.
2. If No. 11 Texas is going to win a Big 12 title, the Longhorns have to get better on defense. Texas surrendered 975 yards of offense and 67 points in victories over Ole Miss and Oklahoma State the last two games. The good news? Ash threw for more than 600 yards with seven touchdowns and one interception in those games, as UT's offense is showing signs of life.
3. The No. 8 Mountaineers aren't going to throw up a shutout this season, but they're going to score a ton of points. West Virginia won its first Big 12 game on Saturday, 70-63 over Baylor in the highest-scoring game in league history. WVU leads FBS teams with 441.5 passing yards and is third with 53 points a game. They rank 96th in scoring defense, allowing 32.5 points per game.
Three things we'll learn in October:
1. Whether West Virginia quarterback Geno Smith can become the first Mountaineer to win the Heisman Trophy. If Smith plays as well as he did in September, the Heisman race might be a historic landslide. In his first four games, Smith completed 83.4 percent of his passes for 1,728 yards with 20 touchdowns and no interceptions in 169 pass attempts. Smith will get stiff tests at Texas on Saturday night and home against No. 7 Kansas State on Oct. 20.
2. Whether Kansas State coach Bill Snyder can prove us all wrong again. Snyder, who turns 73 on Sunday, guided the Wildcats to a 4-0 record in September, including the upset at Oklahoma two weeks ago. Quarterback Collin Klein has already accounted for 10 touchdowns (five rushing and five passing) after totaling 40 (13 passing and 27 rushing) last season. The Wildcats' trip to West Virginia on Oct. 20 will tell us a lot about where their season will end.
3. Is No. 15 TCU flying under the radar? With West Virginia getting so much attention, the Big 12's other new member has largely gone unnoticed. The Horned Frogs are 4-0 and might go undefeated through October if they can win road games at Baylor and Oklahoma State. They finish the regular season with four consecutive games against ranked opponents.
Pac-12
Three things we thought we knew in August:
[+] Enlarge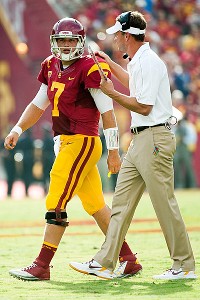 Jonathan Moore/Getty ImagesUSC finds itself playing catch-up in the Pac-12 after losing to Stanford.
1. USC was the No. 1 team in the country, after junior quarterback Matt Barkley decided to return to school for his senior season.
2. Oregon would continue to outscore opponents with its high-flying spread offense, but wouldn't be good enough on defense to beat the Trojans twice.
3. Arizona coach Rich Rodriguez would shake up the Pac-12 South with his spread offense.
Three things we learned in September:
1. USC might have one of the country's most prolific offenses with Barkley and receivers Marqise Lee and Robert Woods, but they're not tough enough or good enough on defense to win a national title. The Trojans gained only 280 yards of offense and had three turnovers in a 21-14 defeat at Stanford on Sept. 15, their fourth consecutive loss to the Cardinal.
2. The No. 2 Ducks are still scoring a ton of points, but they might finally have a defense to go with their prolific offense. Oregon shut out Arizona 49-0 on Sept. 22, forcing five turnovers and holding the Wildcats out of the end zone in six red-zone trips.
3. Arizona State coach Todd Graham, who was criticized for the way he left Pittsburgh after only one season, might be the hottest new coach in the desert. The Sun Devils are 4-1, 2-0 in the Pac-12 after beating Utah 37-7 and California 27-17, their first win in Berkeley since 1997. Sophomore quarterback Taylor Kelly has completed 67.6 percent of his passes with nine touchdowns and two interceptions.
Three things we'll learn in October:
1. Will No. 25 UCLA challenge the Trojans in the Pac-12 South? It didn't take former NFL coach Jim Mora long to wake up the Bruins, who went 4-1 in the first month of the season, including a 36-30 upset of then-No. 16 Nebraska on Sept. 8. UCLA's next five games seem pretty manageable before closing the season at home against the Trojans and No. 18 Stanford.
2. Will this year's Civil War mean something in the Pac-12 race? No. 14 Oregon State has been one of the country's biggest surprises with a 3-0 record, including upsets of then-No. 13 Wisconsin and then-No. 19 UCLA in consecutive games. The Beavers play two difficult road games in October -- at BYU on Oct. 13 and at No. 23 Washington on Oct. 27. They host the Ducks on Nov. 24.
3. How much will No. 18 Stanford fall in the post-Andrew Luck era? We thought the Cardinal would be fine after they upset USC, but then they lost 17-13 at Washington on Thursday night. The Huskies might have provided a blueprint for slowing down Stanford's offense, stacking the line to slow down tailback Stepfan Taylor and forcing quarterback Josh Nunes to beat them. The Cardinal host Arizona on Saturday and play at Notre Dame on Oct. 13.
SEC
Three things we thought we knew in August:
1. LSU might have an edge over defending BCS national champion Alabama in the SEC West because the Crimson Tide lost so many star players on defense.
2. Georgia's defense would give it a great chance at repeating as SEC East champion.
3. With quarterback Tyler Wilson and tailback Knile Davis, Arkansas would be just fine without former coach Bobby Petrino.
[+] Enlarge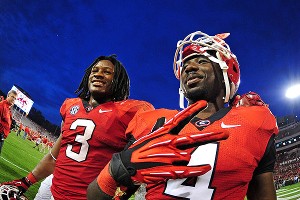 Scott Cunningham/Getty ImagesFreshmen Todd Gurley and Keith Marshall have been revelations at running back for Georgia.
Three things we learned in September:
1. The Crimson Tide are still the best team in the country, even after replacing two starting linebackers and three defensive backs. No. 1 Alabama blasted then-No. 8 Michigan 41-14 in its opener and then shellacked Arkansas 52-0 on the road on Sept. 15. The Crimson Tide lead the country in scoring defense, allowing only seven points per game.
2. If No. 5 Georgia is going to get back to the SEC championship game in Atlanta, its offense might have to lead the way. The Bulldogs scored 40 points or more in each of their first five games for the first time in school history, and they rank No. 8 nationally with 48.2 points per game. Freshman tailbacks Todd Gurley and Keith Marshall have already combined for 964 yards with 14 touchdowns in five games.
3. Arkansas is an unmitigated disaster under interim coach John L. Smith. The Hogs' season was derailed by a 34-31 overtime loss to Louisiana-Monroe on Sept. 8 and they've lost four straight games to fall to 1-4. The Hogs rank 94th in scoring (23.2 points) and 116th in scoring defense (40.6 points). Arkansas' next three games -- at Auburn and home against Kentucky and Ole Miss -- are winnable, but have the Hogs already quit?
Three things we'll learn in October:
1. Is No. 4 LSU going to hold up its end of the SEC West showdown? The Tigers looked pretty average the last two weeks, defeating Auburn 12-10 on the road and FCS foe Towson 38-22 at home on Saturday night. The Tigers play at No. 10 Florida on Saturday and host No. 6 South Carolina on Oct. 13. They play at Texas A&M on Oct. 20 and then take a week off before their Nov. 3 showdown against Alabama at Tiger Stadium in Baton Rouge on Nov. 3.
2. Which team is going to win the SEC East -- Florida, Georgia or South Carolina? The Bulldogs play at No. 6 South Carolina on Saturday night and then meet the Gators in Jacksonville, Fla., on Oct. 27, their last game against a ranked opponent. Florida hosts South Carolina on Oct. 20. The round-robin competition might be a playoff for the SEC East title.
3. Will Auburn bounce back? The Tigers, only two seasons removed from winning a BCS title, lost three of their first four games. They showed life in the close loss to LSU two weeks ago and will have a chance to win their next three games -- home against Arkansas on Saturday, at Ole Miss on Oct. 13 and at Vanderbilt on Oct. 20.
On the Mark Mailbag
Buying what On The Mark is selling? Drop any questions, comments, compliments or complaints in the mailbag. Or sound off @Mark_Schlabach.
Bloggers: September's best/worst
ESPN.com bloggers break down the best and worst from the first month of the season:

Florida State is a pleasant surprise, Miami just a surprise, while Virginia Tech's September is something different entirely.
Heather Dinich

Geno Smith and West Virginia have added some shine to the Big 12, while Kansas' rebuilding project has yet to show signs of life.
David Ubben

Three undefeated teams highlight September, but more was expected from Syracuse.
Andrea Adelson

Braxton Miller and Northwestern are among the few bright spots in what has been a disastrous opening month.
Adam Rittenberg

Young quarterbacks have made impressive gains, but USC's loss to Stanford took the wind out the Pac-12's sails early in September.
Ted Miller

Alabama has maintained the SEC's place as home to college football's No. 1 team, but meltdowns elsewhere in the SEC West have stood out in September.
Edward Aschoff

The quarterback situation isn't likely to change anytime soon, but there's optimism abound in South Bend.
Matt Fortuna
On The Mark: Precision Passers

1. Geno Smith, West Virginia
Smith threw for 656 yards and eight touchdowns in West Virginia's 70-63 win over Baylor. The 656 passing yards are the fifth-most in a game in Division I history and just 6 short of setting the Big 12 record. The eight touchdown passes are tied for the second most in a game since 2000 (former Houston QB Case Keenum threw nine touchdown passes last season against Rice).
2. Nick Florence, Baylor
Florence did not go down quietly. He broke Baylor's single-game passing record with 581 yards and had a career-high five touchdown passes in the Bears' 70-63 loss to West Virginia. Florence and Geno Smith are the only players with at least 300 passing yards and three touchdown passes in every game their team played this season.
3. Stephen Morris, Miami
Morris has 1,002 passing yards in his last two games. He set a new ACC record with 566 passing yards and tied a school record with five touchdown passes in Miami's 44-37 win over NC State Saturday. Morris is the only player this season with back-to-back 400 yard passing games.
4. Zac Dysert, Miami (Ohio)
Dysert was Week 5's fifth 500-yard passer. He accounted for a MAC-record 624 yards of total offense and set a school record with six touchdown passes in the Redhawks' 56-49 win over Akron. His 516 passing yards were the second-most in Redhawks history. Ben Roethlisberger passed for 525 against Northern Illinois in 2002.
5. Johnny Manziel, Texas A&M
Manziel set a school record with 453 passing yards and rushed for another 104 yards in Texas A&M's 58-10 win over Arkansas. Manziel and Zac Dysert are the first players to pass for over 400 yards and rush for over 100 yards in a game since Kevin Kolb did it for Houston against TCU in 2003.
--ESPN Stats and Info
On The Mark: Ground-Gaining RBs

1. Benny Cunningham, Middle Tennessee
Cunningham had a career day to help Middle Tennessee get its third win ever over an ACC opponent. The senior had career highs in rushes (27), rushing yards (217) and rushing touchdowns (5) in the Blue Raiders' 49-28 win over Georgia Tech. It was Cunningham's second career 100-yard rushing game and first career 200-yard game.
2. Beau Blankenship, Ohio
Blankenship helped spoil Massachusetts' first-ever home game in the MAC. The junior had a career-high 269 rushing yards and two touchdowns in Ohio's 37-34 win over the Minutemen. Blankenship and Nevada's Stefphon Jefferson are the only two players with five 100-yard rushing games this season.
3. Cody Getz, Air Force
The senior had a career-high 222 rushing yards in Air Force's 42-21 win over Colorado State. Getz has been over 100 yards in all four games this season and is one of three FBS players with two 200-yard games, joining UCLA's Johnathan Franklin and Michigan State's Le'Veon Bell.
4. Kenjon Barner, Oregon
Barner had a career-high 232 yards from scrimmage in Oregon's 51-26 win over Washington State. He found the end zone four times Saturday, three times rushing. His 195 rushing yards was the second-highest output in his career.
5. Joseph Randle, Oklahoma State
Randle had a career-high 199 rushing yards in Oklahoma State's 41-36 loss to Texas. It was his 10th career 100-yard rushing game. Randle's 7.9 yard-per-rush average Saturday is the highest for any player with at least 10 attempts against the Longhorns since Arkansas' Matt Jones averaged 8.5 in 2004.
--ESPN Stats and Info
On The Mark: Big-Play WRs

1. Stedman Bailey, West Virginia
Bailey set school records with 303 receiving yards and five receiving touchdowns and he was not the leading receiver in the game. Bailey's four touchdown receptions of 20 yards or more against the Bears are the most in a FBS game this season.
2. Terrance Williams, Baylor
Williams set a school record with 17 receptions and a Big 12 record with 314 receiving yards in Baylor's 70-63 loss to West Virginia. It was Williams' third straight game with two receiving touchdowns, the longest streak this season.
3. Tavon Austin, West Virginia
Austin had career-highs in receptions (14), receiving yards (215) and yards after the catch (146). Austin has 11 receiving touchdowns in his last five games dating back to the 2012 Orange Bowl.
4. DeAndre Hopkins, Clemson
The junior had 11 receptions for a career-high 197 yards in Clemson's 45-31 win over Boston College. It's the most yards allowed by the Eagles since the start of the 2004 season.
5. Phillip Dorsett, Miami
Dorsett had seven receptions for a career-high 191 yards in Miami's 44-37 win over NC State. The sophomore has 375 receiving yards and 16 receptions in his last two games, after having totaled 236 receiving yards and 26 receptions in his first 15 career games.
--ESPN Stats and Info
RecruitingNation: Weekend rewind
The two leading rushers in Florida high school history, Kelvin Taylor (Belle Glades, Fla./Glades Day) and Derrick Henry (Yulee, Fla./Yulee), squared off against each other last Friday night on ESPNU. The two four-star running backs didn't disappoint with their performances. Henry, an Alabama commit, and Taylor, a Florida recruit, combined for 585 rushing yards and seven touchdowns on the night.
Recent reports have indicated Alabama head coach Nick Saban has continued to recruit Taylor, the No. 1-ranked running back in the country, despite Taylor being verbally committed to the Gators since February. Taylor says he's flattered but is firm in his commitment to the Gators.
"I'm not going up to Bama," Taylor said. "I am 100 percent Gators. Like I've said, it's a very blessed experience to have him still trying to recruit me, but I am 100 percent going to Florida."
Taylor will officially visit Florida this weekend to watch the Gators take on LSU.
-- Derek Tyson, GatorNation
To read the rest of RecruitingNation's Weekend Rewind, click here.

RecruitingNation: What we learned
For the first time all season, Alabama was forced to respond to adversity. After falling behind 7-6 to Ole Miss, Christion Jones took the kickoff 99 yards for the score and Alabama never looked back, riding 21 unanswered points to victory.
-- Alex Scarborough, TideNation
Florida State won ugly in its first road test of the season, but it's clear there's still some work to do on the revamped offensive line. FSU allowed 10 tackles for loss to a struggling USF defensive front -- just four fewer than the Seminoles had given up in their first four games combined.
-- David Hale, NoleNation
By scoring 40-plus points for the fifth straight game -- three against SEC opponents -- Georgia proved that even on a night when the Bulldogs made enormous missteps that allowed Tennessee to stick around, they have more than enough firepower to hang with even the most potent offensive clubs in the country.
-- David Ching, DawgNation
A soft schedule has LSU off to a 5-0 start but has led to a lack of a singular focus and attention to detail for a team that turns the ball over and is prone to costly penalties.
-- Gary Laney, GeauxTigerNation
There's no doubting the toughness of quarterback Braxton Miller after he shook off a pair of injury concerns and rushed 23 times against a punishing defense, finishing with 136 critical yards as the Buckeyes stayed unbeaten with a 17-16 win over Michigan State.
-- Austin Ward, BuckeyeNation
Michael Mauti has supplanted teammate Gerald Hodges as the best linebacker in the Big Ten and might be one of the best in the nation.
-- Josh Moyer, NittanyNation
For the first time in three years, Texas proved not only that it could beat Oklahoma State but that it has the resilience and fortitude to do it in come-from-behind fashion.
-- Carter Strickland, HornsNation
After holding No. 8 Stanford to 65 rushing yards during a 17-13 victory over the Cardinal, it's clear defensive coordinator Justin Wilcox's system is starting to take hold, helping the Huskies make a statement on national television.
-- Mason Kelley, HuskyNation