Midseason review
By Mark Schlabach
ESPN.com
There are a dozen undefeated teams left at the midway point of the 2012 college football season, and Notre Dame, Oregon State and Rutgers are among them.
Who else believed the No. 5 Fighting Irish and No. 8 Beavers would be BCS national championship contenders at the start of the season?
As we head into the second half of the season, No. 1 Alabama still looks like the team to beat. The Crimson Tide haven't been tested yet in their quest to win back-to-back national championships and probably won't be challenged until their Nov. 3 trip to No. 6 LSU.
In the first seven weeks of the season, we were introduced to "Johnny Football," "Gurshall" and the "Germanator."
Young quarterbacks such as Ohio State's Braxton Miller and Florida's Jeff Driskel became household names, while West Virginia's defense was cursed over and over again in the Mountaineer state.
With seven weeks in the books, it's time to hand out the On the Mark Midseason Awards:
Offensive MVP
1. Geno Smith, West Virginia: Even after losing 49-14 at Texas Tech on Saturday, Smith is completing 75.3 percent of his passes for 2,271 yards with 25 touchdowns in coach Dana Holgorsen's high-octane offense. Remarkably, Smith still hasn't thrown an interception in 259 pass attempts.
2. Braxton Miller, Ohio State: Miller, a sophomore, is a tailor-made fit for new OSU coach Urban Meyer's spread offense, leading the undefeated Buckeyes in passing and rushing. He has completed 60.4 percent of his passes for 1,271 yards with 11 touchdowns and four interceptions, while running for 912 yards with nine touchdowns.
3. Collin Klein, Kansas State: The undefeated Wildcats haven't asked their quarterback to carry as big of a load as last season, but he has been just as valuable. Klein has completed 66.9 percent of his passes for 1,074 yards with seven touchdowns and two interceptions, while running for 510 yards with 10 touchdowns.
[+] Enlarge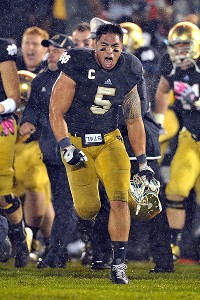 Matt Cashore/US PresswireNotre Dame's defensive resurgence, led by Manti Te'o, has fueled the Fighting Irish's 6-0 start.
Defensive MVP
1. Manti Te'o, Notre Dame: Te'o, a senior from Hawaii, has become Notre Dame's emotional leader and the best player on the country's No. 2 scoring defense. He leads the Fighting Irish with 59 tackles and has two tackles for loss, three interceptions and two fumble recoveries.
2. Jadeveon Clowney, South Carolina: Opponents have tried to double-team Clowney all season, but he has largely been unstoppable. Clowney, a sophomore from Rock Hill, S.C., has 31 tackles, 12 tackles for loss and 6½ sacks.
3. Bjoern Werner, Florida State: Werner, who is affectionately known as the "Germanator" by his teammates, has been a one-man wrecking crew, helping the Seminoles overcome the loss of All-American defensive end Brandon Jenkins. Werner has 21 tackles, 10 tackles for loss, 6½ sacks, five pass breakups and one forced fumble.
Best coach
1. Mike Riley, Oregon State: The Beavers were picked to finish last in the Pac-12 North in preseason voting by media, but Riley has guided them to a 5-0 record. He has motivated his team with, of all things, postgame trips to the closest In-N-Out Burger.
2. Bill Snyder, Kansas State: During his second Manhattan Magic act, Snyder, who last week turned 73, is cementing his place among the sport's all-time greatest coaches. The Wildcats are 6-0, including a 24-19 upset at then-No. 6 Oklahoma on Sept. 22.
3. Will Muschamp, Florida: After a disappointing 7-6 finish in his first season as a head coach in 2011, Muschamp has transformed the Gators into one of the most physical teams in the country. The Gators are 6-0 and can take a big step toward winning an SEC East title by defeating South Carolina in the Swamp on Saturday.
Best freshman
1. Johnny Manziel, Texas A&M: "Johnny Football" has helped ease the Aggies' transition into the SEC, leading them in passing and rushing as a freshman. Manziel has completed 67.4 percent of his passes for 1,680 yards with 14 touchdowns and three interceptions, while running for 676 yards with 10 touchdowns.
2. "Gurshall," Georgia: Bulldogs freshman tailbacks Todd Gurley and Keith Marshall have combined to run for 1,040 yards with 14 touchdowns, putting much-needed life into UGA's running game. They combined to run for 294 yards with five touchdowns in UGA's 51-44 victory over Tennessee on Sept. 29.
3. Marcus Mariota, Oregon: Now we know why former Ducks quarterback Darron Thomas inexplicably turned pro after last season. Mariota has been spectacular in his first season as a starter, completing 67.9 percent of his passes for 1,301 yards with 15 touchdowns and five interceptions for the No. 3 Ducks.
[+] Enlarge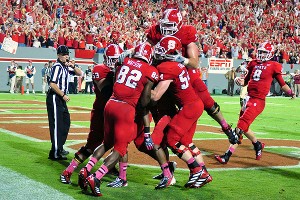 Rob Kinnan/US PresswireFlorida State appeared to be a BCS title contender … until the Seminoles last at NC State.
Biggest team surprise
1. Oregon State: The Beavers went 8-16 the previous two seasons and weren't expected to do much this season, either. But OSU upset then-No. 13 Wisconsin and then-No. 19 UCLA in consecutive games in September and then won 42-24 at BYU on Saturday to improve to 5-0.
2. Notre Dame: After limping through an 8-5 season in 2011 because of turnovers and other self-inflicted wounds, the Fighting Irish are 6-0 in coach Brian Kelly's third season. The Irish rank among the country's best teams in scoring defense and turnover margin and didn't trail in a game this season until coming from behind to beat Stanford 20-13 in overtime Saturday.
3. Rutgers: The Scarlet Knights were blindsided when former coach Greg Schiano left for the NFL's Tampa Bay Buccaneers in late January, but they've flourished under new coach Kyle Flood. Rutgers ranks in the top five nationally in scoring defense, run defense, turnover margin, sacks allowed and kickoff returns.
Biggest team disappointment
1. Arkansas: The Razorbacks are starting to show life under interim coach John L. Smith, beating Auburn and Kentucky in consecutive weeks, but it's probably too little, too late. Louisiana-Monroe upset the Hogs 34-31 in overtime on Sept. 8, the first of four straight losses. Arkansas lost its first two SEC games by a combined score of 110-10.
2. Auburn: Only two years removed from winning a BCS national championship, Auburn coach Gene Chizik is under fire after his team's woeful 1-5 start. The Tigers rank 115th in scoring offense and 116th in total offense.
3. Georgia Tech: The Yellow Jackets were considered a preseason dark horse to win the ACC Coastal, but they're 2-4 and defensive coordinator Al Groh was fired last week. Georgia Tech ranks 89th in total defense and 83rd in scoring defense and blew late leads in losses to Virginia Tech and Miami. Tech was run over in a 49-28 loss to Middle Tennessee at home.
Best finishes
1. Notre Dame 20, Stanford 13 OT: The game was played at rain-soaked Notre Dame Stadium on Saturday and was rather sloppy. But the controversial ending left fans of both sides screaming at the top of their lungs. After Notre Dame came from behind to force overtime, the Irish stuffed Cardinal tailback Stepfan Taylor on fourth-and-goal from the 1 (or did they?) on the final play.
2. Utah 24, BYU 21: In one of the craziest endings ever, the Cougars missed two field goals at the end of regulation on Sept. 15. The first attempt was blocked by Utes star defensive tackle Star Lotulelei, and then the second bounced off an upright after officials put time back on the clock because fans prematurely rushed the field.
3. Louisiana-Monroe 34, Arkansas 31 OT: The Warhawks stunned the then-No. 8 Razorbacks when quarterback Kolton Browning scored on a 16-yard run on fourth down in overtime on Sept. 8. Louisiana-Monroe wiped out a 28-7 deficit in the second half and forced overtime on Browning's 23-yard touchdown pass to Brent Leonard on fourth down with 47 seconds to play.
[+] Enlarge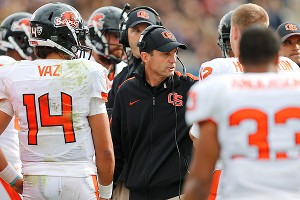 George Frey/Getty ImagesPerhaps unnoticed nationally, Oregon State has enjoyed lots of success under coach Mike Riley.
Biggest upset
1. NC State 17, Florida State 16: The Wolfpack erased a 16-0 deficit in the second half and stunned the then-No. 3 Seminoles on quarterback Mike Glennon's two-yard touchdown pass to Bryan Underwood with 16 seconds to play. Glennon completed three fourth-down passes on the winning drive to put a serious dent in FSU's BCS title hopes.
2. Louisiana-Monroe 34, Arkansas 31 OT: The Warhawks' stunning upset win knocked the Hogs out of the national rankings. Arkansas fell from No. 8 to unranked in the Associated Press Top 25 poll, the second-largest drop in the poll's history. No. 5 Michigan fell out of the poll after losing to FCS opponent Appalachian State 34-32 in its 2007 opener.
3. Central Michigan 32, Iowa 31: David Harman kicked a 47-yard field goal with three seconds left to give the Chippewas a stunning upset victory over the Hawkeyes on Sept. 22. Central Michigan scored the game's final nine points in the last 45 seconds. Quarterback Ryan Radcliff threw a 13-yard touchdown to Titus Davis with 45 seconds to play, and then CMU recovered an onside kick to set up the winning field goal.
Best offensive performance
1. Geno Smith, West Virginia vs. Baylor: In a game that looked more like it was played on an Xbox, Smith completed 45 of 51 passes for 656 yards with eight touchdowns in a 70-63 victory over the Bears on Sept. 29. It was the highest scoring game in Big 12 history, and Smith threw more touchdown passes (eight) than incompletions (six).
2. Zac Dysert, Miami (Ohio) vs. Akron: Dysert, a senior from Ada, Ohio, became the first FBS player to throw for more than 500 yards and run for 100 in the same game. He completed 34 of 49 passes for 516 yards with six touchdowns, while running for 108 yards in the RedHawks' 56-49 victory over the Zips.
3. Le'Veon Bell, Michigan State vs. Boise State: The Spartans' tailback ran a whopping 44 times for 210 yards with two touchdowns in MSU's 17-13 victory over the Broncos. He did most of his damage after contact, gaining 40 percent of his rushing yards and 52 of 55 receiving yards after catch.
Best defensive performance
1. Manti Te'o, Notre Dame vs. Michigan State: Playing only a few days after he tragically lost his grandmother and girlfriend within a few hours, Te'o played inspired football in the Irish's 20-3 victory over the Spartans. He had 12 tackles, one tackle for loss, two pass breakups and one fumble recovery.
2. Jarvis Jones, Georgia vs. Missouri: Jones, a junior linebacker, helped UGA welcome the Tigers into the SEC with a 41-20 victory on the road. Jones had nine tackles, two tackles for loss, two sacks, one interception and two forced fumbles.
3. Phillip Thomas, Fresno State vs. Colorado: Thomas, a senior safety, had three interceptions in the Bulldogs' 69-14 rout of the Buffaloes, returning two of them for touchdowns in the second half. Thomas, from Bakersfield, Calif., leads FBS players with six interceptions.
Biggest second-half games
[+] Enlarge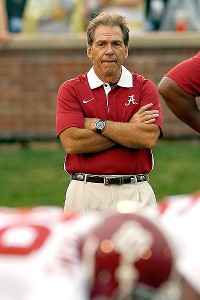 Jamie Squire/Getty ImagesNick Saban will take Alabama into Death Valley in one of the second half of the season's most anticipated matchups.
1. Alabama at LSU, Nov. 3: Ask previously unbeaten South Carolina if it's difficult playing at Tigers Stadium on Saturday night. The Tigers might not be the country's most prolific team on offense, but their defense figures to give Alabama a stiff test. The winner might end up in the SEC championship game and BCS title game.
2. Oregon at USC, Nov. 3: The Pac-12 heavyweights might play twice this season, with the first meeting coming at the Coliseum in Los Angeles on the first Saturday of November. They might meet again in the Pac-12 championship game.
3. Notre Dame at Oklahoma, Oct. 27: The No. 5 Fighting Irish still face two difficult road games, including the late October trip to Norman, Okla., where the Sooners rarely lose. Quarterback Landry Jones will have to crack a tough Notre Dame defense.
Coaches who need big second halves
1. Derek Dooley, Tennessee: The Volunteers have looked better than last season, but they'll still carry a 3-3 record into the second half of the season. The Vols are 0-13 against ranked opponents under Dooley, whose team faces No. 1 Alabama and No. 7 South Carolina in the next two games.
2. Gene Chizik, Auburn: Could Auburn really fire a coach who won a national championship two seasons ago? It is Auburn, so you really don't know. Chizik was 14-0 with 2010 Heisman Trophy winner Cam Newton as his quarterback and 22-34 as a head coach without him.
3. Jeff Tedford, California: The wolves stopped howling after the Bears' 43-17 upset of then-No. 25 UCLA on Oct. 6, but Cal is 3-4 after seven games. The Bears have lost four games or more in each of the past five seasons.
On the Mark Mailbag
Buying what On The Mark is selling? Drop any questions, comments, compliments or complaints in the mailbag. Or sound off @Mark_Schlabach.
Bloggers: Midseason review
On The Mark: Precision Passers

1. Seth Doege, Texas Tech
Doege has helped Texas Tech to its highest AP ranking (18th) since it was ranked No. 2 in the 2008 season. He completed 32 of 42 passes for a career-high 499 yards and six touchdowns in the Red Raiders' 49-14 domination of West Virginia. It was Doege's second game this season with six passing touchdowns, the most in FBS.
2. Johnny Manziel, Texas A&M
Texas A&M is rolling with five straight wins. Manziel completed 24 of 40 passes for 395 yards and three touchdowns in the Aggies' 59-57 win over Louisiana Tech. He also had 19 carries for a career-high 181 rushing yards and three touchdowns. It was the second time this season that Manziel accounted for over 500 yards, the most in FBS.
3. Tyler Wilson, Arkansas
Wilson has Arkansas headed back to respectability with its second straight win, both against SEC opponents. Wilson completed 23 of 31 passes for 372 yards and a career-high five touchdowns in the Razorbacks' 49-7 win over Kentucky. It was Wilson's third game with at least 350 passing yards and three touchdowns this season -- only Marshall's Rakeem Cato has more among FBS players. --ESPN Stats & Info
On The Mark: Ground-Gaining RBs

1. Montee Ball, Wisconsin
With three touchdowns Saturday, Ball broke former Heisman Trophy winner Ron Dayne's school and Big Ten record for career touchdowns with 72. Ball had 29 carries for a career-high 247 yards and three touchdowns in Wisconsin's 38-14 win over Purdue. It was his 10th career game with three or more rushing touchdowns, the most of any player in the past 12 seasons.
2. Bronson Hill, Eastern Michigan
Hill had a career day in Eastern Michigan's 52-47 loss to Toledo. He had 28 carries for 283 yards and four touchdowns. The sophomore entered the game with seven career rushes for 80 yards. It was the most rushing yards by a FBS player this season and the most in a loss during the past 10 seasons.
3. Dri Archer, Kent State
Archer averaged 18.5 yards per rush in Kent State's 31-17 win over Army. He had 12 carries for a career-high 222 yards and a touchdown. Archer also threw a 24-yard touchdown pass in the first quarter. He is one of eight FBS players this season with a rushing, passing and receiving touchdown.
--ESPN Stats & Info
On The Mark: Big-Play WRs

1. Bernard Reedy, Toledo
Reedy made several big plays in Toledo's 52-47 win over Eastern Michigan. He had touchdown receptions of 59 and 65 yards, and also had an 89-yard kickoff return for a touchdown. Reedy finished with career highs in receptions (11) and receiving yards (237) and matched his career high with those two touchdown receptions.
2. Quinton Patton, Louisiana Tech
Patton became the first FBS player to have 20 receptions in a game this season. He had career highs in receptions (21), receiving yards (233) and touchdowns (four) in Louisiana Tech's 59-57 loss to Texas A&M. Patton and West Virginia's Stedman Bailey are the only FBS players to have at least 200 yards receiving and four touchdowns in a game this season.
3. Brandin Cooks, Oregon State
Cooks had eight receptions for 173 yards in Oregon State's 42-24 win over BYU. It was his third game with at least 140 yards this season, the most of any FBS player.
--ESPN Stats & Info
RecruitingNation: Weekend rewind
Oklahoma had another chance to impress recruits and delivered with an emphatic 63-21 victory against Texas in the Red River Rivalry.
OU made a big impression on top 2013 targets such as Oklahoma State defensive end commit Ogbonnia Okoronkwo (Houston/Alief Taylor) and ESPN 150 defensive tackle Justin Manning (Dallas/Kimball). Both have OU listed among their final choices.
More than that, though, it could be an early leg up in the intense OU-Texas recruiting battles that are sure to be waged in the 2014 class. Athlete Darrion Johnson (Brenham, Texas/Brenham) said he was extremely impressed, as was offensive tackle Ty Barrett (Dallas/Skyline).
The atmosphere tends to be the No. 1 thing that stands out to recruits about the Red River Rivalry, especially if they've never seen the game in person before. That was certainly the case for OU's sole 2014 commit, wide receiver Armanti Foreman (Texas City, Texas/Texas City). Foreman tried to articulate what he felt Saturday, but only one word came to his mind: "Wow."
The win won't put OU in the driver's seat with all the elite 2014 prospects in Texas, nor will it eliminate the Longhorns in future battles. But it was a good bounce-back following a shaky showing in front of a large group of top commits and targets a few weeks ago in a loss against Kansas State.
--Bob Przybylo, SoonerNation
RecruitingNation: What we learned
Alabama didn't waste any time cleaning up its conference record, beating Missouri to improve to 2-2 all time against the league's newest Tigers and eliminate the lone SEC school with a winning record against the Tide.
-- Alex Scarborough, TideNation
Florida's special teams are finally starting to pull their weight. The Gators successfully ran a fake PAT and fake punt, blocked a field goal and got a 60-yard kickoff return out of Andre Debose.
-- Michael DiRocco, GatorNation
The pass protection means everything for EJ Manuel. Last week, he was under constant pressure and rarely looked deep in a loss. This week, he got time in the pocket, completed four passes of 40 yards or more and set a career high with 439 yards passing.
-- David Hale, NoleNation
Even with numerous offensive line injuries, LSU can be physically dominant in the trenches with a healthy Josh Dworaczyk providing leadership.
-- Gary Laney, GeauxTigerNation
Michigan's defense, led by an emerging star in linebacker Jake Ryan, is potentially transforming into an elite unit after having not allowed a second-half touchdown in four games.
-- Michael Rothstein, WolverineNation
The defense was gashed again and Urban Meyer has vowed to take an active role in fixing the unit, but the Buckeyes were still too much to handle thanks to an explosive running game and Braxton Miller's athleticism in a 52-49 shootout win at Indiana.
-- Austin Ward, BuckeyeNation
In dismantling Texas, the Sooners proved they're still a contender. Both in the Big 12 and beyond.
-- Jake Trotter, SoonerNation
The Longhorns have now lost nine straight games to ranked opponents, and five of those losses have been by 12 or more points. The past two losses to Oklahoma were by an average of 40 points.
-- Carter Strickland, HornsNation
This USC defense is opportunistic. The Trojans forced four Washington turnovers in a 24-14 victory, including a key strip of Huskies QB Keith Price near the goal line. The USC defense has forced at least two turnovers in every game this year.
-- Garry Paskwietz, WeAreSC