My fellow college football fans
By Mark Schlabach
ESPN.com
The U.S. presidential election is in full swing, with the candidates preparing for their final debate on Monday night and Election Day just two weeks away.
BCS campaign season is in full swing, too, and the landscape is as muddled as it is likely to be. Defending BCS national champion Alabama has been the No. 1 team in America for a school-record eight consecutive weeks. While the Crimson Tide again look like the team to beat, there's a logjam of unbeaten teams lining up to challenge them.
On Nov. 3 -- three days before America elects its president -- we'll have a better idea of which teams will be the front-runners to play in the Jan. 7 Discover BCS National Championship Game in Miami. That's when Alabama plays at No. 6 LSU, while No. 4 Oregon plays at No. 9 USC.
We'll see the field thin itself out over the next couple of weeks, but right now there are issues that are important to college football fans as they survey the field of potential BCS title candidates. Who's strongest on these issues? Weakest?
Foreign policy
Which of the BCS national championship contenders is the best away from home?
Which team has been battle-tested in the most intimidating and hostile environments on the road?
[+] Enlarge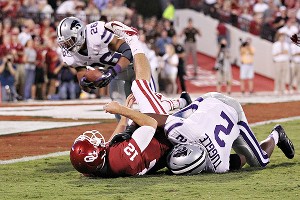 Matthew Emmons/US PresswireKansas State has already proven it can win in hostile environments. The Wildcats have wins in Norman and Morgantown to their credit.
No. 3 Kansas State, led by 73-year-old general Bill Snyder, has already defeated two nationally ranked opponents on the road, taking down then-No. 6 Oklahoma 24-19 on Sept. 22 and then-No. 13 West Virginia 55-14 on Saturday. The Sooners had won 42 of their previous 43 games at Oklahoma Memorial Stadium before losing to the Wildcats. Kansas State faces two more road contests: at TCU on Nov. 10 and at Baylor on Nov. 17.
Alabama has been nearly as impressive on the road, winning four games away from home by an average margin of 35.5 points. The Crimson Tide clobbered then-No. 8 Michigan 41-14 at Cowboys Stadium in Arlington, Texas, in their Sept. 1 opener and won 52-0 at Arkansas on Sept. 15. The Tide play four of their last five games at home, but will have to win at LSU if they're going to have a chance to win consecutive BCS national championships.
No. 2 Florida, which came from behind to win at Texas A&M and Tennessee in September, plays No. 10 Georgia in Jacksonville, Fla., on Saturday and closes the regular season at No. 12 Florida State on Nov. 24.
No. 4 Oregon and No. 5 Notre Dame really haven't been tested on the road yet. The Fighting Irish defeated Navy 50-10 in Dublin, Ireland, in their opener and beat Miami 41-3 at Soldier Field in Chicago on Oct. 6. But Notre Dame has played only one true road game -- a 20-3 win at then-No. 10 Michigan State on Sept. 15. The Irish will have to win at No. 8 Oklahoma on Saturday and at USC on Nov. 24 to stay in the BCS title hunt.
The Ducks have won two road games (at Washington State and Arizona State) and still play at USC on Nov. 3 and at No. 8 Oregon State in the Civil War on Nov. 24.
Edge: Kansas State
National security
Who would you want answering the call when the emergency red phone rings in the middle of the night? Which coach and players do you trust the most to defend your school?
Under Nick Saban, Alabama has played defense better than anyone else over the past four seasons. The Crimson Tide currently rank No. 1 among FBS teams in total defense (195.6 yards), run defense (58.7 yards), scoring defense (8.3 points) and pass-efficiency defense (83.1 rating). Alabama has allowed more than 14 points in a game only once during the past two seasons -- a 45-21 victory over FCS foe Georgia Southern on Nov. 19, 2011.
[+] Enlarge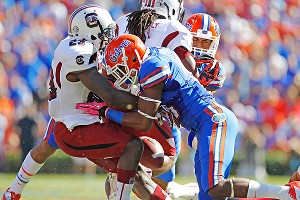 Gerry Melendez/Getty ImagesFlorida's defensive dominance and its penchant for creating turnovers have been a boon for the Gators' offense.
Florida coach Will Muschamp, a Saban protégé and former defensive coordinator at LSU, Auburn and Texas, has built a defense as intimidating and physically imposing as Alabama's. The Gators rank third in the country in pass-efficiency defense (90.6 rating), fourth in scoring defense (12.1 points) and seventh in total defense (282 yards). They were mean and menacing while pounding LSU and South Carolina at home.
Like Florida, Notre Dame's resurgence is a product of its defense more than anything else. The Fighting Irish rank No. 2 nationally in scoring defense (9.4 points) and No. 6 in total defense (280.7 yards). The Irish held Michigan State, Michigan and Miami without a touchdown in three consecutive games and haven't surrendered more than 17 points in a game.
Kansas State is stingy against the run, allowing only 99.2 yards per game, but is vulnerable against the pass, surrendering 226.6 yards per game. The Wildcats shut down two high-powered offenses in victories over Oklahoma and West Virginia.
Edge: Alabama
Vice president
Alabama, Florida and Notre Dame are built on defense. Oregon is known for its high-octane offense. But every viable candidate needs a capable running mate to rely upon when the going gets tough.
Which contender is most equipped on the other side of the ball?
[+] Enlarge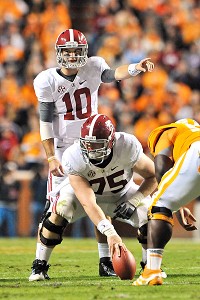 Jim Brown/US PresswireAlabama has become one of the more balanced offenses in the nation under QB AJ McCarron's stewardship.
Oregon ranks only 46th nationally in total defense (366.7) and 28th in scoring defense (20.1 points), but it might be the best defense Ducks coach Chip Kelly has put on the field. Most of Oregon's opponents have done their damage in the second half, after Kelly has already called off the dogs in routs. Only one Oregon opponent (Washington State) scored more than 10 points against the Ducks in the first half.
Meanwhile, Alabama is as balanced as any offense in the country, averaging 219 yards rushing and 220 passing. The Tide average 41 points per game and have scored 33 or more in every game this season. Quarterback AJ McCarron leads the country in passing efficiency with a 183.6 rating and hasn't thrown an interception in 154 attempts. Tailbacks Eddie Lacy and T.J. Yeldon have both run for more than 500 yards behind the country's best offensive line.
Compared to the other contenders, Florida's offense looks like a full-blown depression at times. The Gators rank 114th in passing (137.7 yards) and 100th in total offense (350.4). In the first half of Saturday's 44-11 win over South Carolina, they had more than twice as many penalty yards (64) as yards of offense (29). But Florida has used its defense and special teams to create short fields for its evolving offense.
The Gators scored more than 30 points in four of their past five SEC games as a result of turnovers. The Gators don't believe in distributing wealth, either. They've committed only four turnovers, tied with Indiana, Kansas State and Mississippi State for second fewest in the country.
Notre Dame hasn't been much better on offense than Florida, scoring more than 20 points in only two of its seven games. The Irish run the ball pretty well, but have struggled throwing it with first-year quarterback Everett Golson under center. Notre Dame ranks 98th in passing (194 yards) and 74th in total offense (387.8 yards).
Edge: Alabama
Third-party candidate
Is a dark horse outside of the top five of the BCS standings capable of playing for a national championship?
One-loss teams, or unproven unbeatens, are college football's third-party candidates. They operate on the fringe of the mainstream, but have been known to seriously change the dynamics of an election (or a season).
No. 11 Mississippi State is 7-0 and has won nine consecutive games dating to last season after Saturday night's 45-3 rout of Middle Tennessee. But the Bulldogs' résumé is paper-thin to this point. They've defeated only two FBS teams with winning records (the Blue Raiders and Troy are both 4-3) and their six FBS opponents have a combined record of 15-28. We'll find out over the next three weeks if MSU is a legitimate threat -- it plays at Alabama on Saturday night, hosts Texas A&M on Nov. 3 and plays at LSU on Nov. 10.
[+] Enlarge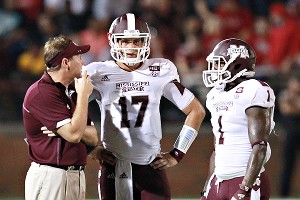 Marvin Gentry/US PresswireMississippi State is an unknown commodity at this point. We'll learn more about the Bulldogs when they play Alabama on Saturday.
LSU, which lost at Florida 14-6 on Oct. 6, might be in the best position among the one-loss teams. The Tigers can jump back into the SEC West driver's seat by winning home games against Alabama and Mississippi State during a two-week span. If the Tigers win the SEC West (and that's a big if given the current state of their offense), they would play Florida or Georgia in the Dec. 1 SEC championship game at Atlanta's Georgia Dome.
No. 8 Oklahoma has won three games in a row since falling to Kansas State and seems to be playing its best football of the season heading into Saturday's game against Notre Dame. The Sooners also play at West Virginia and TCU.
No. 15 Rutgers and No. 16 Louisville are both unbeaten after seven games and are on a collision course for their Nov. 29 game in Piscataway, N.J., which might decide the Big East title. Still, they seem like write-in candidates at best, unless several unbeatens fall between now and season's end.
Edge: Oklahoma
Swing state
In national politics, Florida has traditionally been a swing state that might tip an election in a candidate's favor. While the Gators are unexpectedly right in the thick of the BCS race -- and Florida State might be in a position to knock them out at season's end -- Oregon might very well be college football's swing state this season.
The Ducks look like the class of the Pac-12 with their high-powered offense and improving defense. But upstart Oregon State keeps finding ways to win, even without starting quarterback Sean Mannion, who missed the past two games with a knee injury. The Beavers are off to a 6-0 start for the first time since 1907 after defeating Utah 21-7 on Saturday night. They play at No. 17 Stanford on Nov. 10 and then host Oregon in the Civil War on Nov. 24.
Edge: Oregon
Stimulus
[+] Enlarge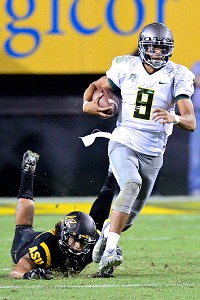 Matt Kartozian/US PresswireFreshman QB Marcus Mariota hasn't had much trouble acclimating himself to Oregon's high-octane attack.
If you like offense and points, Oregon is your candidate. The Ducks are averaging 51 points, second best in the country, and have run 581 plays from scrimmage, which is more than 100 more than any of the other top-five teams. Oregon has three players averaging more than 50 rushing yards per game: quarterback Marcus Mariota and tailbacks Kenjon Barner and De'Anthony Thomas. Mariota is completing 68.3 percent of his passes for 1,347 yards with 16 touchdowns and five interceptions in his first season as a starter.
Kansas State might have the country's most exciting player in senior quarterback Collin Klein, who might have jumped to the front of the Heisman Trophy race with a seven-touchdown performance in Saturday's win at West Virginia. Klein is completing more than 70 percent of his passes and ran for 551 yards with 14 touchdowns in the first seven games. The Wildcats are as fundamentally sound as any team in the country, ranking in the top 10 in scoring, punt returns, kickoff returns, turnover margin, pass efficiency and sacks allowed.
Edge: Oregon
Those are the issues that will decide college football's national championship. Pollsters (and computer ratings) will cast the deciding votes on Dec. 2.
On the Mark
It's been an ugly season for the Big Ten. The league doesn't have a contender in the BCS title hunt and each of its bowl-eligible teams has at least two losses.
But try telling Ohio State and Penn State they don't have anything to play for this season. The Buckeyes and Nittany Lions are ineligible for a Big Ten title and bowl games due to NCAA sanctions, but they're putting together two pretty remarkable seasons.
OSU is 8-0 under first-year coach Urban Meyer after rallying for an improbable 29-22 overtime victory over Purdue on Saturday. Backup quarterback Kenny Guiton, who was thrust into the game when starter Braxton Miller left injured, threw a 2-yard touchdown pass to Chris Fields with three seconds left in regulation and then threw a tying two-point conversion to Jeff Heuerman to force overtime. OSU won the game on Carlos Hyde's 1-yard run in overtime.
"He was ready to get a one-way bus ticket back to Texas when I first got here," Meyer said of Guiton, a little-used junior from Houston. "Then he changed really dramatically."
Penn State, which was hit with some of the worst sanctions in NCAA history in the fallout of the Jerry Sandusky scandal, has won five games in a row after losing its first two under new coach Bill O'Brien. The Nittany Lions won 38-14 at Iowa on Saturday, gaining 504 yards of offense in an up-tempo attack that O'Brien has dubbed "NASCAR offense."
"We have a resilient bunch of kids," O'Brien said. "They love to play for each other, and I think they enjoy playing for this coaching staff."
Off the Mark
The hits keep coming for Auburn, which fell to 1-6 (0-5 SEC) after Saturday's 17-13 loss at Vanderbilt. It's the Tigers' worst start since 1952 and they still play Texas A&M, Georgia and Alabama. On Sunday, the school announced tight end Philip Lutzenkirchen and offensive tackle Avery Young will undergo season-ending surgeries.
Auburn coach Gene Chizik, who guided the Tigers to a BCS national championship two years ago, is feeling the heat from his team's dreadful performance.
"I don't think of things on a personal level," said Chizik, who would be owed $7.5 million if he's fired this year. "I think about everybody around me. I think about the Auburn fans. I think about our players and coaches. I'm the head coach at Auburn. It's really not about me. It's about everybody else, and everybody else's expectations. I don't take that lightly. I feel a very, very high sense of responsibility."
Idaho coach Robb Akey, who had a 20-50 record in five-plus seasons, was the first FBS coach to be fired this season on Sunday. The Vandals are 1-7 after losing to Louisiana Tech 70-28 on Saturday.
On the Mark
Hats off to Duke, which became bowl eligible for the first time since 1994 with a 33-30 win over North Carolina on Saturday. The Blue Devils drove 87 yards in the final 3:12 to score the winning touchdown, which came on Sean Renfree's 5-yard pass to Jamison Crowder on fourth-and-2 with 13 seconds left. Duke won after UNC scored two touchdowns in the final 6½ minutes to take a 30-26 lead.
[+] Enlarge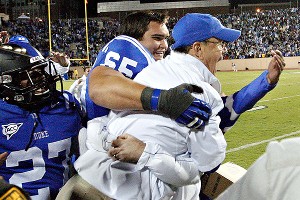 Mark Dolejs/US PresswureDuke's comeback win against North Carolina made the Blue Devils bowl-eligible for the first time since 1994.
Not only did Duke improve to 6-2, but it also climbed to first place in the ACC Coastal standings with a 3-1 record in conference play. It plays at FSU on Saturday and hosts Clemson on Nov. 3.
Meanwhile, Louisiana-Monroe, which has never been to a bowl game, is within one victory of becoming bowl eligible after a 43-42 overtime victory at Western Kentucky on Saturday. The Warhawks, who upset then-No. 8 Arkansas in their opener and nearly beat Auburn and Baylor, trailed 28-7 in the second quarter and 35-28 in the final minute. But ULM quarterback Kolton Browning threw a 12-yard touchdown pass to Rashon Ceasar to tie the score at 35 with 31 seconds left in regulation, and then won the game on Browning's 3-yard scoring run and two-point pass to Ceasar in overtime.
The Warhawks can become bowl eligible with a victory over South Alabama next week. The Jaguars beat Florida Atlantic 37-34 in double-overtime on Saturday, their first win over an FBS opponent. The Jaguars blocked three field goal attempts in the game, including one with 12 seconds left in regulation and one in overtime.
Off the Mark
Don't be surprised if UMass coach Charley Molnar suspends his players from using Twitter sometime this week. Minutemen cornerback D'Metrius Williams was tweeting at halftime of his team's 24-0 loss to Bowling Green on Saturday.
After retweeting a reporter's complimentary comments about him, Williams tweeted this nugget before heading back out to the field: "IM OUT HERE BALLIN' .. 2nd half bouta get started time too qet mo' money."
After the game, Williams, a freshman, apologized on Twitter for tweeting at halftime. Molnar called Williams' actions "immature on his part, obviously."
On the Mark
Mount Union University of Alliance, Ohio, the No. 1-ranked team in Division III, is having a record-setting season. The Purple Raiders set an NCAA Division III record by recording their sixth shutout in a 51-0 victory over Otterbein (Ohio) University on Saturday. The Raiders have allowed one touchdown and 832 yards of offense (323 less than what West Virginia allowed the past two weeks) in seven games this season.
Mount Union has won 70 consecutive regular-season games, and coach Larry Kehres won his 324th game (he's lost only 24 and tied three), moving him past legendary Alabama coach Paul "Bear" Bryant for fourth place on the all-time victories list.
Herbstreit on BCS standings
On the Mark Mailbag
Buying what On The Mark is selling? Drop any questions, comments, compliments or complaints in the mailbag. Or sound off @Mark_Schlabach.
On The Mark: Precision Passers

1. Matt Barkley, USC
Barkley set two Pac-12 records in USC's 50-6 rout of Colorado. He completed 19 of 20 attempts (95 percent) for 298 yards, six touchdowns and no interceptions. Barkley (102) passed Matt Leinart (99) for most career touchdown passes in the Pac-12. He also set the conference record for completion percentage in a game with a minimum of 15 completions.
2. Collin Klein, Kansas State
Klein was the clear winner in a Heisman showdown with Geno Smith. He completed 19 of 21 passes and had career highs in passing yards (323), passing touchdowns (3) and total touchdowns (7) during Kansas State's 55-14 blowout of West Virginia. He is the second player this season with at least three rushing and passing touchdowns in a game (Texas A&M's Johnny Manziel is the first).
3. Seth Doege, Texas Tech
Doege completed 30 of 42 passes for 318 yards and seven touchdowns in Texas Tech's 56-53 win over TCU. He is the first FBS player to have at least three games in a season with six or more touchdown passes since former Red Raider B.J. Symons had three in 2003. Doege is also the first FBS player this season and the third in the past nine to have back-to-back games with at least six touchdown passes.
4. Aaron Murray, Georgia
Murray set the Georgia record for career touchdown passes (75) during the Bulldogs' 29-24 win at Kentucky. He completed 30 of 38 passes for a career-high 427 yards and four touchdowns. His 427 passing yards is the sixth most in school history and the most since Eric Zeier had 441 against Vanderbilt in 1994.
5. Taylor Martinez, Nebraska
Martinez threw two touchdown passes in the final six minutes to erase a 12-point fourth-quarter deficit in Nebraska's 29-28 win at Northwestern. He attempted a career-high 39 passes in the game, completing 27 for 342 yards and three touchdowns. The Cornhuskers are 3-0 when Martinez passes for at least 300 yards.
--
ESPN Stats & Info
On The Mark: Ground-Gaining RBs

1. Kasey Carrier, New Mexico
Carrier had a FBS season-high 338 rushing yards in New Mexico's 28-23 loss to Air Force. It was the most rushing yards ever in a Mountain West game and the most by an FBS player in a loss during the past 12 seasons. Teams had won their past 28 games when having a player rush for more than 300 yards.
2. Kenneth Dixon, Louisiana Tech
Dixon had six touchdowns in Louisiana Tech's 70-28 win over Idaho. In the game, the freshman had 17 carries for a career-high 232 yards. Dixon joins Nevada's Stefphon Jefferson as the only two FBS players with six rushing touchdowns in a game this season.
3. James White, Wisconsin
White had 15 carries for 175 yards and three touchdowns in Wisconsin's 38-13 win over Minnesota. It was his second straight 100-yard game and the seventh of his career. The Badgers have 804 rushing yards in their past two games, and are 15-0 since 2004 when rushing for at least 300 yards.
4. Stepfan Taylor, Stanford
Taylor had 28 carries for a career-high 189 yards and one touchdown in Stanford's 21-3 win over California. He passed Toby Gerhart for second on the school's all-time rushing list in the third quarter. Taylor currently has 3,616 career rushing yards, 417 yards behind Darrin Nelson for the Cardinal record.
5. Ka'Deem Carey, Arizona
Carey ran 29 times for a career-high 172 yards and a touchdown in Arizona's 52-17 win over Washington. It was his third straight 100-yard rushing game and fifth of the season. No Pac-12 player has more 100-yard rushing games than Carey.
--
ESPN Stats & Info
On The Mark: Big-Play WRs

1. Tyler Lockett, Kansas State
Lockett outgained all of West Virginia's receivers combined in Kansas State's 55-14 win over the Mountaineers. He finished the game with career highs in receptions (nine), receiving yards (194) and receiving touchdowns (two).
2. Tavarres King, Georgia
King had a career-high nine receptions for 188 yards and two touchdowns in Georgia's 29-24 win over Kentucky. It was his second 100-yard receiving game this season and the fifth of his career.
3. Amari Cooper, Alabama
Cooper had seven receptions for a career-high 162 yards and two touchdowns in Alabama's 44-13 win at Tennessee. It was his first career 100-yard receiving game and the most receiving yards by a freshman in school history.
4. Robert Woods, USC
Woods recorded his first 100-yard receiving game of the season. He finished with eight receptions for 132 yards and a school-record four touchdowns in USC's 50-6 rout of Colorado. Woods has 220 receptions for his career, the most in USC history.
5. Alec Lemon, Syracuse
Lemon had eight receptions for 166 yards and a touchdown in Syracuse's 40-10 win over Connecticut. It was his sixth career 100-yard receiving game and his third against Connecticut (2009, 2011, 2012).
--
ESPN Stats & Info
RecruitingNation: Weekend rewind
Michigan didn't just see success on the field against Michigan State this past Saturday, the Wolverines also scored on the recruiting trail with 2014 offensive lineman Denzel Ward (Chicago/Hales Franciscan).
The 6-foot-9, 295-pound prospect committed to the Wolverines before the game and said the offer from Michigan was a dream come true. Ward is the second commitment for Michigan in the 2014 class, joining linebacker Michael Ferns (St. Clairsville, Ohio/St. Clairsville). Those are two big prospects to have secured early on for the Wolverines.
Ward was joined on the visit to Michigan by fellow Illinois native Logan Tuley-Tillman (Peoria, Ill./Manual), a 2013 offensive commit whom Wolverines fans can credit for helping make Ward feel as though he was at home in Ann Arbor.
The visitor list outside of the commitments was lengthy, mostly filled with 2014 prospects who got to see an exciting last-second victory for the home team. A win like that can go a long way in the eyes of a recruit, especially an in-state prospect who hasn't seen Michigan beat Michigan State in four years.
The Wolverines' victory will likely last longer than just this week on the recruiting trail for Michigan.
-- Tom VanHaaren, WolverineNation

For more Week 8 recruiting news, click here

.
RecruitingNation: What we learned
The Gators weren't a good team at forcing turnovers last season, but they are in 2012. UF has already forced 15 this season -- one more than they had in all of 2011.
-- Michael DiRocco, GatorNation
Florida State appears to have learned its lesson following a loss to NC State two weeks ago. Jimbo Fisher won his third straight against Miami despite an early 10-point deficit and a bevy of injuries, penalties and fumbles.
-- David Hale, NoleNation
Georgia still has not solved its defensive continuity issues, given that Kentucky posted SEC season highs for points (24), first downs (21), rushing yards (206) and total offense (329) on Saturday.
-- David Ching, DawgNation
With LSU having used 15 true freshmen, and with some of them, most notably running back Jeremy Hill, just hitting their stride, the Tigers should get better as the season goes along and young players improve.
-- Gary Laney, GeauxTigerNation
Michigan won its 900th game as a program, became the Big Ten favorite and ended a four-game losing streak to Michigan State with an odd combination: a kicker who once struggled mightily making a game winner, a defense that might be the best in the Big Ten and an offense that struggled against the Spartans for the third straight season.
-- Michael Rothstein, WolverineNation
The Buckeyes can still produce some magic even without Braxton Miller on the field. Kenny Guiton validated the faith the coaching staff has in the backup quarterback by leading an improbable comeback in the closing seconds to keep an unbeaten season alive in a 29-22 overtime thriller against Purdue.
-- Austin Ward, BuckeyeNation
After a third straight dominating win, the Sooners are playing their best ball of the season and surging into next weekend's showdown with Notre Dame.
-- Jake Trotter, SoonerNation
Penn State's offense looks better than it has in years. Matt McGloin is arguably the Big Ten's top pocket passer, and tailback Bill Belton seems fully recovered from a Week 1 ankle sprain.
-- Josh Moyer, NittanyNation
The Longhorns continued to prove they have issues on defense, giving up 600-plus yards for the second straight week. The only difference was this week the offense rolled up 56 points.
-- Carter Strickland, HornsNation
Texas A&M has the talent to compete with the SEC's elite, but the young Aggies must mature and make fewer mistakes to take down the LSUs of the world.
-- Sam Khan Jr., GigEmNation
Records are meant to be celebrated: Matt Barkley established new Pac-12 records for career touchdown passes (102) and single-game completion percentage (95 percent), while Robert Woods broke the USC career record for receptions (220) and set the single-game school record for touchdown catches (four).
-- Garry Paskwietz, WeAreSC
After being routed 52-17 on the road by Arizona, Washington has now been blown out in each of its three contests away from home. The Huskies have been outscored 145-41 in those three losses.
-- Mason Kelley, HuskyNation