Four teams headed toward a BCS cliff
By Mark Schlabach
ESPN.com
No. 1 Alabama had to drive down the field in less than two minutes to save itself in a dramatic 21-17 victory Saturday night at LSU.
[+] Enlarge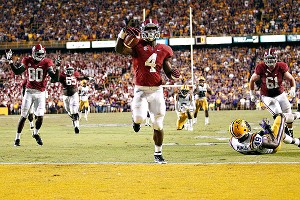 Crystal LoGiudice/US PresswireA stunned silence swept across Death Valley Saturday night as T.J. Yeldon's 28-yard touchdown sent Alabama past LSU.
No. 2 Kansas State had to survive the final 25 minutes of Saturday night's 44-30 victory over Oklahoma State without quarterback Collin Klein, the Heisman Trophy front-runner, who was sidelined with an apparent head injury.
No. 3 Oregon racked up 730 yards of offense and nine touchdowns -- and needed almost all of them -- in a 62-51 victory at USC.
And No. 4 Notre Dame got the biggest scare of all, needing three overtimes to win 29-26 over Pittsburgh, which had opened the season by losing to FCS foe Youngstown State.
The top four teams in the BCS standings were tested in different ways Saturday, but each somehow survived to remain in the race to play in the Jan. 7 Discover BCS National Championship Game in Miami.
"I think every championship team has to win a game like this," Alabama center Barrett Jones said, shortly after the Crimson Tide stunned LSU on freshman running back T.J. Yeldon's 28-yard touchdown on a screen pass with 51 seconds to play.
Of course, LSU and Pittsburgh could have brought some clarity to the BCS championship race by winning. With only three weeks to go in the regular season, the top four teams in the BCS standings are still unbeaten, and potential obstacles are getting fewer with each passing Saturday.
Two years before a four-team playoff is introduced to the sport, college football seems headed toward a BCS disaster. What if each of the top four teams have unblemished records at season's end? Can you leave out defending BCS national champion Alabama, which looked like the country's most dominant team until Saturday night? What about Oregon, which scores points as often as it changes its wardrobe?
Kansas State might not be the sexiest team in America, but the Wildcats keep winning convincingly and might have the country's best player. And could the BCS really leave out Notre Dame, the home of the Four Horsemen, Touchdown Jesus and the Gipper? Knute Rockne would roll over in his grave.
Don't panic yet.
History suggests BCS Armageddon is coming on a Saturday very soon. It nearly came this past weekend, when the Panthers came within a missed overtime field goal of stunning the Fighting Irish and LSU within a defensive stop of ending Alabama's dreams of winning back-to-back BCS titles.
Whether you love or hate the system (and most college football fans seem to despise it), the BCS and its predecessors largely have done their jobs, pitting the top two teams in the country in a national championship game. In nine of the previous 10 seasons, there were at least four undefeated teams entering the first Saturday of November. In the end, every undefeated team from BCS leagues played for a national championship in every season but two (Auburn was left out in 2004 and Cincinnati in 2009).
Thanks to luck and some of the sport's most memorable upsets, the BCS system always seems to work out in the end:
• In 2002, seven of the top 10 teams in the country had unbeaten records going into the first weekend of November. Like clockwork, four of those teams proceeded to lose that Saturday, including No. 3 Virginia Tech, which fell 28-21 at Pittsburgh. No. 4 Notre Dame lost 14-7 at Boston College; No. 5 Georgia fell 20-13 to Florida; and No. 10 NC State lost 24-17 to Georgia Tech.
No. 2 Oklahoma fell to Texas A&M 30-26 the next week, leaving undefeated Miami and Ohio State to play for the national championship. The Buckeyes stunned the Hurricanes 31-24 in two overtimes in the Fiesta Bowl to win the national title.
[+] Enlarge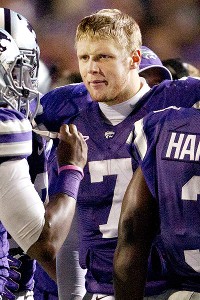 AP Photo/Orlin WagnerCollin Klein could only watch from the sidelines as Kansas State put the finishing touches on its 44-30 win over Oklahoma State.
• In 2005, four of the top seven teams in the country entered November with unblemished records. No. 3 Virginia Tech and No. 7 UCLA fell on Nov. 5, and No. 4 Alabama lost 16-13 in overtime at LSU the next week. USC and Texas were the only unbeaten teams at season's end, and the Longhorns beat the Trojans 41-38 in their epic contest at the Rose Bowl to win a national championship.
• Just last season, the top five teams in the BCS standings went into November with perfect records. But Stanford and Boise State each lost on Nov. 12, with the Broncos losing 36-35 to TCU after freshman kicker Dan Goodale missed a 39-yard field goal as time expired. No. 3 Oklahoma State fell 37-31 in two overtimes at Iowa State six days later, leaving No. 1 LSU and No. 2 Alabama to play a sequel in the Allstate BCS National Championship Game in New Orleans. After losing 9-6 in overtime to the Tigers during the regular season, the Crimson Tide won the rematch 21-0 to claim the school's 14th national title.
When might BCS Armageddon occur this season? We might have to wait until the final two weeks of the regular season. Notre Dame plays USC at the Coliseum in Los Angeles on Nov. 24, the same day Oregon plays at rival Oregon State in the Civil War.
The next week, Alabama faces the SEC East champion (No. 5 Georgia, if it wins at Auburn Saturday) in the Dec. 1 SEC championship game at the Georgia Dome in Atlanta, and Kansas State plays Texas at home in its regular-season finale on the same day.
After this past Saturday, players and coaches from each of the top four teams know they're vulnerable on any weekend. It's that time of year.
"When you play a team, any team, they are going to come in here and give us their best shot," Notre Dame tackle Zack Martin said. "Everyone wants to come play at Notre Dame, especially with us being undefeated, [and] people want our number. We have to do a better job to prepare and not take teams lightly. I don't think we take teams lightly, just know that they're going to give us their best shot."
On the Mark
[+] Enlarge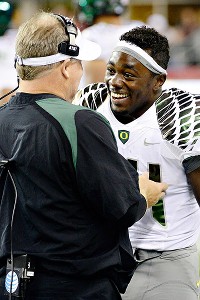 Cal Sport MediaOregon needed every bit of Kenjon Barner's 321 rushing yards and five touchdowns against USC on Saturday.
Klein might have another serious challenger for the Heisman Trophy. Oregon senior running back Kenjon Barner set a school single-game record by running for 321 yards and five touchdowns in the Ducks' big win at USC. His rushing total was the most given up by USC's defense to a single player and the most since Penn State's Curtis Enis ran for 241 in 1996.
What's most impressive about Barner is that until Saturday, he had done nearly all of his work in the first half of games. He ranks No. 2 nationally in rushing with 143.9 yards per game (averaging 7.2 yards per carry), yet had carried the ball only 51 times in the second half of the first eight games before playing the Trojans. He didn't carry the ball at all in the second half of the Ducks' routs of Arkansas State and Colorado.
"He's a warrior," Oregon coach Chip Kelly said. "He's had an unbelievable impact on this team. Offensively, there's not many seniors on this team. We're young on the offensive line, at receiver, have a freshman quarterback. He's the one leader of that group and he's really embraced that role and our guys follow him. Not only does he talk about it, but he lives it. It's the same way in practice."
Off the Mark
Pitt fans (and Notre Dame haters everywhere) are probably still talking about a controversial pass interference penalty against the Panthers, which set up the Irish's first touchdown of the fourth quarter. On fourth-and-4 at the Pitt 23, Notre Dame quarterback Everett Golson threw incomplete, but Pitt's K'Waun Williams was penalized for pass interference on what looked like a blown call. On the next play, Golson threw an 11-yard touchdown to T.J. Jones to cut Pitt's lead to 20-12.
Notre Dame caught another break from officials in the second overtime. On the play in which Pitt's Kevin Harper missed a 33-yard field goal that would have won the game, the Irish had Bennett Jackson and Chris Brown -- both of whom wear a No. 2 jersey -- on the field together. Rules allow players to wear duplicate jersey numbers, but they can't be on the field at the same time. If officials had noticed, the Irish would have been penalized five yards, giving the Panthers a first down at the Notre Dame 11.
"No exception to [the rule]," Notre Dame coach Brian Kelly said Sunday. "It was a coaching mistake. We've got to do a better job, [it's] an oversight that can't happen."
Call it the luck of the Irish.
On the Mark
Forget the Boise State bus. I'm driving the Hoosier Hatchback. In a season in which two of the Big Ten's best teams (Ohio State and Penn State) are ineligible for the postseason because of NCAA sanctions, and in which nine of its 12 teams already have three losses or more, it would seem only fitting that Indiana represented the conference in the Rose Bowl Game presented by Vizio.
[+] Enlarge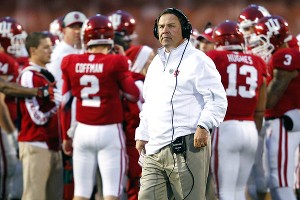 Michael Hickey/Getty ImagesBelieve it or not, if Indiana beats Wisconsin on Saturday, the Hoosiers are in the driver's seat in the Big Ten Leaders division.
Don't laugh. The Hoosiers might have a 4-5 record, but they control their destiny in the Leaders Division after defeating Iowa 24-21 at home Saturday. Indiana goes for its first three-game winning streak in Big Ten play since 1993 when it hosts Wisconsin this weekend. If the Hoosiers beat the Badgers, they'll be in the driver's seat in the Leaders Division because the Buckeyes and Nittany Lions can't play in the Big Ten championship game or a bowl game. The other two teams in the division, Illinois and Purdue, are a combined 0-10 in league play.
"We have talked about controlling our own destiny and we're trying to make sure they realize that you control it every day for your whole life," Indiana coach Kevin Wilson said. "Our business right now is that we're a 4-5 football team, we're 2-3 in the Big Ten, and that's not very good. We're going to keep working hard to get better, and it's not coach-speak."
The Hoosiers still have to win two of their last three regular-season games -- they also play at Penn State and at Purdue -- to become eligible for a bowl game.
Off the Mark
It was sad to see Kentucky fire coach Joker Phillips on Sunday, one day after the Wildcats fell to 1-9, 0-7 in the SEC with a 40-0 loss to Vanderbilt. Athletic director Mitch Barnhart didn't have a choice but to dismiss him, but Phillips is one of the more likable coaches in the country and he was always convinced he could turn Kentucky into a more competitive football team.
Phillips has been associated with Kentucky football for 22 years, both as a player and coach, and had a 12-23 record in three seasons. He will coach the Wildcats in their final two games: against FCS foe Samford on Nov. 17 and at Tennessee the following week. The Wildcats will miss a postseason bowl game for the second year in a row.
"We, as coaches, are measured on results," Phillips said in a statement. "We didn't get the results we had worked and hoped for, therefore change is needed."
Barnhart has ties to the Pac-12, having worked previously as Oregon State's athletic director. He hired former Oregon coach Rich Brooks to turn around the program. Might he be inclined to hire a former Pac-12 coach like Rick Neuheisel? Former Arkansas and Louisville coach Bobby Petrino isn't expected to be considered for the job.
On the Mark
Maryland's forgettable season continued Saturday with a 33-13 loss to Georgia Tech, but it's hard not to commend the effort of the Terps' new quarterback, converted linebacker Shawn Petty. A quarterback in high school, Petty was forced under center after Maryland lost its top four quarterbacks to season-ending injuries. After a rough start, he completed 9 of 18 passes for 115 yards with two touchdowns and one interception.
The Yellow Jackets' quarterbacks only completed two passes, but Tech did run for 401 yards.
"I've never had it happen before," Maryland coach Randy Edsall said, "and I hope I never have it happen again."
On the Mark Mailbag
Buying what On The Mark is selling? Drop any questions, comments, compliments or complaints in the mailbag. Or sound off @Mark_Schlabach.
On The Mark: Precision Passers

1. Tyler Bray, Tennessee
Bray broke Peyton Manning's school record for passing yards in a game during Tennessee's 55-48 win over Troy. He completed 29 of 47 passes for 530 yards and five touchdowns. Bray has 15 passing touchdowns and one interception in the Volunteers' four nonconference games this season (all wins).
2. Johnny Manziel, Texas A&M
Manziel continues to make plays both in the air and on the ground. He completed 30 of 36 passes for 311 yards and also rushed for 129 yards on 21 carries in Texas A&M's 38-13 win at Mississippi State. It was his third game with at least 300 passing yards and 100 rushing yards this season, the most for any FBS player in a season since 2000.
3. Aaron Murray, Georgia
Murray completed 21 of 28 passes for 384 yards and four touchdowns in Georgia's 37-10 win over Ole Miss. It was Murray's 16th career game with at least three passing touchdowns, the most by a SEC player in the past 10 seasons.
4. Teddy Bridgewater, Louisville
Bridgewater threw a career-high five touchdowns in Louisville's 45-17 win over Temple, finishing with 324 passing yards. He had a career-high 416 passing yards in a win over Cincinnati. It is the first time in Bridgewater's career that he has had back-to-back 300-yard passing games.
5. Tajh Boyd, Clemson
Boyd completed 16 of 23 passes for 344 yards and five touchdowns in Clemson's 56-20 win over Duke. It was Boyd's second straight game with five passing touchdowns. Seth Doege is the only other FBS player this season with at least five passing touchdowns in back-to-back games.
--ESPN Stats & Information
On The Mark: Ground-Gaining RBs

1. Kenjon Barner, Oregon
Barner rushed for a school-record 321 yards and had a career-high five rushing touchdowns in Oregon's 62-51 win over USC. He is the third player in the past 10 seasons to rush for at least 300 yards and five touchdowns --- UCLA's Maurice Jones-Drew in 2004 and Tulane's Matt Forte in 2007 were the others.
2. Ray Graham, Pittsburgh
Graham showed the country that it's possible to run on Notre Dame. He had 24 carries for a season-high 172 yards and a touchdown in Pittsburgh's 29-26 triple-overtime loss to the Irish. It was Graham's 10th career 100-yard rushing game and the most rushing yards allowed by the Irish this season.
3. Darrin Reaves, UAB
Reaves scored two touchdowns and had career highs in carries (35) and rushing yards (223) in UAB's 27-19 win over Southern Miss. Reaves has 11 rushing touchdowns this season, tying Joe Webb's single-season school record.
4. Johnathan Franklin, UCLA
Franklin had 24 carries for 162 yards and two rushing touchdowns in UCLA's 66-10 dismantling of Arizona. It was his fourth game this season with at least 150 rushing yards, tied for the most in FBS (with Nevada's Stefphon Jefferson and Toledo's David Fluellen).
5. George Winn, Cincinnati
Winn had career highs in carries (30), rushing yards (165) and rushing touchdowns (three) in Cincinnati's 35-24 win over Syracuse. Winn also threw a 37-yard touchdown pass to Travis Kelce in the second quarter on his first career pass attempt.
--ESPN Stats & Information
On The Mark: Big-Play WRs

1. Cordarrelle Patterson, Tennessee
Patterson had a career day in Tennessee's 55-48 win over Troy. He had career highs in receptions (nine), receiving yards (219) and first downs (eight). It was the fourth-most receiving yards by a Volunteer and the second-most in the SEC this season (Arkansas' Cobi Hamilton had 303 yards versus Rutgers on Sept. 22).
2. Josh Boyce, TCU
Boyce had six receptions for a career-high 180 yards and two touchdowns in TCU's 39-38 double-overtime win over West Virginia. Boyce was on the receiving end of two critical plays. He had a 94-yard touchdown reception with 1:28 remaining in the fourth quarter to tie the game and he caught the game-winning two-point conversion in the second overtime.
3. Eric Monette, Western Michigan
Monette had career highs in receptions (11) and receiving yards (196) in Western Michigan's 42-31 win over rival Central Michigan. It was his second career 100-yard receiving game, the other coming the week before.
4 Justin Hunter, Tennessee
Hunter had nine receptions for a career-high 181 yards and tied a career high with three receiving touchdowns in Tennessee's 55-48 win over Troy. The 400 combined receiving yards by Hunter and Patterson were the most in school history by a receiving duo.
5. Mike Davis, Texas
Davis had four receptions that led to career highs in receiving yards (165) and touchdowns (two) in Texas' 31-22 over Texas Tech. His 75-yard touchdown reception in the second quarter was his longest play from scrimmage in his career.
--
ESPN Stats & Information
RecruitingNation: Weekend rewind
LOS ANGELES -- The decision that had been brewing for weeks became official Sunday night when four-star athlete Max Redfield (Mission Viejo, Calif./Mission Viejo) decommitted from USC.
Redfield broke the news on his Facebook page a day after attending the Trojans' 62-51 loss to Oregon at Memorial Coliseum but, really, had been wavering on his commitment since taking an official visit to Notre Dame on Oct. 12. With the No. 2-rated athlete reopening his recruitment, USC's top-ranked class was dealt its first blow. Redfield is scheduled to visit Washington on Nov. 9 and has been in contact with Oregon and LSU with intent to set up trips. His official visit to USC is scheduled for Jan. 18, and the Trojans, though no longer the front-runners, are still a viable option.
-- Blair Angulo, WeAreSC

For more Week 10 recruiting news, click here

.
RecruitingNation: What we learned
It wasn't easy, but Saturday night proved it: Alabama can play less than its best, get knocked down on the road and still come back to win and keep its title hopes intact.
-- Alex Scarborough, TideNation
The Gators have accepted who they are: A flawed team offensively that has to play great on defense and special teams to win games. And the defense loves having that pressure.
-- Michael DiRocco, GatorNation
In Georgia's 37-10 win against Ole Miss -- when the Bulldogs held the Rebels to 55 yards of total offense and no points in the second half -- we learned that the Bulldogs' defensive revival against Florida wasn't a one-week phenomenon.
-- David Ching, DawgNation
With Zach Mettenberger and the passing game clicking, perhaps this LSU team was ready to win big without the Mad Hatter tricks that backfired and possibly cost the Tigers a win over Alabama.
-- Gary Laney, GeauxTigerNation
When Michigan transitions from its hybrid spread offense to a pro-style one next season, it will have at least one quarterback on the roster capable of running it: Devin Gardner.
-- Michael Rothstein, WolverineNation
The Buckeyes only appear to be getting stronger as the season progresses, with Braxton Miller showing more accuracy as a passer, the defense continuing to make yardage tough to come by and a bye week to get healthier ahead of them after a 52-22 thrashing of Illinois.
-- Austin Ward, BuckeyeNation
The Sooners continue to bounce back nicely after losses, and remain on track for a BCS bowl berth.
-- Jake Trotter, SoonerNation
Penn State's offense isn't done evolving, as Brandon Moseby-Felder is becoming a serious threat in the passing game and Zach Zwinak continues to show he deserves most of the carries.
-- Josh Moyer, NittanyNation
For the first time in 10 games, Texas managed to pull off a win against a ranked team, 33-21 over No. 18 Texas Tech. The Longhorns' streak had extended back to October of 2010 when they beat No. 7 Nebraska on the road.
-- Carter Strickland, HornsNation
After going on the road to defeat a then-top 15 team by double digits and remaining undefeated on the road, the Aggies have shown that they are a definite factor in the SEC West.
-- Sam Khan Jr., GigEmNation
It's hard to win an offensive shootout with the Oregon Ducks. USC tried -- the Trojans put up 615 total yards and 51 points but it wasn't enough as Oregon had 730 total yards and 62 points (both USC opponent records).
-- Garry Paskwietz, WeAreSC
It certainly wasn't pretty, but Washington showed something during a 21-13 victory over Cal, proving the program can win on the road. In a game that featured eight turnovers, the Huskies rode big performances from running back Bishop Sankey and tight end Austin Seferian-Jenkins to escape with the win.
-- Mason Kelley, HuskyNation