Three-legged BCS race to the finish
By Mark Schlabach
ESPN.com
The last time college football staged a national championship game without an SEC participant, former U.S. President George W. Bush was two years into his second term in the White House.
The average price of gasoline was about $2.31 per gallon, and America was still enchanted with a boy wizard named Harry Potter.
No. 2 Texas upset No. 1 USC 41-38 in their epic contest in the 2005 BCS National Championship Game at the Rose Bowl, which was the last time an SEC team didn't bring home a crystal trophy at season's end.
When Longhorns quarterback Vince Young dashed into the end zone with 19 seconds left to end the Trojans' 34-game winning streak, Johnny Manziel was in seventh grade. Kevin Sumlin had just finished his third season as Oklahoma's special teams and tight ends coach and was still more than two years away from becoming a head coach.
[+] Enlarge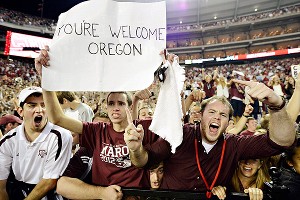 John David Mercer/US PresswireTexas A&M's win over Alabama opened the door for the three remaining undefeated teams in the BCS standings.
On Saturday, Manziel and Sumlin worked together to possibly bring an end to the SEC's dominance, leading No. 15 Texas A&M to a 29-24 upset of No. 1 Alabama at Bryant-Denny Stadium in Tuscaloosa.
The Crimson Tide's loss (and Syracuse's 45-26 upset of previously unbeaten Louisville) leaves three undefeated BCS-eligible teams with three weeks to play in the regular season: No. 1 Kansas State, No. 2 Oregon and No. 3 Notre Dame. Unless two of them lose, the SEC champion is going to be left out of the Jan. 7 title game in Miami.
"Two of the three national championship teams that I coached lost a game," said Crimson Tide coach Nick Saban, who won a BCS title at LSU in 2003 and two more at Alabama in 2009 and 2011. "This team still has an opportunity to win the West and go to the SEC championship game and win a championship. There's still a lot for this team to play for."
Ironically enough, the Aggies might have ended the SEC's hopes of winning its seventh consecutive BCS national championship in their first season in the league. It's almost as if SEC commissioner Mike Slive invited the wolves into his barn with a welcome mat of barbeque and Golden Flake chips (the kind Paul "Bear" Bryant liked).
During the previous six seasons, SEC teams followed almost an identical recipe in winning national titles: defense, more defense, and just enough offense. It worked for Saban at LSU and Alabama. Even though Urban Meyer had Heisman Trophy winner Tim Tebow under center, the Gators won BCS titles in 2006 and 2008 because of their defense more than anything else.
But then Sumlin, the former Houston coach known for his fast-paced, high-octane offenses, hit the SEC establishment in the mouth on Saturday. The Aggies scored three touchdowns in the first quarter against Alabama's vaunted defense, leaving the Crimson Tide huffing and puffing as they tried to keep up with the frenetic pace.
Manziel, a redshirt freshman from Kerrville, Texas, completed 24 of 31 passes for 253 yards with two touchdowns, while running 18 times for 92 yards. According to ESPN Stats and Information, Manziel became only the second freshman quarterback since 1972 to upset a top-ranked opponent on the road (Oklahoma's Charles Thompson won at No. 1 Nebraska in 1987).
"No moment is too big for him," Sumlin said.
Thanks to "Johnny Football," the BCS championship picture became even clearer on Saturday, with three undefeated teams fighting for two spots in Miami:

Record
: 10-0, 7-0 Big 12
Remaining games
: at Baylor, Saturday; vs. No. 15 Texas, Dec. 1
Number of top-10 wins
: 1
Number of top-25 wins
: 4
Most impressive victory
: 24-19 at then-No. 6 Oklahoma, Sept. 22
Least impressive victory
: 27-21 at Iowa State, Oct. 13
Strength: quarterback Collin Klein
The Heisman Trophy front-runner has completed 69.7 percent of his passes for 2,020 yards with 12 touchdowns and three interceptions, while running 154 times for 748 yards with 19 scores. Over the past two seasons, Klein has accounted for 71 touchdowns in 23 games.
Weakness: pass defense
The Wildcats rank only 78th nationally in pass defense, allowing 251.2 yards per game. The statistic is a little bit deceiving, as Kansas State's defense has held up against the best quarterbacks it played, keeping them at or below their season averages. Oklahoma's Landry Jones threw for 298 yards with one touchdown against Kansas State. West Virginia's Geno Smith was limited to 143 yards with one touchdown in a 55-14 loss, and Texas Tech's Seth Doege threw for 331 yards with two touchdowns in a 55-24 loss.
Why it will play for the BCS national championship: Kansas State might have the easiest remaining path among the BCS title contenders. The Wildcats play at defense-less Baylor on Saturday and then get Texas at home after a bye week. The Wildcats have the country's best player (Klein) and the most seasoned coach among the contenders (73-year-old Bill Snyder). As long as the Wildcats keep winning, it's hard to see Notre Dame passing them in the majority of the computer ratings or human polls. The Wildcats don't have to finish No. 1 in the final BCS standings; they only have to be in the top two.
Why it won't play for the BCS national championship: Barring a disaster (such as Klein suffering another concussion), the Wildcats should have their way with the Bears on Saturday. But the Texas game suddenly looks like a potential dogfight in Manhattan, Kan., on the final Saturday of the regular season. After allowing 161 points in three consecutive games against West Virginia, Oklahoma and Baylor, the Longhorns surrendered only 46 points in their past three victories over Kansas, Texas Tech and Iowa State. Texas allowed only 277 yards of offense -- while piling up 609 yards of its own -- in Saturday's 33-7 rout of the Cyclones.

Record
: 10-0, 7-0 Pac-12
Remaining games
: vs. No. 13 Stanford, Saturday; at No. 16 Oregon State, Nov. 24
Number of top-10 wins
: 0
Number of top-25 wins
: 3
Most impressive victory
: 49-0 versus then-No. 22 Arizona, Sept. 22
Least impressive victory
: 62-51 at then-No. 17 USC, Nov. 3
Strength: offensive firepower
The Ducks lead the country in scoring offense (54.8 points) and rank third in rushing (325.1 yards) and total offense (562.6 yards). Tailback Kenjon Barner is fourth nationally in rushing with 136 yards per game, even though he has sat out the second half of many games, and freshman Marcus Mariota leads FBS players with a 176.9 quarterback rating. Sophomore De'Anthony Thomas, who averages 130.1 all-purpose yards, might be Oregon's most explosive player.
Weakness: special teams
Maybe it's because the Ducks don't do it very often, but they rank near the bottom among FBS teams in punting (36.5-yard average) and kickoff returns (17.4 yards). Senior Jackson Rice is averaging 37.9 yards on 36 punts, and senior Rob Beard has made 4 of 8 field goal attempts.
Why it will play for the BCS national championship: If the Ducks can win their last two regular-season games and then the Dec. 1 Pac-12 championship game -- against either USC or UCLA -- they might climb to No. 1 in most of the BCS computer ratings. That would probably move them ahead of Kansas State in the final BCS standings. In terms of the eye test, it's hard to say the Ducks aren't the best-looking undefeated team left in the country.
Why it won't play for the BCS national championship: The Ducks probably play the most difficult remaining schedule among the undefeated teams. Stanford is a big, physical team that will present a challenge to Oregon's offense and defense. But the Ducks looked too fast in winning their previous two games against the Cardinal, scoring more than 50 points in both contests. Oregon has defeated the Beavers in each of the past four Civil War meetings.

Record
: 10-0
Remaining games
: vs. Wake Forest, Saturday; at No. 18 USC, Nov. 24
Number of top-10 wins
: 2
Number of top-25 wins
: 4
Most impressive victory
: 30-13 at then-No. 8 Oklahoma, Oct. 27
Least impressive victory
: 29-26 in three overtimes versus Pitt, Nov. 3
Strength: defense
Coach Brian Kelly has resurrected the Fighting Irish by rebuilding their defense. The Irish are tied with Alabama for No. 1 in scoring defense (11.1 points) and rank in the top 10 in run defense (95.9 yards), total defense (295.2 yards) and sacks (three per game). Notre Dame didn't allow opponents to score an offensive touchdown in five of its 10 games and is tied for fourth nationally in red zone defense, allowing only seven touchdowns in 29 chances. Notre Dame's front seven -- led by linebackers Manti Te'o and Prince Shembo and defensive lineman Stephon Tuitt -- is as good as any in the country.
Weakness: offense
There's nothing flashy about Notre Dame's offense, which always seems to manage just enough to win games. The Irish rank 90th in passing (204.6 yards), 33rd in rushing (198.7 yards), 77th in scoring (26.1 points) and 82nd in pass efficiency (124.8 rating). Sophomore quarterback Everett Golson is completing only 58 percent of his passes, but he's coming off one of his better games, throwing for 200 yards with two touchdowns in Saturday's 21-6 win at Boston College.
Why it will play for the BCS national championship: If the Fighting Irish can beat overmatched Wake Forest and then win at USC on Nov. 24, they can watch while Kansas State and Oregon play on the final Saturday of the season. The Irish shouldn't have any problems with the Demon Deacons at home, but beating the Trojans at the Coliseum will be much more difficult. Notre Dame has lost nine of its past 10 games against USC; its only win was a 20-16 victory in Los Angeles in 2010. The Trojans won 31-17 in South Bend, Ind., last season.
Why it won't play for the BCS national championship: If Oregon and Kansas State don't lose between now and Dec. 2, the Fighting Irish might stay at No. 3 in the final BCS standings. What looked like one of the country's most demanding schedules at the start of the season hasn't been as arduous as many expected. Michigan, Michigan State, Oklahoma and Stanford haven't been as good as advertised. Even beating USC, which already has lost three games, won't carry as much weight. Notre Dame's close wins over inferior competition (Purdue and Pitt) haven't helped it in the human polls, either.
On The Mark
[+] Enlarge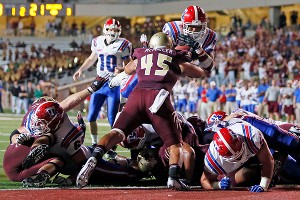 Soobum Im/US PresswireLouisiana Tech running back Kenneth Dixon set the FBS record for most touchdowns by a freshman in the Bulldogs' win over Texas State.
It has been a record-setting season for No. 20 Louisiana Tech, which has quietly put together a 9-1 record. In Saturday's 62-55 win at Texas State, Bulldogs quarterback Colby Cameron broke the NCAA record for consecutive passes without an interception with his current streak of 419; the previous mark of 379 was set by NC State's Russell Wilson in 2008.
"He's done a great job of taking care of the ball," Bulldogs coach Sonny Dykes told reporters. "When you can do that, there's so many people involved -- the protection up front, it's receivers catching the ball, it's running backs catching the ball and a lot of it is Colby being accurate."
Bulldogs running back Kenneth Dixon, from Strong, Ark., also broke the FBS record for touchdowns (24), rushing touchdowns (24) and points scored (150) by a freshman. San Diego State's Marshall Faulk set the previous records with 23 touchdowns, 21 rushing touchdowns and 140 points in 1991. Virginia Tech's Ryan Williams tied Faulk's rushing touchdowns mark in 2009.
Off The Mark
Northwestern has endured plenty of heartbreak in its not-so-glorious football history, but this season might go down as one of its worst in terms of what might have been. First the good news: the Wildcats are 7-3 and headed to a bowl game. Now the bad: They might have gone to the Rose Bowl if they'd closed out three games.
After blowing an 11-point lead in the final 10 minutes in a 39-28 loss at Penn State on Oct. 6, and then a 12-point lead in the final six minutes of a 29-28 loss to Nebraska two weeks later, the Wildcats did it again on Saturday. After taking a 31-28 lead at Michigan with less than four minutes to go, Northwestern intercepted quarterback Devin Gardner's pass and was in position to run out the clock.
But the Wildcats couldn't pick up enough first downs and were forced to punt in the final minute. Michigan took possession at its 38 with 18 seconds to go, and Gardner threw a 53-yard pass to Roy Roundtree, who made an acrobatic catch off a tipped ball. Brendan Gibbons kicked a 26-yard goal to force overtime, and then the Wolverines won the game 38-31 on Gardner's 1-yard touchdown run.
On The Mark
Division II Lock Haven University of Lock Haven, Pa., ended the country's longest losing streak with a 15-7 victory over Cheyney on Saturday. The Bald Eagles had lost 52 consecutive games, the longest slump in Division II history, winning their first game in exactly five years. Of course, Lock Haven fans stormed the field and tore down the goal posts after the season finale.
Lock Haven second-year coach John Allen was previously director of player development at Penn State and was also head coach of NFL Europe's Berlin Thunder.
"I keep saying it over and over and I can't say it enough, but these kids are so resilient," Allen told the Williamsport (Pa.) Sun-Gazette.
Off The Mark
Colorado's historically awful season continued with a 56-31 loss at Arizona on Saturday. The Buffaloes allowed Wildcats sophomore Ka'Deem Carey to run for a Pac-12 record 366 yards with five touchdowns. Carey needed only 25 carries to break the previous record of 357 yards set by Washington State's Rueben Mayes on Oct. 27, 1984.
The Buffaloes, who are allowing 505 yards of offense and 47.2 points per game, rank in the top 90 in only three of the 17 major statistical categories kept by the NCAA. They're 59th in tackles for loss, 78th in sacks and 27th in net punting.
On The Mark
Syracuse was pretty much left for dead after a 17-10 loss at Minnesota on Sept. 22, which put the Orange at 1-3. But after dominating Louisville in a 45-26 victory on Saturday, the Orange (5-5, 4-2 Big East) are only one win away from becoming bowl eligible. They close the regular season with road games at Missouri on Saturday and at Temple on Nov. 23.
Orange tailback Jerome Smith has been the difference, running for more than 100 yards in each of the past four games. He had a season-high 144 yards on 18 carries with one touchdown against Louisville. Quarterback Ryan Nassib threw for 246 yards with three touchdowns, and Alec Lemon caught nine passes for 176 yards with two touchdowns, helping the Orange take a 31-13 lead at the half.
[+] Enlarge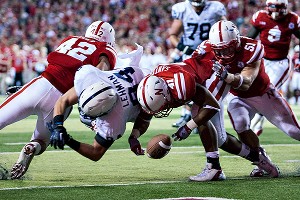 John S. Peterson/Icon SMIA controversial replay ruling that cost Penn State a touchdown against Nebraska left the Nittany Lions fuming after the game.
Off The Mark
As impossible as it might be to believe, at least one Penn State player believes Big Ten officials have conspired against the Nittany Lions, the most recent example being a controversial replay ruling in Saturday's 32-23 loss at Nebraska.
With the Cornhuskers leading 27-23 midway through the fourth quarter, Penn State tight end Matt Lehman tried to stretch the ball over the goal line for a touchdown. Officials ruled he fumbled before crossing the goal line, and replay officials confirmed the decision, even though TV replays showed Lehman scored on the play before fumbling.
Penn State quarterback Matt McGloin told reporters that the Nittany Lions were never going to be on the right end of a close call anytime soon. The implication seemed to be that Penn State is being punished for the Jerry Sandusky scandal and NCAA probation.
And after seeing the replay on Saturday, one has to wonder if he might be right.
"Man, I don't know. We're not gonna get that call here," McGloin said. "We're not gonna get that call ever, actually, against any team. Doesn't matter who the refs are. We'll never get that call. … It's us against the world and we're not gonna get those types of calls in these types of games."
On the Mark Mailbag
Buying what On The Mark is selling? Drop any questions, comments, compliments or complaints in the mailbag. Or sound off @Mark_Schlabach.
On The Mark: Precision Passers

1. Marcus Mariota, Oregon
Mariota tied a school record with six passing touchdowns in Oregon's 59-17 win at California. He finished the game with career highs in completions (27), passing yards (377) and total touchdowns (six). Mariota has 819 total yards and 10 touchdowns in his past two games.
2. Seth Doege, Texas Tech
Doege completed 45 of 59 passes for 476 yards and three touchdowns in Texas Tech's 41-34 overtime win over Kansas. It was his fifth straight game with at least 300 passing yards, the longest active streak in FBS. He leads FBS this season with eight 300-yard games and 34 touchdowns.
3. Brett Smith, Wyoming
Smith completed 20 of 32 passes for a career-high 374 yards and four touchdowns in Wyoming's 28-23 win over New Mexico. It was the sophomore's fifth career game with three or more touchdowns and his fourth career 300-yard game.
4. Colby Cameron, Louisiana Tech
Cameron completed 31 of 45 passes for 337 yards, three touchdowns and no interceptions in Louisiana Tech's 62-55 win over Texas State. He has not thrown an interception in 419 passes, the longest such streak in FBS history. The previous record of 379 was held by NC State's Russell Wilson.
5. Michael Rocco, Virginia
Rocco completed 29 of 37 passes for 300 yards and a career-high four touchdowns in Virginia's 41-40 win over Miami. Rocco threw a 10-yard game-winning touchdown pass with six seconds remaining in the fourth quarter. He has six passing touchdowns and no interceptions in his career against the Hurricanes. Against all other FBS opponents, he has 18 touchdowns and 21 interceptions.
-- ESPN Stats & Information
On The Mark: Ground-Gaining RBs

1. Ka'Deem Carey, Arizona
Carey broke the Pac-12 single-game rushing record with 366 yards in Arizona's 56-31 win over Colorado. The previous record was 357 by Washington State's Rueben Mayes in 1984. Carey also had five rushing touchdowns in the game. He is the fourth player in the past 10 seasons to rush for at least 300 yards and five touchdowns in a game (the others were Maurice Jones-Drew in 2004, Matt Forte in 2007 and Kenjon Barner this season).
2. Robbie Rouse, Fresno State
Rouse had season highs in carries (36) and rushing yards (261) in Fresno State's 52-36 win over Nevada. It was his third straight 100-yard rushing game and the 20th of his career. Temple's Montel Harris (25) and Wisconsin's Montee Ball (22) are the only active FBS players with more 100-yard games than Rouse.
3. Montee Ball, Wisconsin
Ball had 27 carries for 198 yards and three touchdowns in Wisconsin's 62-14 win over Indiana. It was his 12th career game with at least three rushing touchdowns, four more than any other FBS player in the past 10 seasons. Ball now has 77 career touchdowns, passing 1998 Heisman Trophy winner Ricky Williams (75) for second most all time. Travis Prentice of Miami (Ohio) holds the FBS record with 78.
4. Kenneth Dixon, Louisiana Tech
Dixon broke the FBS record for most rushing touchdowns by a freshman in Louisiana Tech's 62-55 win over Texas State. He has 24 rushing touchdowns this season, three more than Virginia Tech's Ryan Williams had in 2009 and San Diego State's Marshall Faulk had in 1991. Dixon finished the game with 144 rushing yards and five total touchdowns (four rushing, one receiving).
5. Tony Pierson, Kansas
Pierson had 16 carries for a career-high 202 yards in Kansas' 41-34 loss to Texas Tech. It was his third career 100-yard rushing game. His 12.6 yards per rush ranks sixth among single-game averages this season for FBS players with at least 15 attempts.
-- ESPN Stats & Information
On The Mark: Big-Play WRs

1. Alec Lemon, Syracuse
The senior was big on Senior Day. Lemon had nine receptions for 176 yards and two touchdowns in Syracuse's 45-26 upset win over Louisville. It was his eighth career game with at least 100 yards receiving and his third career game with multiple receiving touchdowns.
2. Stedman Bailey, West Virginia
Bailey had a career-high 14 receptions for 225 yards and one touchdown in West Virginia's 55-34 loss to Oklahoma State. It was his third game this season with at least 13 receptions, the most of any FBS player.
3. Josh Stewart, Oklahoma State
Stewart tied his career high with 13 receptions and had a career-high 172 receiving yards in Oklahoma State's 55-34 win over West Virginia. Stewart had three total touchdowns in the game, including one on a 46-yard rush. His 218 total yards were a career high.
4 Marqise Lee, USC
Lee had 10 receptions for 161 yards and six rushes for 66 yards in USC's 38-17 win over Arizona State. It was Lee's fifth game this season with at least 10 receptions and 150 receiving yards, two more than any other FBS player.
5. Rashad Greene, Florida State
Greene had a 39-yard game-winning touchdown reception with 40 seconds remaining in the fourth quarter in Florida State's 28-22 win over Virginia Tech. He finished the game with six receptions for a career-high 125 yards and two touchdowns. It was his first career 100-yard receiving game.
-- ESPN Stats & Information
RecruitingNation: What we learned
For the first time all season, Alabama went away from the run, throwing more than in any other game this year. All Texas A&M's players could do was smile at the Tide's change of heart.
-- Alex Scarborough, TideNation
It may not always be pretty, but the Gators somehow keep finding ways to win games. Blocking a punt and returning it for a touchdown with two seconds remaining is as unusual as it gets.
-- Michael DiRocco, GatorNation
In Georgia's 38-0 win against Auburn, we learned just how dominant the Bulldogs can be when they get off to a fast start, as they quickly took control against the plummeting Tigers and removed any potential for drama by scoring touchdowns on each of their first four possessions.
-- David Ching, DawgNation
With LSU's passing game, led by Zach Mettenberger, having turned the corner, the Tigers are a complete, dominant team that might not have a marquee bowl to play in after Johnny Manziel and Texas A&M played their way into the national spotlight, and possibly a sexy bowl matchup.
-- Gary Laney, GeauxTigerNation
While Michigan won in come-from-behind fashion Saturday with a second consecutive good performance from quarterback Devin Gardner, its chances at the Big Ten championship game -- and the Rose Bowl -- took a hit when Nebraska beat Penn State.
-- Michael Rothstein, WolverineNation
The Sooners remain an attractive BCS bowl at-large selection, thanks to an improved defensive secondary that handcuffed Baylor, the top passing offense in the country.
-- Jake Trotter, SoonerNation
Texas' offense appears to have hit its stride. For the first time in a Big 12 conference game since 2005, Texas put up more than 600 yards. The Longhorns had 609 against Iowa State as quarterback David Ash threw for a career-high 364 yards.
-- Carter Strickland, HornsNation
The Aggies are not only good enough to compete with the best in the SEC, they're good enough to beat the best the conference has to offer and could be SEC championship contenders much sooner than many anticipated.
-- Sam Khan Jr., GigEmNation
The Trojans are still alive for the Rose Bowl. USC rode its defense and Curtis McNeal to a 38-17 victory over ASU and now prepares to face UCLA next week with the winner advancing to the Pac-12 title game.
-- Garry Paskwietz, WeAreSC
Washington found its offense during a 34-15 win over Utah. The Huskies scored more than 21 points against an FBS opponent for the first time this season and were led by quarterback Keith Price, who had his best game of the year, completing 24 of 33 passes for 277 yards and two touchdowns, with no turnovers.
-- Mason Kelley, HuskyNation