BCS title race produces strange bedfellows
By Mark Schlabach
ESPN.com
The BCS national championship race can create some pretty unlikely alliances.
For a few hours Saturday night, college football fans everywhere were rooting for Baylor and Stanford to knock off the top two teams in the BCS standings. The Bears blew past No. 1 Kansas State 52-24, and then the Cardinal upset No. 2 Oregon 17-14 in overtime less than an hour later.
It was the first time in five years that the top two teams in the BCS standings fell on the same day, and the stunning results created a seismic shift in the BCS landscape with only two weeks to play in the regular season.
[+] Enlarge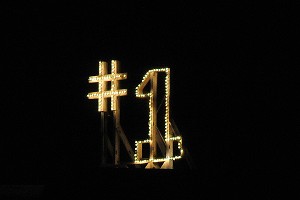 AP Photo/Joe RaymondNotre Dame celebrated its ascension to No. 1 in the BCS standings for the first time ever. If the Fighting Irish beat USC this weekend, they're off to Miami.
Notre Dame, the last undefeated team that is eligible for the postseason, feared it would be left in the No. 3 spot -- and out of the Jan. 7 Discover BCS National Championship Game in Miami -- if Kansas State and Oregon didn't lose. Now the Fighting Irish are ranked No. 1 in the BCS standings for the first time and have only to beat USC in Los Angeles on Saturday to play for a national title.
"Now we don't have to answer the question about style points or politics or anything like that," Notre Dame coach Brian Kelly said Sunday.
"We get a chance to play for the national championship if we win this week."
Oddly enough, in the aftermath of Shakedown Saturday, college football fans and teams everywhere are now left cheering for the programs and coaches they've always loved to root against.
Here's the dilemma many are facing: Cheer for old Notre Dame, which fans have always loved to hate the most, or root for continued SEC dominance.
"It's like being selected for the playoffs," Kelly said of the Irish's ascension to No. 1. "Now you know you're in if you take care of business, and you've got to win each week. I think it's more about just the feeling that you're included now in the race for a championship."
How's this for strange bedfellows? SEC fans, who a week ago feared their league would be left out of the BCS Championship Game for the first time in seven years, will be rooting for USC coach Lane Kiffin to upset the Fighting Irish on Saturday.
Let that sink in: SEC fans will be cheering for Kiffin, the former Tennessee coach, who was perhaps cursed more than any outsider in the South since General William Tecumseh Sherman made his famous "March to the Sea" during the Civil War.
Now Kiffin might be more popular than Paul Finebaum in SEC country.
If Notre Dame falls to the Trojans, there's a chance the BCS Championship Game could be an all-SEC affair for the second season in a row. But it's going to take help from Kiffin -- who seemed to run his mouth more than the Volunteers ran the ball during his one season in Knoxville -- to make it happen.
Even Ohio State coach Urban Meyer, who traded verbal jabs with Kiffin when he coached at Florida, will be cheering for his old nemesis. The Buckeyes are 11-0 in Meyer's first season, yet are ineligible to play for a Big Ten title or in a bowl game because of NCAA sanctions. But if the Buckeyes defeat rival Michigan at home on Saturday, and the Trojans knock off the Irish, Ohio State would be the last undefeated team standing at season's end. Might that be enough for the Buckeyes to earn at least a share of a national championship from Associated Press voters?
[+] Enlarge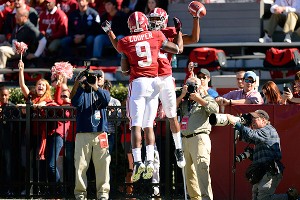 John David Mercer/US PresswireJust like that, Alabama is back in control of its destiny in the BCS championship race.
At least Alabama fans won't have to root for Kiffin. The No. 2 Crimson Tide, who feared their hopes of becoming the sport's first consensus back-to-back national champion since Nebraska in 1994-95 were dashed when they lost to Texas A&M two weeks ago, are suddenly back in the BCS title hunt. Even Harvey Updyke, the infamous Alabama fan who poisoned the beloved trees at Auburn's Toomer's Corner, might have been hugging bark after Stanford upset Oregon on Saturday night.
The Crimson Tide must beat rival Auburn in Saturday's Iron Bowl in Tuscaloosa and then No. 3 Georgia in the Dec. 1 SEC championship game in Atlanta's Georgia Dome to get back to the BCS title game.
The Bulldogs, who looked like BCS roadkill after their ugly 35-7 loss at South Carolina on Oct. 6, are fortunate they were the first BCS contenders to lose this season. Georgia has won five games in a row heading into Saturday's home game against rival Georgia Tech. If the Bulldogs defeat the Yellow Jackets for the 11th time in 12 meetings and then beat the Crimson Tide in Atlanta, they'll play in Miami for their first national championship since 1980.
No. 4 Florida, which lost a heartbreaker to Georgia 17-9 in Jacksonville, Fla., on Oct. 27, can possibly take the back door into the BCS Championship Game if USC beats Notre Dame. The Gators, who nearly lost to Louisiana-Lafayette two weeks ago, would have to beat No. 10 Florida State on the road on Saturday to have a chance.
Bulldogs coach Mark Richt wouldn't even admit whether he watched Kansas State and Oregon lose Saturday night. During a teleconference with reporters Sunday night, Richt steered all of his answers toward Georgia Tech and wouldn't even address the sudden possibilities that exist for his team.
"I was thinking about Tech that night, all night, and what a big game it is," Richt said.
The rest of the South will have its eyes on Los Angeles on Saturday, and it will be cheering for the most unlikely of would-be heroes.
On the Mark
With Kansas State quarterback Collin Klein falling from the top of Heisman Trophy ballots after he threw three picks in the loss at Baylor, it might now be a two-man race between Notre Dame linebacker Manti Te'o and Texas A&M quarterback Johnny Manziel.
[+] Enlarge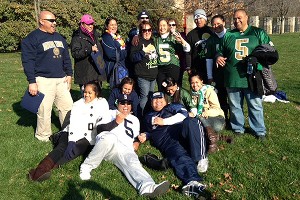 Mark Schlabach/ESPN.comThe Te'o family was out in full force in South Bend on Saturday to watch Manti play his final game at Notre Dame Stadium.
While Johnny Football captured the country's imagination with his upset win at Alabama two weeks ago, it's hard to ignore what Te'o has done at Notre Dame. Defense has carried the Irish for much of the season, and Te'o is their emotional leader.
It's easy to see why Notre Dame fans adore him so much. On Saturday, nearly 50 of Te'o's family members traveled to South Bend, Ind., from Hawaii and Utah to attend his final game at Notre Dame Stadium. Brian Te'o, his father, said the family rented eight cars, two houses and eight hotel rooms to accommodate everyone.
"We have more people here than show up at our family reunion," Brian Te'o said.
The Te'o family stood on campus for a couple of hours, waiting for him to make the walk from Notre Dame's football facility to the stadium for the final time. They posed for pictures and talked with fans, thanking many of them for helping Te'o cope with the loss of his girlfriend and grandmother earlier this season.
"It's what we knew they would do," Brian Te'o said. "We knew it would happen, but we didn't know it would happen to that degree. We're just humbled to be a part of the Notre Dame family."
Off the Mark
With two weeks to go in the regular season, a handful of leagues look like they'll come up short in filling their bowl allotments. If Virginia Tech doesn't beat Virginia in Blacksburg on Saturday, the ACC might have only five bowl-eligible teams after Miami's self-imposed postseason ban. The Hokies haven't missed a bowl game since finishing 2-8-1 in 1992; their current string of 19 bowl games in a row is the third-longest streak in the country behind FSU (30) and Florida (21).
Meanwhile, the Big East might end up with only four bowl-eligible teams, unless Connecticut and Pitt both win their last two games, which isn't likely. And unless Ole Miss defeats Mississippi State in Saturday's Egg Bowl in Oxford, or Missouri upsets Texas A&M on the road, the SEC might end up three teams short of filling its allotment (if two SEC teams play in BCS bowl games).
Conference USA might have only three of its teams (Tulsa, Central Florida and East Carolina) in bowl games. Three other teams have a chance to get to six wins: Marshall has to win at East Carolina, Rice has to win at UTEP and SMU has to defeat Tulsa at home.
On the Mark
It's no surprise Penn State's players and fans are rallying around star linebacker Mike Mauti, who injured his knee in Saturday's 45-22 victory over Indiana. He left Beaver Stadium on crutches in what might have been his last game with the Nittany Lions.
Mauti has been the emotional leader for Penn State and helped keep its senior class together in the aftermath of the Jerry Sandusky scandal. He has been the best linebacker in the Big Ten this season, with 95 tackles, four tackles for loss, 2½ sacks, three interceptions and three forced fumbles in 11 games. Mauti, from Mandeville, La., is a big reason the Nittany Lions are 7-4 in coach Bill O'Brien's first season, which is a heck of a lot better than most people expected.
The Nittany Lions close the season against Wisconsin at home on Saturday.
"All I can say is, in your career, I've been fortunate to be around some special players," O'Brien said. "There's a bunch of special players in that class. He embodies, in my opinion, what Penn State's all about: He's tough, grind-it-out, smart."
Off the Mark
Minnesota officials haven't yet commented on the scathing 4,130-word letter departed receiver A.J. Barker posted on his blog Sunday, in which he criticized Gophers coach Jerry Kill for "manipulation and abuse" and team trainers and doctors for not properly diagnosing an ankle injury that caused him to miss the past three games.
Barker, a junior from St. Paul, Minn., led the Gophers with 30 catches for 577 yards with seven touchdowns. He was a walk-on player and is free to transfer to any other FBS school without penalty.
Barker wrote that the breaking point came last Thursday, when Kill criticized him in front of his teammates.
"Now, in honor of my family and myself I'm done with you for good," Barker wrote. "In light of that pathetic, manipulative display of rage and love you put on this past Thursday, I have come to the decision, with the guidance of my parents and my closest friends, that my time on this team has come to an end. It kills me that I have to do this before the season's over, but this is the only way I can protect myself against the manipulation and abuse I'd have to endure from you the rest of this season."
Barker is the second college football player to publicly allege abuse by a coach this month. Former Washington State receiver Marquess Wilson said Cougars coach Mike Leach's staff has "preferred to belittle, intimidate and humiliate" players. Wilson made the allegations in a statement published by a California newspaper. Washington State and the Pac-12 are investigating Wilson's allegations.
On the Mark
[+] Enlarge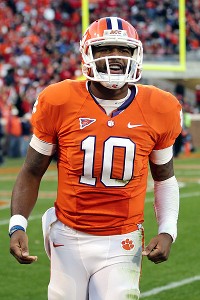 Streeter Lecka/Getty ImagesTajh Boyd had eight touchdowns against NC State as the Tigers head into Saturday's matchup against South Carolina with a seven-game winning streak.
Clemson is quietly in the hunt for a BCS at-large bid and will finish 11-1 if it can beat rival South Carolina at Death Valley on Saturday. Quarterback Tajh Boyd is a big reason the Tigers have won 10 games in a regular season for the first time since 1981.
Boyd accounted for eight touchdowns in Saturday's 62-48 win over NC State -- five passing and three rushing. He completed 30 of 44 passes for 426 yards, while rushing for 105 yards. His 531 yards of offense set a Clemson single-game record.
"[We have to] beat South Carolina," Boyd said. "We haven't defeated them in three years. It is one of those deals where it has to happen. We just want to be the best team possible. Right now, the best situation we can be in is to be 11-1. We would love to be undefeated right now, but it just didn't work out that way."
Off the Mark
Florida State clinched the ACC Atlantic with a 41-14 victory at Maryland on Saturday. While it's not exactly winning the SEC West, it was a pretty dominant performance by the Seminoles. FSU led 27-0 at the half and allowed only 170 yards of offense in the game.
Color Kenneth Massey not impressed. He operates the Massey Ratings, one of the six computer polls used in the BCS ratings. FSU coach Jimbo Fisher was upset the Seminoles were ranked so low in the computer polls last week. Even after FSU won on the road by 27 points Saturday, it isn't ranked at all in Massey's ratings again this week. The Seminoles are No. 22 in Jeff Sagarin's ratings and have an average computer rating of No. 17.
It's understandable to have FSU rated behind two-loss teams like LSU, Stanford and Texas A&M because of its soft schedule. The Seminoles played two FCS opponents (they scheduled Savannah State after West Virginia pulled out of a game), and the ACC just isn't very good.
But Massey's ratings also put FSU way behind two four-loss teams: No. 15 Arizona and No. 18 Washington. Did Massey's computer not see the Wildcats lose to UCLA by 56 points and the Huskies lose to the Wildcats by 35 points?
Fisher might be right; maybe Massey's computer needs new glasses.
On the Mark Mailbag
Buying what On The Mark is selling? Drop any questions, comments, compliments or complaints in the mailbag. Or sound off @Mark_Schlabach.
On The Mark: Precision Passers

1. Landry Jones, Oklahoma
Jones had a school-record 554 passing yards and tied the Oklahoma record with six passing touchdowns in the Sooners' 50-49 win over West Virginia. He has 117 pass touchdowns for his career, sixth most in FBS history. On Saturday, he moved past Texas' Colt McCoy (2006-09, 112), Florida's Danny Wuerffel (1993-96, 114), Louisiana Tech's Tim Rattay (1997-99, 115) and USC's Matt Barkley (2009-present, 116).
2. Tajh Boyd, Clemson
Boyd had a record-setting day in Clemson's 62-48 win over NC State. In the air, he completed 30 of 44 passes for 426 yards and five touchdowns. On the ground, he ran for career highs in yards (103) and touchdowns (three). Boyd set the Clemson and ACC single-game records for total touchdowns in a game (eight) and in a season (41). He also broke the ACC single-game record for total yards with 529.
3. Jordan Lynch, Northern Illinois
Lynch had career highs in attempts (36), completions (25) and yards (407) in Northern Illinois' 31-24 win over Toledo. He also ran for 162 yards to extend his NCAA record for most consecutive 100-yard rushing games by a quarterback to nine. His 569 yards of total offense is a school record.
4. Stephen Morris, Miami
Morris completed 21 of 32 passes for 413 yards and three touchdowns in Miami's 40-9 win over USF. It was his third game with at least 400 passing yards, tied for the most in FBS this season.
5. Brett Smith, Wyoming
Smith completed 25 of 33 passes for a career-high 412 yards and three touchdowns in Wyoming's 28-23 win over UNLV. He has 11 passing touchdowns and no interceptions in November, tied with Aaron Murray (plus-11) for the best touchdown-to-interception ratio in FBS this month.
-- ESPN Stats & Information
On The Mark: Ground-Gaining RBs

1. Montel Harris, Temple
Harris set the Big East records for rushing yards (351) and rushing touchdowns (seven) in a game during Temple's 63-32 win over Army. Harris was one rushing touchdown shy of the FBS record set by Howard Griffith of Illinois against Southern Illinois on Sept. 22, 1990.
2. Dri Archer, Kent State
Archer had 17 carries for 241 yards and two touchdowns in Kent State's 31-24 win over Bowling Green. It was his second 200-yard rushing game on fewer than 20 attempts, the most such games in FBS this season. Archer had touchdown runs of 79 and 72 yards. He is the fifth player this season with two 70-yard touchdown runs in a game.
3. Lache Seastrunk, Baylor
Seastrunk had career highs in carries (19) and rushing yards (185) in Baylor's 52-24 upset of Kansas State. He had a career-long 80-yard touchdown run in the third quarter. It was the second 100-yard rushing game of his career.
4. Ka'Deem Carey, Arizona
The nation's leading rusher had his second straight 200-yard rushing game in Arizona's 34-24 win over Utah. Carey finished the game with 26 carries for 204 yards and a touchdown. He has 570 yards and six touchdowns on the ground in his past two games.
5. Savon Huggins, Rutgers
Huggins had career highs in carries (41) and rushing yards (179) in Rutgers' 10-3 win at Cincinnati. His 41 carries are tied for the third most in a FBS game this season. Entering the game, Huggins had never had more than 12 carries or 50 yards in a game.
-- ESPN Stats & Information
On The Mark: Big-Play WRs

1. Alec Lemon, Syracuse
Lemon had career highs in receptions (12), receiving yards (244) and tied his career high with two receiving touchdowns in Syracuse's 31-27 win at Missouri. He caught four passes for 81 yards on Syracuse's game-winning drive, including a 17-yard touchdown with 20 seconds remaining in the fourth quarter.
2. Tavon Austin, West Virginia
Austin had four receptions for 82 yards in West Virginia's 50-49 loss to Oklahoma. He also ran 21 times for a school-record 344 yards, the third-highest total in Big 12 history. His 426 yards from scrimmage are the most for any player in a FBS game during the past eight seasons.
3. Allen Robinson, Penn State
Robinson tied his career high in receptions (10) and receiving touchdowns (three) and had a career-high 197 receiving yards in Penn State's 45-22 win over Indiana. Robinson leads the Big Ten this season in receptions (73), receiving yards (983) and receiving touchdowns (11).
4. Tobais Palmer, NC State
Palmer had seven receptions, setting career highs in yards (219) and touchdowns (three) in NC State's 62-48 loss to Clemson. He also had 277 kick return yards, the most of any FBS player this season. His average of 31.3 yards per reception was the third highest for any player with at least five catches in a game this season.
5. Stedman Bailey, West Virginia
Bailey had 13 receptions for 205 yards and four touchdowns in West Virginia's 50-49 loss to Oklahoma. It was his second straight game and third of the season with at least 10 receptions and 200 receiving yards. Bailey is the only FBS player with more than one such game this season.
-- ESPN Stats & Information
RecruitingNation: Weekend rewind
Oklahoma earned one big win on the field with a thrilling 50-49 victory at West Virginia. The Sooners also earned a major win on the recruiting trail when 2014 ESPN Watch List running back Devon Thomas (Broken Arrow, Okla./Broken Arrow) confirmed he committed to OU on Saturday night.
Thomas was one of the Sooners' first offers for the Class of 2014.
Thomas said he told OU running backs coach Cale Gundy of his decision on Saturday through Twitter. He said Gundy was excited to hear the news.
"Coach Gundy has been wanting me to commit for a while now," Thomas said. "I sat down and talked about it with my family and decided it's time to make it official."
-- Bob Przybylo, SoonerNation

To read the rest of Bob Przybylo's story, click here.
RecruitingNation: What we learned
Alabama didn't have to try too hard to bounce back from the pain of last week's loss, breezing by Western Carolina 49-0 on Saturday afternoon before watching Kansas State and Oregon fall that night, rekindling the Crimson Tide's national championship hopes along the way.
-- Alex Scarborough, TideNation
We got the answer to whether the Gators made the right decision in going with Jeff Driskel over Jacoby Brissett. Like Driskel, Brissett holds on to the ball too long, but Brissett isn't as mobile. Driskel's ability to make plays with his legs makes him the best choice.
-- Michael DiRocco, GatorNation
In No. 5 Georgia's 45-14 win against Georgia Southern, we learned that while the Bulldogs needed time to adjust against an unusual option rushing attack, their offense had more than enough firepower to overwhelm an FCS-level defense.
-- David Ching, DawgNation
LSU, the ground-and-pound defensive team, can win shootouts, as it did behind Zach Mettenberger's 282 yards passing against Ole Miss in Saturday's 41-35 win.
-- Gary Laney, GeauxTigerNation
Michigan unveiled a major wrinkle in its offense Saturday, playing Devin Gardner at quarterback and moving Denard Robinson all over the field, yielding massive results and a potential advantage for the Wolverines against Ohio State.
-- Michael Rothstein, WolverineNation
The OU defense is hemorrhaging, but the Sooners remain on track for a BCS bowl thanks to Landry Jones, who came through with the first come-from-behind, game-winning touchdown drive of his career.
-- Jake Trotter, SoonerNation
Even with Braxton Miller struggling, the Buckeyes are strong enough to find other ways to win, this time riding the defense to a 21-14 overtime decision over Wisconsin that has the program on the brink of perfection.
-- Austin Ward, BuckeyeNation
As the Aggies won their ninth game and inched toward 10 for the first time since 1998, redshirt freshman quarterback Johnny Manziel may have emerged as the front-runner in the Heisman Trophy race now that Kansas State (Collin Klein) and USC (Marqise Lee) both suffered defeats Saturday.
-- Sam Khan Jr., GigEmNation
The Trojans' Rose Bowl dreams are officially gone after the 38-28 loss to UCLA. USC -- a team that sat atop the preseason rankings -- has now lost three of its past four games, and things don't get any easier this weekend with No. 1 Notre Dame coming to town.
-- Garry Paskwietz, WeAreSC
Like his Washington teammates, quarterback Keith Price continues to hit his stride late in the season. The junior completed 22 of 29 passes for 248 yards and five touchdowns -- he tied a school record -- on Saturday during a 38-3 victory over Colorado.
-- Mason Kelley, HuskyNation