Upsets clear a national title path for SEC
Just when the rest of the college football world couldn't possibly stomach a heavier dose of the SEC, all hell breaks loose this past weekend.
Now, it looks as though the newest BCS standings set to be released Sunday night will have a distinct SEC flavor.
Brad Edwards, ESPN's BCS standings guru, is projecting that LSU will be No. 1, Alabama No. 2 and Arkansas No. 3, which would mark the first time in the BCS era (dating back to 1998) that three teams from the same conference have occupied the top three spots.
Edwards notes that Oklahoma State is also in that equation and that it could be close between Arkansas and Oklahoma State for that No. 3 spot.
[+] Enlarge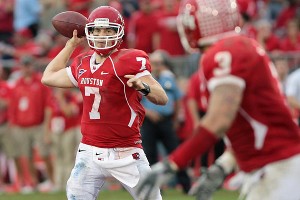 Troy Taormina/US PresswireCase Keenum's Cougars are one of only two undefeated teams left in the nation.
Even so, the path to an all-SEC showdown in the Allstate BCS National Championship Game on Jan. 9 in New Orleans has never been clearer, which would guarantee a sixth consecutive national title for the league.
It all started with Oklahoma State being upset by Iowa State on Friday night, which was the Cowboys' first loss of the season. Then on Saturday, Oregon was beaten by USC, and Oklahoma lost in the final seconds at Baylor. It was the second loss of the season for both Oregon and Oklahoma, effectively ending their national title hopes.
At this point, it's just about impossible to come up with a scenario that doesn't include at least one SEC team in the national title game.
LSU (11-0, 7-0) obviously controls its own destiny. But really, so does Alabama. In fact, if the Crimson Tide (10-1, 6-1) can beat Auburn comfortably on Saturday, they might be in the best shape of anybody, especially if LSU wins Friday at Arkansas.
That's because Alabama would be just about a lock in that scenario for one of the top two spots in the final BCS standings and wouldn't have to risk another loss in the SEC championship game against Georgia.
Yes, it sounds crazy, but that's the way it looks right now.
As for Arkansas, the Hogs (10-1, 6-1) are going to have a difficult time making it to the SEC championship game unless Alabama loses to Auburn or looks shaky in beating Auburn and drops in the polls. The tiebreaker in the Western Division if all three teams finish with one loss simply doesn't favor the Hogs, because it almost certainly would get back to head-to-head competition between Arkansas and Alabama. The Crimson Tide beat the Hogs 38-14 in September.
Nonetheless, Arkansas could settle into that No. 2 spot in the final BCS standings just by winning at LSU on Friday and not going to the SEC championship game.
It would really be intriguing at that point to see how the voters in the two human polls vote. On the one hand, it's reasonable to think that a win at LSU on the final weekend of the regular season would push Arkansas ahead of LSU in the polls.
But would some voters give the Tigers the benefit of the doubt because of their overall body of work and because they were the only team to beat Alabama and did so in Tuscaloosa?
Oklahoma State is the only team really lurking that could possibly break up the SEC party at this point. The Cowboys are strong in the computers, but they also have to play Oklahoma on Dec. 3.
It was a wild weekend for sure, but the jockeying these next two weeks could be even wilder.
Something says we haven't seen the last of the upsets, either.
Kicks to remember -- or forget
By Heather Dinich
ESPN.com
Four little words can and did change the entire BCS picture in Week 12: wide right, wide left.
You think officials are unpopular these days?
Try waking up this morning as Oklahoma State kicker Quinn Sharp, whose 37-yard field goal attempt with 1:17 left in regulation against Iowa State narrowly went wide right.
Or Oregon's Alejandro Maldonado, whose 37-yard field goal as time expired against USC went -- you guessed it -- wide left.
Even No. 25-ranked Florida State couldn't shake this weekend's kicking curse, as Dustin Hopkins -- one of the most consistent kickers in the country -- missed what could have been a game-winning 42-yard field goal in a 14-13 loss to Virginia.
And don't forget the miserable misses of Boise State. In Week 11, freshman kicker Dan Goodale's 39-yard attempt sailed wide right as time expired to give TCU a 36-35 win. Been there, done that. The Broncos also saw their BCS hopes busted last year when senior Kyle Brotzman missed in regulation and overtime, and Nevada won 34-31 in OT.
These are the game- and season-defining moments that go down in history, but the misses are remembered as much as the game winners, if not more. Three of the top five teams in the BCS standings lost in Week 12, and two of those games were influenced by missed field goals. Oklahoma State, the No. 2 team in the country, had a chance to beat Iowa State in regulation on Friday, but Sharp's miss spiraled into a double-overtime loss. So long, Cowboys. All that stood between previously undefeated Oklahoma State and a spot in the national championship game was Iowa State and Oklahoma.
And a missed field goal.
Oklahoma State's loss opened the door for Oregon to move up in the BCS standings, but the Ducks were stunned by a 38-35 loss to USC in Eugene, Ore. The fourth-ranked Ducks recovered a fumble and marched right down the field to beat USC, but Maldonado -- who even had the benefit of a 5-yard penalty from USC -- hooked it to the left.
Not all of the kickers in the country, though, are hiding in their rooms this month. Miami kicker Jake Wieclaw kicked the game winner against South Florida as time expired on Saturday to boost the Canes into bowl eligibility. LSU kicker Drew Alleman probably could run for governor after his 25-yard field goal beat Alabama 9-6 in overtime on Nov. 5.
Alabama, though, missed four field goals in that game.
You could argue that some of these games shouldn't have come down to field goals. Oklahoma State also committed five turnovers. Oregon had three turnovers. FSU had 11 penalties for 94 yards. Those mistakes added up to one critical moment.
For the winners like Iowa State, it will be a November to remember, but for several kickers, it will be one to forget.
Making the case for Houston
By Andrea Adelson
ESPN.com
Down goes Oklahoma State. Down goes Oregon. Down goes Oklahoma.
Which team is still standing in the race for the BCS national title game?
How about Houston?
The Cougars are one of two undefeated teams left in the nation after a 37-7 win over SMU on Saturday. In this topsy-turvy season, with favored teams losing left and right, perhaps it is time to see what a non-AQ team can do if given the opportunity to play for a national title.
That has never happened before, mainly because those outside the automatic qualifying conferences get penalized for their weaker strength of schedule. Teams like Boise State, TCU and Utah have gotten the chance to make a BCS bowl game -- and they all won -- but their undefeated seasons have never been highly regarded by those doing the voting. Computers favor teams from the stronger conferences, too.
Nobody is going to make an argument that Houston plays a schedule that is equal to that of an SEC team. But the Cougars do not have the option of joining the SEC to bump up their strength of schedule.
Houston plays its C-USA schedule and has done it in a convincing manner this season, averaging 53 points a game en route to the best season in school history.
The Cougars have scored at least 35 points in all 11 of their games this season. Among teams to play at least 10 games in a season, only the 1995 Nebraska team accomplished that feat, according to ESPN Stats & Information. The Cornhuskers won the national championship that season.
Houston's nonconference wins against UCLA and Louisiana Tech look better today -- the Bruins have a shot to play in the Pac-12 title game; the Bulldogs now are leading the WAC.
Quarterback Case Keenum has shattered NCAA records this season for passing yards, touchdowns, total offense and completions. You could dismiss him and what Houston has done by saying Keenum is a "system quarterback." But how did that system work out for Houston last season, when he was lost for the season and the Cougars went 5-7?
If you want the ultimate proof about how hard it is to win all your games, take a look at what has happened this season. Oklahoma lost to an unranked team in Texas Tech, then could not stop high-powered Robert Griffin III and Baylor. Oklahoma State lost to an unranked team, Iowa State, on Friday night. Oregon lost at home to USC, breaking a 21-game winning streak at Autzen Stadium.
Even Boise State, thought to be invincible on the blue turf, lost at home to TCU.
Take a look at the landscape. What we are left with is a potential rematch between LSU and Alabama. If LSU loses to Arkansas on Friday or in the SEC title game, then what happens?
Houston is sure to move up in the BCS standings Sunday night with all the losses this weekend, but you could make the case that the Cougars deserve to be in the top three regardless of what happens to LSU.
And if you truly believe what the BCS tells us every season -- that its system is best because every game matters -- Houston should be No. 2 and playing for a national title.
Winning all your games should give you that opportunity.
RG3 helps Bears make history against Sooners
WACO, Texas -- Robert Griffin III made his way into Baylor's locker room but paused when he opened the door.
Nobody was there. "I was like, where'd everybody go?"
They were still on the field celebrating. There was a postgame party at Floyd Casey Stadium, and everybody wearing green and gold was invited. The Bears had swiped the Sooners' picnic basket.
Before Saturday night, Baylor had never had a chance to celebrate a win over Oklahoma.
With a 34-yard toss from Griffin to Terrance Williams in the back corner of the end zone, that all changed.
"There at the end, God works in mysterious ways," Griffin said with a wide smile. "When I looked down the field, I saw him one-on-one. All this is happening in milliseconds, so I saw him one-on-one and I was like, 'Well, I'll give him a shot.' I threw it up, and he made a great catch."
Baylor 45, Oklahoma 38.
That play, coach Art Briles admitted, was "not the way we drew it up."
"The dude has had the ability to take over a game by himself," said Baylor linebacker Elliot Coffey, "and you saw it."
We all saw it. We saw Griffin prove once again he's the best deep-ball passer in college football, throwing four touchdown passes, even if one of them unbelievably deflected off Tevin Reese's hands and helmet before floating into Kendall Wright's hands for a game-changing, 87-yard score.
Griffin could only shake his head at that one, but he finished with a school-record 476 yards on 21-of-34 passing, breaking his own single-season school record for passing yards. He was also the Bears' leading rusher with 72 yards.
"Another day at the office for Robert," Briles said. "He's been doing that for three or four years. When the ball's in his hand, he's going to make good things happen, because he's very intelligent, very passionate and very gifted."
Said Baylor safety Ahmad Dixon: "You can't really defend him. You have to just take what he gives you."
No run was bigger than a 22-yard scramble on second down on the game's final drive, when Baylor had just 51 seconds left and no timeouts. Oklahoma had three, and when the Bears looked content to try to run it and settle for overtime, the Sooners used one. Baylor knew it needed a first down. The man they call RG3 provided those precious 22 yards.
"Then the whole thing flips," Briles said.
The aggressive move backfired, and the Sooners' fate was in the hands of the most dangerous player in the Big 12. Baylor should have known.
To read the rest of David Ubben's story, click here.
Big Game lives up to billing
STANFORD, Calif. -- David Shaw was having flashbacks. In seconds, the Stanford head coach and former Cardinal wide receiver was re-running every funky play and freaky scenario and wacky finish that have been historic staples of the Big Game.
Here's the scene on a rainy Saturday night at Stanford Stadium: Cal scores a touchdown with 14 seconds left to cut Stanford's lead to 31-28. Here comes the onside kick. Anything can happen, right? A Cal recovery and Hail Mary? The ball bounces off seven Stanford players and Cal converts a 65-yard field goal? It's the Big Game. Seems plausible. At least at the time.
"I got The Play going through my head. I got the 1990 crazy game with the onside kicks going through my head," Shaw said. "We just supported our defense. Even if they went down and scored, we made them take so much time off the clock. We knew if we got the onside kick the game was over."
And it was. The onside kick went right to tight end Coby Fleener, who caught the ball on one hop, cradled and dropped. No crazy bounces. No students or trombones appeared on the field until the clock read 0:00. Game over. Stanford wins the 114th Big Game.
The Axe stays in Palo Alto for at least another year.
To read the rest of Kevin Gemmell's story, click here.
Three weekend observations
By Ivan Maisel, ESPN.com

1. Two veteran coaches made late-game decisions that cost their teams a shot at the BCS championship. Oklahoma coach Bob Stoops called the timeout that gave Baylor time to score the winning touchdown. Oregon coach Chip Kelly didn't call the timeouts that would have given the Ducks the chance to score the winning touchdown. In late November, there's a lot riding on everyone's efforts. The guy on defense (Stoops) gave the offense a chance to win. The guy on offense (Kelly) didn't.

2. Where do you come down on LSU head coach Les Miles' decision to have his offense take a knee rather than extend its 52-3 lead over Ole Miss? I liked it. Miles made the call with nothing but good intentions. He didn't want to embarrass the Rebels and their lame-duck coach, Houston Nutt. Of course, charity on the football field provides an embarrassment all its own. There is the my-job-is-to-score-your-job-is-to-stop-me train of thought. Either way, it's another classy move by the Hat.

3. Let the woofing begin. Jordan Jefferson played quarterback and Jerico Nelson played running back when Destrehan (La.) High won the 2007 5A state title. They remain close, even as Jefferson plays at No. 1 LSU and Nelson, now a linebacker, at No. 6 Arkansas. Their final showdown is Friday. "I always end up talking to him one time out of the week," Nelson said after Arkansas beat Mississippi State 44-17. "If he doesn't call me, someone on his team will call me and start talking trash, and that's how everything gets started. I'll go back to practice, and I'll tell everybody, and it just hypes up everything."
Highlights: Baylor-Oklahoma
GameDay crew final thoughts

RECE DAVIS
The first football season I remember was when I was 5 years old. It was 1971, and over the course of that time, there have been some weekends like in 1998 or 2007 with West Virginia or the craziness that happened in the Big 12 in 1998. But I don't remember a weekend with great games that all turned into upsets that so dramatically impacted the national championship race. It will be one of the most memorable football weekends that I can remember in my career of covering it or growing up as a fan. It was not unlike some of the old days on New Year's Day, when you sit around and watch teams get knocked off and watch how it would impact what the final polls were going to say. It reminded me of an old-school New Year's Day.
For as great as Oregon has been, you feel awful for the way it ended. You feel terrible for the way it ended for Oklahoma State and Brandon Weeden and especially the Oklahoma State family after all they've been through this week. But at the same time, the jubilation that you saw from the Iowa State fans and from Matt Barkley and Lane Kiffin for all they've been dealing with at USC, and certainly from the people at Baylor after beating Oklahoma for the first time, really let you know how college football becomes a part of a person's DNA and how important it is to the fans who watch it. That's why we're fortunate to be able do what we do and cover it because of fans and moments like that.
Helmet stickers go to:
• CB Eric Gordon, Tennessee
Winning 90-yard interception return for a TD in OT versus Vanderbilt
• QB Jared Barnett, Iowa State
376 passing yards, 3 TDs in win versus Oklahoma State
---

LOU HOLTZ
The craziness and unpredictability are what make college football so great. You never know how a 19-year-old is going to react from one weekend to the next. It's the unpredictability of college football that makes it so exciting and so special. And the teams that won, that were supposed to win, did so very impressively. This is what makes college football so great.
Helmet stickers go to:
• QB Matt Barkley, USC
323 passing yards, four TDs in win at Oregon
• RB Branden Oliver, Buffalo
235 rushing yards, 2 TDs in win versus Akron
---

MARK MAY
What a wild and wacky weekend. We had top-5 and top-10 teams go down, but when you get closer to the end of the season and that pressure builds, you find out how teams are going to react in that situation. I was really surprised the way some teams reacted, particularly Clemson, which just went out and rolled its helmets out there when it still had so much to play for. You never know what's going to happen. You go out there and bring your A-game every week, and the Tigers didn't do it this week.
I thought Robert Griffin III was spectacular against Oklahoma. It was the first time the Baylor Bears beat the Sooners in 21 tries, and that was a huge win for the program. In the other big game, the way Matt Barkley played was great, especially because it was at Autzen Stadium. You didn't expect that with the way Oregon was playing on both sides of the ball, and the way the Ducks played against Stanford and their great quarterback Andrew Luck. But USC went in there, took a commanding lead and held on in the end.
I've really been impressed with the way Virginia has played, not just against Florida State but all season, and the way it has reacted under coach Mike London. The Cavaliers played in a lot of close games, fought it out and found ways to win, and that builds a lot of confidence. They're putting together a string of victories, and they have a chance to play in the ACC championship game for the first time. It all comes down to beating their archrival, Virginia Tech, and with the way Virginia Tech played Thursday night, I think they have a chance.
Helmet stickers go to:
• QB Robert Griffin III, Baylor
School-record 479 passing yards, four TDs in win versus Oklahoma
• LB Sammy Brown, Houston
10 tackles, 4.5 TFL, 3.0 sacks in win versus SMU
Blog Network: What we learned

Virginia is the most improved team in the ACC. Look no further than the regular-season finale against Virginia Tech for proof.
ACC

Robert Griffin III never should have left the Heisman conversation. Even in losses, RG3 put up big numbers.
Big 12

Rutgers can run. For one game, at least, Rutgers proved it could ground-and-pound its way to a win.
Big East

Ron Zook is in big trouble: Saturday's game against Wisconsin had the feel of a circle-the-wagons game for Illinois.
Big Ten

Washington has regressed: After a 5-1 start, Washington has lost four of five and three in a row.
Pac-12

For the third straight week, Arkansas blew out an opponent, which suggests that the Hogs are as ready as they'll ever be to take down No. 1 LSU.
SEC
Highlights:Virginia-Florida State
Blog Network: Helmet stickers
For the record …
• The Houston Cougars improved to 11-0 for the first time in school history as they beat SMU 37-7. Case Keenum racked up two more NCAA career records, passing Graham Harrell in completions (1,427 to 1,403) while tying Timmy Chang with his 36th 300-yard passing game.
• The North Carolina State Wolfpack upset Clemson 37-13 for their first win against an AP top-10 team since 2005, when they beat No. 9 Florida State. Wolfpack defensive back David Amerson intercepted his 11th pass of the season, tying the ACC record for most interceptions in a season set by UNC's Dre' Bly in 1996.
• The Arkansas Razorbacks defeated Mississippi State 44-17 as they improved to 10-1 heading into Friday's showdown with the LSU Tigers. Tyler Wilson (365 yards) now has 3,215 yards this season, joining Ryan Mallett as the only players in Arkansas history to throw for at least 3,000 yards in a season.
To read the rest of the story, click here.