Rivalry week showcases SEC's dominance
By Edward Aschoff
ESPN.com
Rivalry week was near perfect for the SEC.
And that means the rest of the nation is left continuing to look up at the conference that has hoisted the national championship trophy the past five years in a row.
After this weekend, we're almost certain the SEC will make it six straight.
It all started with No. 1 LSU's impressive come-from-behind win over No. 3 Arkansas on Friday. The Bayou Bengals had been through far too much off the field this season to let a 14-point deficit get the best of them.
LSU dictated the rest of the afternoon, as it outscored Arkansas 41-3 from then on to possibly secure a spot in the Allstate BCS National Championship Game.
Joining LSU will likely be Alabama after it dominated Auburn on the Plains with a 42-14 rout. In the process, running back Trent Richardson might have won the Heisman with a career-best 203 yards. He had one last Heisman moment during a 57-yard run when he pushed over and stepped by everyone Auburn could possibly suit up Saturday night.
Barring any last-minute BCS mischief, it appears the SEC will bring home its sixth straight national championship.
But there were other positives out of the nation's top conference, as well.
The league went 3-1 against the ACC, with South Carolina, Georgia and Vanderbilt all prevailing. Georgia and Vandy did it on the road, while South Carolina routed a Clemson team, which received early national championship hype, at home.
[+] Enlarge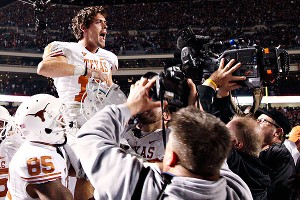 Thomas Campbell/US PresswireTexas' thrilling victory over Texas A&M on Thanksgiving night could be the final chapter in its rivalry with Texas A&M.
Vanderbilt looked like an offensive juggernaut against Wake Forest, as the Commodores became bowl eligible for the first time since 2008 with a 41-7 blowout of the Demon Deacons. When your running back -- Zac Stacy -- rushes for 184 yards and three touchdowns, good things usually happen and first-year coach James Franklin has brought a new spunk and fire to Vandy.
Georgia's defense had some bend against Georgia Tech's triple-option, but no break, as the Dawgs' winning streak in Atlanta continued.
The lone rivalry week blemish came in The Swamp. The game that usually receives national attention was a total stinker as both teams combined for 279 yards of offense in Florida State's 21-7 win over a Florida team that first-year coach Will Muschamp labeled as "soft."
Florida's defense played arguably its best game of the season, but got absolutely nothing from its offense. Senior quarterback John Brantley ended his days in Gainesville with three interceptions and game-ending injury.
We also said farewell to Ole Miss coach Houston Nutt, who continued his dreadful finish with a 31-3 loss to Mississippi State in the Egg Bowl. Nutt, who announced his resignation this month, ended his tenure by losing 14 straight SEC games.
Then there was Kentucky. The team that spent most of the year battling Ole Miss for the bottom spot in the SEC stunned a Tennessee team that spent last week celebrating like Super Bowl champs after beating Vandy.
Kentucky isn't going bowling, but because of its efforts, neither is rival Tennessee, and that feels just as sweet.
Rivalry week never gets old.
Three teams in mix for Big East title, BCS bowl
By Andrea Adelson
ESPN.com
There is never really a simple scenario when it comes to getting the Big East champion into a BCS game. Not recently, anyway.
For the second straight season, the Big East BCS rep will not be known until the final week of the season. This season, Louisville, West Virginia and Cincinnati all have a shot at getting the coveted spot in the big game.
Rutgers was in the mix until a disastrous 40-22 loss to UConn on Saturday killed any chance the Scarlet Knights had of winning a share of the first Big East title in school history.
So it has come to this. Louisville clinched a share of the Big East with a 34-24 win over USF on Friday. West Virginia remained alive with a 21-20 win over Pitt in perhaps the final Backyard Brawl on Friday night, while Cincinnati also stayed alive with a 30-13 win over Syracuse on Saturday.
Each team needs another team to lose or win, so you cannot really say these teams are in control of their own destiny. Let us say it as simply as we possibly can: At 7-5, the Cardinals make it into a BCS bowl game if Cincinnati loses to UConn this Saturday. That would mark the second straight season the Big East would have a team representing the league with four-plus losses, not a good result for a conference desperate to hang on to AQ status, provided there is an AQ status in the future.
Cincinnati needs to beat UConn and have West Virginia lose to USF on Thursday night.
West Virginia needs to beat USF. Then the Mountaineers need Cincinnati to win to create a three-way tie with Louisville. If that happens, the three would be 1-1 against each other. The tiebreaker would be highest ranked team in the BCS standings. The Big East has no team in the BCS top 25 as of Sunday morning, but the complete standings go beyond 25 teams. Oh, and by the way, West Virginia has not won in Tampa since 2005.
That is about as simple as it gets in the convoluted Big East.
Longhorns, Aggies say goodbye to rivalry
Senior safety Trent Hunter lamented that Texas A&M's younger players won't have a chance to avenge Thursday's loss to Texas. Sophomore running back Ben Malena said Texas A&M has "bigger and better things to worry about."
Truth is, after Thanksgiving night, we now live in a world where the biggest rivalry in a state that lives for football is defunct -- for now.
[+] Enlarge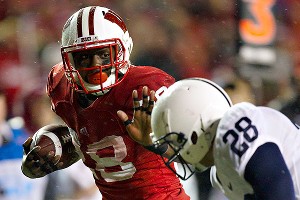 Jeff Hanisch/US PresswireMontee Ball could share Big Ten offensive player of the year honors with his teammate Russell Wilson.
Two rivalries have been played more than Texas and Texas A&M, but that list is about to grow. And fans have to live with it.
"I'm sure watching it at home, it was a great football game," Aggies coach Mike Sherman said of the 27-25 loss, which ended on a 40-yard field goal as time expired. "From our sideline, it wasn't very good. For the fans in our stadium, it wasn't very good. … It was certainly disappointing. It's a great rivalry, and we kept going back and forth."
Since scholarship limits were instituted, Texas leads the series 20-19. The all-time series, which Texas leads 76-37-5, is over for now, and the Aggies suffered the untimely loss. A&M's exit for the SEC prompted Texas' refusal to continue the rivalry, and holding the bragging rights may only lengthen that refusal, no matter how badly fans and players would love the series to be resumed.
"People are always going to remember this game because this is probably the last one that we're going to have," said Texas cornerback Carrington Byndom.
Both sides' fight songs, which feature references to one another, might need a face-lift until the rivalry is resumed. "We have Texas Fight in the locker room and that has A&M in it and we're going to have to get that painted. Maybe a new song. Maybe an OU song," said linebacker Keenan Robinson.
There's no doubt about that. Texas got the last laugh in this one, by way of Justin Tucker's dramatic field goal. Now, life must go on.
"That's kind of sad that the rivalry is over. But it makes me happy that we ended the rivalry the right way," Robinson said.
Historic heights for Wisconsin's dynamic duo
By Adam Rittenberg
ESPN.com
MADISON, Wis. -- The game ended one debate and added intrigue to another.
Wisconsin's 45-7 dissection of Penn State left no doubt as to which is the best team in the Leaders division. After falling behind early, the Badgers outclassed the Nittany Lions, as they're prone to do in a building where they've now won 16 consecutive games. They earned the right to face Michigan State next week in the inaugural Big Ten championship game.
But the decisive victory only brought more uncertainty to a question Badgers players and coaches love to get asked even though few have an answer.
Who is the Big Ten's Offensive Player of the Year: quarterback Russell Wilson or running back Montee Ball?
"I'd split it," Wisconsin coach Bret Bielema said. "I don't know if there's ever been co-offensive MVPs off the same team. I don't know if that's ever been done, but I don't know how you can give it to one without the other."
It has happened once: Big Ten coaches voted Iowa quarterback Matt Rodgers and running back Nick Bell as co-Offensive Players of the Year in 1990. Will it happen again next week?
Wisconsin wouldn't be where it is without the contributions of Wilson and Ball, who are putting together the best combined quarterback-running back performance in a season in Big Ten history (more on that later). The senior quarterback and junior running back both sparkled again Saturday, having a hand in all six Wisconsin touchdowns against the nation's No. 8 defense. Wilson finished the game 19-of-29 passing for 186 yards and two touchdowns, while Ball recorded 156 yards and a touchdown on 25 carries.
It's rare when one NCAA record is set in a game, much less two. How about two records by two players in the same half? Wilson and Ball delivered Saturday.
Ball's second rushing score late in the second quarter gave him 12 consecutive games with multiple touchdowns, breaking Barry Sanders' NCAA record of 11 straight games. Wilson's 21-yard touchdown strike to Jared Abbrederis in the first quarter gave him 36 consecutive games with at least one touchdown pass, tying the NCAA record held by former Texas Tech star Graham Harrell.
Wilson's team record for single-season touchdown passes stands at 28. Ball, meanwhile, has his sights set on a loftier mark, one thought to be unreachable. His four touchdowns Saturday give him 34 for the season, the second most in NCAA history behind only Sanders' 39 in 1988.
"It's extremely rare," Wilson said of his and Ball's performances this season. "It's a once-in-a-lifetime type thing. You don't see it very often, but I think with Montee's ability to do a lot of different things, and then with my ability to throw the ball extremely well and to improvise when I have to, it's pretty dangerous."
You think?
To read the rest of Adam Rittenberg's story, click here.
USC makes a statement against UCLA
By Garry Paskwietz
We Are SC
LOS ANGELES -- Now that is the way to finish a football season.
For a USC Trojans team that began the 2011 season with so many unanswered questions, the 50-0 victory on Saturday at the Coliseum against the UCLA Bruins made an emphatic statement about where the program stands right now.
"I'm so proud of this team," USC head coach Lane Kiffin said. "It's one thing to win the game. It's another thing to play really, really well."
This was supposed to be a rivalry game in which both teams were playing for something. The Trojans were hoping to finish off the year in style to continue the momentum that had been built in recent weeks. The Bruins, on the other hand, were looking to prove they belonged as the team representing the Pac-12 South Division next week in the conference title game.
USC showed on the opening drive that it was ready to play when the Trojans took all of four plays to go 72 yards before a Matt Barkley touchdown pass to Marqise Lee put the Trojans up 7-0.
UCLA tried to respond by going on a 12-play drive of their own to get inside the Trojans' 10-yard line. The Bruins ran four straight running plays -- including a fourth-down play from the 1 -- but the Trojans' defense held, and the ball was turned over on downs. In terms of highlights for the Bruins, that was basically it for the night.
The Trojans simply took the game over from there and never let up. Barkley completed 13 straight passes at one point and ended the game having completed 35 of 42 passes for 423 yards and six touchdowns.
For a player looking to put himself in contention for the Heisman Trophy, it couldn't have been a better night for Barkley. He showed complete command of the offense and earned every bit of the praise he is sure to hear over the next two weeks before he makes the likely trip to New York for the Heisman ceremony.
To read the rest of Garry Paskwietz's story, click here.
Three weekend observations
By Ivan Maisel, ESPN.com

1. Alabama's domination at Auburn on Saturday was complete, and it's what you would expect a 10-1, second-ranked team to do to a 7-4 team that consists largely of freshmen and sophomores. The Tide improved to 11-1 and won the Iron Bowl 42-14 by holding the Tigers (now 7-5) to 140 yards and no offensive points. Alabama all but qualified for the BCS National Championship Game and almost gained revenge for its Never Again loss to Auburn a season ago. Let's face it -- no plastic surgeon on Earth could ever smooth over that scar.

2. Not content to show its split personality on every other Saturday, North Carolina State gave us the full spectrum of its ability in one game. After losing to Boston College and routing Clemson in consecutive weeks, the Wolfpack fell behind two-win Maryland 41-14. State outscored the Terrapins 35-0 in the fourth quarter to win 56-41. The 7-5 finish qualified the Wolfpack for a bowl and should end any speculation regarding head coach Tom O'Brien's future. Here's hoping for a little more consistency in 2012.

3. If North Carolina State captured a season in one game, Miami quarterback Jacory Harris performed a miniature of his Hurricanes career Friday versus Boston College. The senior threw four interceptions in a 24-17 loss to the Eagles. Harris played for three offensive coordinators and two head coaches in four seasons, so it's understandable that he never took a step forward in his development without a parallel step back. But it's worth noting that he threw one fewer pick Saturday than he had thrown in 11 previous games this season.
Highlights: Ohio St.-Michigan
GameDay crew final thoughts

RECE DAVIS
Looking at the big picture, it's amazing how fragile a season is and how just a couple of little plays here and there can change your perception of everything. Just look at the missed field goals by Alabama, Oklahoma State, Boise State and Oregon or the twist by Keith Nichol that changed the entire perception of Wisconsin's season. And I think you really have to acknowledge and appreciate a team when it can fight through it. Alabama has answered the bell with what I think is one of the best defenses we've seen in the modern era of college football. The Crimson Tide have a loss, but it looks like they're going to get another shot at LSU for the national championship. The defense has certainly played at a national championship level.
Houston maybe hasn't been challenged, but when you see how difficult it is to go undefeated and how many little things can go wrong and mess up your season, what a great job by the Cougars to really turn back the challenge of Tulsa and run away with the game.
I think South Carolina's ability to win 10 games for just the second time in school history and the way it finished the season against Clemson without Marcus Lattimore and Stephen Garcia, the team's starting quarterback in the early part of the season, shows a great deal of toughness and resolve.
I think Michigan, with 10 wins, is one of the great stories of the year. Brady Hoke has turned around the entire direction and perception of that program, and the Wolverines will eventually get into the top 14 of the BCS. If there's a spot available for them, I think they'll make a very attractive at-large candidate.
I haven't always been the biggest Lane Kiffin fan, but he has done a spectacular job coaching this season. Matt Barkley certainly deserves heavy consideration for the Heisman Trophy. I think USC's toughest times are still ahead. I know the bowl sanctions are over, but the scholarship reductions are about to hit, so it cannot miss in recruiting. The Trojans cannot have injuries. That's a lot of pressure to put on a program that's going to be down in numbers over the next three seasons. I think Kiffin has done a remarkable job and is at least among the top six or seven candidates for national coach of the year.
Helmet stickers go to:
• QB Mike Glennon, NC State
306 passing yards, 5 TDs, one rushing TD in win versus Maryland
• RB Montee Ball, Wisconsin
156 rushing yards, 4 TDs in win versus Penn State
---

LOU HOLTZ
I think we've narrowed it down, and it's going to be LSU and Alabama for the national championship. There are so many teams which enjoyed great seasons, and there are some who are disappointed. At this point of the season, it's which category are you going to be in. But that's college football. The players are getting an education, and they're sure giving us one on the field.
Helmet stickers go to:
• S Winston Guy, Kentucky
14 tackles, 2.0 TFL, 0.5 sacks in win versus Tennessee
• RB Trent Richardson, Alabama
203 rushing yards, one TD reception in win at Auburn
---

MARK MAY
Alabama just decimated Auburn -- as it should have -- both offensively and defensively. The only place it didn't dominate was on special teams. I thought that kickoff returned for a touchdown to start the second half gave Auburn some momentum, but it wasn't enough because Alabama was just so dominating. Trent Richardson definitely made his statement for the Heisman, not only with the 57-yard run, but 203 yards -- a career high in the Iron Bowl.
The other performance that really impressed me was Denard Robinson. This is the first time since 2003 Michigan was able to knock off Ohio State. He wasn't perfect, but he put the ball in the wide receivers' hands when he had to, was poised in the pocket and when you put up five touchdowns -- three passing, two rushing -- I think that's very impressive.
I was actually not surprised, but I was a little taken aback by the way Clemson played. I know in the past couple of weeks, the Tigers turned the ball over a lot. But I thought in playing against South Carolina for the state championship this week, they would put up a better fight leading into the ACC championship game.
Meanwhile, Virginia Tech is hitting on all cylinders right now. Logan Thomas is getting better each week, and he's going to be a force to reckon with in the future. If he continues to improve like he has, he's definitely going to be on the short list for the Heisman going into next season.
And I think what Lane Kiffin and USC did in running up the score against UCLA was disrespectful. They were trying to rub their noses in it. I understand it's a rivalry game and Matt Barkley's in the Heisman discussion, but have a little class.
Helmet stickers go to:
• QB Denard Robinson, Michigan
170 rushing yards, 2 TDs, 167 passing yards, 3 TDs in win versus Ohio State
•RB Alfred Morris, Florida Atlantic
198 rushing yards, 4 TDs in win versus UAB
Highlights: Notre Dame-Stanford
Blog Network: What we learned

Florida State didn't beat Florida because the Noles were that much better. They got the win because the Gators are that much worse.
ACC

Oklahoma's offense will not thrive without Ryan Broyles. Look no further than the Iowa State game for more proof.
Big 12

Rutgers meltdown. How else to describe what happened in Connecticut on Saturday afternoon?
Big East

Michigan State is peaking at the perfect time. It heads to Indianapolis as the Big Ten's hottest team.
Big Ten

It appears that three other Pac-12 coaches will join Arizona's Mike Stoops on the unemployment line.
Pac-12

Not only is Georgia riding a 10-game winning streak and playing its best football heading into the SEC title game, it's carrying momentum into next season.
SEC

Another loss, another quarterback controversy. After a loss to Stanford, it now looks like it's between Tommy Rees and Andrew Hendrix.
Notre Dame
Highlights: Clemson-S. Carolina
Blog Network: Helmet stickers