ACC Wins On And Off Field
By Mark Schlabach
ESPN.com
The ACC has never sent two of its teams to BCS bowl games in the same season and hasn't produced a national championship-caliber team since Florida State's dynasty ended more than a decade ago.
But on what might have been the last Saturday of college football as we presently know it, the ACC stole headlines from the rest of the country -- on and off the field.
Saturday started with reports of current Big East members Pittsburgh and Syracuse applying for ACC membership. The ACC's council of presidents voted unanimously to accept the Panthers and Orange as the league's 13th and 14th member schools, and the conference announced the vote Sunday morning.
"We are constantly evaluating the competitive landscape to ensure the conference's viability for years to come, and this, I believe, has staying power," ACC commissioner John Swofford said.
After expanding its northern borders, it's unclear whether the ACC will stop its efforts there.
[+] Enlarge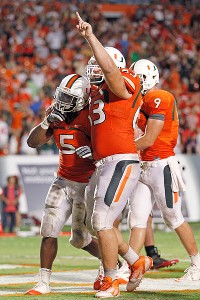 Joel Auerbach/Getty ImagesMiami's win over Ohio State highlighted the ACC's triumphs on the field Saturday.
While the rest of college football had its eyes on the Big 12, Pac-12 and SEC, the ACC might have stealthily delivered the first bold move toward becoming a so-called "superconference."
"We are very comfortable with this 14," Swofford said. "We are not philosophically opposed to 16."
The ACC's sudden expansion comes one day before Oklahoma's board of regents is scheduled to meet to discuss the Sooners' conference affiliation. The Sooners might bolt the Big 12 for the Pac-12 with rival Oklahoma State, leaving Texas to decide the long-term fate of the Big 12.
Texas' board of regents also is scheduled to meet Monday. With Texas A&M recently applying for SEC membership -- and SEC presidents voting to accept the Aggies, as long as the SEC is assured it can't be sued by other Big 12 members -- the Longhorns might be a linchpin in holding the rest of the Big 12 together.
But while all eyes were on Texas, the ACC quietly became proactive. In 2003, the ACC raided the Big East for Boston College, Miami and Virginia Tech.
Syracuse is a founding member of the Big East, and Pittsburgh joined the conference in 1982. Their departure might be a fatal blow for the Big East. In terms of football, the Panthers have a rich football tradition but haven't finished in the top 10 of the final Associated Press Top 25 poll since 1982. The Orange haven't done it since 1992.
"This is indeed a monumental day in the history of our league," Swofford said.
The ACC made plenty of headlines on the field on Saturday, too:
• Clemson ended No. 21 Auburn's 17-game winning streak with a 38-24 victory at Death Valley. Auburn, the defending BCS national champions, hadn't lost to Clemson since 1951, previously winning 14 games in a row against the Tigers.
Clemson gained 624 yards of offense and moved to 3-0 for the first time since 2007. Clemson quarterback Tajh Boyd completed 30 of 42 passes for 386 yards with four touchdowns.
• Miami, which has been dogged by an NCAA investigation into allegations that many of its former and current players accepted thousands of dollars in improper benefits from a rogue booster, stunned No. 17 Ohio State 24-6 at home for the first big win of the Al Golden era.
Hurricanes running back Lamar Miller ran for 184 yards, and quarterback Jacory Harris completed 16 of 23 passes for 123 yards with two touchdowns, both of which came in the first quarter to give Miami a 14-0 lead.
• Georgia Tech set school records with 768 yards of offense and 604 rushing yards in its 66-24 rout of Kansas in Atlanta. The Yellow Jackets set an NCAA record by averaging 12.1 yards on 50 rushing attempts, breaking an NCAA mark of 11.9 yards per carry, which was set by Alabama in 1973.
• No. 5 Florida State rallied to put a scare in No. 1 Oklahoma at Doak Campbell Stadium in Tallahassee, Fla., on Saturday night before falling 23-13.
The Seminoles tied the score at 13 on backup quarterback Clint Trickett's 56-yard touchdown pass to Rashad Greene. But Oklahoma's Landry Jones fired a 37-yard touchdown to Kenny Stills to make it 20-13 with seven minutes to play.
It was the ACC's 33rd consecutive loss to a top-five opponent from outside the ACC. But FSU was much more competitive a year after losing at Oklahoma 47-17.
Defense Returns With A Vengeance
When Auburn won the BCS title last season with a defense that allowed 24.1 points per game, you had to wonder whether the evolution of offense had changed every rule that football holds dear. Wait a minute -- defense doesn't win championships?
Three weeks into this season, defense has returned. Not everywhere, mind you, just to the top of the polls.
If only Floyd Mayweather and Victor Ortiz had hit each other the way that Oklahoma and Florida State did Saturday night. The No. 1 Sooners and No. 5 Seminoles illustrated why they deserve (present tense) their high rankings, playing the kind of defense that is harder to find these days than Missoni in Target.
Going into the fourth quarter at Doak Campbell Stadium, neither Oklahoma nor Florida State had gained 200 yards of total offense -- and the Sooners went 80 yards for a touchdown on the opening drive. Even with each team completing a long touchdown drive in the final quarter of the Sooners' 23-13 victory, Oklahoma and Florida State combined to gain 556 yards.
Granted, not everyone at the top played a highly ranked team or even a team that could seriously threaten upset. But in the era of the spread offense, no forced punt should be taken for granted.
If any game promises to be as hard-hitting as the Oklahoma-Florida State game, it is the LSU-Alabama game in Tuscaloosa on Nov. 5. The No. 3 Tigers limited No. 25 Mississippi State to 193 yards yards and two field goals in a 19-6 victory on Thursday night. Virtually half the Bulldogs' 59 offensive plays went for naught -- 15 plays lost yardage, two rushes failed to gain, 10 passes fell incomplete and two were intercepted.
The No. 2 Crimson Tide allowed North Texas one first down and 25 yards in the first half of what became a 41-0 victory. Alabama has allowed two touchdowns in three games, both when the Tide had a lead of at least 24 points. Kent State scored on a 3-yard drive after a turnover in its 48-7 loss. Penn State scored its touchdown in the final two minutes of a 27-11 loss.
The defenses of No. 4 Boise State, No. 6 Stanford and No. 7 Wisconsin all toil in the shadow of their Heisman-candidate teammates. Yet the Cardinal and the Badgers rank among the top 10 in scoring defense. The Broncos held Georgia to 21 points. The Bulldogs have scored 101 points in the two games since.
If Auburn taught us anything last season, it's not to dismiss a team like No. 8 Oklahoma State, which has won games by scores of 61-34 and 59-33. Maybe not, but the teams above them are proving anew that defense is the shortest road to success.
Illinois Building Momentum
By Adam Rittenberg
ESPN.com
CHAMPAIGN, Ill. -- Illinois coach Ron Zook often has talked about how his program experienced too much success too soon.
After winning just eight games between 2003 and 2006, Illinois fast-tracked to the Rose Bowl in Zook's third season, finding itself as a surprise participant on college football's grandest stage. Rather than take a step, Illinois skipped about 40.
The Illini tumbled that day against USC and entered a two-year free fall.
No one would describe the 2010 Texas Bowl -- now called the Meineke Car Care Bowl of Texas -- as an iconic college football setting. It takes place in an NFL venue -- Houston's Reliant Stadium -- and was revived only in 2006.
But for Illinois, the Texas Bowl represented a step, a building block for what players and coaches hoped were bigger things ahead. It didn't hurt that the Illini crushed Baylor 38-14.
"A lot of guys hadn't been to a bowl game," sophomore linebacker Jonathan Brown said. "It was kind of good to taste success, but it made us more hungry."
The hunger carried Illinois through the offseason, and the team has been able to retain something it lost after the 2002 Sugar Bowl and the 2008 Rose Bowl.
Momentum.
To read the rest of Adam Rittenberg's blog, click here.
Stanford Slow To Roll Again
TUCSON, Ariz. -- Weird game. Weird team.
With an armory on offense and blockade-inducing defense, the Stanford Cardinal once again waited for the final 30 minutes to play their best football.
It's becoming an unsettling trend for coach David Shaw and his cast of players. For three straight weeks, the theme has been this:
"I like what we did in the second half," Shaw said.
That's all well and good, because it was a win -- on the road -- against a much tougher opponent than the previous two weeks. The Cardinal blanked Arizona 21-0 in the second half en route to a 37-10 win in the Pac-12 opener for both schools.
But what about those first 30 minutes, when the offense looked disheveled, the defense seemed splotchy and any sense of rhythm was nonexistent?
"I don't know how to explain it," quarterback Andrew Luck said. "I don't think we want to do that. It's definitely something we're going to try to improve on. I can't explain it."
To read the rest of Kevin Gemmell's story, click here.
A Second Set Of Helping Hands
LOS ANGELES -- Sophomore receiver Robert Woods has gotten off to such a hot start to the 2011 season that opposing defenses are starting to shadow him with two or three players as soon as he steps off the team bus. And as the USC Trojans look for an offensive weapon to step up to alleviate some of the pressure on the proven superstar, one name keeps popping up.
That name wasn't supposed to be Marqise Lee. Brice Butler, Kyle Prater or George Farmer would have made sense to most USC fans, but it seems every time a play is made by a wide receiver not wearing No. 2, it's Lee's name bellowing over the public address system.
The true freshman, who ranks second on the team with nine receptions and 129 yards through the first three games, was supposed to be using his redshirt year learning how to play free safety or cornerback full time -- at least, that's what many who watched him star on that side of the ball at Gardena (Calif.) Serra High School had thought.
"I heard things, people saying that I should play on defense," Lee said. "But to me it doesn't really matter. At any position the coaches put me, I was just going to go in and work hard. That's all I've done so far."
To read the rest of Erik McKinney's story, click here.
Three weekend observations
By Ivan Maisel, ESPN.com

1. Forget about the problems that Miami has had off the field. The most maddening aspect of the Hurricanes' slide into mediocrity has been the lack of discipline they showed on the field. That's what made the 24-6 defeat of No. 17 Ohio State so impressive. Miami committed only five penalties and came up even in turnover margin, big improvements over the loss at Maryland two weeks ago.

2. Sometimes, you keep running the ball for the cumulative effect. After Oklahoma's opening drive, Florida State shut down the Sooners on the ground, allowing 34 yards on 21 carries on the next nine possessions. But in the fourth quarter, holding a 20-13 lead, the Sooners rushed the ball seven times for 32 yards and kicked a final, win-securing field goal. You chip away and you chip away until you break through the wall.

3. Mike Locksley went to New Mexico three years ago with a reputation as a top recruiter. Plenty of assistants have ridden that prowess into the head coach's office. But Locksley has proved spectacularly ineffective in Albuquerque. The Lobos are 2-25 under his watch. Seeing Texas Tech quarterback Seth Doege complete 40 of 44 passes (an FBS record) for 401 yards and five touchdowns in a 59-13 victory illustrates how far New Mexico has fallen. How long will the school allow this to go on?
Highlights: Oklahoma vs. FSU
GameDay crew final thoughts

RECE DAVIS
What I want to see next is how Oklahoma and Florida State recover for next week. Even though they're well-conditioned athletes, that was a brutal, physical game that had to take a lot out of them. Both have challenges next week and could be primed for an upset if they aren't at their best physically.
The other thing that stood out is the power of momentum. We saw some big comebacks by teams that were able to capture the momentum. Once Pittsburgh lost the momentum to Iowa, it never got it back. Once Auburn lost the momentum to Clemson, it never got it back. Louisiana Tech let it get away and lost to Houston. Momentum is such an important factor in college football.
Helmet stickers go to:
• S Javon Harris, Oklahoma
3 tackles, 2 interceptions at Florida State
• QB Tajh Boyd, WR Sammy Watkins, Clemson
Boyd: 386 pass yards, 4 TDs; Watkins 155 receiving yards, 2 TDs vs. Auburn
---

LOU HOLTZ
Stanford keeps winning big. The Cardinal may not look impressive doing it, but they win big. We'll find out more about teams as they head into league play. Next week, Alabama hosts Arkansas, and we'll know more about them after that game. The SEC East seems to be a two-team race between Florida and last year's division champion, South Carolina. Notre Dame still turned the ball over but was able to win impressively. And what a comeback by Iowa. The Hawkeyes showed character and rallied from way down to get a great win. However, I think it's a shame we're talking about conference realignment with so much happening on the field.
Helmet stickers go to:
• RB Lamar Miller, Miami
Career-high 184 rushing yards vs. Ohio State
• QB James Vandenberg, Iowa
399 passing yards, 3 TDs vs. Pittsburgh
---

MARK MAY
Notre Dame finally got it done. It still committed a few turnovers but was able to get a much-needed win. What can you say about FIU and the job Mario Cristobal is doing there? One week after beating a team from a BCS automatic-qualifying conference, it shows some character in beating Central Florida to stay undefeated.
Speaking of great coaching jobs, take a look at what James Franklin is doing at Vanderbilt. First the Commodores beat Elon in a game they were supposed to win. But then they knocked off a team from a BCS AQ conference in Connecticut, which won the Big East and went to the Fiesta Bowl last year. Then Saturday, they beat an SEC team in Ole Miss. With the way the schedule shakes out for it, Vanderbilt could be on its way to a bowl berth.
Oklahoma showed some resiliency in one of the most physical college football games I've seen in years. It was a donnybrook, a complete slugfest, yet Oklahoma hung in there and came out with the win on the road.
Helmet stickers go to:
• RB Chris Rainey, Florida
108 rushing yards, 104 receiving yards, TD, blocked punt vs. Tennessee
• CB Trey Wilson, Vanderbilt
2 interceptions -- one returned for TD vs. Ole Miss
Highlights: Ohio State vs. Miami
Blog Network: What we learned

It was a good weekend for the ACC that could have been great had Florida State defeated No. 1-ranked Oklahoma.
ACC

The Big 12 is playing good football about everywhere. It was against poor competition, sure. But dominance is dominance.
Big 12

West Virginia is ready for LSU. Not without a little scare from Maryland, mind you.
Big East

It was another rough week for the Big Ten, as two ranked teams, Michigan State and Ohio State, showed serious flaws in blowout losses.
Big Ten

The Pac-12 won't be getting much national respect, and Stanford is good but has questions.
Pac-12

Heading into the season, we knew the West was stronger than the East, but we didn't know it would be this much stronger.
SEC

The Irish should be favored in every game moving forward except the final one at Stanford.
Notre Dame
Highlights: Auburn vs. Clemson
Blog Network: Helmet stickers