Want a shot at the SEC? Take your chance
You wanted 'em. You got 'em. Now what are you going to do with them?
"Them," of course, is the SEC, owners of six consecutive national titles. Short of IRS, no three letters set teeth on edge or induce spinal shivers like S-E-C. I'm not saying the other conferences and their fans are scared. Frustrated? Yes. Overloaded? Definitely. Jealous? Absolutely.
Dynasties are by definition love/hate things. The Yankees, the Lakers, the Patriots all experience it. These days, it's the SEC that is the object of scorn. If my Twitter account is a gauge (and whose isn't?), some fans outside the SEC's recently expanded footprint take solace in believing that SEC commissioner Mike Slive has a crystal football trophy-making machine in his basement and hands it to the annual beneficiary as part of some vast conspiracy perpetrated by the media, Oliver Stone, the Flat Earth Society and, probably, Nick Saban. It's all ridiculous. Except for the part about Slive's crystal football trophy-making machine.
[+] Enlarge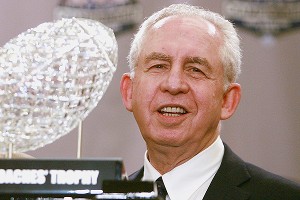 Doug Benc/Getty ImagesContrary to widely accepted college football conspiracy doctrine, Mike Slive doesn't have a crystal football trophy-making machine. Or does he?
Let's drop the conspiracy theory and pick up the competition theory. That's how the SEC haters, or at least those with SEC fatigue, can jam up the gears in Slive's magic trophy machine. Tired of hearing how great the SEC is? Beat its teams on the field this weekend.
Michigan can slay the biggest dragon. By the way, how silly does it sound to have mighty Michigan trying to land a blow for the so-called peasants against the so-called oppressors? The Wolverines have more wins than anyone else in the history of the sport. They are the ultimate oppressors. Yet when the Wolverines kick off against reigning national champion Alabama on Saturday night, the game will serve as a referendum on whether Michigan is back. It also could set the tone for an entire season. Is this a wide-open national championship race? Or is this year like the past six seasons, and we're just awaiting an SEC coronation?
Although I am being a bit tongue-in-cheek, just ask yourself this: How would a Michigan win affect your belief that the SEC not only could be dethroned but perhaps locked out of the BCS title game altogether? Would you think that a team other than USC or maybe Oregon could topple the king conference? If the Wolverines are victors valiant, it will change the perception of everything. That's a lot to place on Michigan's shoulders -- but those shoulders hold up a little better when guided by Denard Robinson's feet.
Saban's defenses at Alabama have done an excellent job at containing dual-threat quarterbacks in the running game. Tim Tebow in 2008 and Cam Newton in 2010 didn't beat the Tide running. Where they beat them was with explosive passing, in some cases aided by mistakes from less-experienced players on defense, and Alabama is replacing six defensive starters this season. "Shoelace" could have his chances to tie the Tide in knots if he's accurate. But interceptions were an issue for Robinson last season; he threw 15 passes to the wrong guys. There are also Heisman Trophy implications. Robinson would vault into the Matt Barkley realm if he can lead the maize and blue to victory.
When I was in Ann Arbor during basketball season, Michigan players already were talking about the Alabama game as a chance to prove a point. It is an important game for Alabama, but it has the feeling of a crusade for Michigan. Are the Wolverines, with a retooled D-line, good enough, and can they use that motivation to make the difference at Cowboys Stadium on Saturday night?
[+] Enlarge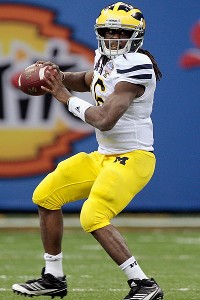 Chris Graythen/Getty ImagesDenard Robinson has to make big plays and few to no mistakes to give Michigan a chance against Alabama. No pressure.
Elsewhere during Week 1, the ACC gets a couple of swings at King SEC on Friday and Saturday in Atlanta. Tennessee clashes with North Carolina State on Friday night, and Auburn and Clemson meet in the Georgia Dome on Saturday night. Of the four teams, only Clemson is labeled as a title contender in either conference.
Sammy Watkins dominated the game against Auburn last year with 199 yards from scrimmage and two touchdowns, but he will be a no-show. He's a member of college football's star-studded, suspended-for-offseason-transgressions squad. Meanwhile, Gene Chizik's team is breaking in new coordinators. The Gus Malzahn spread is out. Scot Loeffler's pro-style attack is in. Veteran coordinator Brian VanGorder was brought in to shore up the defense. Of the three aforementioned games, this is the one in which an SEC loss wouldn't raise an eyebrow.
However, should Tennessee lose to NC State, Vols coach Derek Dooley's tailor will need to add an asbestos seat to Dooley's bright orange britches. That's probably not fair -- these are two evenly matched teams -- but that's the reality. The dismissal of receiver Da'Rick Rogers -- one that was long in the making -- tempered some optimism on Rocky Top. It also ruined a great potential individual matchup against Wolfpack cornerback David Amerson, the nation's interceptions leader. Amerson still will see plenty of Tennessee's Justin Hunter, who is back from a knee injury.
The quarterbacks in this game are near mirror images. NC State's Mike Glennon and Tennessee's Tyler Bray are long, tall slingers who had to overcome two of the 12 worst rushing attacks in the nation last year. Both are good pro prospects. Glennon threw 31 touchdowns last year.
First impressions are lasting. Teams have a chance to land a blow to the SEC and leave a mark for the entire season.
Boise State opens Friday night at Michigan State. The Broncos have five returning starters, the fewest in the country. So much for Boise State not getting respect -- it's lost virtually its entire starting lineup, but it's still in the Top 25 at No. 24.
Joe Southwick takes over for college football's all-time winningest quarterback, Kellen Moore. If Southwick can pull off the upset of No. 13 Michigan State, he'll be a household name -- and only 49 wins behind his predecessor. Sparty's defense is the best in the Big Ten, so it's a tough task, but then again, this is Boise State. It's what the Broncos do.
Can't wait to tee it up.
GameDay Twitter Kickoff
Editor's note: Rece Davis and Mark Schlabach traded thoughts about Week 1 over Twitter on Wednesday. The following is their exchange:
Preview: Michigan-Alabama
Blog Network: What to watch
Each week, our bloggers will take a closer look at the storylines you should be watching. What's on tap for Week 1?

Clemson and NC State have opportunities to land a blow against the SEC, but Monday night's conference showdown looms large Week 1.
ACC

There's not much in the way of big-time matchups in the Big 12, but keep an eye on the quarterbacks Week 1, especially Texas' David Ash.
Big 12

Debuts, for both players and coaches, will be of interest in the Big East Week 1. But keep an eye on nonconference matchups for both Syracuse and Louisville.
Big East

The spotlight will be on "Shoelace" and Michigan at Cowboys Stadium Week 1, but the scene at State College will be surreal.
Big Ten

Several highly anticipated coaching debuts and the performances of first-time QBs are all the talk Week 1. Oh yeah, and USC.
Pac-12

Alabama's title defense immediately will encounter a stiff test at Cowboys Stadium, but the performances of running backs returning from injury will be interesting to see.
SEC
Fantasy college football
By ESPN Fantasy
Make GameDay your game day with three ways to play.


• Pick 'Em: How confident are you?
• College Challenge: Build the best team
• College Showdown: Choose wisely