Don't turn off the Big House lights just yet
Regional Rivalry vs. Chickening Out. All of them are fighting words for No. 17 Michigan and No. 14 Notre Dame.
Or perhaps at Notre Dame they are "FIGTHING" words.
Hope you have seen or perhaps snagged one of the souvenir cups from Notre Dame last weekend. Who proofread that? Digger Phelps?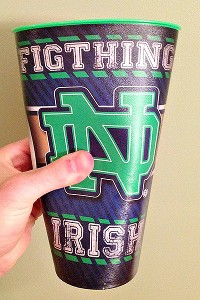 Dave SobolewskiNotre Dame sold souvenir cups that read "Figthing Irish" during their Week 1 win over Temple.
It also looks like a typo that the Irish are making their last scheduled trip to the Big House Saturday night for what's being dubbed "Under the Lights II." I know there are legitimate scheduling difficulties for both sides, but this is a game that needs to be played. Other Irish rivalries might have deeper roots or longer histories, but this game is important in modern-day college football.
Realignment has cost us too many compelling games already. Notre Dame says it's independent, so be independent. Work around your commitments to play ACC teams and get Michigan back on the schedule. Scheduling philosophies will change when the playoff arrives in 2014. Adding the occasional game against Texas (as the Irish will do in 2015) gives Notre Dame a presence and potential recruiting help in all corners of the country. All of these things are fine, but if the ACC agreement didn't keep the Irish from playing the Horns, it shouldn't keep them from playing the Wolverines. Work it out. This rivalry is worth saving.
Generally speaking, it's worth saving. Last year's game is worth losing. Michigan had five consecutive pass attempts intercepted. Think about that. Who does that? How is it possible to have five consecutive passes picked off? The Wolverines turned it over six times in total in the slopfest and still lost by only seven points.
Devin Gardner was Michigan's leading receiver that night -- well, other than Manti Te'o. Saturday, Gardner will be at quarterback with the opportunity for his biggest win. To do that, he'll have to take care of the ball better than his predecessor, Denard Robinson, author of four of those five picks last year to go with a fumble.
Two of the Wolverines' turnovers came in the red zone last year. But since Gardner took over as quarterback after the Nebraska game last season, Michigan has 19 touchdowns in 22 red zone trips. Gardner has rushed for eight of those touchdowns and has yet to turn it over in the red zone.
Taking care of the ball and running wisely will be key for Gardner. The interior of Michigan's offensive line is new. The man who calls himself "Irish Chocolate," Louis Nix III, will test the newbies. He'll likely get considerable middle push at times against Gardner. He'll certainly clog things up in the running game. How well Gardner handles that pressure, particularly in the red zone, will be important for Michigan.
The Irish, meanwhile, got a career-high 346 passing yards from Tommy Rees in Week 1 against Temple. It's the third 300-yard passing day of Rees' career, but his first in a win. One of the others came in the 2011 loss to Michigan.
Rees looked the part of veteran quarterback against the Owls. He used a variety of targets and threw the deep ball well. Rees' seven completions on passes that traveled 20 yards or more in the air are the most for an Irish QB since Jimmy Clausen's seven such completions four years ago. Michigan allowed the second-fewest number of 20-yard passes last season. Notre Dame will test Michigan down the field anyway.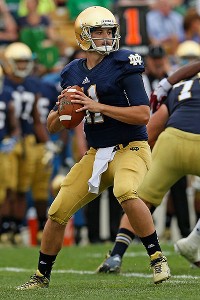 Jonathan Daniel/Getty ImagesTommy Rees will test Michigan's secondary with deep throws.
One big edge for the Wolverines is at kicker. Brendan Gibbons hasn't missed a field goal since Oct. 6 of last year, a streak of 14 straight. Notre Dame missed two last week. This game has come down to late field goals before. So if this rivalry is going to close after next year's match, why not make the swan song in the Big House a classic of which the late, great Harry Oliver or Remy Hamilton would be proud?
I don't get the same feeling about the Florida-Miami matchup, although logic would say the two schools ought to play more often. This game will be a proving ground for both teams.
No. 12 Florida didn't have a play longer than 29 yards in the opener against Toledo. Offensive coordinator Brent Pease said explosive plays aren't a priority for him right now. Miami quarterback Stephen Morris, though, can generate big plays and quick scores. The question is if he can do it against the Gators' defense. If he does, asking the Gators to nibble away at yardage rather than bite off chunks could make for a tight finish.
Like you, I get a little tired of the conference comparisons. There are too many variables to make it completely accurate. But this is another huge opportunity for the ACC. If Miami can follow Clemson and defend home turf against an SEC juggernaut, the ACC could have itself set up for a banner year.
Speaking of the Tigers, the team they beat in Week 1 has another huge matchup this Saturday.
No. 11 Georgia's season doesn't come down to beating No. 6 South Carolina. It just seems that way. Many are quick to dial up the Dawgs' losses to Boise State and South Carolina before rallying to make the SEC championship game two years ago in an effort to counter those saying Georgia's season is ruined with a loss this week. Even last year, the Dawgs got clobbered by Cocky but pushed Alabama to the brink in the SEC title game. But things are different this year.
First, the schedule works for South Carolina. It doesn't play Alabama, LSU, Texas A&M or Ole Miss from the West. Georgia has LSU in addition to their SEC East foes. Plus, Georgia spent the whole offseason stewing over the 5 yards that separated them from the BCS title game. To have that goal ripped away in two weeks would be gut-wrenching.
Georgia needs to cut out the penalties this week. Six drives against Clemson included flags. Georgia failed to score on four of those drives.
The Dawgs also had some protection issues against the Tigers. Now South Carolina and Jadeveon Clowney roll in, and he's probably out to prove a point after being called out for his lackluster performance against North Carolina. Clowney has flat wrecked Georgia the past two years. Georgia offensive coordinator Mike Bobo joked that maybe "The Longest Yard" treatment was the best way to slow down the Gamecocks' "Freak."
But Bobo's serious plan is realizing Clowney will impact the game. The Dawgs can't let a bad play turn into a catastrophe. Funny, that could mirror the theme for the start of Georgia's season.
College Basketball and Football studio host; SportsCenter anchor/reporter
Rece Davis joined ESPN in March 1995 and currently serves as studio host for college football and college basketball, including his duties as host of the NCAA Women's Basketball Championship and the college basketball version of College GameDay.
Five things to watch in Week 2
Five things we'll be watching in college football on Saturday:
1. Can Georgia's offensive line protect quarterback Aaron Murray against South Carolina's defensive line?
Georgia's offensive line was a mess in last week's 38-35 loss at Clemson, allowing four sacks and looking completely confused for long stretches of the game. Now the No. 11 Bulldogs must face No. 6 South Carolina's ferocious defensive front, including All-American defensive end Jadeveon Clowney, in Saturday's SEC opener at Sanford Stadium.
Last season, Clowney had a sack and two tackles for loss in the Gamecocks' 35-7 blowout of the Bulldogs. UGA coach Mark Richt said the Bulldogs will stick with Kenarious Gates at left tackle, after they rotated a few players at the position against Clemson. Protecting Murray will be a key; he was sacked twice and hit repeatedly by the Gamecocks last season. Murray was 11-for-31 for 109 yards and an interception in that game, and UGA never recovered from an early 21-0 deficit.
"There were times where we couldn't have blocked plays better than we did [against Clemson] and had some tremendous results," Richt said. "Then there were times where we looked like we were in the first grade out there. We were getting out of position, and there were a couple of holding calls that really hurt us and some pass protection issues that we just didn't handle very well. It just wasn't a consistent enough effort to do what we really needed to do and put more points on the board."
2. How much better is Miami's run defense?
If Miami is going to upset No. 12 Florida at Sun Life Stadium on Saturday, the Hurricanes will have to find a way to slow down the Gators' running game. The Hurricanes had myriad problems stopping the run last season, finishing 112th out of 120 FBS teams in run defense (217.9 yards per game) in 2012.
Florida ran for 262 yards in last week's 24-6 victory over Toledo -- without top tailback Matt Jones. Jones is expected to return this week after missing the opener with a viral infection. In his absence, Mack Brown ran for 112 yards and Kelvin Taylor (son of former UF great Fred Taylor) had 43 yards. Miami has to slow down the running game to put pressure on quarterback Jeff Driskel, who was inconsistent throwing the ball last season.
3. Can Notre Dame quarterback Tommy Rees exorcise his Michigan demons?
Rees' reintroduction as the No. 14 Fighting Irish's starting quarterback went pretty well in the opener. Rees assumed the starting job when Notre Dame suspended 2012 starter Everett Golson for academic reasons during the summer. Rees played well in last week's 28-6 win over Temple, throwing for a career-high 346 yards with three touchdowns on 16-for-23 passing. He'll have to play just as well if Notre Dame is going to defeat the No. 17 Wolverines in the Big House on Saturday night.
He nearly led the Fighting Irish to one of their biggest victories at the Big House two years ago, when he fired a 29-yard touchdown to Theo Riddick to take a 31-28 lead over the Wolverines with 30 seconds left. But then Michigan won the game on Denard Robinson's 16-yard touchdown pass to Roy Roundtree with two seconds to go in a 35-31 victory. Rees completed 27 of 39 passes for 315 yards with three touchdowns, but he also had three turnovers -- two of which came in the red zone.
4. How will Texas' new offense look against a better defense?
The No. 15 Longhorns unveiled their new-look offense in last week's opener, and it looked pretty good after a slow start in a 56-7 rout of New Mexico State. After falling behind 7-0 in the second quarter, the Longhorns scored five touchdowns in 16 plays to turn the game into a blowout. Quarterback David Ash completed 20 of 28 passes for 343 yards with four touchdowns, while running for 91 yards and a score.
Saturday night's trip to BYU figures to be a much more difficult test. The Cougars are coming off a deflating 19-16 loss at Virginia in the opener, but their defense played well enough to win. The Cougars forced the Cavaliers to punt 13 times, forced two turnovers and allowed only 223 yards of offense.
5. Does Oregon have anything to worry about after traveling across the country to play at Virginia?
Probably not. The Ducks' debut under new coach Mark Helfrich, a 66-3 rout of FCS foe Nicholls State, was impressive enough for them to jump Ohio State for the No. 2 spot in the Top 25. Oregon's offense will look to pick up where it left off in Saturday's trip to Virginia. Oregon has possession for less than 20 minutes but still rolled up 772 yards of offense, including 500 rushing. Three Oregon players ran for more than 100 yards, including sophomore quarterback Marcus Mariota, who ran five times for 113 yards and two touchdown, while completing 12 of 21 passes for 234 yards and a score.
Virginia's defense was impressive in last week's come-from-behind win over BYU, allowing 362 yards of offense in a game that was delayed more than two hours because of thunderstorms. But the only thing that figures to slow down Oregon's offense is jetlag.
ESPN Senior Writer
Senior college football writer
Author of seven books on college football
Graduate of the University of Georgia
Talking football

ESPN.com reporters Brian Bennett, Heather Dinich and Chris Low join host Chantel Jennings to discuss the big matchups this weekend.
Kickoff show recap

What to watch in Week 2
Click below to see what our reporters think you should be watching for in each conference this weekend.
---

Miami and Virginia are hoping to follow in their ACC brethren's footsteps and show up on the national stage, much like Clemson did in Week 1. ACC
---

The Big 12 was shocked to see the players at its most questionable position, quarterback, actually excel in the season's first week. Should we expect that to continue? Big 12
---

Ah, yes, Notre Dame-Michigan. Of course that is the biggest game to watch, but around the league questions need to be answered Saturday. Big Ten
---

The Pac-12 has a lot of nonconference matchups this week, and is favored in most of them. Is that a recipe for letdown? Pac-12
---

Week 1 in the SEC left much unanswered. Like whether Jadeveon Clowney is really unblockable, if Johnny Manziel can keep his focus on the field and how Florida plays with Matt Jones back in the fold. SEC
---

The 2011 game at Michigan Stadium had an electric atmosphere. Tommy Rees & Co. should expect a similar experience on Saturday. Notre Dame
Upset Watch: WKU at Tennessee
Recruiting Updates
By
RecruitingNation
| ESPN.com

In addition to battling on the field, Florida and Miami are fighting for recruits in talent-rich South Florida. A win for the Hurricanes could help slow the Gators' recruiting momentum in the area, writes Jeremy Crabtree. Story

| Official Visit

More from RecruitingNation:
• Past UF-Miami recruiting battles


• Rankings: ESPN 300 | Class rankings
• Hot Board

| On The Trail

| Home
Fantasy college football
Make GameDay your game day with three ways to play fantasy football.