Who Can Play Spoiler?
There are just two types of teams this time of year. Teams are either trying to accomplish something or they are resigned to trying to spoil something for somebody else. That nugget of wisdom from Lou Holtz is never more evident than during Thanksgiving week.
All of the undefeated teams, except TCU, face a team capable of ruining their dreams. Les Miles is likelier to write the definitive book on end-of-game clock management than TCU is to lose to New Mexico. Not happening.
[+] Enlarge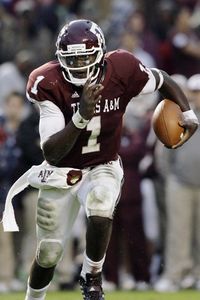 Brett Davis/US PresswireJerrod Johnson will need a fantastic game for A&M to down the Horns.
The spoiler mentality is often short-lived, but it can also be rejuvenating. Texas A&M has had a completely goofy season. The Aggies have lost by 48 or more twice in Big 12 play.
Oklahoma beat them by 55. The Sooners were blown out by Texas Tech. Naturally, the Aggies blasted the Red Raiders.
Jerrod Johnson is a dangerous guy. Very quietly, he's put together a great statistical season. He's thrown for nearly 2,900 yards, 24 touchdowns and just five picks. He's tenth in the nation in total offense. His numbers are virtually the same as Colt McCoy's.
The difference Thursday is that McCoy gets to throw against the Aggies defense. Unfortunately for A&M, that's one area in which they've been consistent. Consistently bad. The Aggies are 110th in pass defense, allowing 259 yards per game, and have given up 16 TD passes.
Johnson will have to throw against the Longhorns defense and the ball-hawking Earl Thomas. Remember Thomas' whiffing on that tackle attempt against Michael Crabtree last year? Well, forget that. Thomas has emerged as a star. He's tied for third in the nation with seven interceptions. Johnson also figures to have company in the backfield. Texas is seventh in the nation with 34 sacks.
Lest you think there is no hope for the Aggies, they do have this going for them: They have a winning record against the winningest quarterback in college football history. Texas A&M is 2-1 versus Texas with McCoy at quarterback. Of course that one Texas win was a blowout engineered by McCoy last year.
Alabama, Cincinnati and Boise State hope the day after Thanksgiving doesn't turn into Black Friday. The Tide travel to Auburn. Typically, dragging the record books to the recycle bin in this series is the waste of a pretty good file. Typically, the better team, the team with more to play for, wins. But there are exceptions.
In 1972, Auburn spoiled an undefeated Alabama team's run at a national title by blocking two fourth-quarter punts and returning them for touchdowns in a 17-16 win. An Alabama team with a losing record denied Auburn the SEC title and the Sugar Bowl in 1984 when Bo Jackson blocked the wrong way on a fourth-and-goal play in the fourth quarter. So there have been memorable stunners.
[+] Enlarge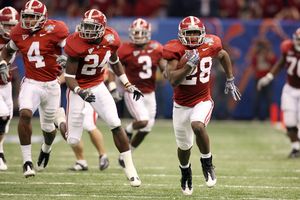 Douglas Jones/Icon SMIJavier Arenas and Alabama snapped a six-game losing streak versus Auburn last season.
Auburn's offense has been productive enough to do its part to ruin Alabama's perfect season, but the Tigers defense has given up rushing yards in chunks, ranking 10th in the SEC and 88th in the nation. That's not the optimum ingredient for an upset recipe with Heisman candidate Mark Ingram and the Tide coming to town. Whether the Tigers can muster the resistance to slow down the Tide running attack is likely the most important factor in determining whether they can deal Alabama's title dreams a blow.
Nick Saban's team has relished playing in highly charged road atmospheres the past couple of years. Often, the Tide have dampened the home team's enthusiasm almost immediately with repeated sledgehammers to the gut (see Georgia '08, Ole Miss and Mississippi State '09). The Tide will certainly find a frenzied arena awaiting them Friday.
Cincinnati gets Tony Pike back at quarterback. Not that you could tell much difference in productivity with Zach Collaros at the helm. Pike has played a little since reinjuring his left arm but it's different playing full-time. The Bearcats face Illinois. The Illini were viewed as a threat in the Big Ten during the preseason, but they've been a disaster on the Adam Lambert scale.
But the Illini have talent and a chance to redeem themselves. Brian Kelly's teams haven't shown the tendency to get caught napping, and Illinois hasn't done anything to suggest it is capable of beating the Bearcats. If you like the comparative-scores game, the "other" team vying for the "best team in Ohio" title beat Illinois 30-0.
Boise State is on the blue, where the Broncos are unbeatable against WAC teams. But streaking Nevada could be Boise State's biggest test yet. The last time the Wolf Pack hit the blue turf, a basketball game broke out. Boise State won 69-67 in quadruple overtime, the closest any team has come to beating a Chris Petersen-led Broncos team on the blue.
[+] Enlarge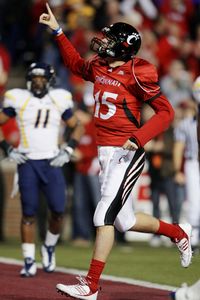 Andy Lyons/Getty ImagesTony Pike will be back under center for Cincinnati against Illinois.
This Wolf Pack team pushes the ball up the floor -- I mean runs it down the field -- even better. Nevada leads the nation in rushing with better than 373 yards per game and is the first team ever to have three 1,000-yard rushers: QB Colin Kaepernick, RB Luke Lippincott and RB Vai Taua.
Kellen Moore is second in the nation with 33 touchdown passes and Boise State is the highest-scoring team in the land. Someday, Boise State is going to lose a WAC game at home. It's simply the law of averages. Nevada is dangerous offensively. After all of the feasting, football and shopping Friday, this ought to be a wild nightcap.
Bobby Bowden visits the Swamp on Saturday, likely for the last time. Florida will say goodbye to Tim Tebow after his glorious, unmatched Gators career. The Noles have looked potent at times, but their defense has been porous. To me, this is the least likely upset of all. They say anything can happen in rivalry games. Anything but this. It would be the ultimate dream for the Seminoles to spoil Florida's perfect season, severely damage its national title hopes and send Tebow out of the Swamp with a loss. That garnet-and-gold dream will clash with orange-and-blue reality Saturday. We don't do leftovers on "College Football Final." We'll deliver a fresh feast Saturday night. See you then.
Weekend Watch
By Mark Schlabach
ESPN.com
Backyard Brawls. Clean, old-fashioned hate. Bedlam.
College football offers a Thanksgiving Day-like buffet of intriguing games this week, including a number of contests that will affect the BCS National Championship race and conference titles.
From Auburn, Ala., to College Station, Texas, state rivalries and matchups between bitter rivalries take center stage.
Is there any way Texas A&M can upset No. 3 Texas on Thanksgiving Day night?
Probably not, but the Aggies have given Longhorns quarterback Colt McCoy fits during his career. McCoy was on the losing end of his first two games against Texas A&M, throwing four interceptions and only one touchdown combined in losses in 2006 and '07.
But McCoy completed 23 of 28 passes for 311 yards with two touchdowns in last season's 49-9 rout of the Aggies in Austin, and he's playing better than ever right now. In his last five games, McCoy completed 76.9 percent of his passes for 1,487 yards with 14 touchdowns and only two interceptions. His passer rating during that stretch is 175.8.
With only the Texas A&M game and a Dec. 5 meeting against Nebraska in the Big 12 championship game standing between Texas and a chance to play for the BCS title, McCoy should be more than focused Thursday night.
Should Alabama be concerned about the Iron Bowl?
It's an intense rivalry game and it's going to be played on the road at Auburn's Jordan-Hare Stadium on Friday, so there's always concern. But No. 2 Alabama is clearly the better team this season.
The Crimson Tide ended a six-game losing streak to Auburn with last season's 36-0 rout in Tuscaloosa, Ala. Alabama's No. 1-ranked defense might be tested by Auburn's spread offense. Both defenses will try to slow down the opponent's running game -- Auburn's Ben Tate has run for 1,209 yards; Alabama's Mark Ingram has run for 1,399 -- and force the opposing quarterbacks to beat them.
Does Florida State even have a chance against Florida?
Probably not. The No. 1 Gators are two victories away from having a chance to defend their BCS National Championship, and Saturday's game will be quarterback Tim Tebow's final home game at the Swamp.
FSU became bowl eligible with last week's 29-26 win over Maryland, but its defense is probably far too porous to slow down Florida's offense. The Seminoles rank 106th nationally in total defense (434.4 yards per game), 105th in rush defense (193.5), 106th in pass-efficiency defense (149.3 rating) and 95th in scoring defense (30.2 points per game).
Viewer's Guide
All times ET

Thursday
8 p.m.: Texas at Texas A&M (ESPN)

Friday
11 a.m.: Temple at Ohio (ESPNU)
2:30 p.m.: Alabama at Auburn (CBS)
7 p.m.: Pitt at West Virginia (ESPN2)
10 p.m.: Nevada at Boise State (ESPN2)

Saturday
10 a.m.: "College GameDay" from Gainesville (ESPN)
Noon: Clemson at South Carolina (ESPN)
12:30 p.m.: Oklahoma State at Oklahoma
1 p.m.: Southern Miss at East Carolina
3:30 p.m.: Florida State at Florida
Miami at South Florida (ABC)
5 p.m.: Utah at BYU
8 p.m.: Notre Dame at Stanford (ABC)
Georgia at Georgia Tech (ABC)
CFB Live Extra: Rivalry Preview
Blog Network: What To Watch
Each week, our bloggers will take a closer look at the storylines you should be watching. What's on tap for Week 13?

It should be an entertaining rivalry week in the ACC watching turnovers in College Park, sacks at South Carolina and Florida State's punt returns.
ACC

The Big 12's final weekend of the regular season will feature several key games over a three-day period that will have BCS ramifications.
Big 12

Jacob Charest might be Illinois' future at quarterback, but senior Juice Williams will get the chance to finish his fascinating college career on a high note.
Big East

It will be Senior Day at several schools throughout the ACC, and there are two farewells that will be tougher for two particular fan bases.
Big Ten

While it's hard to imagine Arizona not being excited about playing hated rival Arizona State, that double-overtime loss to Oregon was an emotional blow.
Pac-10

Who's the best running back in the state of Alabama? Looks like we're going to find out Friday.
SEC

The Temple Owls will be bidding to make history Friday when they play Ohio.
Non-AQs
CFB Live: What's Wrong At ND?
ACC vs. SEC Rivalry Games
Fantasy College Football
By ESPN Fantasy
Check out College Football Challenge, our new fantasy game. Each week, our fantasy gurus will provide players or units that should be on Challenge owners' radars.
CFB Live Extra: Brawl; Boise-Nev.