Prep Work Is Over; It's Title Time
The Big 12 championship game is where favorites go to see their national title dreams crushed. It happened in 1996, 1998, 2001 and 2007. That doesn't even count 2003, when Kansas State smacked No. 1 Oklahoma but the Sooners' BCS numbers were so strong they still made the national championship game.
[+] Enlarge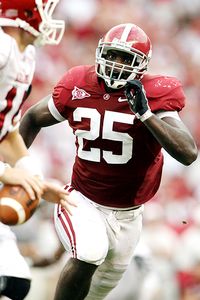 Marvin Gentry/US PresswireLinebacker Rolando McClain leads Alabama's stingy defense.
History tells us that Nebraska has a puncher's chance against Texas. Just as the 1996 Longhorns had a shot against the Huskers. Of all the upsets in Big 12 title game history, that one is the most memorable to me. Texas coach John Mackovic went for it on fourth-and-1 from his own 27 in the fourth quarter and James Brown came through with a 61-yard bootleg pass.
Some of you may remember Mackovic later became my studio partner. I asked him once what he said to the team just before the Nebraska game. He got sort of a wry smile and said he was so dialed into what the Huskers were doing and he knew his team was so ready to play that he kept the pep talk short. He called his Longhorns together before sending them on to the field and said very calmly, "Let's go."
If Nebraska is to have any chance against Texas, it needs to be so prepared that a simple "let's go" will do it.
The Huskers have a powerful defensive line, led by Ndamukong Suh and Jared Crick, that can certainly disrupt Texas' offense. But it seems highly unlikely that anyone is going to completely shut down Colt McCoy, Jordan Shipley & Co.
Earlier this season, Mack Brown told me that he urged McCoy to relax and stop trying to be so perfect. As his final season winds down, no one seems to be having more fun than McCoy.
He's become a threat on the ground again by simply running more. If Vince Young hadn't set the standard so high for running quarterbacks at Texas, we'd all be talking about what a great and dangerous runner McCoy is. After his 175-yard Thanksgiving night romp, Texas A&M doesn't need the VY comparison to believe that Colt is a productive runner.
Nebraska will be a much more formidable defense. The Blackshirts lead the Big 12 in scoring defense, allowing just over 11 points per game.
The problem for the Huskers is that their offense is the second-worst in the Big 12. They've been held to 20 points or less five times in eight Big 12 games.
Nebraska has been very conservative with quarterback Zac Lee. He's attempted 21 or fewer passes in each of his past four games.
Texas leads the nation in rush defense. I know the Longhorns had their problems on defense at A&M, but the Huskers haven't shown the same type of big-play ability that the Aggies possess. Lee simply can't do the same things physically that Jerrod Johnson of Texas A&M can do. So, any worry over A&M's providing a game plan for Nebraska's offense is probably misleading.
What's Nebraska's best chance at an upset? If Suh dominates the line of scrimmage, and the offense can run it well enough to produce long, time-consuming drives, and a gamble or three pays off, then maybe, just maybe, the children of the corn will celebrate yet another Big 12 title-game stunner. But I wouldn't count on it. But that's what they said about Texas in '96 before Mackovic said, "Let's go."
---
Pittsburgh joined a long list of ranked teams to lose rivalry games last weekend. Word from the 'Burgh is that perhaps the Panthers had trouble keeping their focus on West Virginia and off of Cincinnati. Nothing lost but bragging rights in the Backyard Brawl. Now, Pitt gets its shot at the unbeaten Bearcats.
The Panthers have the firepower to continue Cincinnati's defensive woes. The Bearcats have given up 102 points in their past three games. Bill Stull, Dion Lewis and Dorin Dickerson lead the most dangerous and balanced offense Cincinnati has seen all season.
I'm anxious to see whether Pitt's defense can slow down the Bearcats offense. The Panthers lead the nation in sacks, but the Bearcats don't give up sacks. They're fifth-best in the country at protecting the quarterback. That's a function of good line play and the fact that Cincinnati's offense is designed to get the ball out of the quarterback's hands quickly. Tony Pike got it out quickly enough to light up Illinois for six touchdown passes. Expect a highly entertaining shootout.
Clemson and Georgia Tech were two other ranked teams that suffered a buzz kill at the hands of their unranked archrivals last week. As a result, the ACC championship game took a big hit. This one is all about the mindset to me. Which team got over its loss the fastest? Which moped around too long? Which is more eager to atone Saturday night? That team will get the BCS bid.
To call the SEC championship a gargantuan, blockbuster, epic clash is to undersell it. There is no better championship venue. A former SEC head coach who was in the Georgia Dome for last year's Alabama-Florida tilt told me it was the most electric scene he'd ever witnessed and that included national championship games.
And this one is even bigger because this time, both teams are undefeated. Urban Meyer said this week that playing in this game is not much different from being in the national championship game. For the second straight year, the Tide and Gators collide in what amounts to a national semifinal game.
Both have fast, nasty defenses. Both have explosive playmakers. You'd be hard-pressed to find more evenly matched teams.
Last year, the difference in the game was Tim Tebow. He made precision throws, masterfully converting third-and-goal situations into touchdowns three times. On paper and likely on the field, he is the Gators' biggest advantage.
Florida has done a much better job protecting Tebow the past few games. But handling Nick Saban and defensive coordinator Kirby Smart's myriad blitz packages is an altogether different challenge.
Rolando McClain is to Alabama's defense what Tebow is to Florida's offense. Watching those two match wits and likely crack each other's noggins will be worth a scalper's premium.
Florida burned the Alabama corners a couple of times in last year's game. Can the Tide cover well enough or get pressure to Tebow quickly enough to avoid that problem this year? Tebow would be wise to know where Javier Arenas is at all times, too. Arenas has a nose for the ball when it's in the air and is most disruptive as a blitzer. He's second on the team with five sacks as a defensive back.
How will the Gators handle the suspension of Carlos Dunlap? Let's be honest. Florida is so deep; they are largely in plug-and-play mode. Just plug in the next guy and let him play. Maybe it means more time for Justin Trattou or William Green. They are more than capable. But Dunlap is a special talent and an extraordinary pass-rusher. Even without their star defensive end, the Gators figure to be as stingy as ever.
Alabama struggled to run last week against Auburn. I've seen Auburn. Auburn is no Florida. Florida is ranked No. 1 in total defense and scoring defense. If the Gators shut down the running lanes on Mark Ingram and Trent Richardson, that puts even more pressure on quarterback Greg McElroy and in turn gives the Alabama defense even less margin for error against Tebow.
It might come down to special teams. Both have big-time return men: Arenas for Bama, and Brandon James for the Gators. Both have excellent kickers. Time to settle it on the field. Seems like Mackovic said it best. Let's go.
Viewer's Guide
All times ET

Thursday
9 p.m.: Oregon State at Oregon (ESPN)

Friday
8 p.m.: Ohio at Central Michigan (ESPN2)

Saturday
10 a.m.: "College GameDay" from Atlanta (ESPN)
Noon: Cincinnati at Pitt (ABC)
West Virginia at Rutgers (ESPN)
Houston at East Carolina (ESPN2)
3:30 p.m.: Arizona at USC (ABC)
4 p.m.: Florida at Alabama (CBS)
8 p.m.: Texas at Nebraska (ABC)
Georgia Tech at Clemson (ESPN)
CFB Live Extra: Title Previews
Blog Network: What To Watch
Each week, our bloggers will take a closer look at the storylines you should be watching. What's on tap for Week 13?

There's only one game, but it features two teams that haven't won the conference title in at least a decade.
ACC

Can the North Division make this a game, for a change? Can Texas' defense rebound?
Big 12

The last week of the regular season has never lined up quite so perfectly, as Cincinnati faces Pitt for the right to represent the Big East in the BCS.
Big East

Wisconsin basically has traveled halfway to Australia to face Hawaii, and a win could get the Badgers all the way to the Outback.
Big Ten

Arizona needs to rediscover its running game to beat USC. Is California or Washington more focused and hungry?
Pac-10

Who's better on defense? Can Greg McElroy get it done? Does Tim Tebow sparkle again in the fourth quarter? Can Alabama avenge last season's bitter loss?
SEC

East Carolina hasn't seen an offense as potent as Houston's this season, but the Pirates did stop the Cougars' O in the C-USA championship game a year ago.
Non-AQs
McShay's Matchups Of The Week
Effects Of Dunlap Suspension
Big East Coach Of Year Is?